As soon as you land at Hamad International Airport in Doha, you'll come face to face with Qatar's vibrant art scene. With 11 captivating installations strategically scattered throughout the airport, you'll catch a new glimpse into the rich cultural collection that Qatar has to offer at every turn. And trust us, this is just a sample of what is to come. Beyond the airport, a treasure trove of museums awaits, highlighting everything from sports to Islamic arts and contemporary installations.
Let's dive in and take a look at Qatar's can't miss museums.
Museum of Islamic Art
Start your journey in the heart of Doha at the Museum of Islamic Art (MIA). The museum was designed by I.M. Pei, the architect behind the glass pyramid at the Louvre in Paris. It's shaped like a modern fortress with minimal windows and is crowned by a high dome, beautifully crafted from white limestone. The setting is also spectacular as it's built on a man-made island. What makes the museum amazing is that it contains the largest collection of Islamic art in the world, exhibiting artifacts that span two millennia and three continents. It's a must-visit even for a short 8-hour stopover in Doha.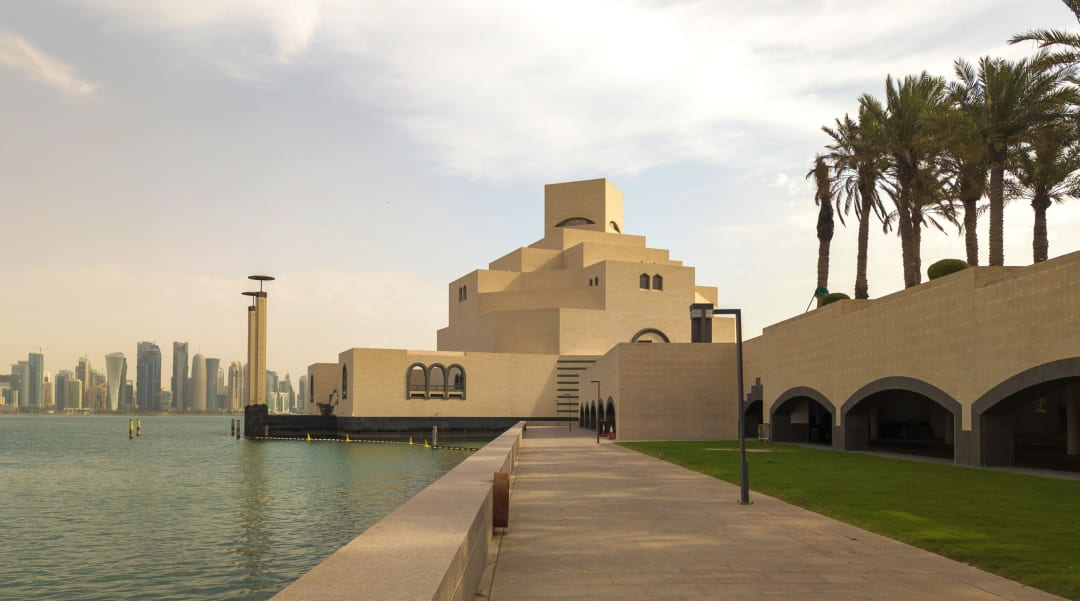 The MIA is the Arab world's artistic jewel, and its permanent collection includes artifacts, ceramics, jewelry, textiles, and glassware spread across more than 480,000 square feet (45,000 square meters) of exhibition space. These pieces hail from all over the world, including Spain, Egypt, Iran, Iraq, Turkey, India, and Central Asia, allowing you to immerse yourself in the history of Islamic art. The library here boasts over 15,000 manuscripts and rare texts, including a seventh-century Quran.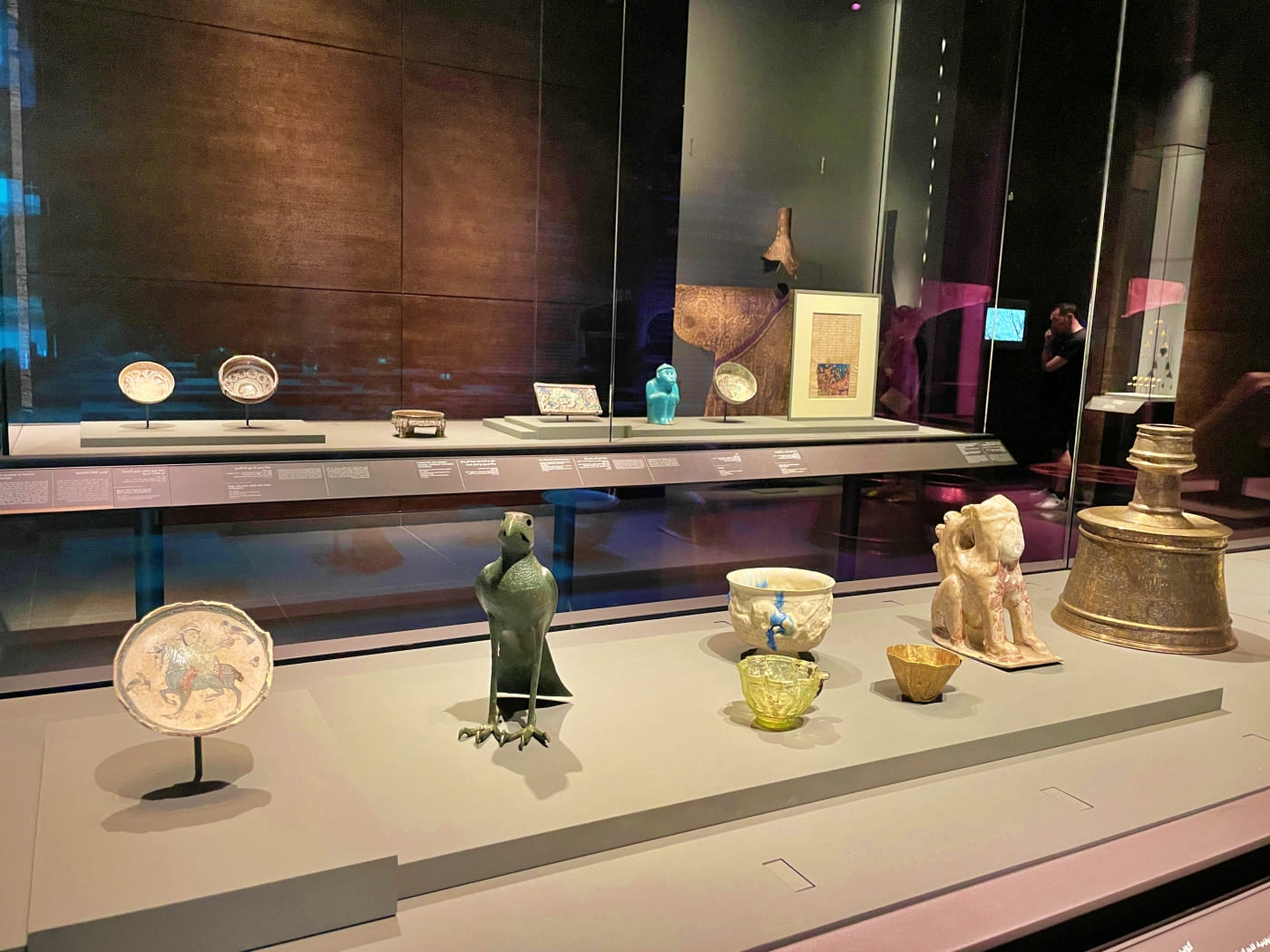 There's a lot to see here, so take a break at the on-site MIA cafe or treat yourself to the top-floor IDAM by Alain Ducasse restaurant, one of the romantic things to do when traveling to Qatar as couple. While you're there, be sure to enjoy the breathtaking view of Doha Bay at sunset. Perfect for a selfie or a keepsake from your family trip to Qatar.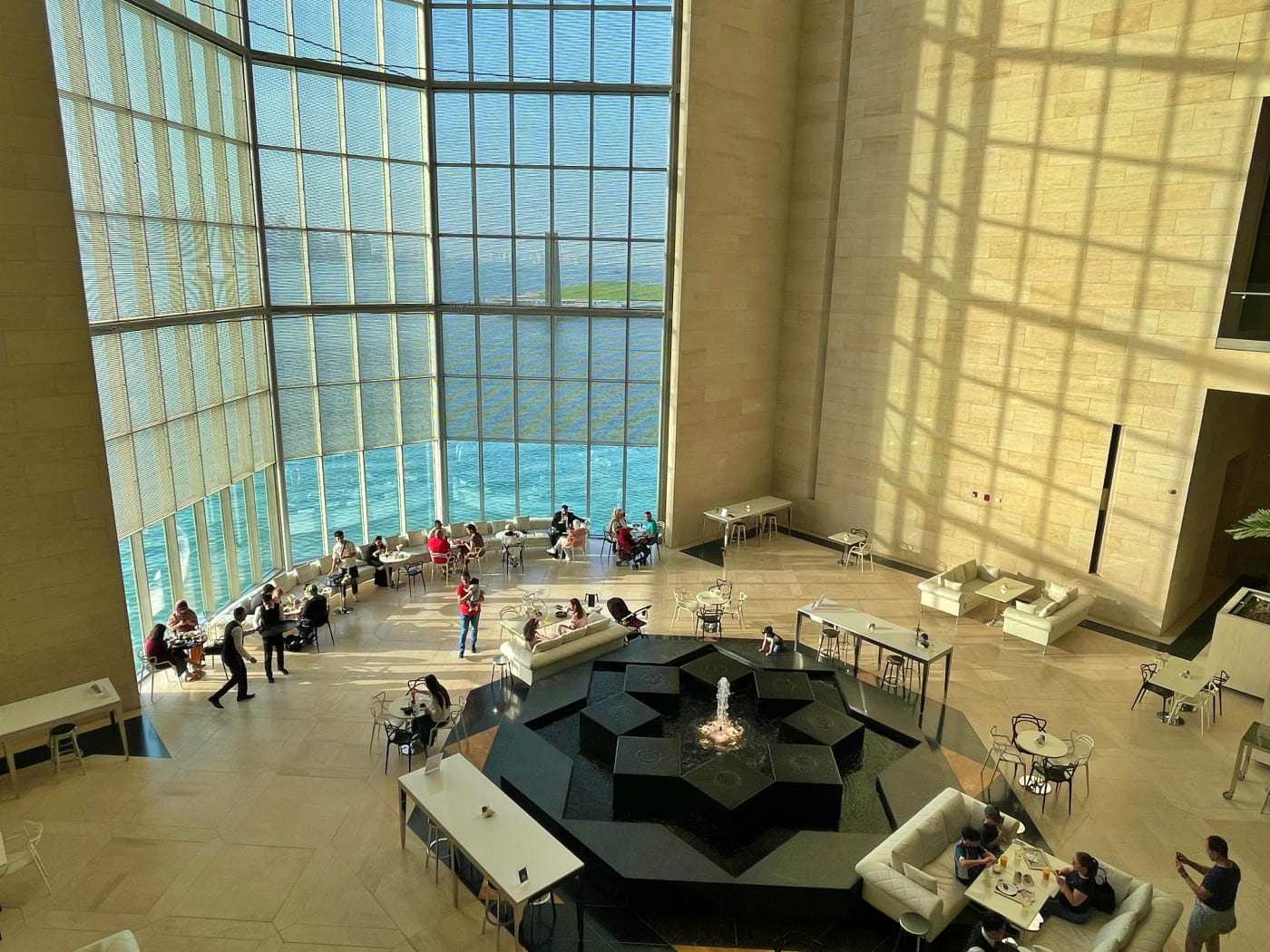 Just next door you'll find the Al Riwaq Gallery, a temporary exhibition space featuring artists such as Takashi Murakami and Damien Hirst, and Jeff Koons.
Hours
Saturday–Thursday: 9 am – 7 pm
Fridays: 1.30 – 7 pm
Ticket price
Adults: QAR 50 ($14)
Child (Age 16 or under): Free
Qatar or GCC country residents: Free
Location
Doha Port, Doha, Qatar, on Doha Corniche
Website
https://mia.org.qa/
National Museum of Qatar
The desert-rose shaped National Museum of Qatar is right in the middle of the city and impossible to miss. Designed by French architect Jean Nouvel, the building's silhouette was inspired by the desert rose and is created by a series of interlocking discs, managing to look both organic and futuristic. It opened in 2019 and the 11 galleries tell the story of Qatar and are organized by past, present, and future.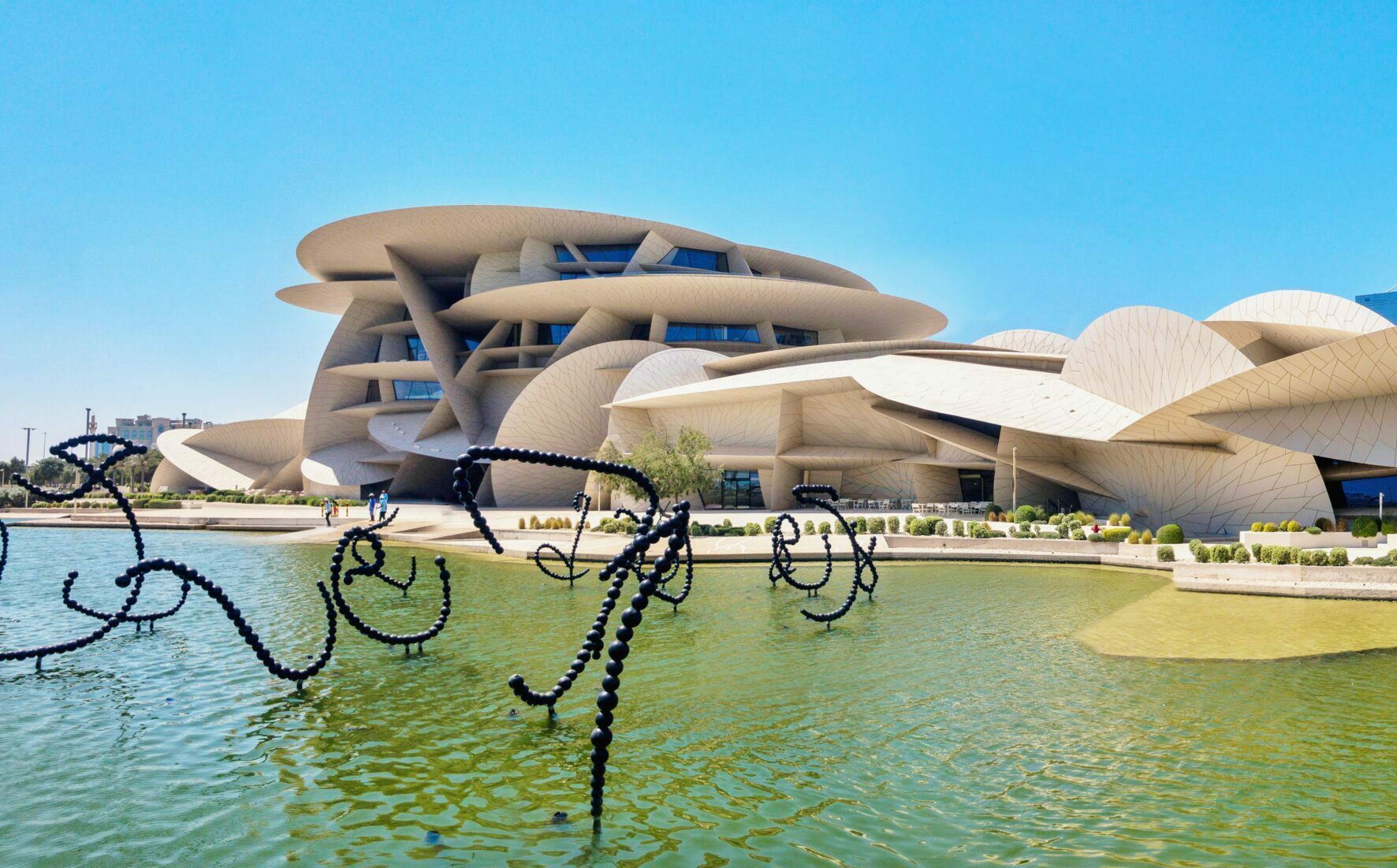 This museum is a lot bigger than the Museum of Islamic Art. There's so much to see and take in here that you will want to come back again. Exhibits highlight Qatar's rich culture, fascinating geology, and diverse indigenous plants and wildlife species, from the whale shark to the Arabian oryx. Don't miss the Baroda pearl carpet, a remarkable three-meter-long piece of artwork boasting an astonishing 1.5 million pearls, sapphires, and diamonds.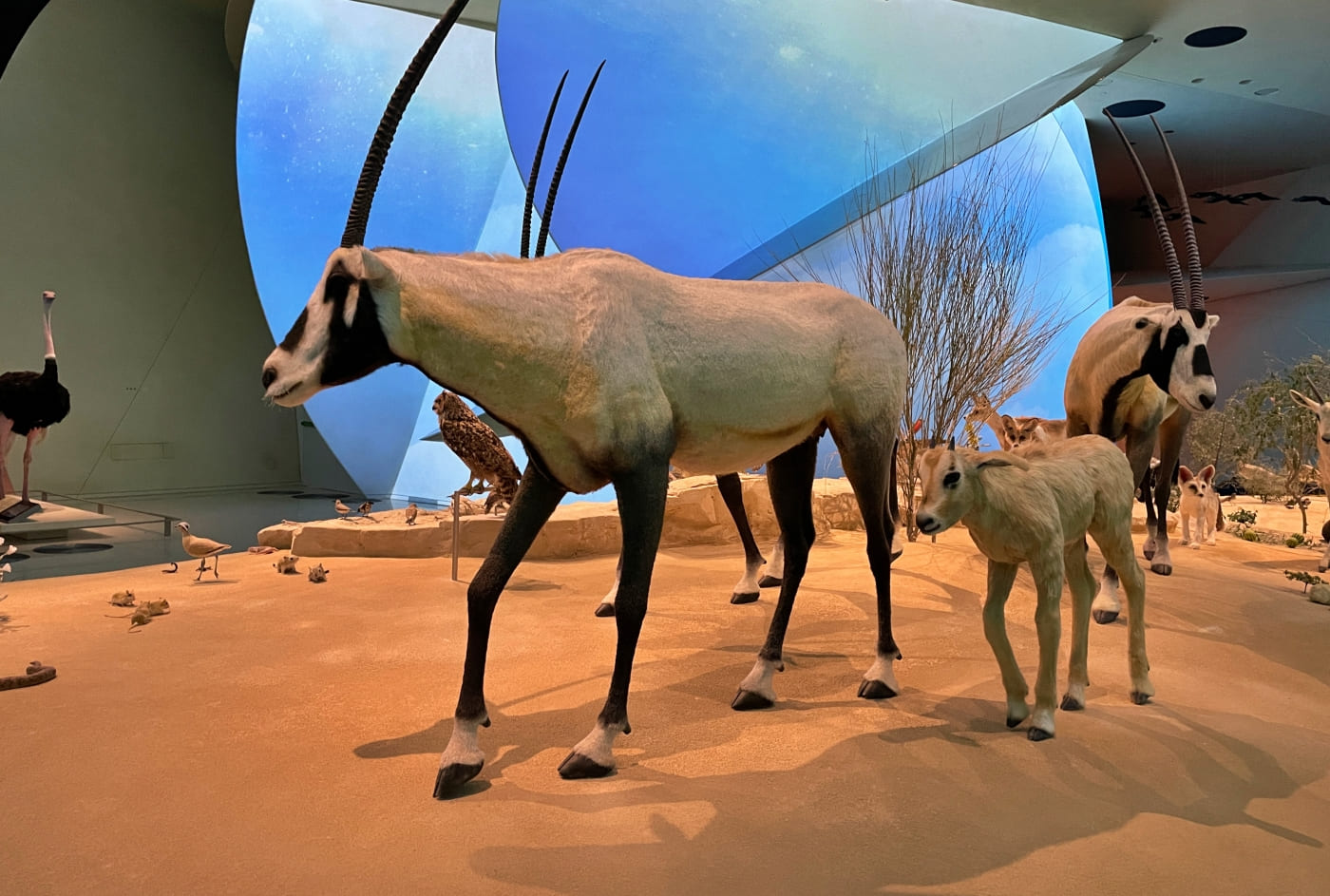 The museum's gift shop is worth its own visit and its design makes it Insta-worthy. It is crafted from 40,000 individual wooden pieces and has a curvy, undulating design inspired by the Dahl Al Misfir cave, one of Qatar's natural wonders.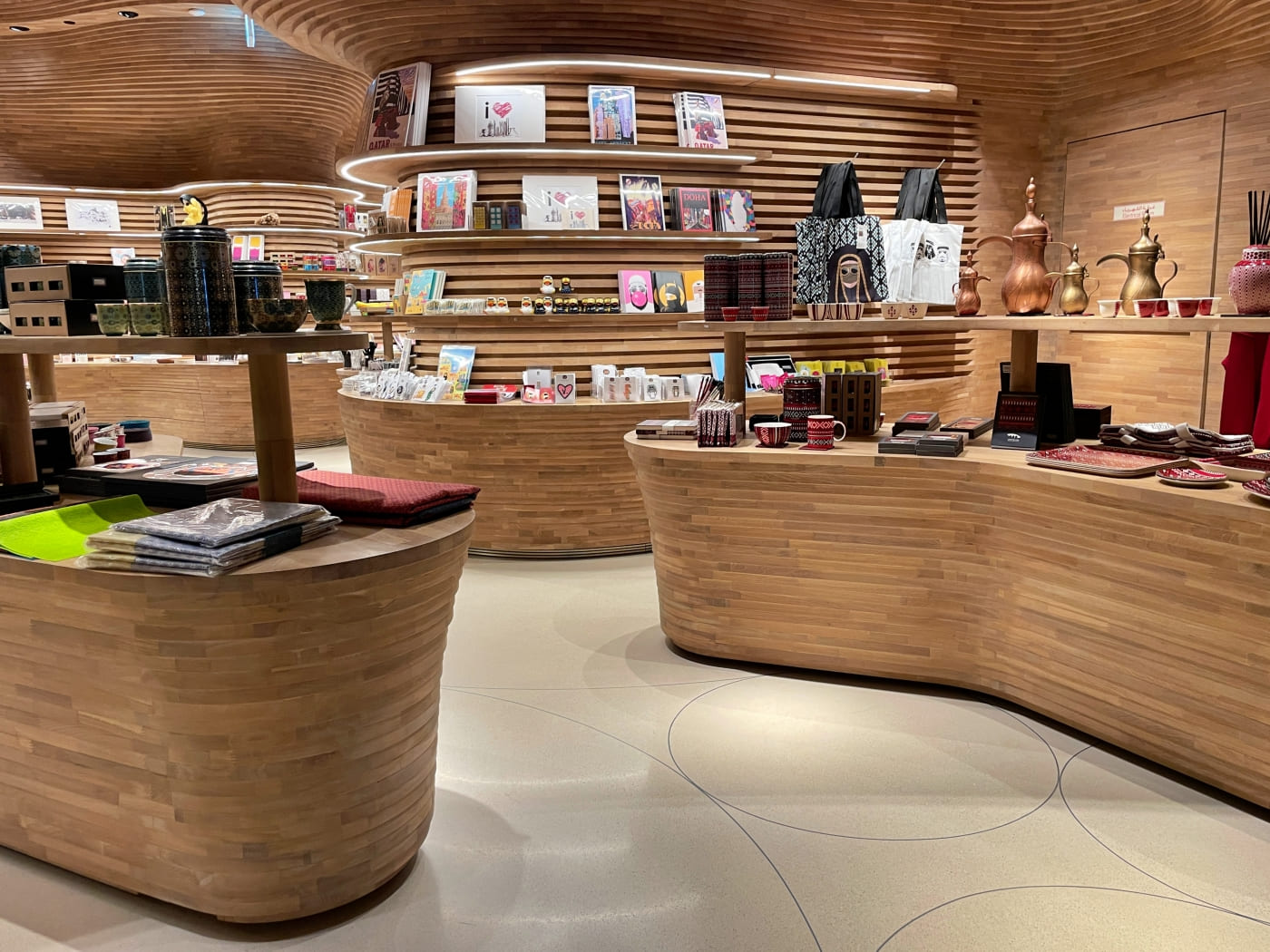 If you have children in tow while traveling in Qatar, you have to make a beeline to the Adventure Ship and Cave of Wonders playgrounds here, located next to the museum. These are not your typical playgrounds; they are colorful, magical and whimsical! The playgrounds tell the stories of the sea and Qatari cultural history in a fun way. The Adventure Ship and its treasures are laid open on the sand so kids can explore every part of it, while learning about Qatar's maritime history. The ship features audio stories of Qatar's cultural heritage in both Arabic and English, and kids can try their hand at pearl diving in an interactive game, guided by a guardian. The Cave of Wonders is perfect for burning off energy! It's a recreation of an underground cave called sinkholes or dahl, and is brought to life with lighted crystals, geckos, bats, and artifacts to discover. Sound effects add to the authenticity of the cave experience.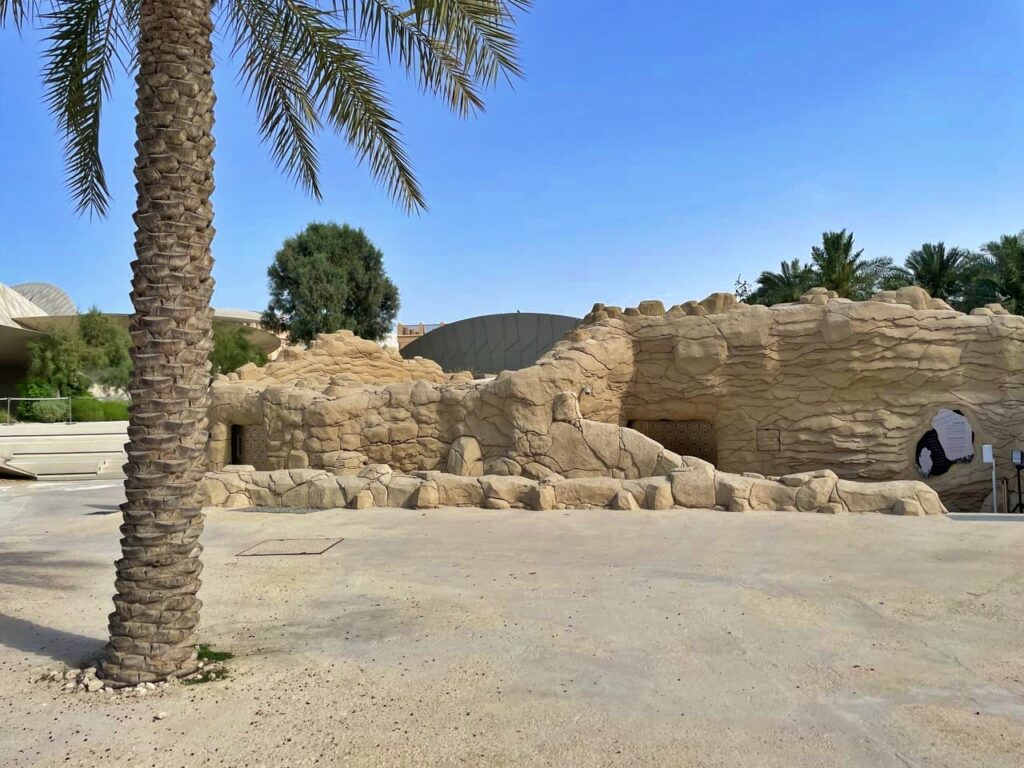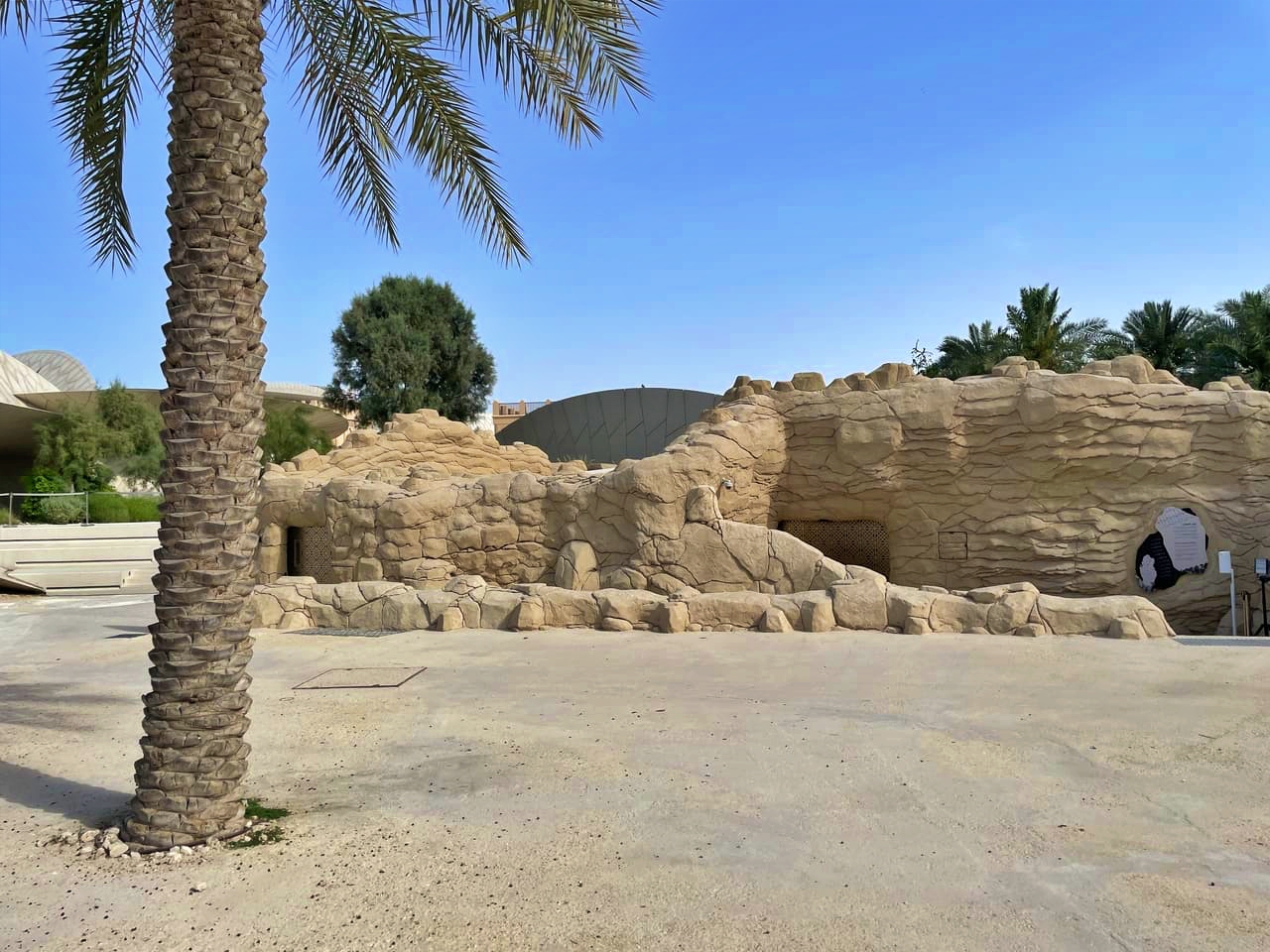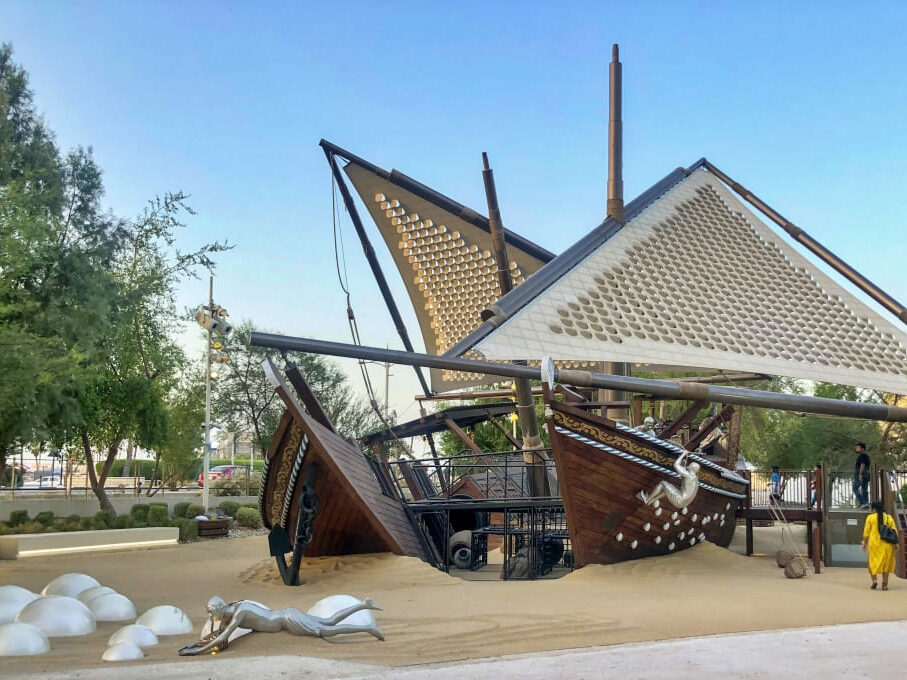 Hours
Saturday–Thursday: 9 am – 7 pm
Fridays: 1.30 – 7 pm
Ticket price
Adults: QAR 50 ($14)
Child (Age 16 or under): Free
Qatar or GCC country residents: Free
Location
Museum Park St, Doha, Qatar
Website
https://qm.org.qa/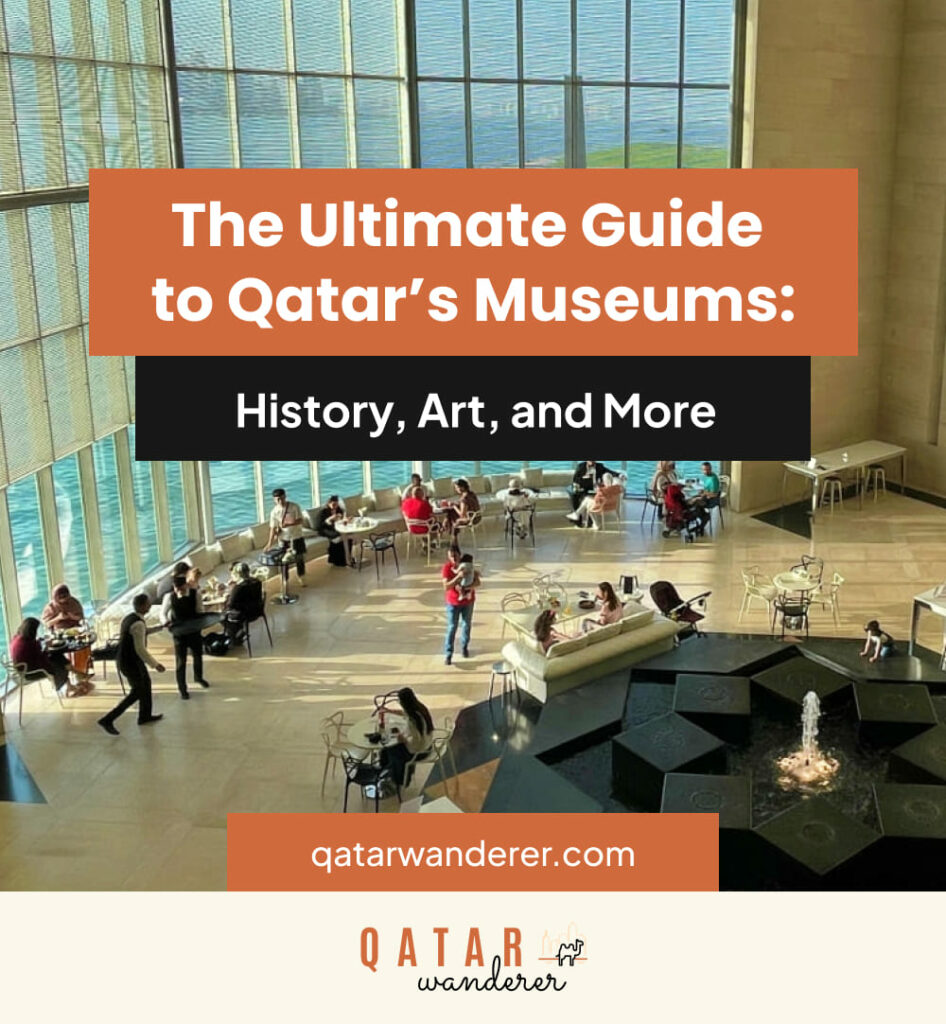 No time to read?
Pin it on Pinterest and revisit it later.
Msheireb Museums
Brush up on your Doha history here, in the oldest part of the city. The Msheireb Museums are among the places to visit in Msheireb, near Souq Waqif. They celebrate the history of Qatar through four historic heritage houses. The homes tell the story of Qatar's evolution from a small fishing village to a modern metropolis.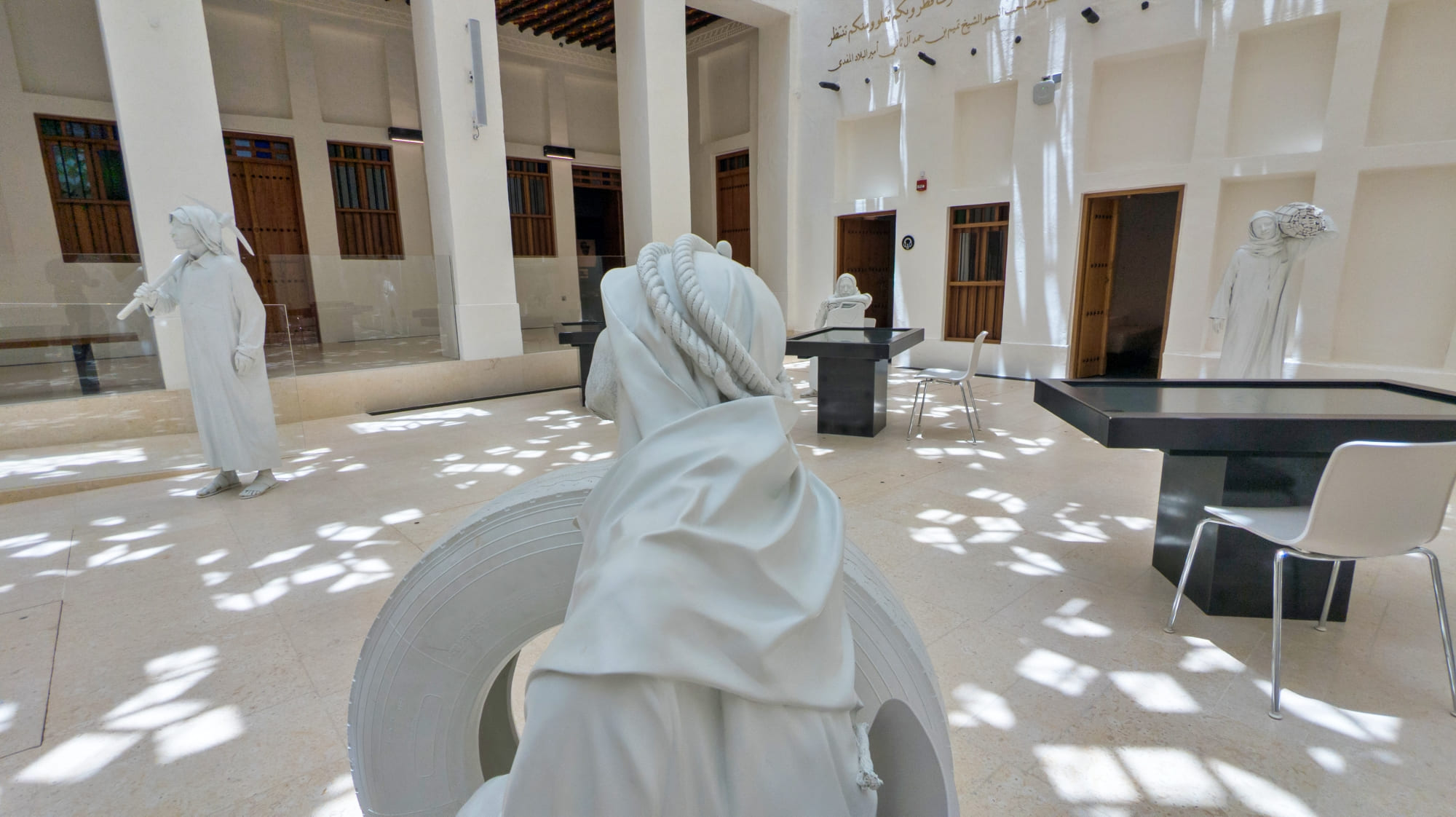 Each house presents a unique aspect of Qatari history, from the role of slavery in the development of Persian Gulf countries (Bin Jelmood House) to the transformation of Qatar's economy through oil (Company House, the former headquarters of Qatar's first oil company). Mohammed bin Jassim House focuses on the transformation of the Msheireb district, while Radwani House highlights the evolution of family life in Qatar.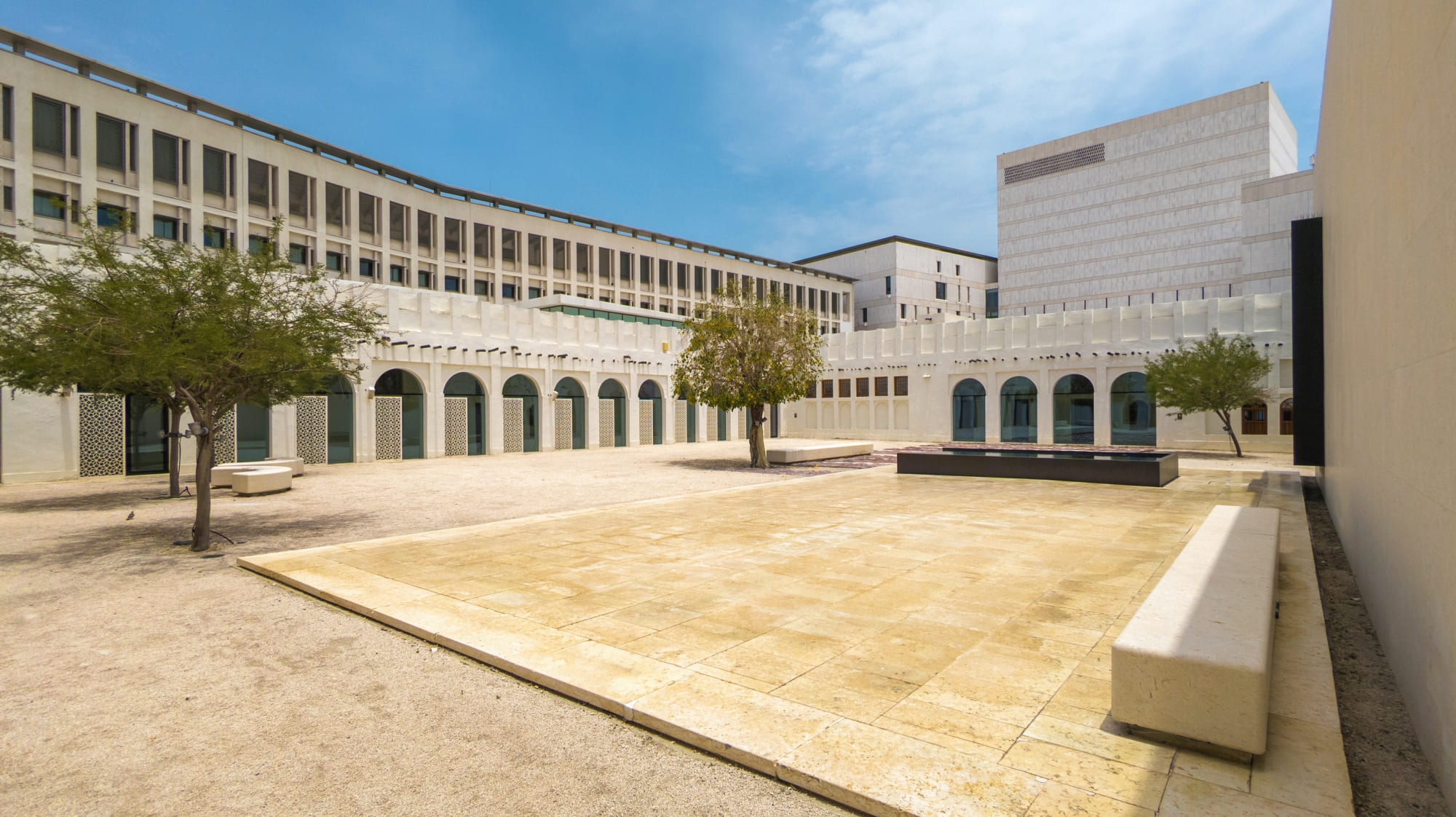 Hours
Monday–Thursday: 9 am – 5 pm
Fridays: 3 – 9 pm
Saturdays: 9 am – 5 pm
Ticket price
Free
Location
Msheireb Downtown Doha
Website
https://msheirebmuseums.com/
Mathaf, Arab Museum of Modern Art
If you're into contemporary art, you'll love the Mathaf, Arab Museum of Modern Art. The museum houses the largest collection of modern and contemporary Arab art in the region. Located in Al Rayyan's Education City, it is housed in a former school redesigned by the French architect Jean-François Bodin. The building itself is a work of art. It has a screen-wrapped scaffolding-style façade, and images and videos can be projected on it.
The collection highlights more than 9,000 works dating from the 1840s to the present day, and exhibits touch on various aspects of society, family and history. A big focus of the museum is Horoufiyah, the use of Arabic alphabets and calligraphy in art. Some of the prominent artists featured include Yousef Ahmad, Etel Adnan, Farid Belkahia, Saloua Raouda Choucair, and Faraj Daham.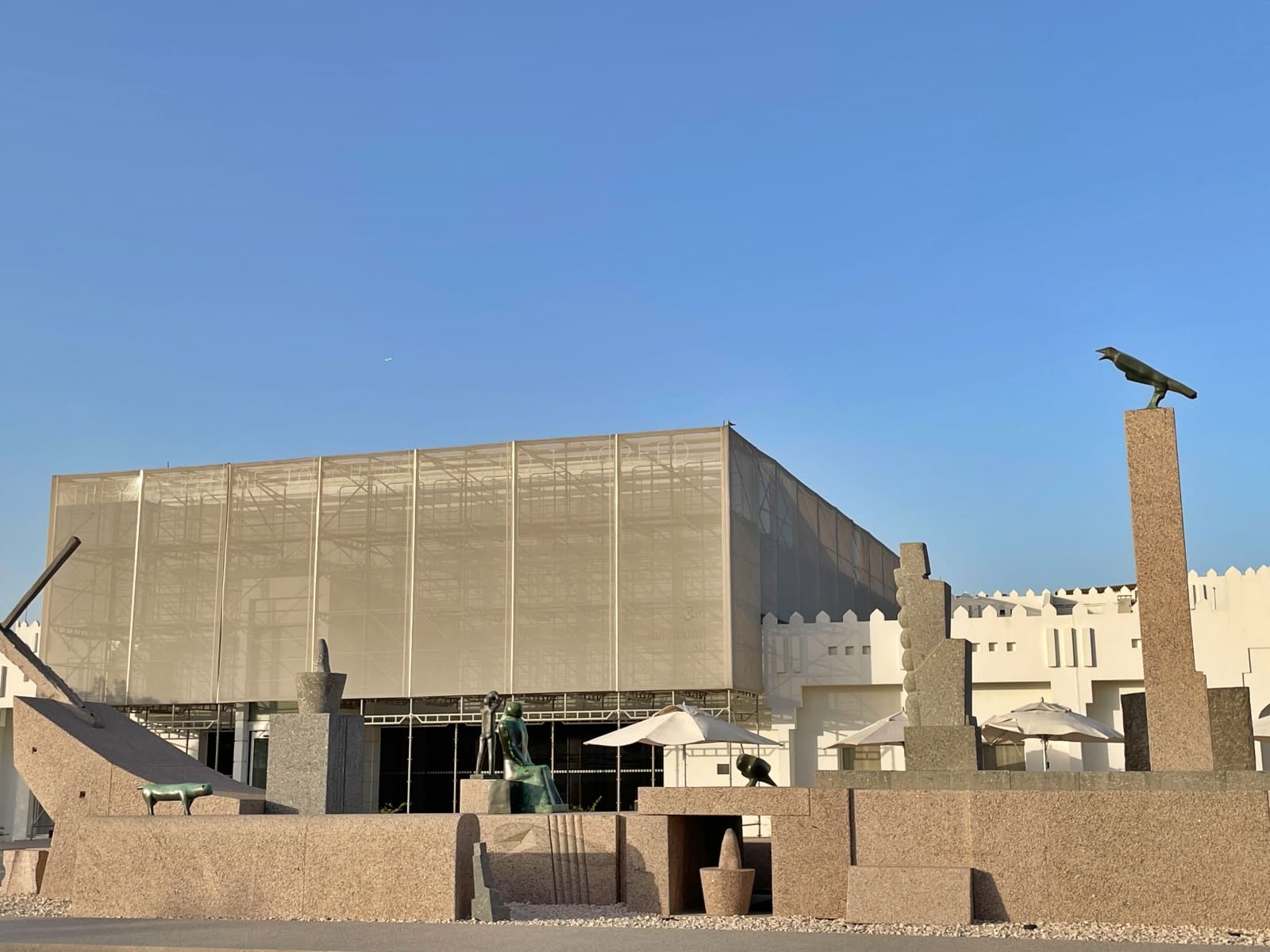 The "Women in Society" exhibit is a testament to women's influence and roles in contemporary society within the context of newly independent countries. The museum also hosts a collection that offers artists' perspectives on societal evolution, illustrating the progress and development in contemporary times.
Be sure to visit the exhibit dedicated to Arabic script and calligraphy, showcasing how this unique visual language has been creatively integrated into the art. There's also a collection that explores the nuances of modern and contemporary culture through repetition in paintings and sculptures.
Mathaf frequently hosts shows and workshops that invite participation and foster a deeper understanding of the arts.
Hours
Saturday–Thursday: 9 am – 5 pm
Fridays: 1.30 – 9 pm
Ticket price
Free
Location
Education City, Doha
Website
https://mathaf.org.qa/
The Fire Station
The Fire Station is, simply put, one of the coolest destinations in Doha. As the name suggests, the building was a former fire station that was turned into a contemporary art center in 2012. The building has a distinct honeycomb facade and tower, and this renovation was one of the first adaptive reuse projects in Doha.
The mission of the Fire Station is to showcase art and artists, engage the local community, and nurture emerging talent through its artist in residence program. The building itself has become a work of art. Its exterior mesh is used to display digital artworks, public messages, and projected images. The external walls are adorned with murals by Qatari artists, commemorating the first 100 days of the Qatar blockade, a vivid testament to the nation's resilience and the intersection of art and politics.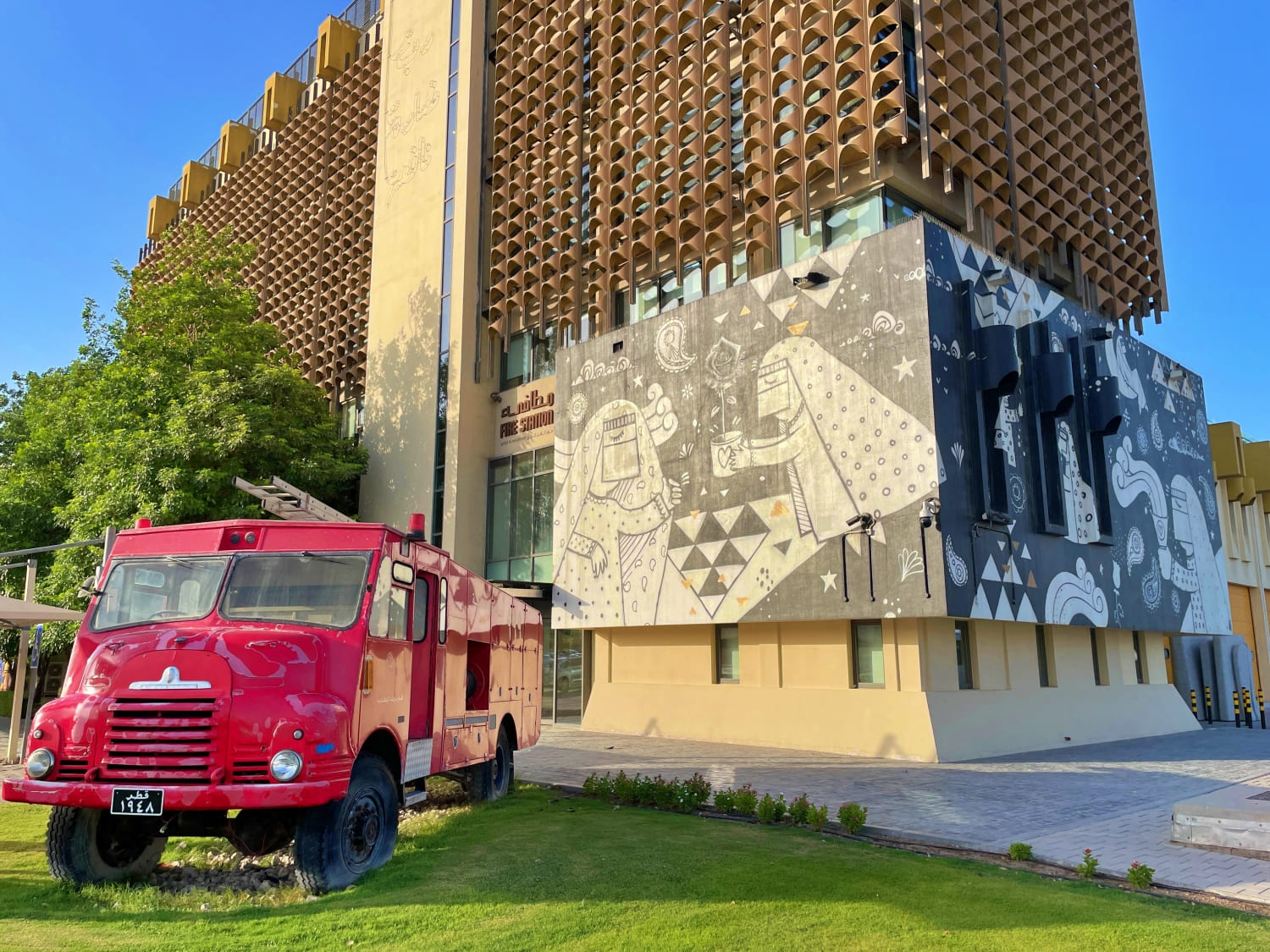 The Fire Station regularly hosts rotating exhibitions, including works by renowned artists such as Pablo Picasso, Ai Wei Wei, and Alberto Giacometti. Noteworthy exhibits have included Picasso's Studios in 2020 and Figures of Speech by American artist and designer Virgil Abloh in 2022.
The in-house Garage Gallery is an innovative public gallery dedicated to exhibiting works by emerging local and international talents. The resident artist program allows artists a unique opportunity to explore and expand their craft.
Hungry? Head to the bright and colorful Café #999 by Alain Ducasse within the complex, and stop by Cass Art for art supplies in case inspiration strikes.
Hours
Saturday–Thursday: 9 am – 7 pm
Fridays: 1.30 – 7 pm
Ticket price
Adults: QAR 100 ($27)
Child (Age 16 or under): Free
Qatar or GCC country residents: Free
Location
Fire Station, Mohammed Bin Thani, Doha, Qatar
Website
firestation.org.qa
Qatar Olympic and Sports Museum 3-2-1
If you are a soccer fanatic and diligently watch the Olympics, this museum is for you. The Qatar 3-2-1 Olympic and Sports Museum is one of the largest sports museums in the world. It traces the origins of sports from the eighth century B.C. to the present day and is spread across three floors and spans a massive 19,000 square meters (204,000 square feet). The museum was inaugurated on the 31st of March during the 2022 World Cup.
Spanish architect Joan Sibina designed the museum as two separate buildings, one of which wraps around Khalifa International Stadium. The other is a glass-skinned structure whose facade evokes the colorful, signature rings of the Olympic Games.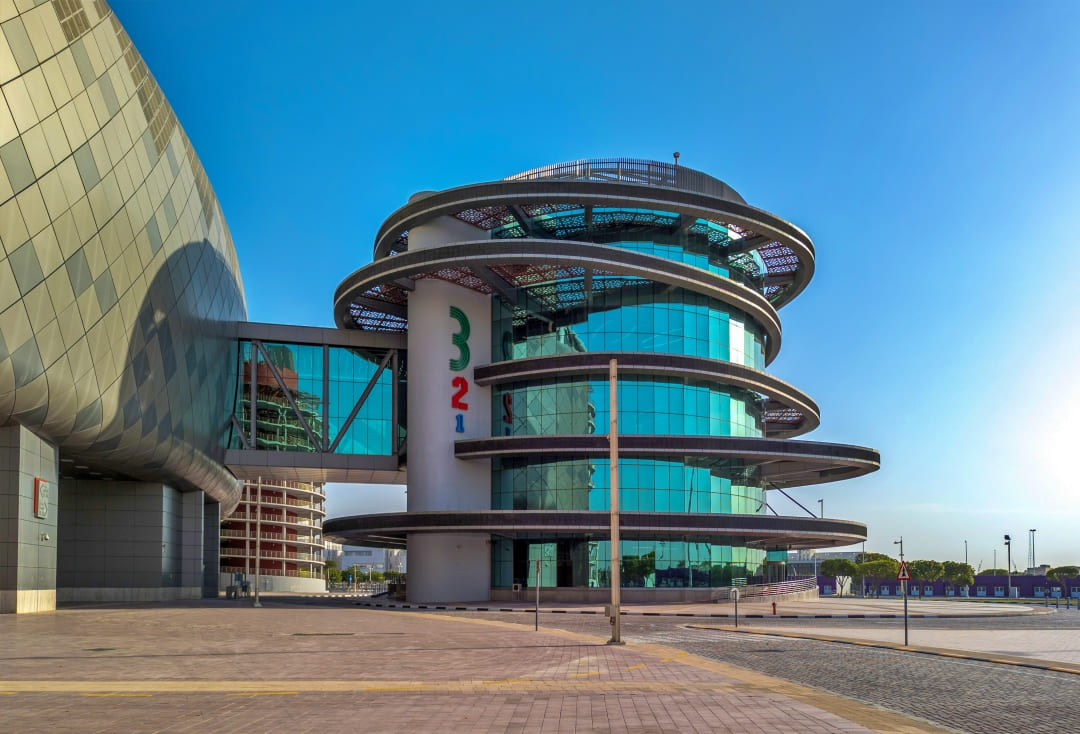 The museum is divided into seven sections, each one offering a unique perspective on the world of sports. Exhibits on camel racing and falconry highlight the region's sporting heritage, while a
virtual archery installation lets you practice the sport like an ancient Greek archer. There's also a reconstructed Roman racing chariot, and wooden clubs for pahlevani, an ancient Iranian game. Check out the Athlete's Hall, a tribute to 90 sports pioneers whose contributions to their respective fields are commemorated with various sports memorabilia.
Olympic fans will love the installation of Olympic Flames, showcasing a collection that dates back to 1928. This collection symbolizes the enduring spirit of competition and excellence that the Olympics represents.
Hours
Saturday–Thursday: 9 am – 7 pm
Fridays: 1.30 – 7 pm
Ticket price
Adults: QAR 50 ($14)
Child (Age 16 or under): Free
Qatar or GCC country residents: Free
Location
Aspire Park, Doha
Website
321qosm.org.qa
Sheikh Faisal bin Qassim Al Thani Museum
Head outside of Doha for the extraordinary Sheikh Faisal bin Qassim Al Thani Museum (FBQ), located 40 minutes from the city. The FBQ showcases the jaw-dropping personal collection of cultural and historical artifacts of its owner, Sheikh Faisal. There are over 30,000 items here, ranging from Islamic art to vintage cars, weapons, coins, handmade carpets and Qatari heritage. The collection tells the story of the Sheikh as well as of humanity.
Some of the highlights you'll find at the FBQ Museum include a Syrian house, meticulously transported from Damascus and reassembled in 2014. There's a collection of antique Qurans as well as over 700 carpets highlighting the various types of weaves and dyes from around the world.
A firm favorite is the collection of 600 vintage cars, which range from 20th-century classics to iconic muscle cars, as well as the diverse display of weapons and coins. There's also a section dedicated to the cultural roots of Qatar, with life-sized dhow boats and pearl-fishing equipment.
The museum is located within the Al Samriya estate which also houses a date farm, a riding school and an oryx preserve.
Consider complementing your museum tour with a trip to the nearby Al Shahaniya camel racetrack, an integral part of Qatari culture.
Hours
Saturday–Thursday: 9 am – 7 pm
Fridays: 1.30 – 7 pm
Ticket price
Adults: QAR 50 ($14)
Child (Age 16 or under): Free
Location
Dukhan Road, Al Shahaniya
Website
alsamriyaestate.com/museum
Richard Serra's "East-West/West-East"
If you want to feel like you've landed on another planet, albeit one that values art, head into the desert. At the mouth of Qatar's Brouq Nature Reserve, about 40 miles outside of Doha, you'll find an extraordinary sight in the middle of the desert: the artist Richard Serra's desert monoliths. Commissioned in 2014 by Sheika Al Mayassa bint Hamad bin Khalifa Al Thani, this installation is titled "East-West/West-East" and comprises four towering steel sculptures, each standing 49 feet tall.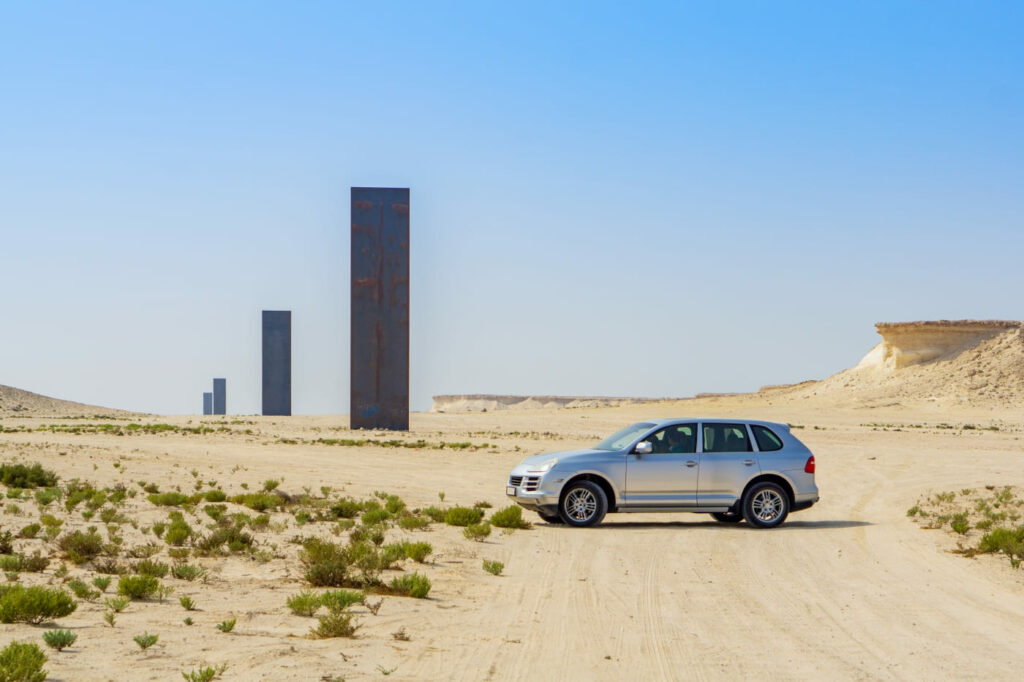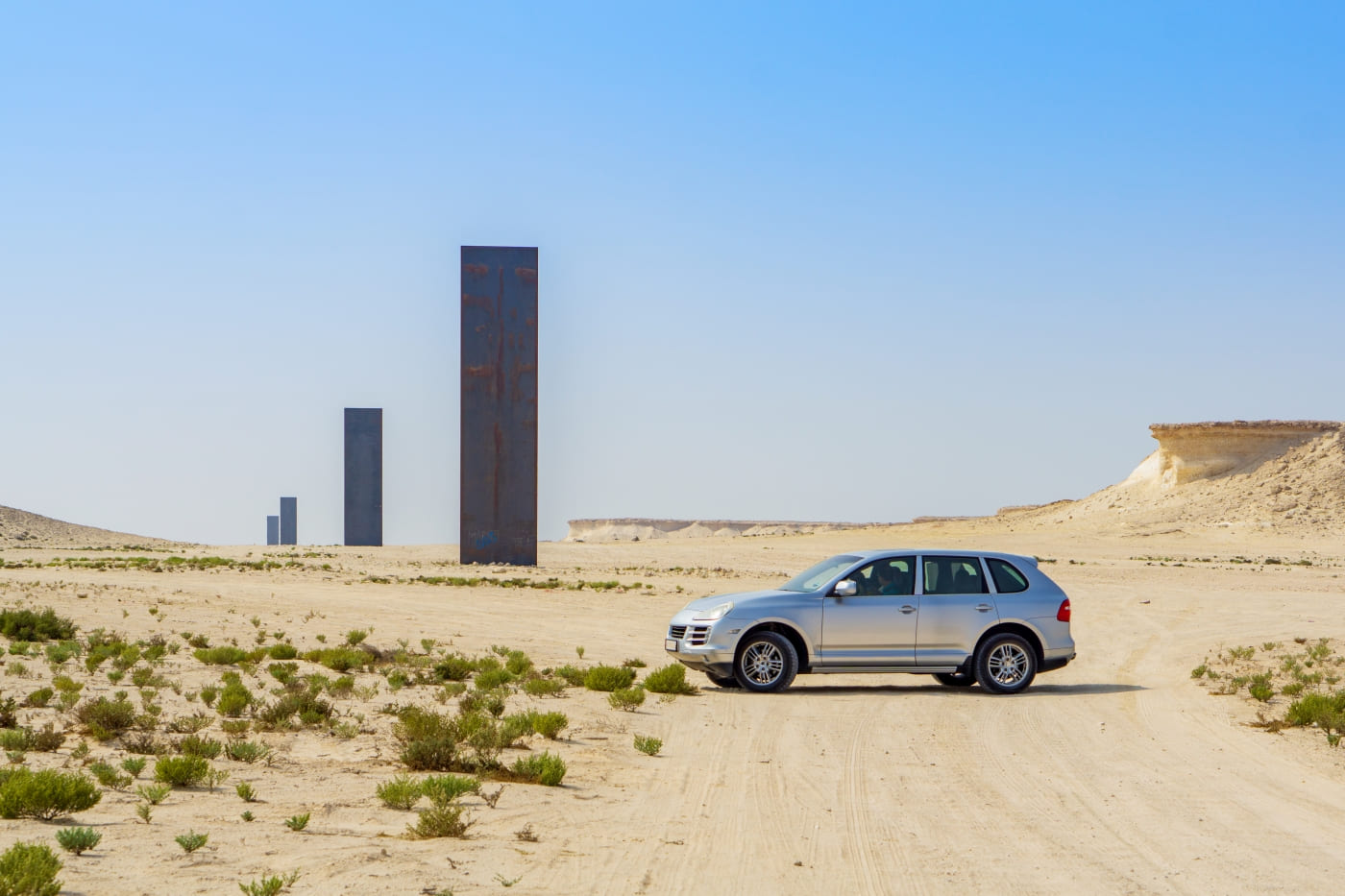 Embedded in the rugged terrain of the Brouq Nature Reserve, the monoliths are perfectly aligned, stretching over a kilometer, their heights carefully adjusted to match the undulating topography of the desert. Over time, these initially gray steel plates have been oxidizing, transforming from hues of orange to a dark amber color. The evolving metamorphosis continues to tie the man-made installation to the natural, elemental forces around it.
You'll need a 4×4 vehicle to reach this remote location, but once there, you can explore by foot or by car. The drive from Doha takes approximately one hour and 15 minutes, but the journey to this monumental work of art, nestled amidst the stark beauty of the desert, is well worth it.
Souq Waqif Art Center
Would you like your art served up with some shopping and eating? Located in Doha's traditional market, the Souq Waqif Art Center serves as a unique artistic haven. The center exhibits traditional Islamic and Middle Eastern art, shining a global spotlight on Qatari art heritage. The center also has an educational component. Workshops and studio spaces are available for aspiring artists to further their arts education, and there are also exhibitions, and classes available to the public.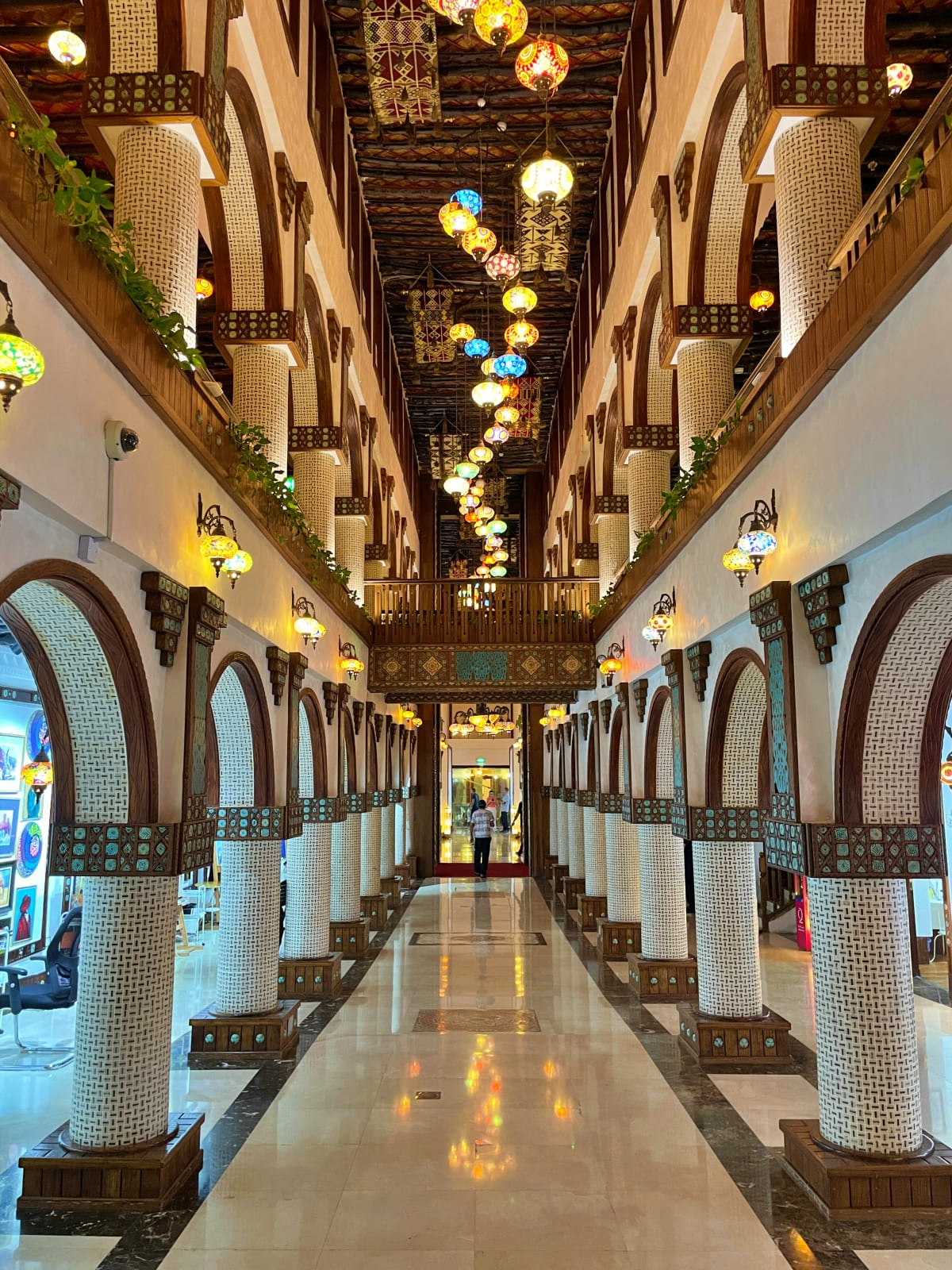 The center's gallery houses an impressive collection of paintings, sculptures, and other mixed-media artworks, each reflecting the vibrant artistic culture of the region. In addition to its role as a gallery, the center supports young artists by prominently displaying their work.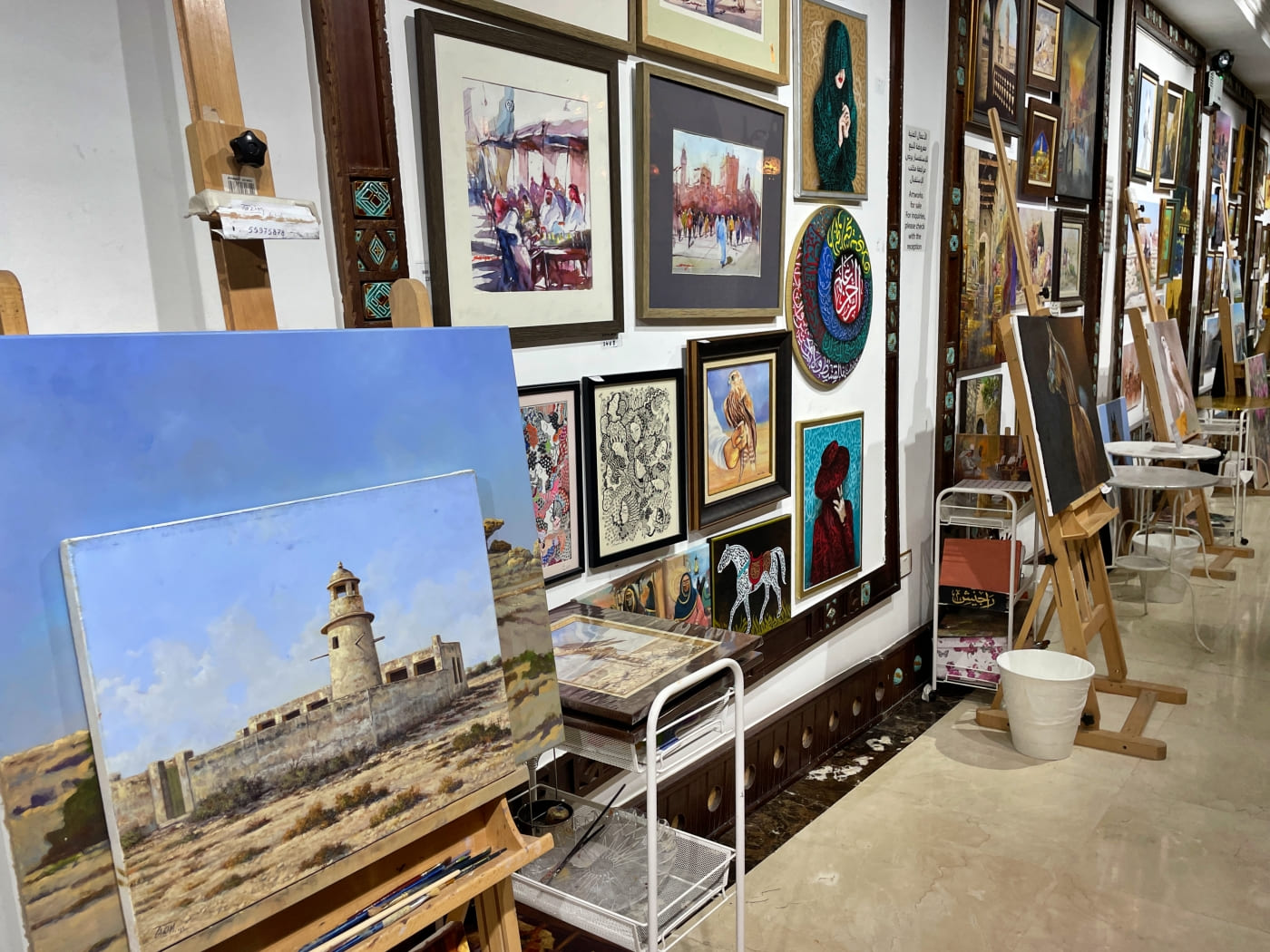 Beyond its exhibition and support roles, the Souq Waqif Art Center also fosters intellectual and artistic dialogues. It regularly organizes workshops and classes throughout the year, teaching various artistic disciplines and encouraging interaction and exchange of ideas.
Hours
Saturday–Thursday: 8 am – 2 pm & 4 – 10 pm
Fridays: 4 – 9 pm
Ticket price
Free
Location
Souk Waqif, Doha
Website
https://alqudah.me/
OliOli Children's Museum
If you want to take your kids to a museum without having to say, "Don't touch that!" a million times, we have the perfect place for you. The OliOli Children's Museum is an interactive play-based museum for children and one of the top places to visit with children in Qatar.
Its innovative and engaging galleries are specifically designed to inspire kids to explore, discover, and learn in an autonomous environment while having fun. Its name comes from the Hawaiian word for joy, and the building is shaped like a present, symbolizing the inherent happiness found in surprise and discovery.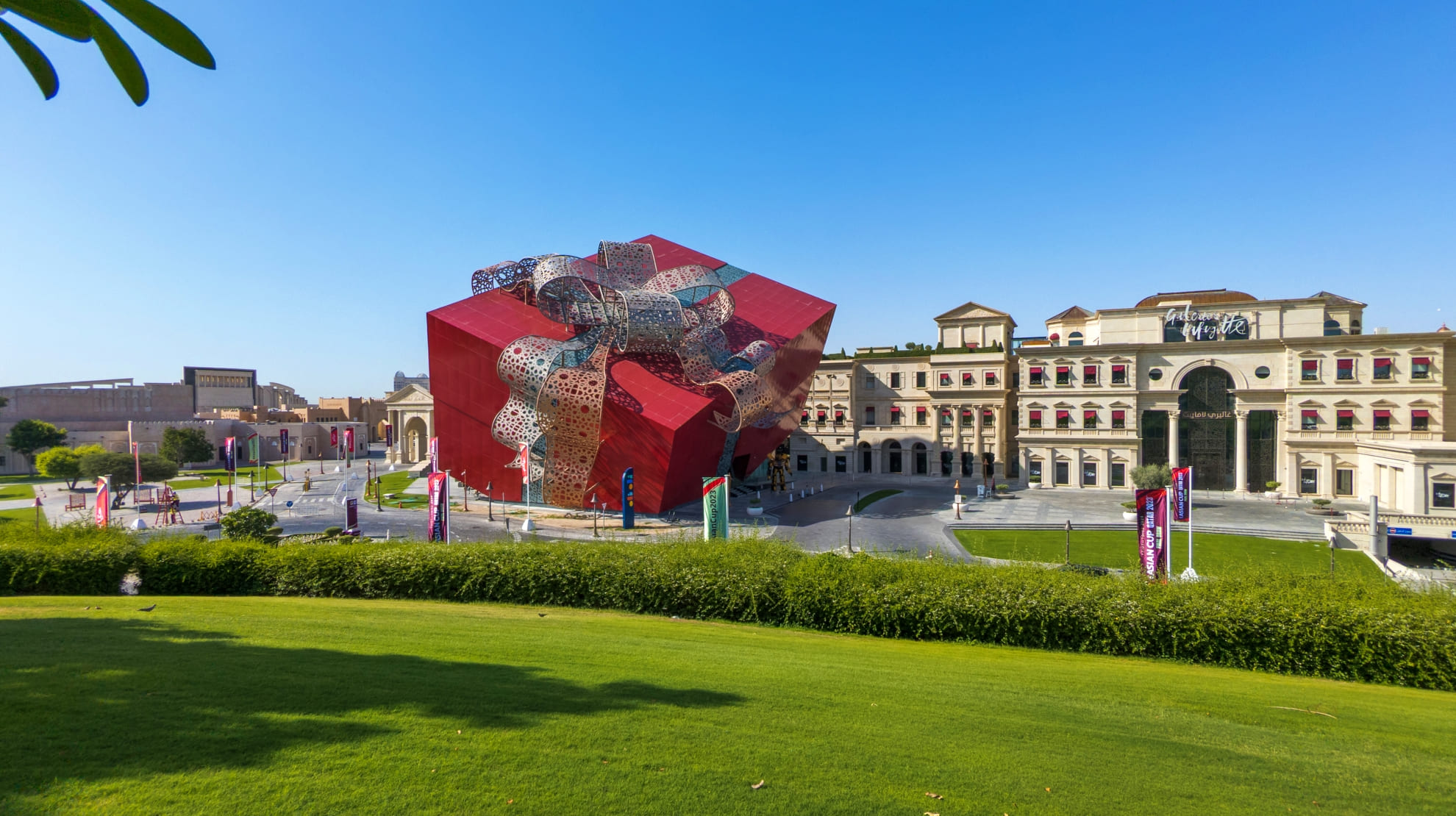 The museum boasts six interactive galleries and the activities are wide-ranging. Each attraction is a catalyst for exploration, discovery, and reflection, facilitating learning and growth in young minds.
Pop on a raincoat and splash around at the Water Gallery while learning about theories of engineering and physics. Children's imaginations will soar as they embrace technology and create new inventions in Future Park. Get hearts and muscles pumping at the Fitness Gallery, which is filled with fun, gamified exercises that showcase the importance of healthy living and fitness in our daily lives. The Kinetic Gallery teaches children about physics and engineering through fun activities such as building a race car or making scarves fly.
Hours
Tuesday–Sunday: 1 – 9 pm
Ticket price
135 QAR (~$37) with a child of 2 to 16 years
67 QAR (~$18) with a child under 2 years
Location
Katara Cultural Village, Doha
Website
olioli.qa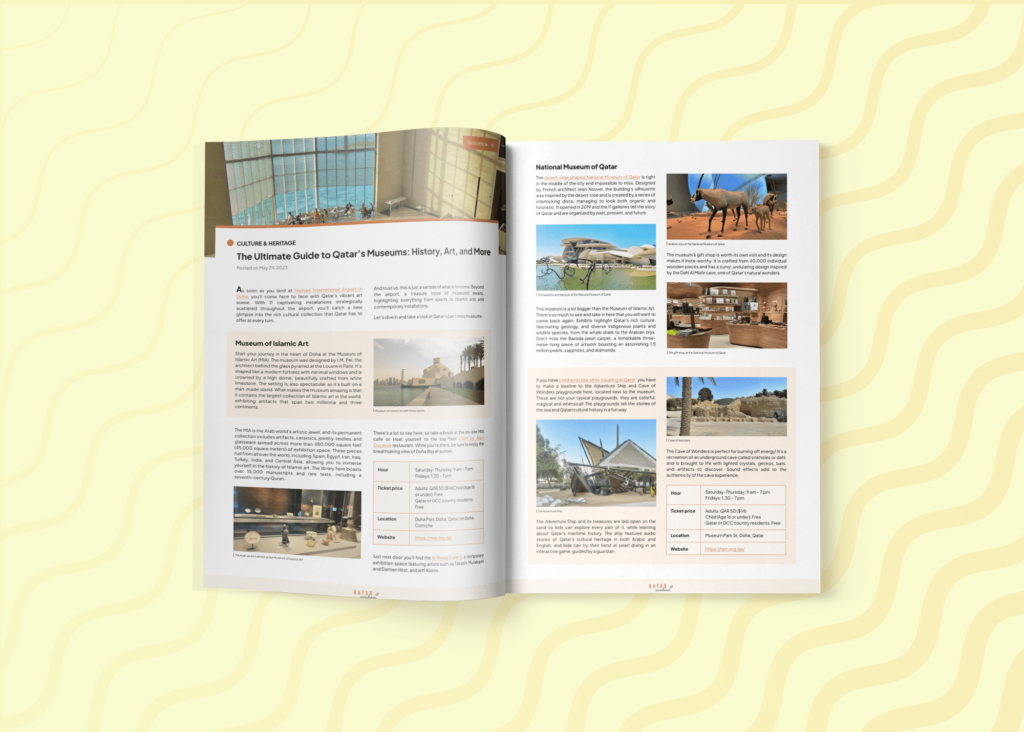 Free!
[PDF] The Ultimate Guide to Qatar's Museums
Please provide your email address to download this guide
Katara Art Center
Need more of an art fix? Head to the Katara Art Center (KAC) which highlights contemporary art and design, and is located inside the Katara Cultural Village. It was founded in 2011 by Tariq Al Jaidah as an artistic hub that pushes the boundaries of art, design, and culture, all while providing a platform to showcase Middle Eastern artists to a larger audience.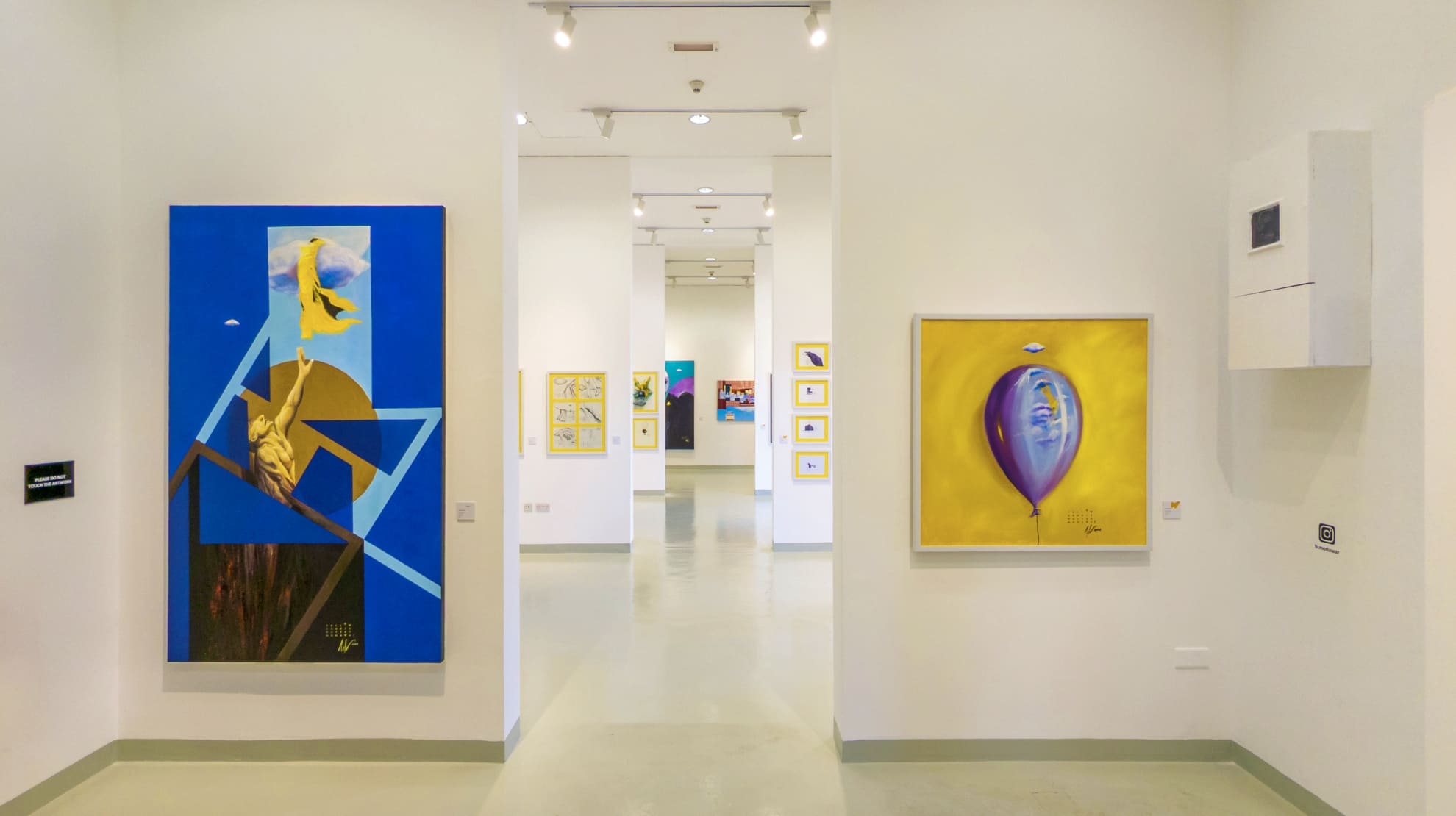 The Katara Art Center embraces a wide variety of art forms, working with artists, illustrators, food artists, fashion designers, and musicians. Their work is showcased through exhibitions and events with top institutions such as Sotheby's. Talks and classes are also offered here, including workshops on mandala silk painting, brush pen calligraphy, and recycled art. Kids classes are also available. A recent exhibit, Khalid Bumatar Al Mohannad's "Faces," looked at the unique features, emotions and stories that shape people's faces.
The KAC functions as an art incubator and works with emerging artists to grow and deepen their craft, and has deep links to the community. The KAC works with businesses to curate and build art collections for hotels, stores, and restaurants and can create marketing campaigns and enhance cultural branding.
Stop by the Katara Art Center gift and pop-up shops to browse a wide range of home decor objects, artworks, fashion and jewelry.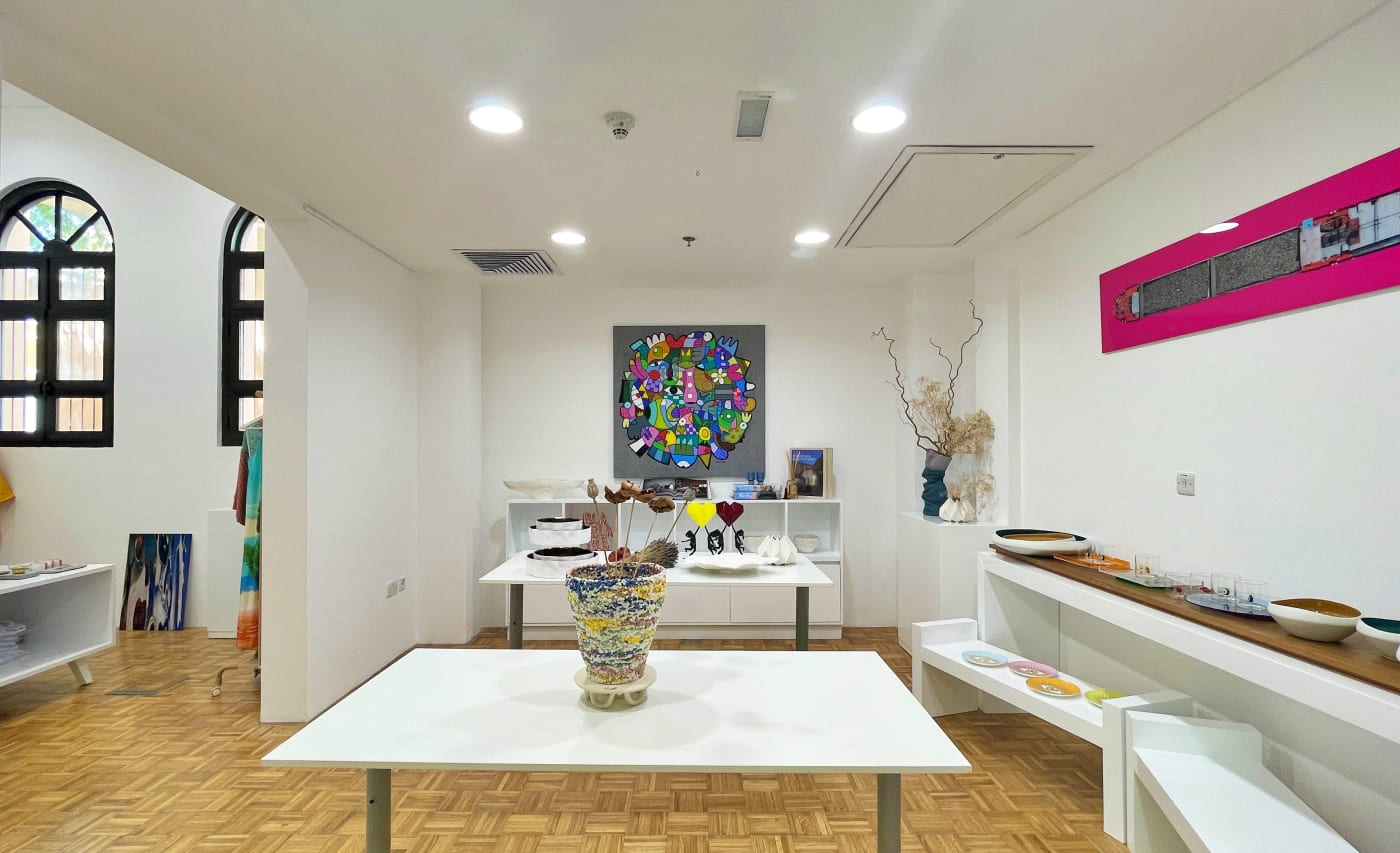 Museum of Illusions
Get ready to question reality! Nestled within the bustling Gate Mall in the heart of West Bay, the Museum of Illusions presents a unique, fun-filled, and intellectually stimulating experience for all ages. This museum is all about adventure and exploration, and will playfully trick your senses to question what is real.
At the museum, illusions and science converge to challenge your senses and perceptions while educating you about the fascinating intricacies of the human mind. As you navigate through the museum, you'll encounter attractions such as holograms, a head on a platter, and a disorienting rotating room. There's also a dizzying vortex tunnel, the mind-boggling infinity room, and a room dedicated to games and puzzles.
Do more of what makes you happy !#museumofillusionsdoha #qatar #doha pic.twitter.com/GX0JAXIkZp

— Museum of Illusions Doha (@MIllusions_Doha) November 5, 2021
These immersive experiences offer insight into the principles of physics, the secrets of the human mind, and the creative scientific theories that underpin these mesmerizing illusions.
Hours
Saturday–Thursday: 9 am – 10 pm
Fridays: 1 – 10 pm
Ticket price
Adult ticket price: 80 QAR (~$22)
Children's ticket price: 60 QAR ($16)
Family ticket price: 220 QAR (~$60)
Location
Gate Mall, Doha
Website
museumofillusions.qa
Qatar's museums FAQ:
How Many Museums Does Qatar Have?
Qatar is home to a multitude of museums covering a variety of themes. We've listed 12 museums and installations in this article but there's more to come. Besides, Qatar is currently the world's largest buyer of contemporary art and strives to position itself as a global art hub. Some of the prominent ones include the Museum of Islamic Art, the National Museum of Qatar, Mathaf: Arab Museum of Modern Art, Msheireb Museums, and Al Zubarah Fort, among others.
What is the Most Visited Museum in Qatar?
The Museum of Islamic Art, showcasing masterpieces of Islamic art from three continents over 1,400 years, is one of the most visited museums along with the National Museum of Qatar. Its popularity is due to both its vast collection and its stunning architecture, which is among the most impressive in Qatar.
Are Qatar Museums Free?
Some museums in Qatar do charge an entry fee, while others offer free admission. It's advisable to check the respective museum's website for the most accurate and up-to-date information on hours and admission costs. Additionally, Qatar Museums often provides free entry for residents of Qatar and sometimes holds special events or days where admission is free.
Are There Any Upcoming Museums?
Yes, there are several upcoming museums in Qatar. The Automobile Museum, set to open in 2024, will be a haven for car enthusiasts, showcasing the history and future of automobiles. You can get a sneak peek at a temporary gallery at the National Museum of Qatar. The Lusail Museum, opening in 2029, will house the world's largest collection of Orientalist artworks. The Art Mill Museum, opening its doors in 2030, will be located in a former industrial flour mill and will be dedicated to various art forms dating from the mid-19th century to the present. These new additions will further enrich Doha's vibrant cultural landscape.