Calling all beach lovers!
If you're ready to soak up some sun, sand, and sea in the beautiful city of Doha you've come to the right place. Many people think that you need to get out of the city to find wonderful beaches, but that couldn't be further from the truth.
If you're short on time, or just don't feel like leaving the city, we've got you covered. There's no need to venture out to Fuwairit Beach (1h20m from Doha), Simaisma Beach (40m from Doha), or Sealine Beach (45m from Doha and one of Qatar's top public beaches) to enjoy some amazing Qatar beach experiences. Although those places are wonderful, you've got all the sandy goodness right in Doha!
From private cabanas to crystal clear waters, here are the very best beaches in Doha that you won't want to miss.
B12 Beach Club
Cost: 150 QAR (weekdays) to 200 QAR (weekends), free for children under 18
Hours: 10 am – 5 pm Daily
Location: West Bay, Doha
Welcome to a family-friendly private beach resort that offers far more than just a beach – it's a full-day adventure! Imagine standing on a paddleboard, gently gliding over the glistening Arabian Sea, or soaring through the air whilst parasailing. You can make that dream a reality at B12.
For kids and those who are young-at-heart, the Floating Water Park is a must-visit – and the biggest floating water park in Qatar. It's not every day you visit a beach that has this many fun family-friendly activities on offer!
It's not just about having fun in the water here; the B12 Beach Club goes above and beyond to make your day at the beach memorable. Plush sunbeds and loungers, a VIP area, beach towels, face towels, and cold bottled water add to the experience and make you feel pampered. And this is no typical off-the-grid beach experience, either. There's complimentary internet so you can share those sun-kissed selfies instantly!
B12 checklist:
Delicious food ✅
Fun activities ✅
Colorful views ✅ pic.twitter.com/qU3hr8cEP0

— B12 Beach Club Doha (@b12doha) December 10, 2022
By now, it's clear that B12 have got all bases covered, so it goes without saying that they have a top-notch restaurant onsite. Serving up a selection of mouthwatering dishes prepared with fresh ingredients, this restaurant is a destination in its own right. The fact that it's attached to the beach is just the icing on the cake!
As your day at B12 draws to an end, the vibrant sundown paints the sky, and the resident DJ sets the mood for a laid-back evening, you'll easily agree that this is one of the best beaches to visit in Doha.
Doha Sands
Cost: Adults 75 QAR (weekdays) to 100 QAR (weekends), free for children under 18
Hours: 10 am – 5 pm Daily
Location: West Bay, Doha
With its wide expanse of pristine white sand and inviting azure waters, there's no doubt about it: this beach is a knockout. Whether you're looking for a fun family picnic venue, a place to get together with friends, or a beach to relax as a solo female traveller, Doha Sands is a fabulous option.
A trip to Doha Sands is about far more than just lounging around on the sand (although it'll be hard to tear yourself away from your sunbed!). If you're a fully-fledged adrenaline enthusiast or even just a curious beginner, you'll want to take a kite surfing lesson or two here. There's no reason not to – the teachers here are pros, classes are readily available, and, of course, the scenery is drop-dead gorgeous!
Food, Fun and relaxation at Doha Sands! pic.twitter.com/QrqjhuQ7wE

— Doha Sands (@dohasandsbeach) December 6, 2022
Of course, no beach day is complete without tasty bites and refreshing drinks – and Doha Sands has got you covered. A variety of kiosks serve up tasty treats and beverages to satisfy all cravings. Even the pickiest of eaters won't be disappointed here.
And for those who love to stay connected or maybe share some stunning beach snaps, go ahead! Free Wi-Fi is available across the beach, so you can easily share all of the fun you're having with friends and family back home.
As the sun begins to set on your day at Doha Sands, kick back on the complimentary lounge beds and experience the wonder of a Doha sunset. Live performances from cool artists and DJs will keep the good vibes flowing as you tap your feet along to the beat.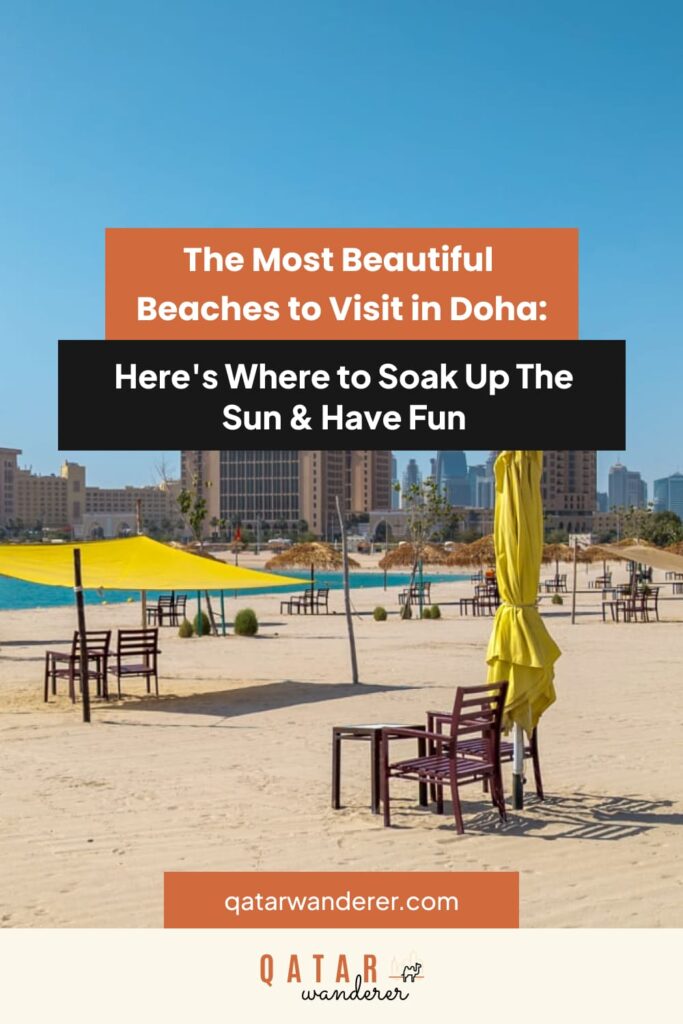 No time to read?
Pin it on Pinterest and revisit it later.
West Bay Beach
Cost: 30 QAR, free for children under 12
Hours: 8 am to 2 am
Location: West Bay, Doha
West Bay Beach could be described with all sorts of words, but "dreamy beach paradise" is the best way to sum it up! With 40,000 square metres of pristine beachfront and the spectacular Doha skyline as a backdrop, you'll struggle to find a more beautiful beach in Doha. A visit here is all about feeling the thrill as you jet ski across the shimmering turquoise waters, or just sitting back, soaking up the sun, and working on that tan. You decide!
That already sounds great, but there's more! You see, this is not just a typical beach, it's a playground too! Bringing the little ones or even your furry friends here for some arts and crafts, beachside fun, and even yoga classes is encouraged!
As the sun goes down, get ready for a night like no other by the sea. Thanks to the Doha Film Institute, the Cinema by the Sea series offers mesmerising film screenings for a perfect evening under the stars. Check the schedule and have your popcorn ready. You won't want to miss this!
Katara Beach
Cost: Adults 10 QAR, free for children under 18
Hours: 10 am to 11 pm – swimming and water sports are possible until sunset
Location: Katara Cultural Village
After a full day of exploring Qatar's cultural heritage at the Katara Cultural Village, you'll be crying out for a beach to relax and recover on. You're in luck – Katara Beach is just a stone's throw away and it's one of Doha's top public beaches. It's the perfect spot for a family beach getaway thanks to its huge kids' playground, which is right on the beach, and the seemingly unlimited choice of water sports to try out.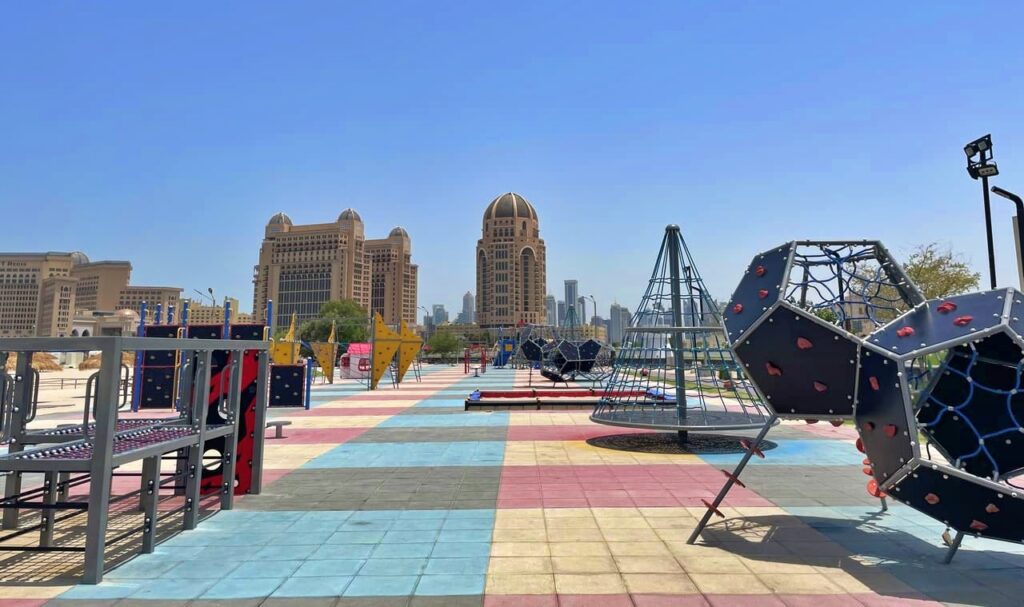 So, what takes your fancy? Parasailing, zooming around on a banana boat, kayaking, water skiing… or all of them? To carry on your Katara cultural deep dive, you could even take the whole family on a traditional Dhow ride! Of course, for those who'd prefer to keep their feet firmly planted in the 21st century, Catamaran rides are also an option.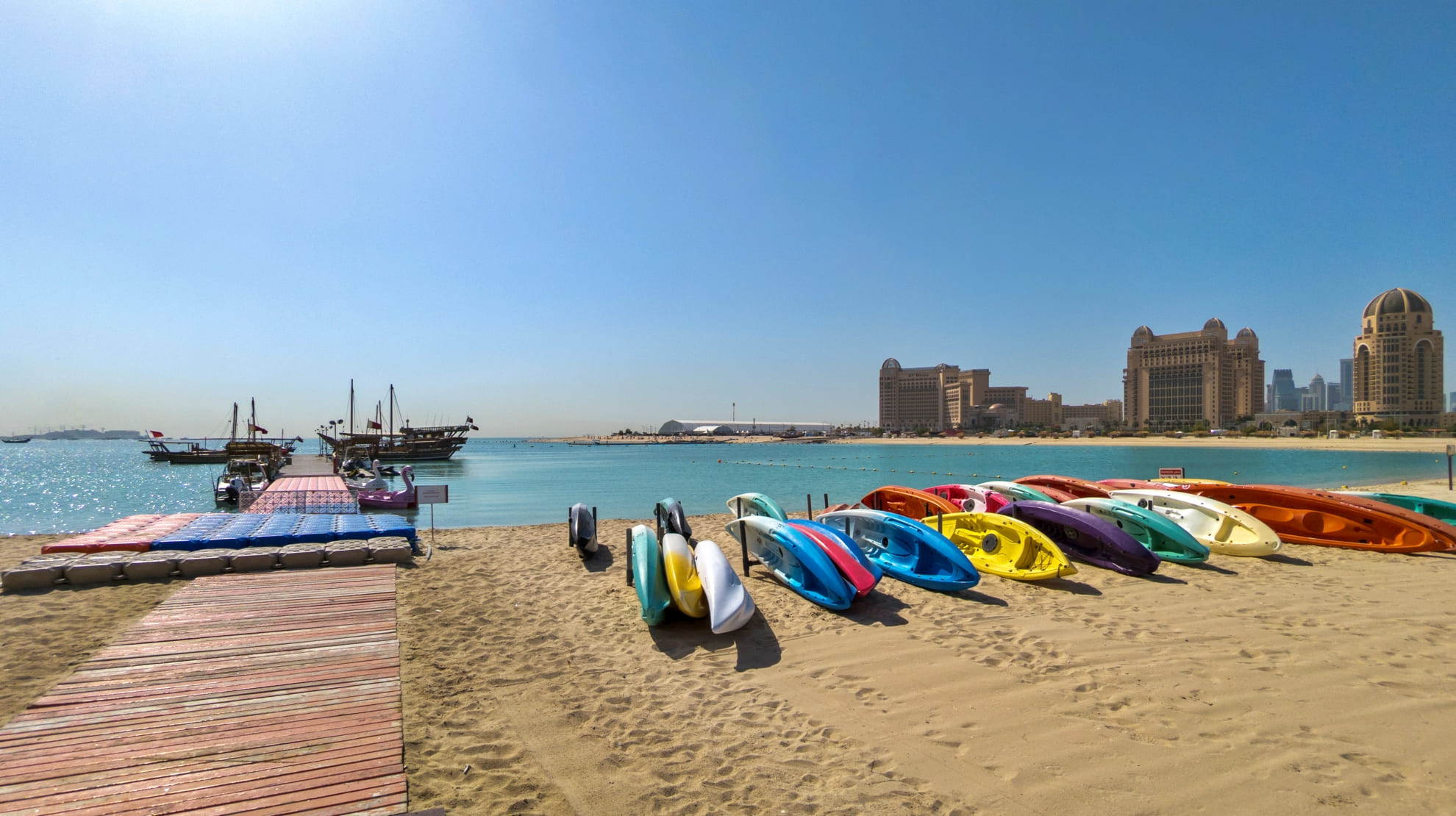 If adrenaline-pumping activities aren't your thing, no worries. Katara Beach also offers a peaceful retreat for those seeking some tranquillity. Lounge on the golden sandy shores that gently meet the sparkling blue sea or take a relaxing stroll whilst enjoying the warmth of the sun's rays. It's all up to you.
When hunger strikes, you won't have to venture far to find a dizzying array of epic restaurants to choose from. Right on the beachfront, you'll find Indian cuisine at Saffron Lounge, delicious fresh seafood at L'wzaar, Turkish food at Sukar Pasha Ottoman Lounge and Mexican food at Restaurant Cactus. The choices are almost endless!
Al Wakrah Beach
Cost: Free
Hours: 9 am to late
Location: Al Wakrah, about 30 minutes from Doha's city centre
We're stepping away from the beach clubs and resorts now to take a trip to Al Wakrah (sometimes spelled Al Wakra beach), one of the best public beaches in Qatar. It boasts a wide sandy shoreline, calm blue waters, and charming huts that offer just the right amount of shade. Sounds like the perfect picnic spot, right?
The kids are sure to have a blast at the playground, and everyone will appreciate the BBQ facilities, cafes, and restaurants nearby. Everything you could need for a wonderful beach day is close by. It's also one of the top spots for jet ski rental in Qatar.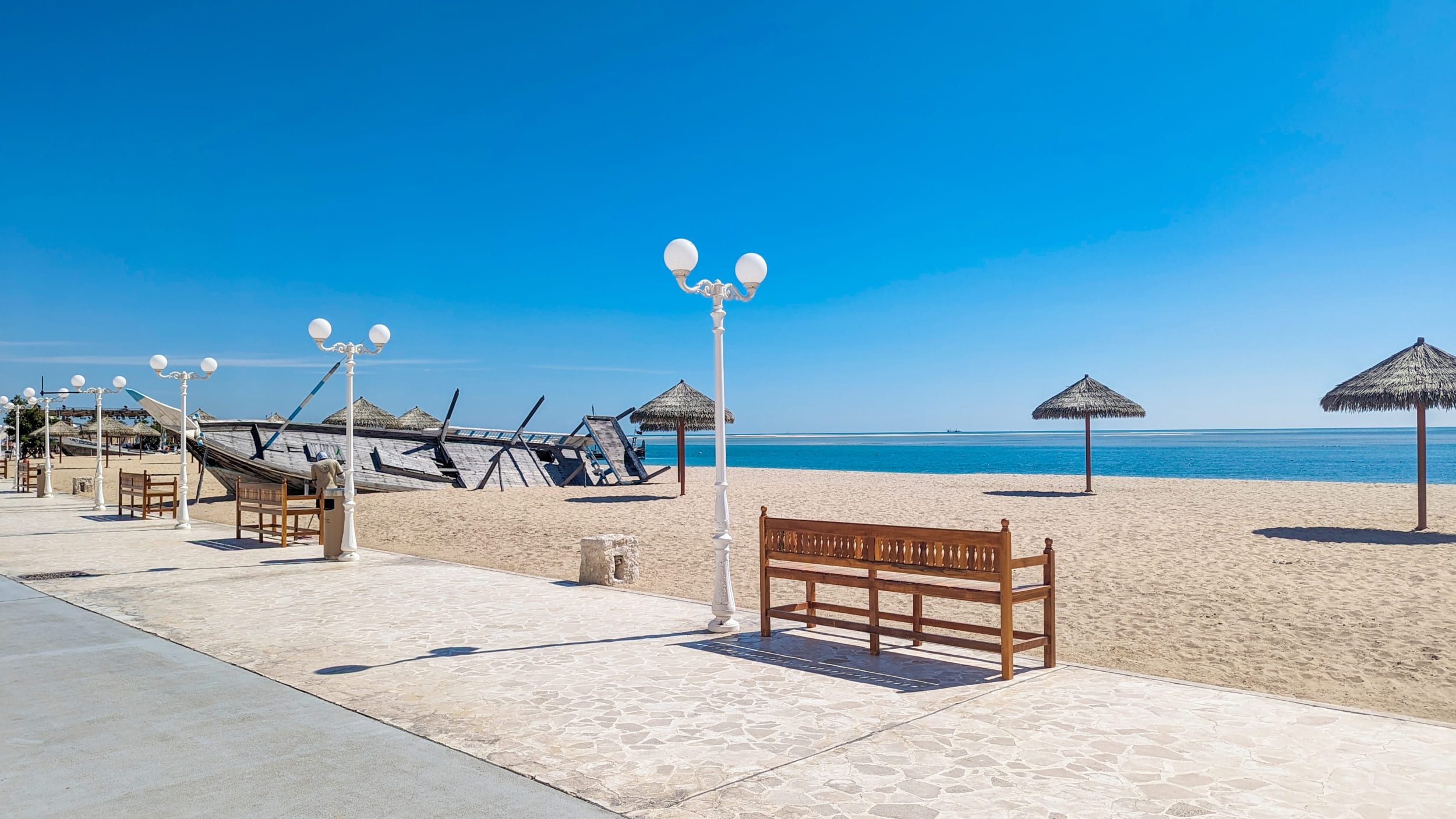 If you're up for a leisurely walk, the Al Wakrah Souq and the promenade are just a short distance away. Take in the picturesque views and soak up the relaxing ambience – just don't forget to dress appropriately for this public beach.
The best hotel resort beaches in Doha
Get ready for some beachfront luxury! While there are many 5-star resorts in Qatar, not all of them have their own private beach. So, we've rounded up the crème de la crème of Doha hotels with private beaches just for you. Get ready to soak up the sun, relax in style, and indulge in the ultimate beach day experience!
Oh – and even if you're not staying at one of these hotels you can still access their private beaches. Simply purchase a day pass!
Sheraton Grand Doha Resort & Convention Hotel
Cost: 100 QAR (weekdays) to 150 QAR (weekends) for women and 250 QAR for men
Hours: 8 am till sunset
Location: West Bay, Doha
If you're travelling to Qatar as a family, this is the ultimate beach destination for you. Let your kids splash around in the calm, shallow waters, while you unwind on a comfy sunbed under a beach umbrella. Everything you need is here for a perfect, stress-free beach day.
There's nothing quite like the view here, so take it all in as Doha's impressive skyline forms the perfect backdrop against the stunning West Bay. It's definitely one of the best private beaches in Qatar and there's only one way to describe it: incredible!
Four Seasons Beach
Cost: 295 QAR (weekdays) to 365 QAR (weekends)
Hours: 6 am until sunset
Location: West Bay, Doha
This day pass is the perfect all-rounder because you'll not only have access to the beach, but you'll also get to dive into the hotel's five inviting pools.
Feeling adventurous? Unleash your inner adrenaline-junkie and try a speedboat ride, hop on a jet ski, or go banana boating. If you're more into relaxation, just lie back under the sun and let the day drift by as your worries float away. Ahhh…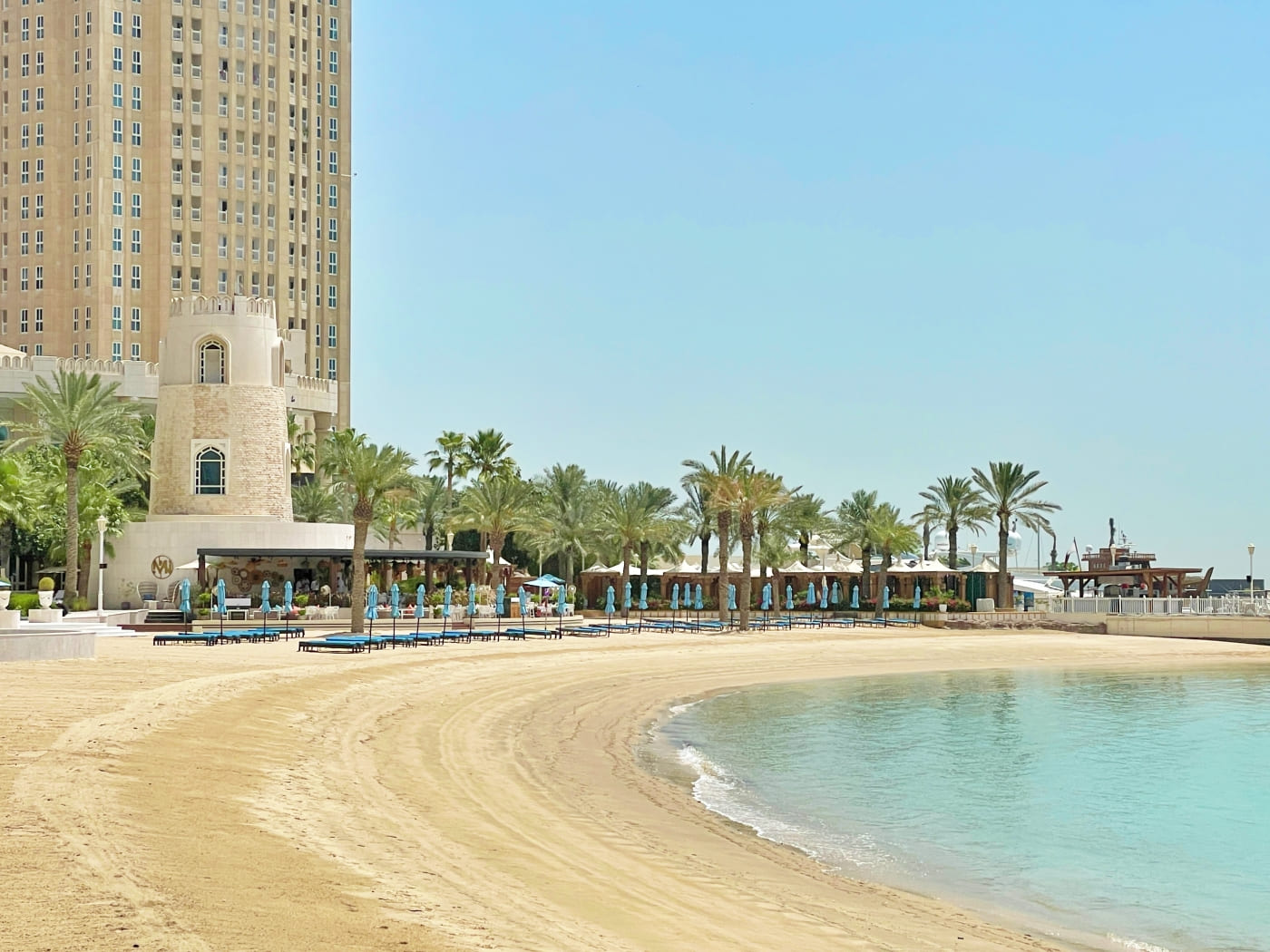 InterContinental Doha Beach
Cost: 150 QAR
Hours: 6 am to 10 pm
Location: next to Katara
Welcome to the InterContinental Doha Beach – home to the longest private beach in Doha! Get ready for a day of ultimate indulgence when you purchase a day pass here. Not only will you get to savour a delicious (and free!) salad, sandwich, and drink, but you'll also get access to chic cabanas and cosy lounge areas. And as if that wasn't enough, there's even a resident DJ, Jay Newman, to add some beats to your beach day.
Beach volleyball is a big hit here, so why not join in on the action? If sports aren't your thing, though, no stress. Chill in your sun lounger, soak up the atmosphere and enjoy the world-class view of the West Bay financial district, one of Doha's main neighbourhoods. After such a wonderful beach day experience, you'll wonder why it took you so long to get here!
Island beach resorts near Doha
Looking for a true escape? Why not venture off the peninsula and into the sea with a stay at a beach resort on an island? The feeling of seclusion here is second-to-none!
Anantara Banana Island Resort
Cost: 350 QAR (low season) or 550 QAR (high season); the price includes 200-300 QAR credit to spend on restaurants and 50 QAR to spend on recreational activities. The cost is 150 QAR for kids between 5 and 11 and 100 QAR for kids between 2 and 4.
Hours: 9 am to 6 pm
Location: Banana Island
Hop on a boat and head off to Banana Island Resort Doha for a true getaway, filled with scuba diving, water sports, and plenty of relaxation. Located just 25 minutes from Shyoukh Port (next to the Museum of Islamic Art), this island resort feels like it's a million miles away from the stresses of daily life. It's a slice of tropical heaven!
Imagine walking on a private sandy beach – that stretches a whopping 800m, taking a refreshing dip in a 100m lagoon pool, or riding the waves in a surf pool. Sounds great, right?
For all you underwater enthusiasts, you won't be disappointed here. If you're interested in exploring what's under those clear turquoise waters, scuba diving is the best way to do it. Whether you've dived before or are a complete novice, the resort will cater to your needs. You can even join professional scuba diving and snorkelling lessons, where the instructors will be ready to help you unlock the mysteries of the vibrant marine life below. The best time to travel to Qatar for scuba diving is during the winter.
Take a weekday off work and gather your friends for some island leisure from Sunday to Wednesday, 9.00 am to 5.00 pm!

Know more about our Banana Island Weekday Access 👉 https://t.co/R3xykoqrfp pic.twitter.com/EIVk4Rduju

— Banana Island Resort (@BananaIslandDOH) August 13, 2022
And the best part? Day passes are available for non-guests and come complete with restaurant credit and funds for fun recreational activities. You'll never get bored at Banana Island Resort!