Are you ready to make a splash and explore Qatar's stunning coastline in the most thrilling way possible? Then look no further than jet ski rentals! While you may know Qatar as a world-class destination for kitesurfing, there are plenty of other water sports adventures to be had in this fabulous country – and jet skiing is one of the most exciting.
In this blog post, we'll take you on a journey through some of the best spots for jet skiing in Qatar, as well as what to see along the way. From the towering skyscrapers of West Bay to the pristine sands of Al Wakrah Beach and beyond, we'll show you the most beautiful and thrilling locations for your next jet skiing adventure.
Whether you're a seasoned pro or a complete novice, we've also got you covered with our top tips for renting a jet ski in Qatar. So, grab your sunscreen, put on your life jacket, and let's dive into the exhilarating world of Qatar jet skiing!
The best spots to rent a jet ski in Qatar
Katara Beach
If you've visited the Katara Cultural Village, one of the top cultural destinations in Qatar, you may already be familiar with the allure of Katara Beach. Nestled within this cultural hub, Katara Beach is not just one of the best beaches in Doha, it's also one of the best places to rev up your engine if you're a jet ski enthusiast. This 1.5 km stretch of pristine shoreline is jet ski heaven!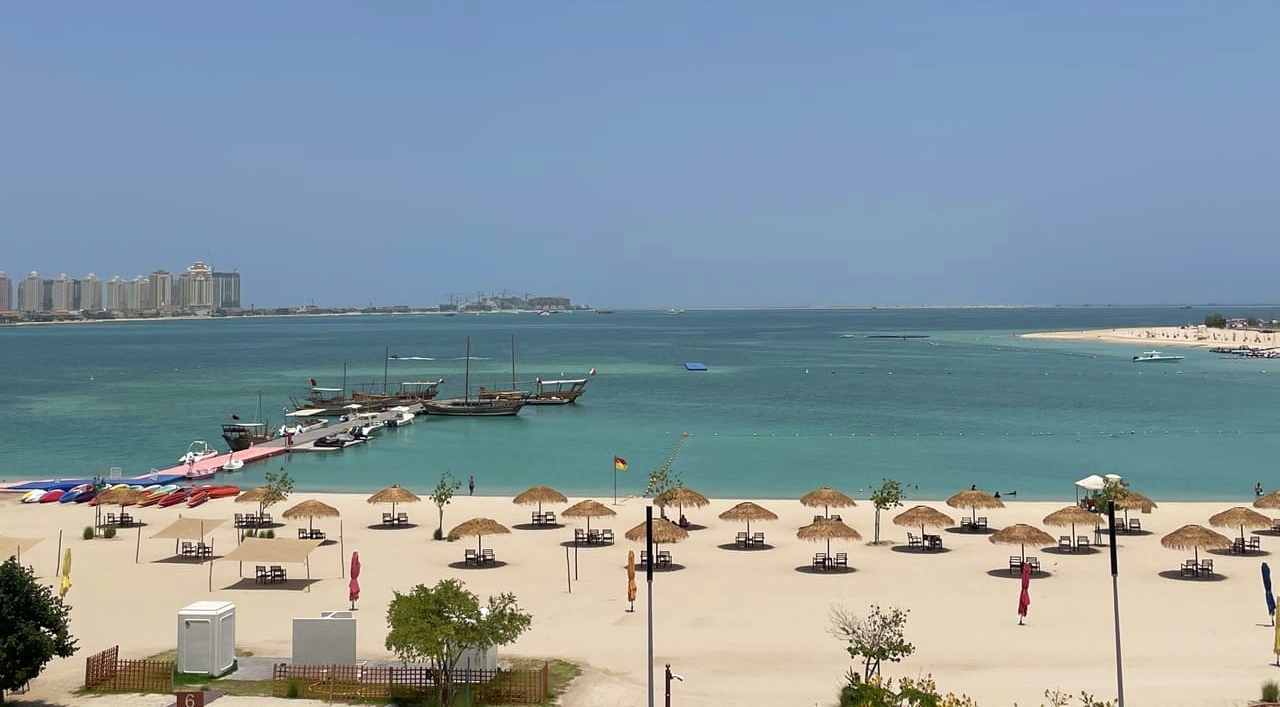 Whether you're a complete newbie or jet ski pro, Katara Beach offers rentals and guided tours to suit all levels. It's also conveniently located close to the city centre, so even if you only have a few hours to spare, you can still indulge in some high-speed fun on the water without having to travel too far.
West Bay Beach
If you're staying in one of the many West Bay hotels and looking for some high-energy fun, look no further than the jet ski spot on West Bay Beach, which is adjacent to the InterContinental Doha Hotel, one of the best hotels for families in Doha. This picturesque beach boasts a captivating cityscape and breathtaking ocean views, making it the perfect backdrop for your thrilling jet ski adventure. No wonder why it's considered one of Doha' top beaches.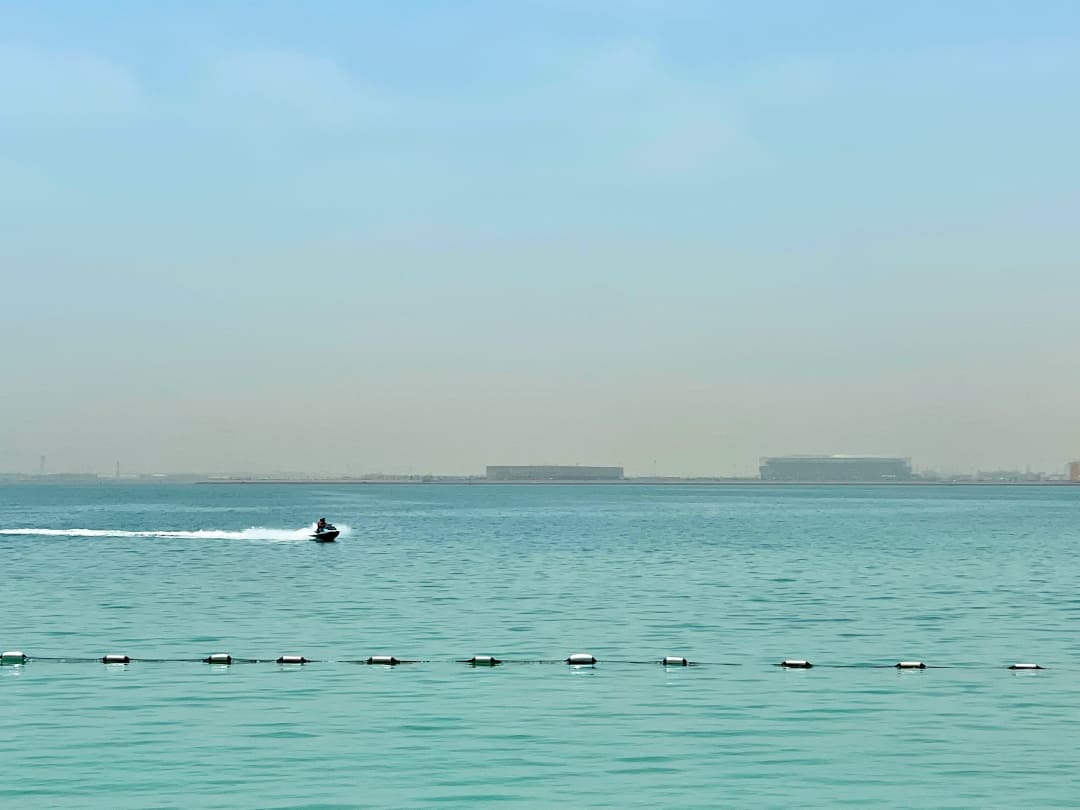 Old Doha Port
Perhaps you've spent the afternoon admiring the exquisite collections at the nearby Museum of Islamic Art, meandering through the park, or strolling the charming streets of the Mina district, located at the Old Doha Port. Now, you're ready to hit the water and zoom around on a jet ski. The Box Park Marina in Old Doha Port has got you covered! This popular hub for jet ski enthusiasts offers several launch spots to kick off your aquatic adventure.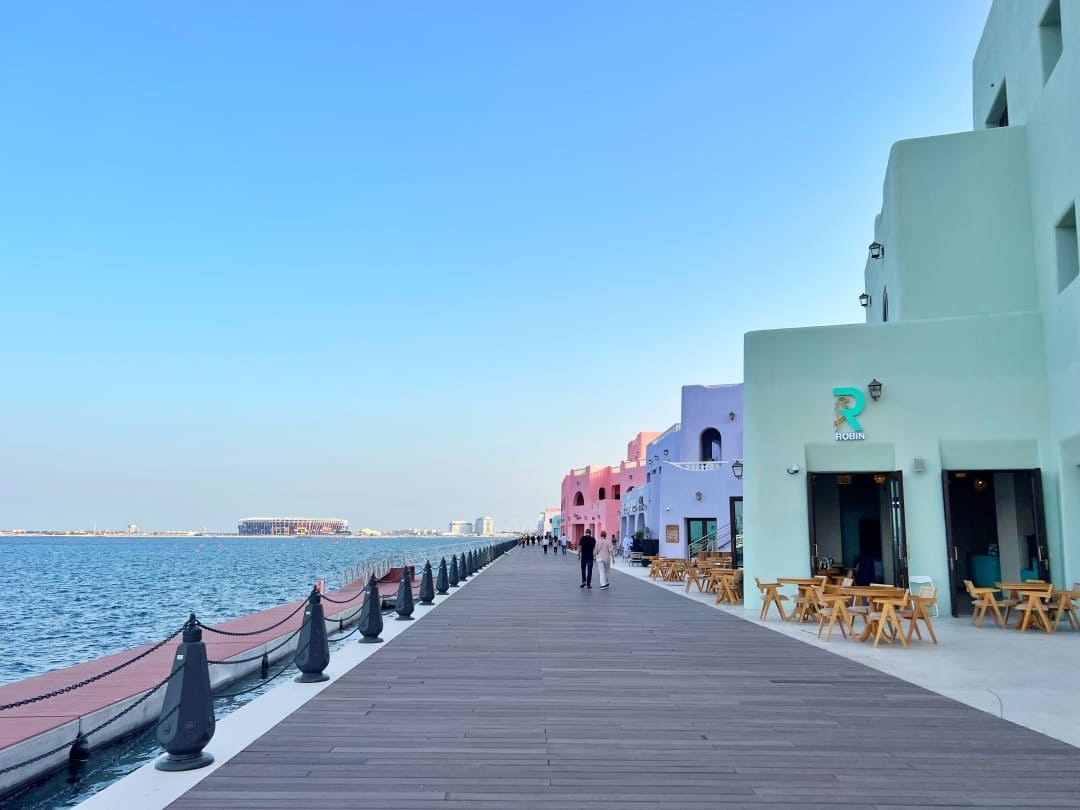 What's more, Box Park Marina caters to your beachwear needs, selling all the beachwear essentials and cool jet ski accessories. It really is a one-stop destination for jet skiers.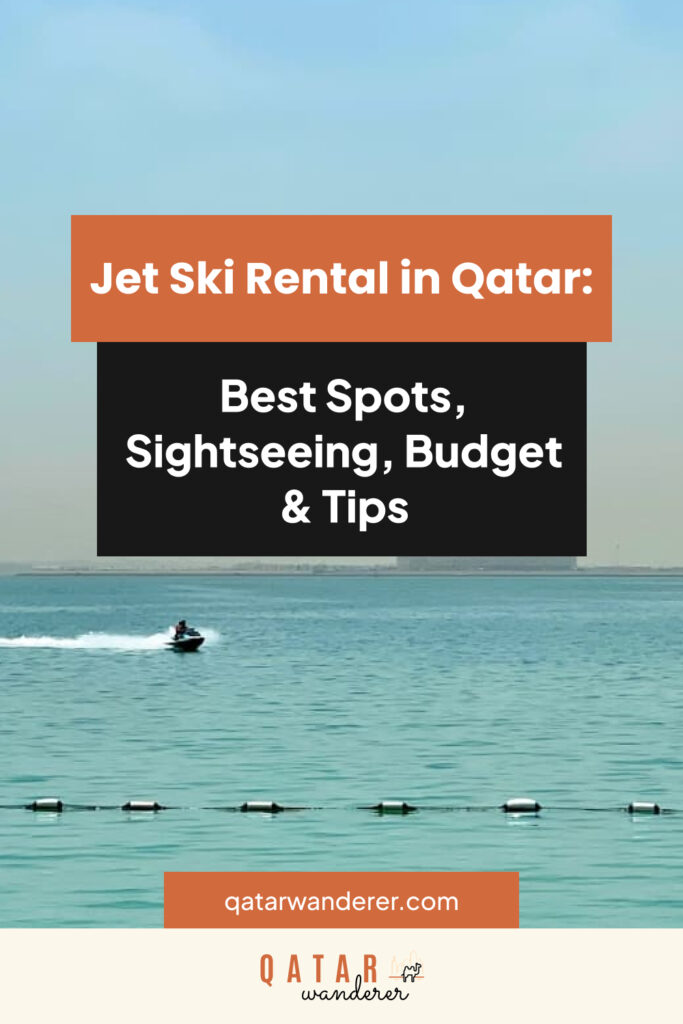 No time to read?
Pin it on Pinterest and revisit it later.
The Pearl-Qatar
The Pearl-Qatar, a man-made island renowned for its luxurious residences and high-end retail outlets, serves up jet ski adventures like no other! It's the ideal starting point for jet skiing along the picturesque marina, offering a captivating view as you set off on your journey. Just don't get too close to the superyachts!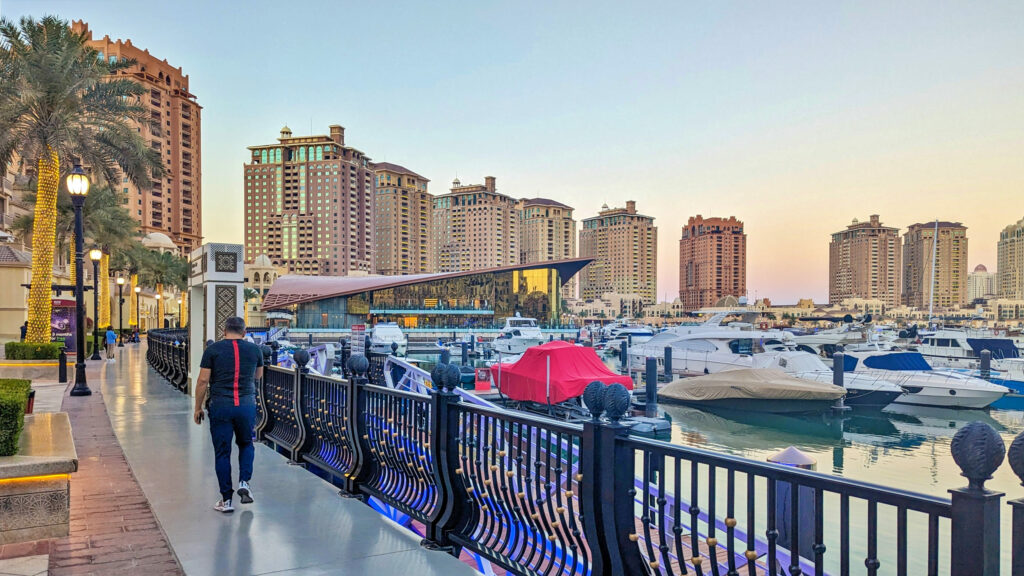 The strategic location of The Pearl also makes it the perfect launch pad to venture towards Al Safliya Island, a popular destination among jet ski enthusiasts.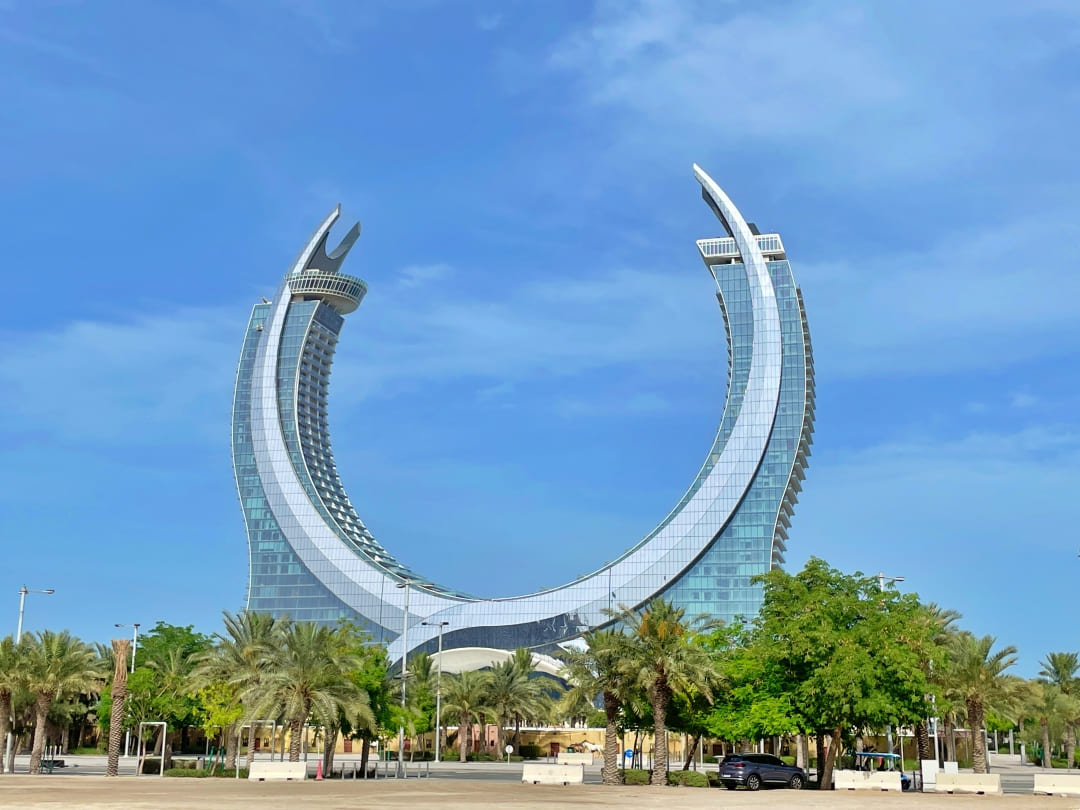 At The Pearl, you get two jet ski rental locations in one, because you'll find another rental spot just a short five-minute drive away at Lusail Marina. Located right next to the crescent-shaped architectural marvels of the Fairmont and Raffles hotels, jet skiing here will add an element of luxury to your jet ski journey.
Banana Island
Qatar radiates grandeur, so why not opt for a luxurious and exclusive jet ski experience at Banana Island? Just a short 20-minute boat ride from Doha's mainland, this uber-luxurious private island resort offers a wide array of water sports activities, including jet skiing (obviously). It's one of the best places to escape the city's bustling rhythm, kick back, and have fun.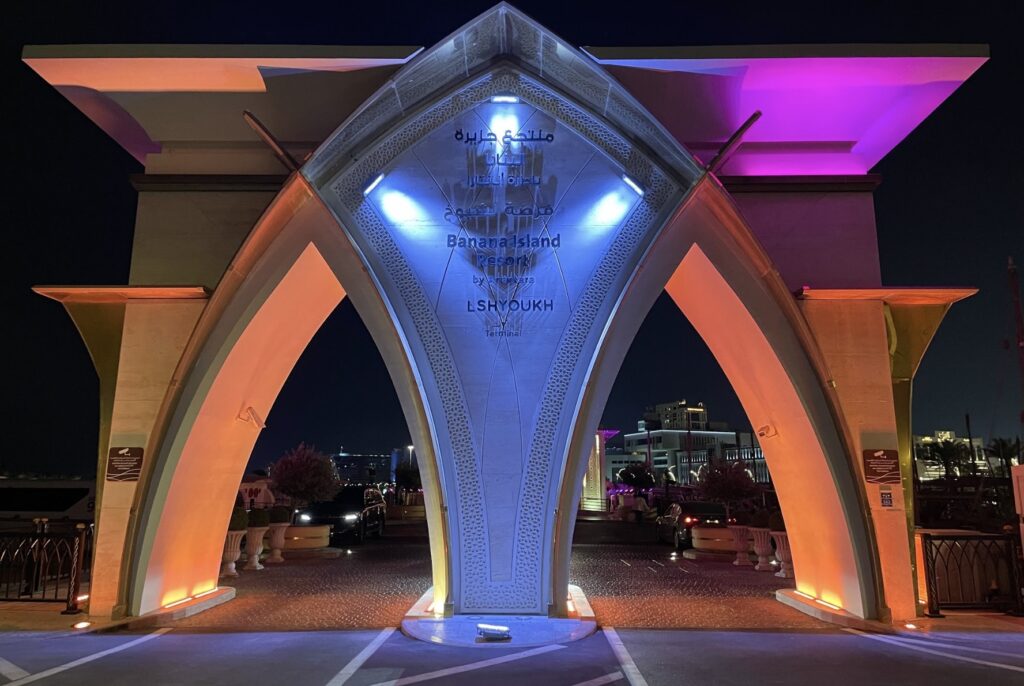 The calm waters surrounding Banana Island make it the perfect playground for jet ski riders. After an adrenaline-filled afternoon on your jet ski, you can unwind with the island's top-notch facilities. Enjoy fine dining, indulge in spa treatments, or relax in luxurious accommodations. It's a hard life, but somebody's gotta do it!
Al Wakrah Beach
Let's move out of the capital city for a while to the South of Doha, where you'll find Al Wakrah Beach, another fantastic spot for jet ski rental in Qatar. Not only can you zoom over crystal-clear waters to your heart's content here, but from your jet ski you'll also get to marvel at beautiful coral reefs underneath you. That's why this expansive stretch of coastline is a popular destination for water sports fans.
After all that excitement, you're bound to have worked up an appetite. No worries, though – you can enjoy some delicious local seafood at one of the nearby seaside restaurants to replenish your energy.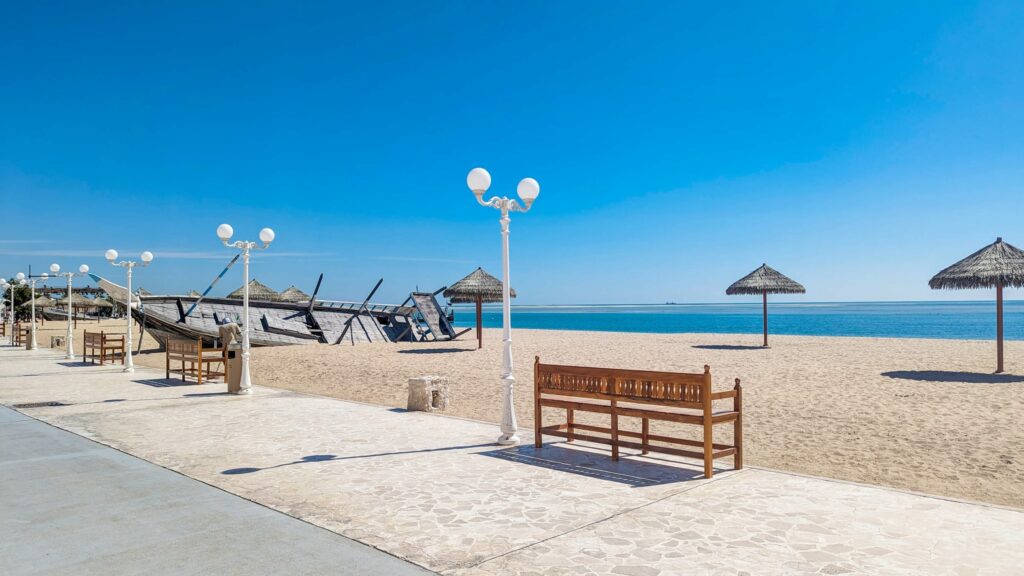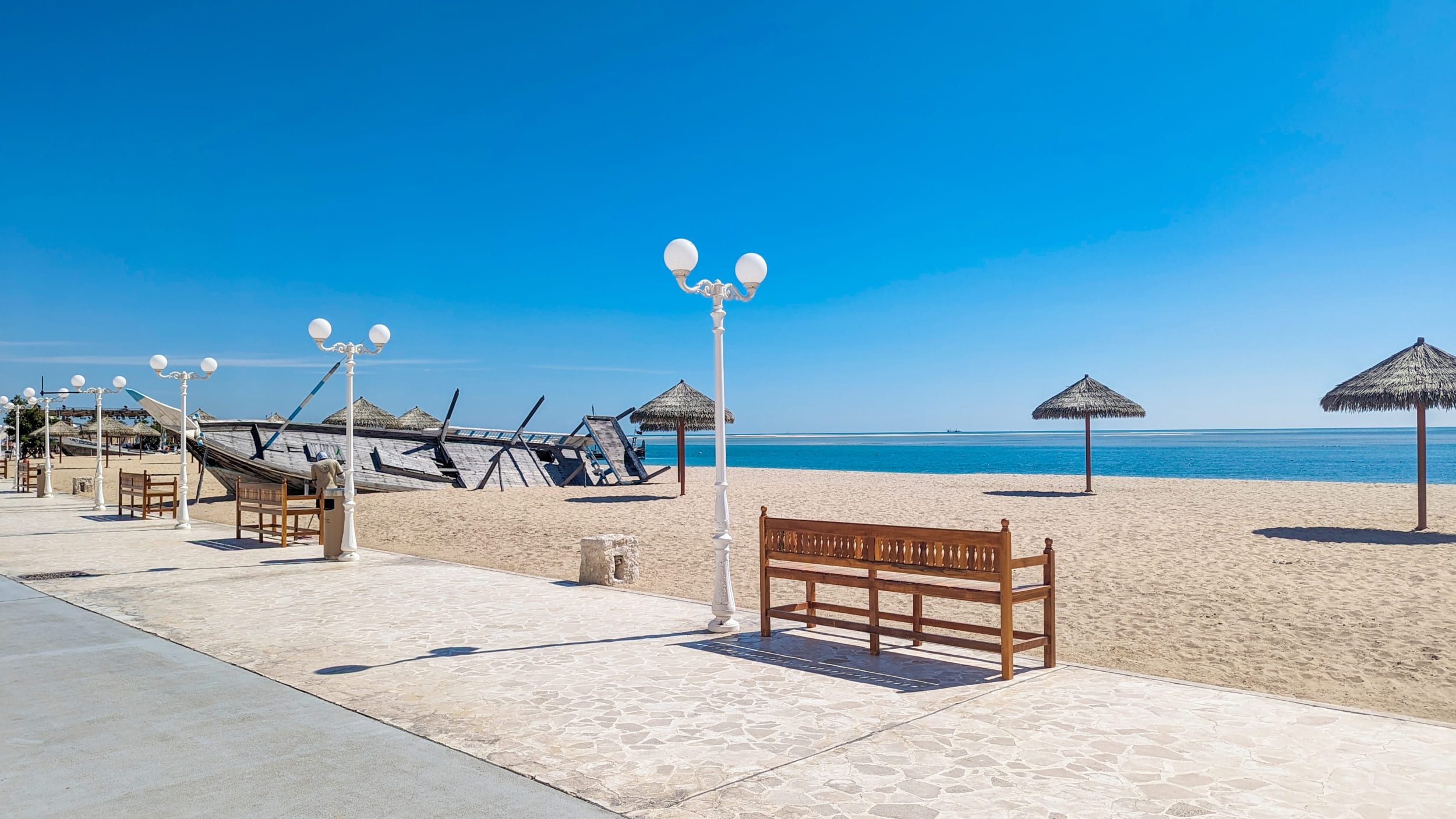 Wanting to extend your time at Al Wakrah? Take a leisurely stroll through the charming Al Wakrah Souq to soak up the sights, sounds, and scents of traditional Arabian culture.
Sealine Beach
Get ready to have your adrenaline pumping at Sealine Beach Resort! Located in Mesaieed, about 35 miles (56 km) south of Doha, this is a one-stop destination for jet ski thrill-seekers and sunbathers alike. With a huge range of water sports to choose from, including jet skiing, it's no surprise that this is a popular hotspot for Qatar's water adventure enthusiasts.
What sets this resort apart is its professional jet ski instructors, who are ready to coach all abilities, and its state-of-the-art equipment. You'll be well looked-after here.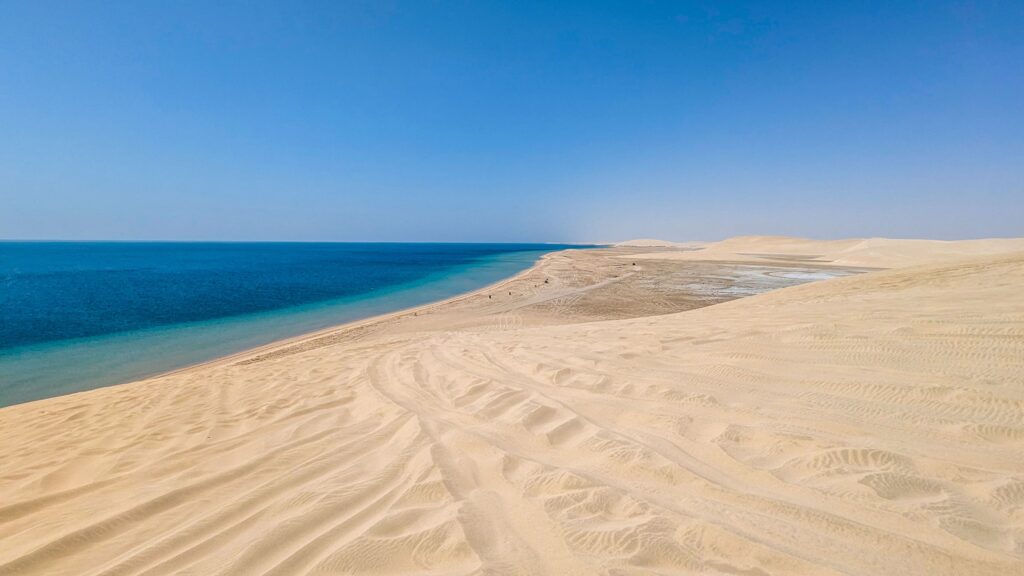 After an exhilarating day on the water, treat yourself to a refreshing drink and a delicious meal at one of Sealine Beach's on-site restaurants. You won't even need to leave the resort, which is a good thing, because you won't want to!
The best things to see in and around Doha on a jet ski
If you're a jet ski enthusiast in Doha, you're in for a treat! There are so many amazing things to see in and around Doha from aboard your jet ski. Whether you choose to embark on a jet ski adventure on your own or choose a jet ski tour with a guide, there are certain iconic spots around Doha that you simply can't afford to miss. Here's a rundown of the top locations that should be on your jet ski itinerary.
Let's assume you're starting off at the Old Doha Port.
First, head towards the Doha Corniche, a seven-kilometre promenade stretching along the picturesque waterfront of Doha Bay. This gorgeous location offers stunning views of the city and the Arabian Gulf. You'll also get to glimpse the Museum of Islamic Art emerging from the water's edge, adorned with geometric patterns and domes that showcase Islamic architecture at its best.
Then head towards West Bay, where the city's towering skyscrapers dominate the skyline. As you glide across the azure waters, the reflection of the sun off the city's glass and steel structures creates a mesmerizing spectacle.
Further along the coast, you'll find Katara Beach, a part of the Katara Cultural Village. This sandy stretch is perfect for a quick break from your jet ski adventure. The beachfront is dotted with traditional Qatari buildings, offering a glimpse into the Qatar of yesteryear.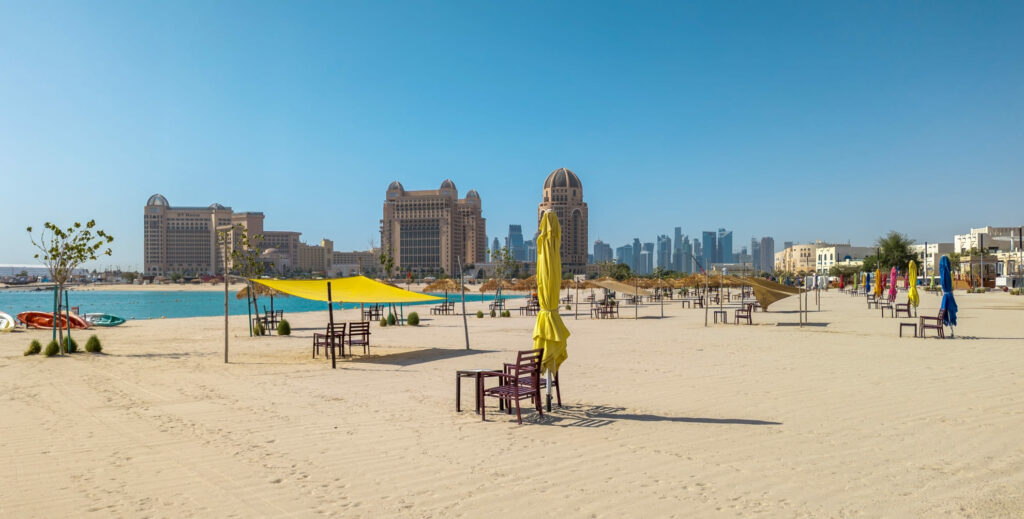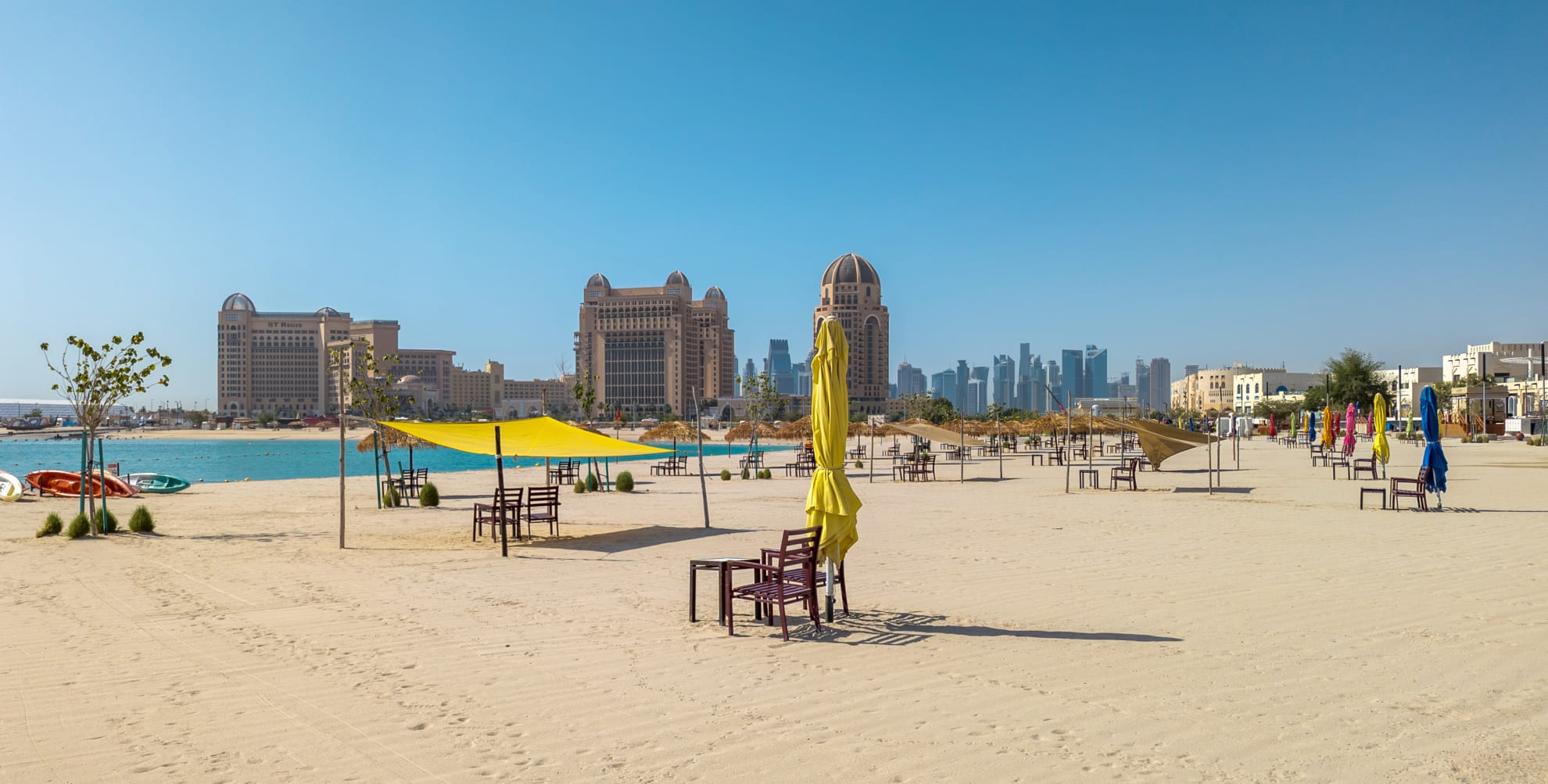 Then check out the iconic Pearl Qatar, a man-made island known for its luxurious residences and high-end shopping centres. Its eye-catching architecture, inspired by the Arabian Gulf's pearl-diving history, is a sight to behold from your jet ski.
If you have the energy for a short jet ski ride away from the city, you should definitely visit Al Safliya Island. This uninhabited island, located three miles off the coast, features a manta ray shape and pristine beaches, making it a must-visit spot for water sports enthusiasts.
Finally, don't miss out on Lusail City, a sustainable city project north of Doha. The city's skyline, featuring the Katara Towers, ZigZag Towers, and Crescent Tower, is a testament to Qatar's commitment to futuristic architecture and sustainable living.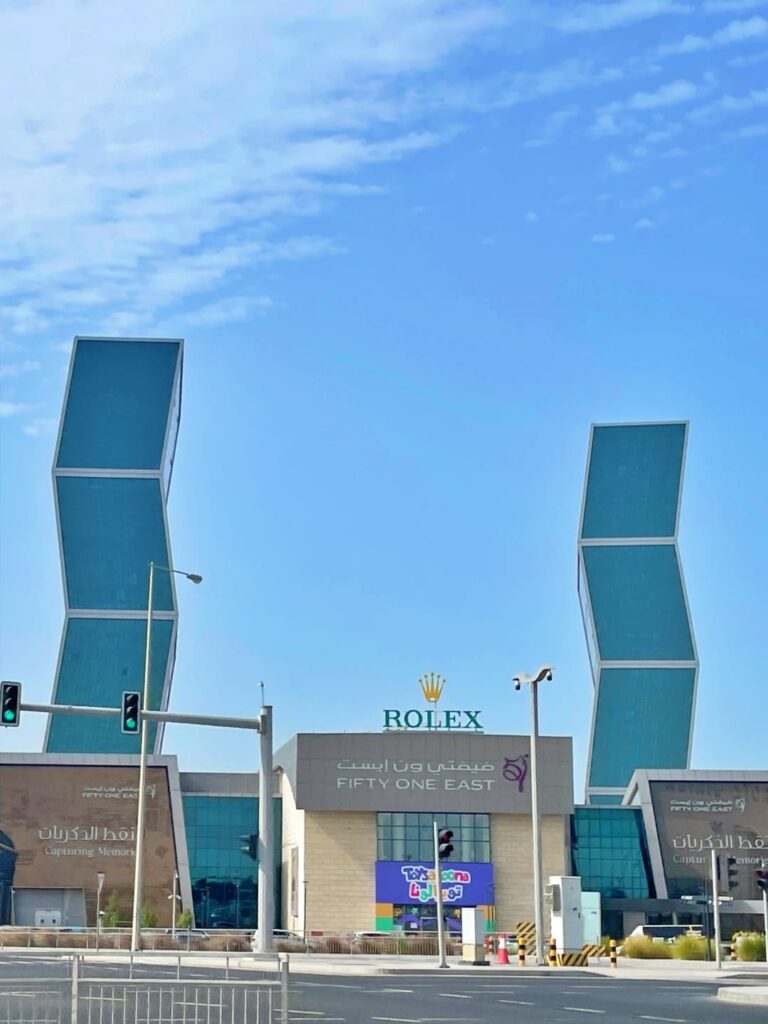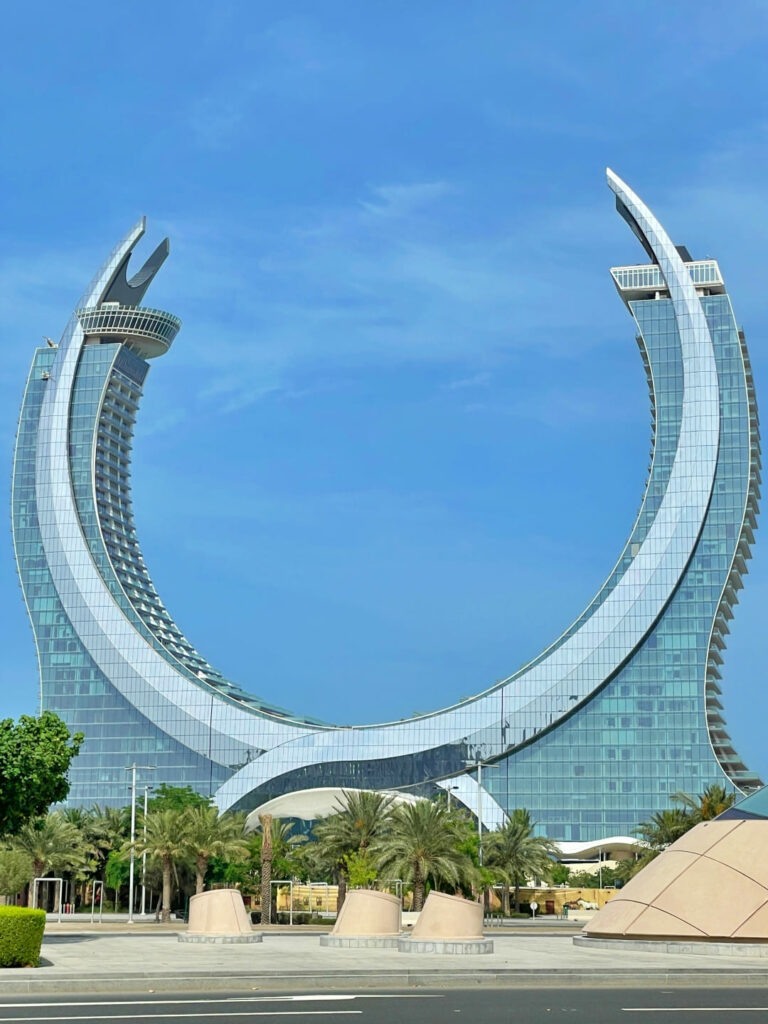 Top tips for your jet ski experience
It's almost time to head out on the water on your thrilling jet ski adventure. Not so fast, though! Safety always comes first, no matter how experienced you are. You should always wear a life jacket for protection – even if you're a good swimmer. If you fall off a jet ski at high speed, your life jacket will be your saviour!
Start riding your jet ski at a slow pace, gradually increasing your speed as you gain confidence. This will help you get comfortable with the jet ski and avoid any mishaps.
It's important to remain aware of your surroundings as you ride, steering clear of other boats and swimmers to avoid collisions. Remember, safety comes first – you want to make sure that everyone enjoys their time on the water.
Okay, with the lecturing out of the way, here's an important tip: remember to have fun! Soak up the thrill, feel the splash of the waves, and take in the beauty of Qatar from your jet ski. With these safety tips in mind, you can rest easy knowing that you'll be able to enjoy your jet ski adventure safely and responsibly.
What is the best time for jet ski in Qatar?
The best time to visit Qatar for jet ski is between October and April when the weather is cooler and more pleasant. During these months, the temperatures typically range from 18°C to 30°C (64°F to 86°F), making it an ideal time for water sports like jet ski. The seas are calmer, and the gentle winds add to the thrill of jet skiing without making it too challenging. With that said, you'll see people riding jet skis all year round even during the hottest months in Qatar.
What is the cost of renting a jet ski in Qatar?
The cost of renting a jet ski in Qatar varies depending on factors such as the engine's power and the place you rent your jet ski from. Generally, you can expect to pay around QAR 400 to 500 ($110 to $140) for an hour's rental. For a shorter ride of 30 minutes (perfect for beginners), the cost typically ranges from QAR 250 to 300 ($70 to $80).
We hope you have an amazing jet ski experience in Qatar!