If you're on the lookout for a unique and thrilling scuba diving experience, we've got just the destination for you: Qatar. You might be wondering, "Qatar? Really?" Yes, really! And if you're a water sports enthusiast, you may already know Qatar as a top-tier global destination for kitesurfing. Let's discover why scuba diving in Qatar should be on your bucket list too!
Why Qatar Is a Great Destination for Scuba Diving
Dive in year-round
Qatar's climate is one of its greatest assets for scuba enthusiasts. With warm weather almost the entire year, you can dive into the crystal-clear waters of the Arabian Gulf anytime you like. It's the perfect getaway to escape the cold or to indulge in your passion for diving without being limited by seasonal changes.
Desert meets sea: A one-of-a-kind setting
What makes Qatar truly unique is its amazing landscape as it's where the desert meets the sea. Khor Al-Adaid (variably spelled Khor Al-Udaid), also known as the Inland Sea, is a must-visit site for divers seeking something out of the ordinary.
The UNESCO-recognized natural reserve is one of the few places in the world where you can dive right next to towering dunes. Picture yourself submerged in the tranquil blue waters with the golden dunes as your backdrop. Talk about a surreal experience!
What Should You Expect To See Underwater?
As you dive into the depths, you might just feel like you're taking a plunge into Qatar's rich history. After all, a century ago, pearls were the crown jewels of this nation, constituting 75% of its exports. Back then, diving was more than just a leisurely pursuit; it was a prevalent profession before oil and gas bubbled up onto the scene.
Today, Qatar's underwater world remains a treasure trove of fascinating marine life. You'll encounter gentle giants of the ocean such as whale sharks and dugongs, also called "sea cows."
With the world's second-largest population of dugongs, Qatar is the ideal destination if you've dreamt of swimming with these magnificent vegetarian creatures.
Alongside these stars of the sea, you'll be greeted by a dazzling array of colorful fish, such as the vibrant blue angelfish, and sea turtles that glide gracefully through the water.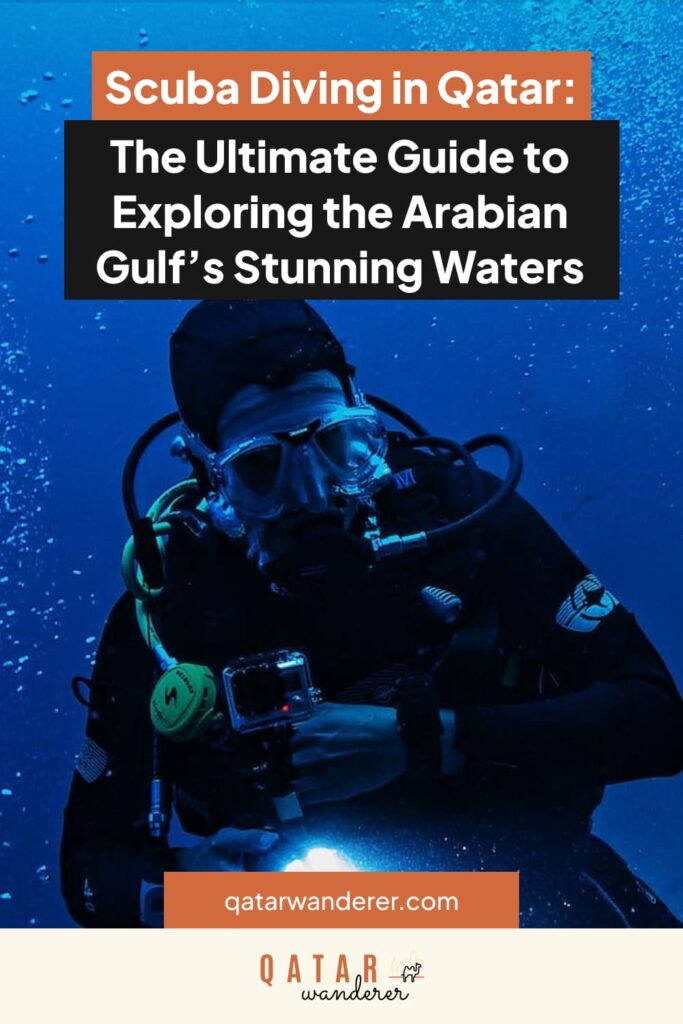 No time to read?
Pin it on Pinterest and revisit it later.
If you're into wreck diving, Qatar's waters are home to several famous wrecks, each with a unique tale to tell. Embark on an underwater journey as you explore popular wrecks such as the Old Club Reef, the New Club Reef, and the Othman Reef, which are all near Khor Al-Adaid, and all have a depth of between 6 and 22 meters (22 to 72 feet). As you navigate these submerged relics, you'll uncover their beguiling stories and mysteries that lie hidden beneath the waves.
Where To Go Scuba Diving in Qatar
Qatar offers a variety of scuba diving spots, each with its unique charm. Here are three top spots to consider, with depths ranging from 6 to 22 meters:
Katara Beach
Right next to the heart of Doha, Katara Beach is the perfect spot if you're looking for a quick dive during a short stopover in Qatar. While it may not be as spectacular as Sealine Beach or Khor Al-Adaid, it still offers an enjoyable diving experience and is perfect for beginners or those pressed for time. And in case you're seeking a break from the underwater world, Katara Beach has you covered! From wakeboarding and waterskiing to kneeboarding and parasailing, you'll definitely find your perfect aquatic adventure at Katara Beach.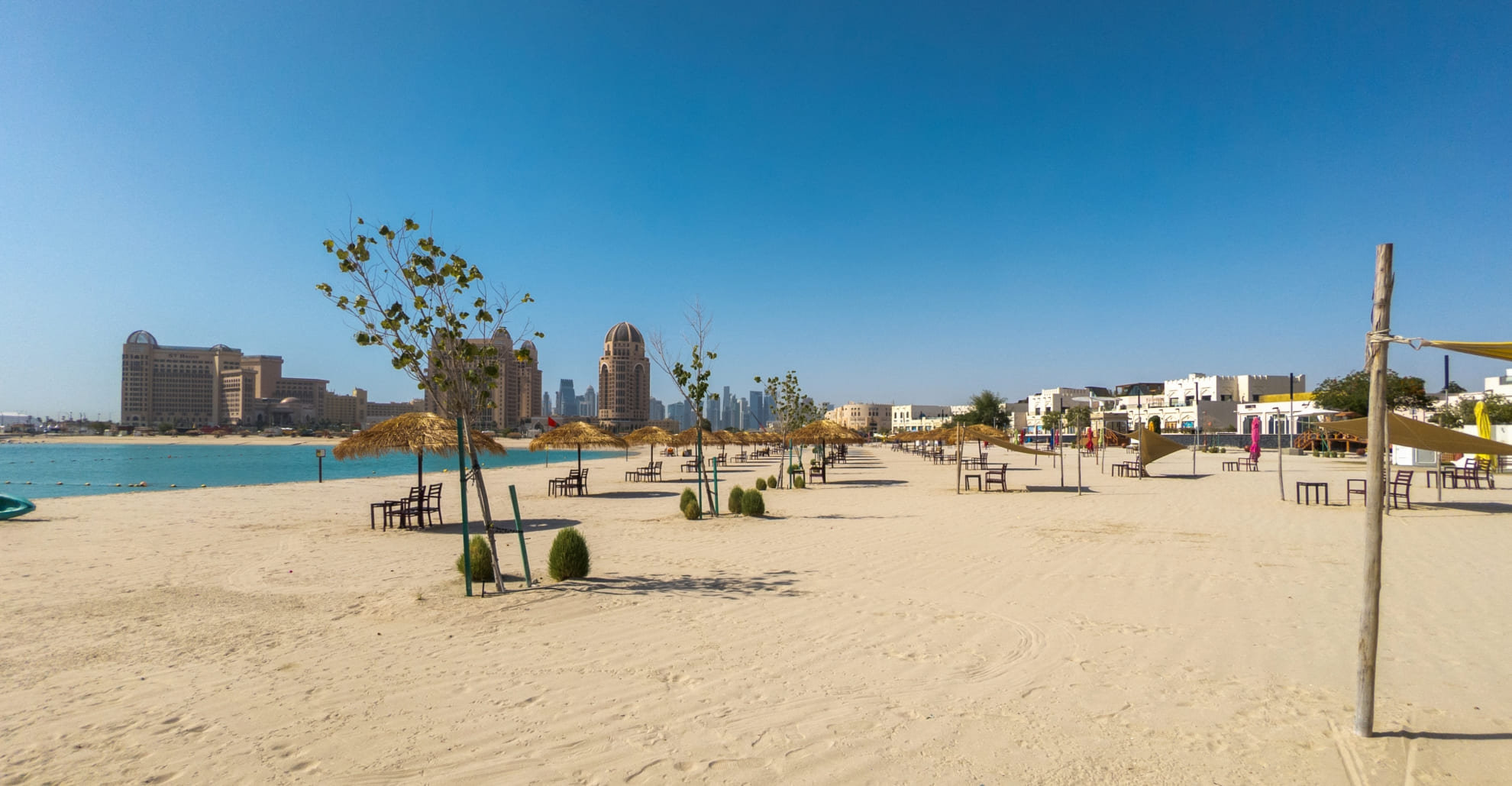 Sealine Beach, Mesaieed
Located just south of Doha, Sealine Beach is a popular diving destination in Qatar. A key attraction for divers is the Old Club Reef, teeming with vibrant marine life and perfect for divers of all skill levels. The clear waters and diverse coral formations make it an excellent spot for underwater photography.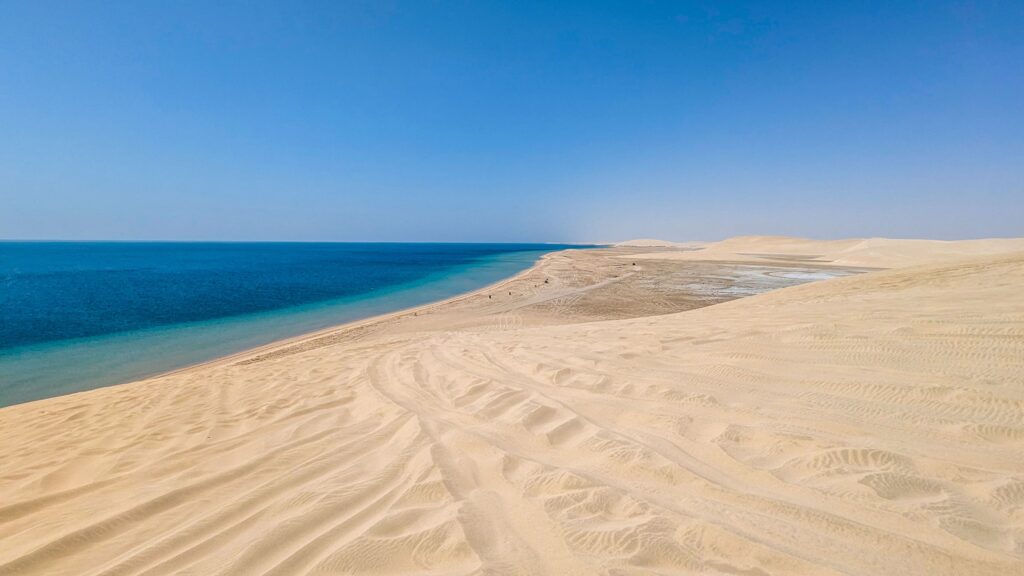 Inland Sea, Khor Al-Adaid
As noted earlier, the Inland Sea is an extraordinary site where the desert meets the sea. This natural wonder offers a unique diving experience with its tranquil waters and breathtaking surroundings. Besides, you'll be able to combine the diving experience with a desert safari, which is also a popular activity in Khor Al-Adaid.
The best diving centers in Qatar
To make the most of your diving adventure, it's essential to choose a reputable diving center. Some of the best in Qatar include Poseidon Dive Center, Qatar Scuba Center, and Algais Diving Center. These centers offer guided dives, training courses, and equipment rentals to cater to all your diving needs. They also all have great Google reviews.
What Is the Best Time To Go Scuba Diving in Qatar?
There are a few factors to consider when planning your underwater adventure:
Land Temperature: While diving is possible throughout the year, it's best to avoid Qatar's hottest months of July to September, when temperatures can soar to uncomfortable levels. The rest of the year, however, offers pleasant weather conditions that are perfect for diving.
Sea Temperature: The sea temperature in Qatar varies throughout the year, with the warmest months from June to September, averaging 86-91°F (30-33°C), and the coolest months from January to March, averaging 66-70°F (19-21°C), according to SeaTemperature.org. While these temperatures are generally comfortable for diving, it's essential to check on the conditions before planning your trip to ensure the best possible experience.
Underwater Visibility: Visibility is a crucial factor for scuba divers, and Qatar doesn't disappoint. Divers can typically expect visibility of 5 to 15 or more meters, depending on the location and weather conditions. Keep in mind that visibility can be affected by factors such as tides, currents, and water temperature, so it's always a good idea to check with local diving centers for up-to-date information.
Frequently Asked Questions
How much does scuba diving cost in Qatar?
Scuba diving costs in Qatar can vary depending on the location, diving center, and type of dive. On average, you can expect to pay around QAR 200 (approximately US $55) per person for a guided dive. Prices for diving courses and equipment rentals also vary, so it's best to check with your chosen diving center for details. Keep in mind that additional costs may apply for transportation, food, and other miscellaneous expenses.
Scuba diving tips
When scuba diving in Qatar, it's crucial to prioritize safety, so bear in mind these essential tips:
Choose a reputable diving center with certified and experienced instructors.
Ensure that your equipment is in good condition and fits properly. If renting, double-check that all the gear provided is well-maintained and sanitized.
Familiarize yourself with local diving conditions such as currents, tides, and visibility.
Always dive within your skill level and comfort zone.
Follow the buddy system; never dive alone. Maintain good communication with your dive buddy and instructor.
Stay well-hydrated and, of course, avoid consuming alcohol before your dive.
Be aware of local marine life, and avoid touching or disturbing the animals and coral reefs.
Finally, listen to your body and trust your instincts. If you feel unwell or uncomfortable, don't hesitate to end your dive early.
Where to stay in Qatar for a scuba diving trip
Qatar offers a wide range of accommodation choices, from luxurious five-star hotels to more budget-friendly options. If you plan to scuba dive, the two most popular areas to stay in Qatar are:
Doha: As the capital city, Doha serves as a popular hub for tourists. With its assortment of hotels, attractions, and shopping centers, it serves as an excellent base from which to explore the country. Notably, Katara Beach, a prime diving spot, is located in Doha. If you stay in the West Bay district, you'll find it incredibly convenient for easy access to this popular location. Top hotels in those areas include St Regis Doha, and InterContinental Doha. Both of them are very close to West Bay Beach, a popular family-friendly beach club.
Mesaieed: If you're looking for easy access to some of Qatar's premier diving sites, Mesaieed is an excellent location to stay at. It is located near Sealine Beach and is just a 40 to 50-minute drive from Khor Al-Udaid and the Inland Sea, so you'll be spoiled for choice when it comes to underwater exploration. Accommodations in this area include the Sealine Beach Resort and the Regency Sealine Camp.
Alternatively, you could spend the night in a traditional Bedouin-style tent as part of a desert safari and go on a scuba diving trip the next day!