Qatar is probably one of the most surprising family-friendly destinations in the world! Thanks to its uber-luxurious reputation, it's easy to think that a trip to Qatar would be an adults-only experience bursting with captivating cultural experiences, incredible fine dining, and out-of-this world architecture. Sure, Qatar is all of those things, but it's also much, much more – and your children won't forget your family trip to Qatar in a hurry!
With some of the world's best theme parks, child-friendly restaurants, and fun-filled family attractions, your little adventurers will have the time of their lives exploring the wonders of Qatar with you.
So, what's a family to do in Qatar? Where should you stay? Where should you eat? In this blog post, we'll answer all your questions to help you plan your family's dream trip to Qatar.
Have Fun at Qatar's Best Theme Parks and Water Parks
Qatar is the new kid on the block when it comes to awesome theme parks, and it won't disappoint!
Doha Quest
To start your one-of-a-kind adventure in Qatar, don't miss Doha Quest, the world's first indoor theme park and home to the world's tallest indoor roller coaster. This entertainment hotspot has everything you'd need to keep your kids busy, including virtual reality (VR) games, escape rooms, and laser tag.
Desert Falls Water & Adventure Park
Another must-visit destination for families is the Desert Falls Water and Adventure Park, which is the largest waterpark in Qatar. It boasts over 50 rides and slides, go-kart facilities, and a wave pool. Splash around and beat the heat at this sprawling entertainment complex, where you can enjoy a full day of thrilling outdoor activities. With something for everyone, from adrenaline-pumping slides to leisurely water rides, Desert Falls guarantees a fun day out for kids and adults alike.
Aqua Park Qatar
Continuing the quest for aquatic adventures, consider visiting Aqua Park Qatar, the nation's largest water park. Boasting an array of water slides, family-friendly pools, and splash zones, it's another fantastic option for an exciting family day out. Whether you're seeking high-speed thrills or a relaxing day in the sun, Aqua Park Qatar has you covered.
Angry Birds World
Moving on from the waterparks, let's talk about Angry Birds World, an indoor and outdoor theme park inspired by the smash-hit mobile game. With over 20 attractions to choose from, including rides, interactive exhibits, and skill-based games, Angry Birds World provides hours of non-stop fun for fans of the feisty fowls. From the high-flying Red Alert roller coaster to the 106-metre-long Super Slingshot, this theme park is jam-packed with experiences your kids won't be able to stop talking about.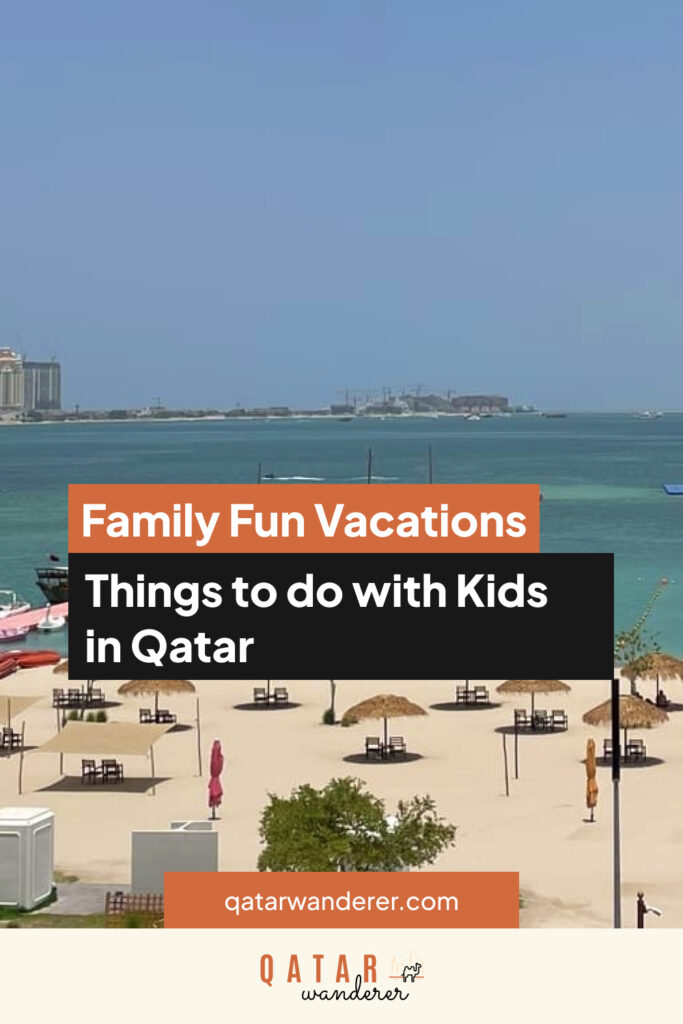 No time to read?
Pin it on Pinterest and revisit it later.
KidZania
Families with younger kids will love Kidzania, an interactive city designed specifically for children under 14, located in Aspire Park. Here, kids can engage in role-playing activities, learning about various professions and life skills in a fun, hands-on environment.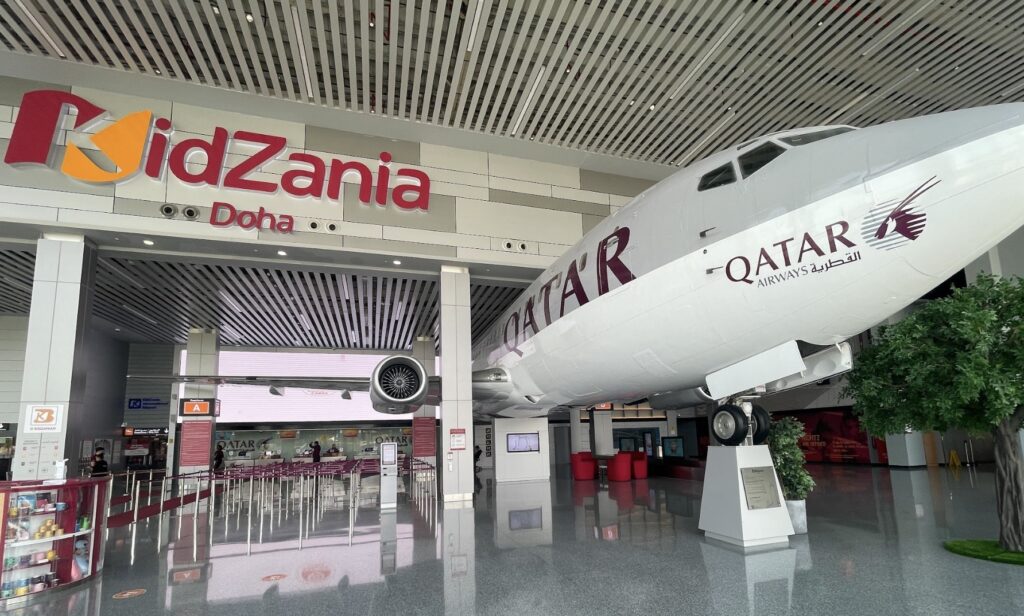 Gondolania
For a unique indoor amusement park experience still in Aspire Park, take a quick trip to Venice to check out Gondolania Theme Park. Wait… Venice? Yup! Located within the Villaggio Mall, the Venice-themed Gondolania theme park is the perfect way to travel the world without leaving Doha. Where else in Qatar can you go ice skating, ride a rollercoaster, and then ride in a gondola, all in one day? With its picturesque canals, thrilling rides, and cool atmosphere, Gondolania is a great place to unwind with the family after doing some shopping at the Villaggio Mall.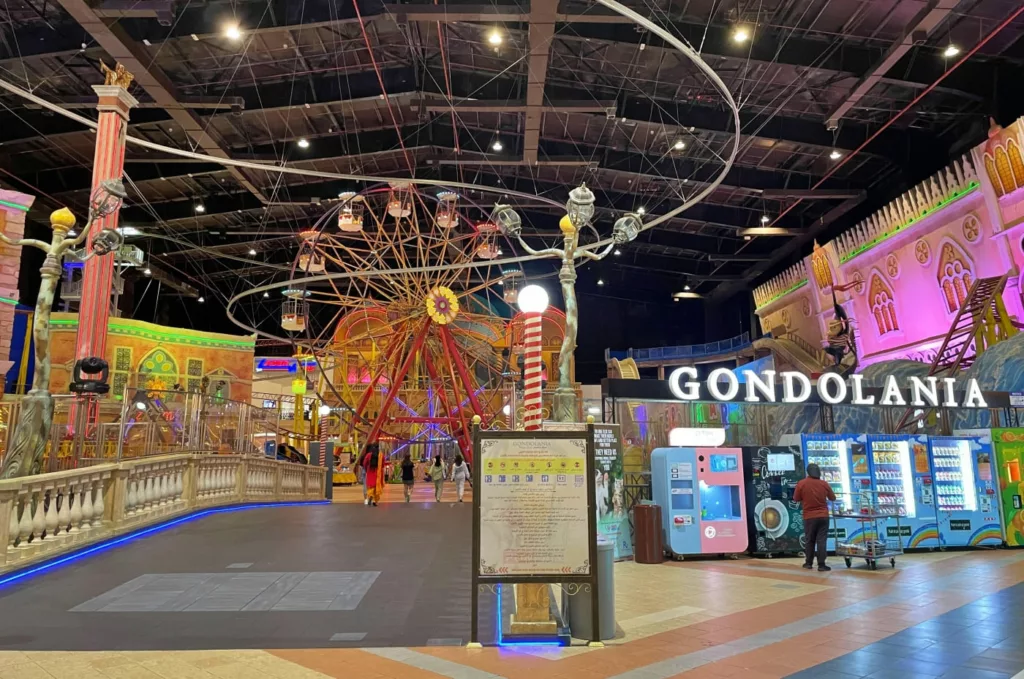 Jungle Zone
As if all those family-friendly attractions in Aspire Park weren't enough, Jungle Zone stands as a unique attraction within Hyatt Plaza, just around the corner from Kidzania. This jungle-themed amusement park brings you and your family a variety of amusement rides, including exhilarating roller coasters, an indoor water ride called Splash Fall, and fun Bumper Boats. One of the best things to try out here is the 7D Dark Ride, a multisensory game that promises a thrill for all your senses.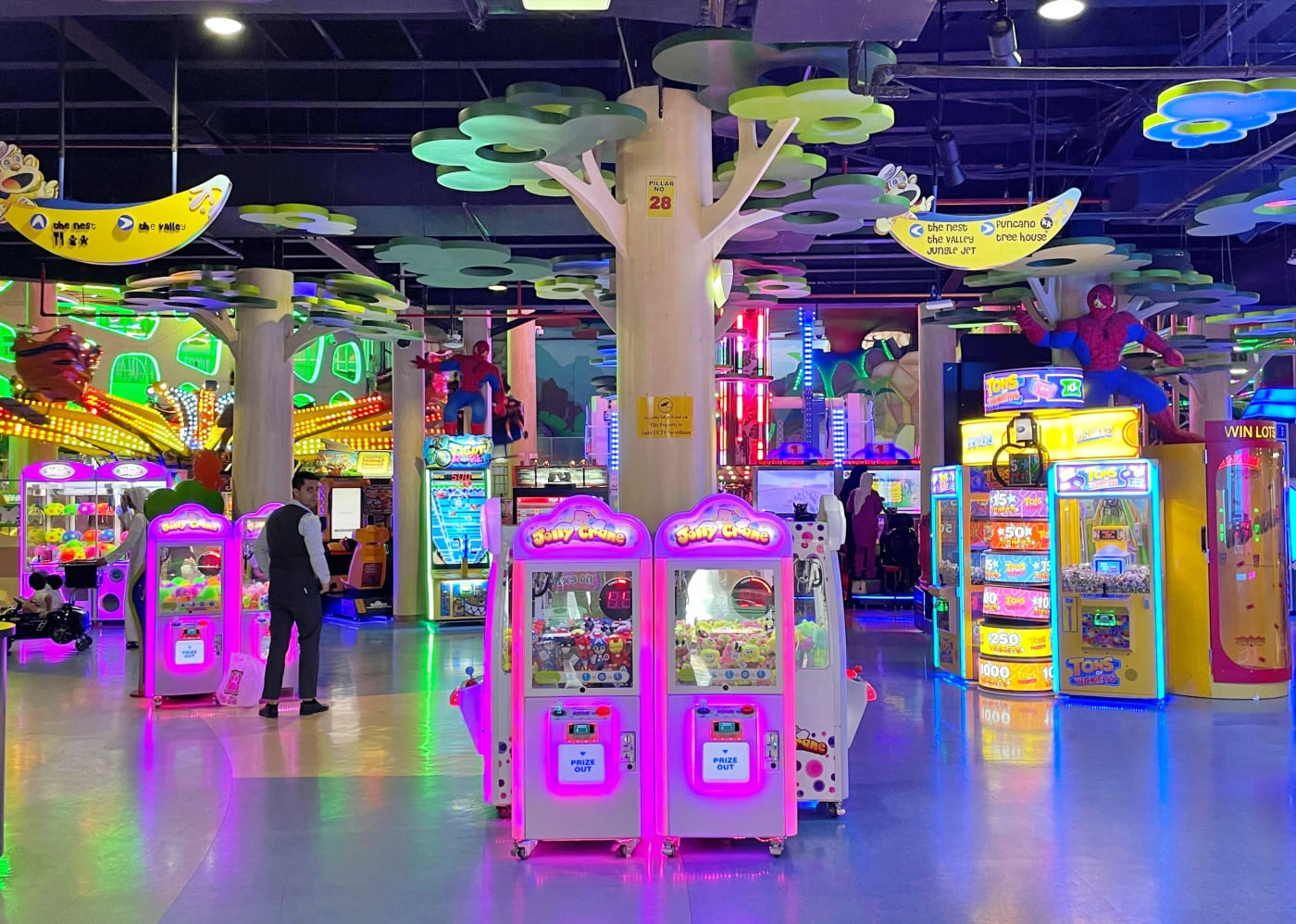 Older kids will enjoy challenging computer and carnival games, getting behind the wheel of race cars and bumper cars, or braving the flume rides and a zip line experience. Even the littlest family members aren't left out, with a specially designed soft play area for toddlers!
Trampo Extreme
Though not a traditional theme park, Trampo Extreme is also located in Aspire Park so it's the perfect adrenaline-packed destination in case Jungle Zone, Gongolania, and KidZania weren't enough! It's in the same building as KidZania. As you walk in, endless rows of bouncy trampolines welcome you, and for the young thrill-seekers, the Skytrail rope courses with ziplines are a must-try. Make sure to explore the Soft Play zone, where you can see your kids gleefully slide, navigate tunnels, and engage in hours of delightful play.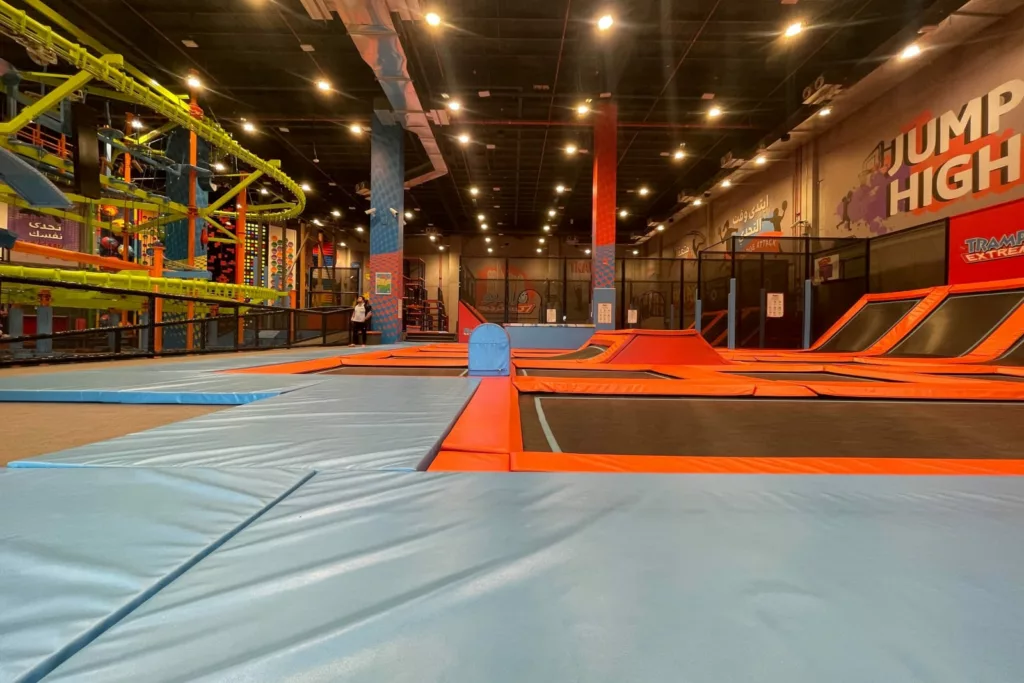 Megalopolis
It's time to venture outdoors and head to Pearl Island, an artificial island with family-friendly adventures and attractions around every corner. Here, you'll find lush gardens, fountains, play areas, and the Megapolis entertainment center, with arcade and virtual games, escape rooms, bowling and more. It's essentially got everything you could need to entertain the whole family.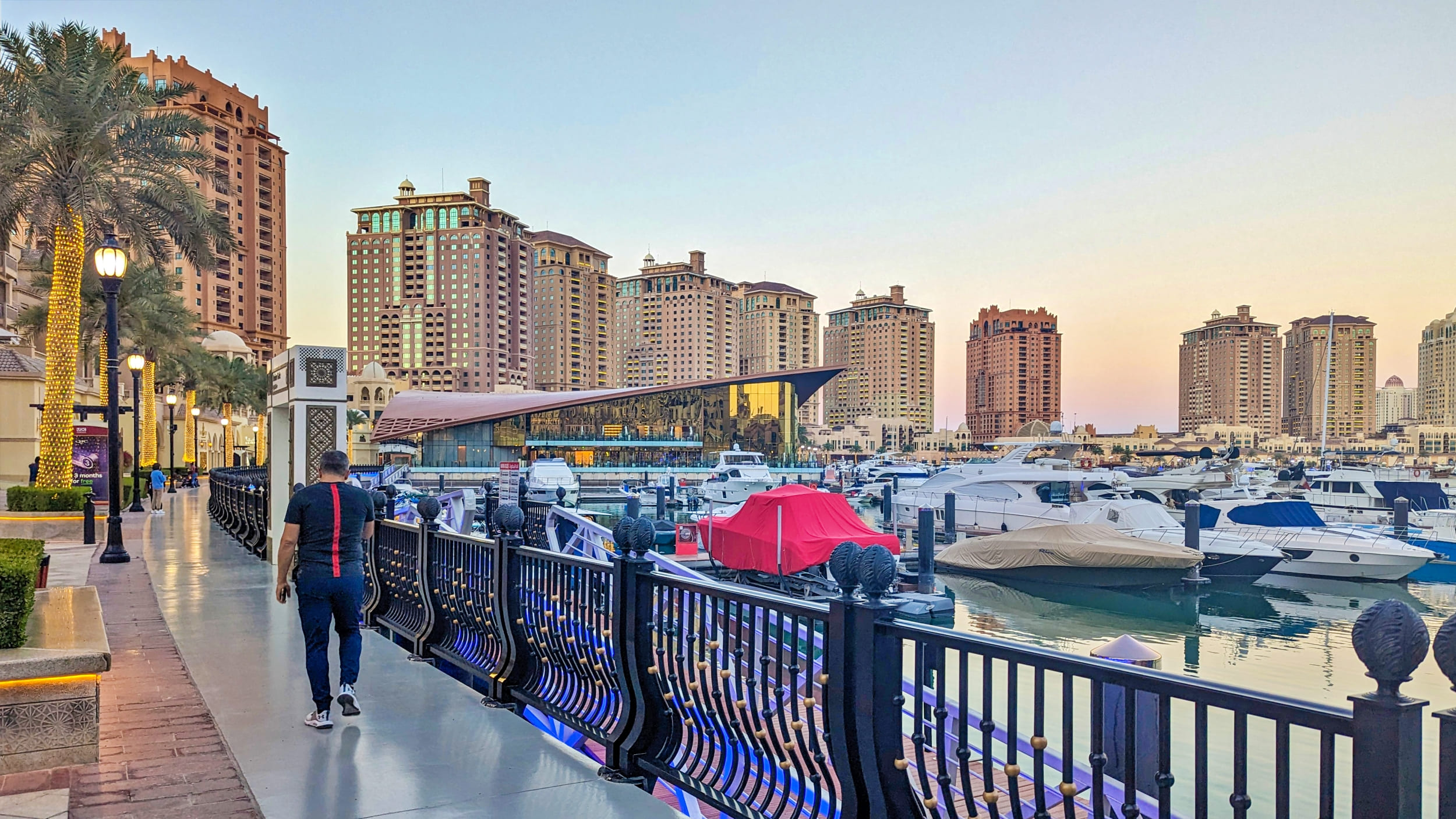 While at Pearl Island, make sure to wander through the picturesque Qanat Quarter, with its enchanting canals and bridges reminiscent of Venice. This charming area is perfect for leisurely strolls and capturing stunning photographs, while the nearby Porto Arabia is a great place to sample some epic street food.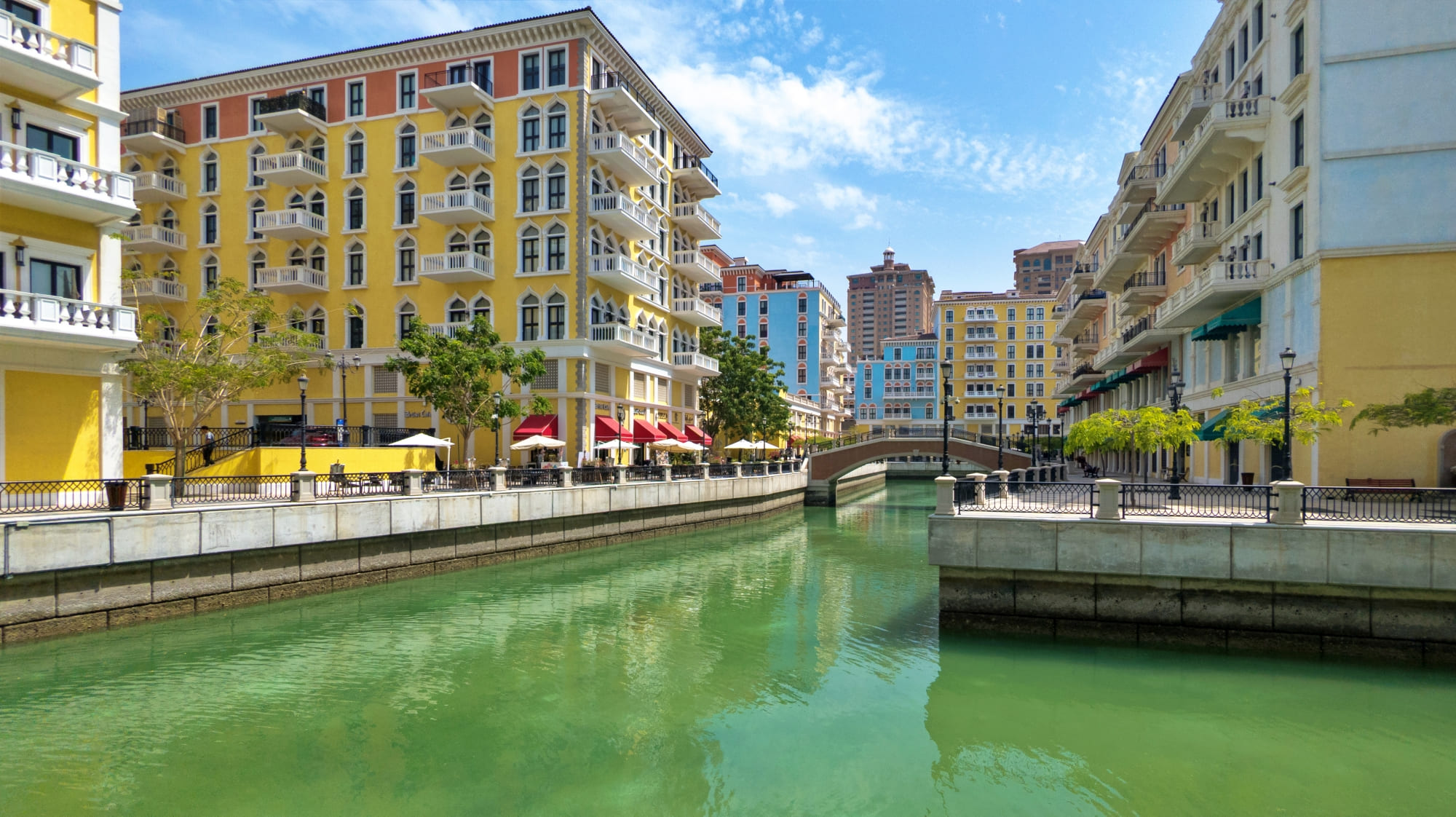 You should also check out the 30-step piano on one of the staircases overlooking Qanat. Your children won't be able to stop giggling as they create new sounds with each step.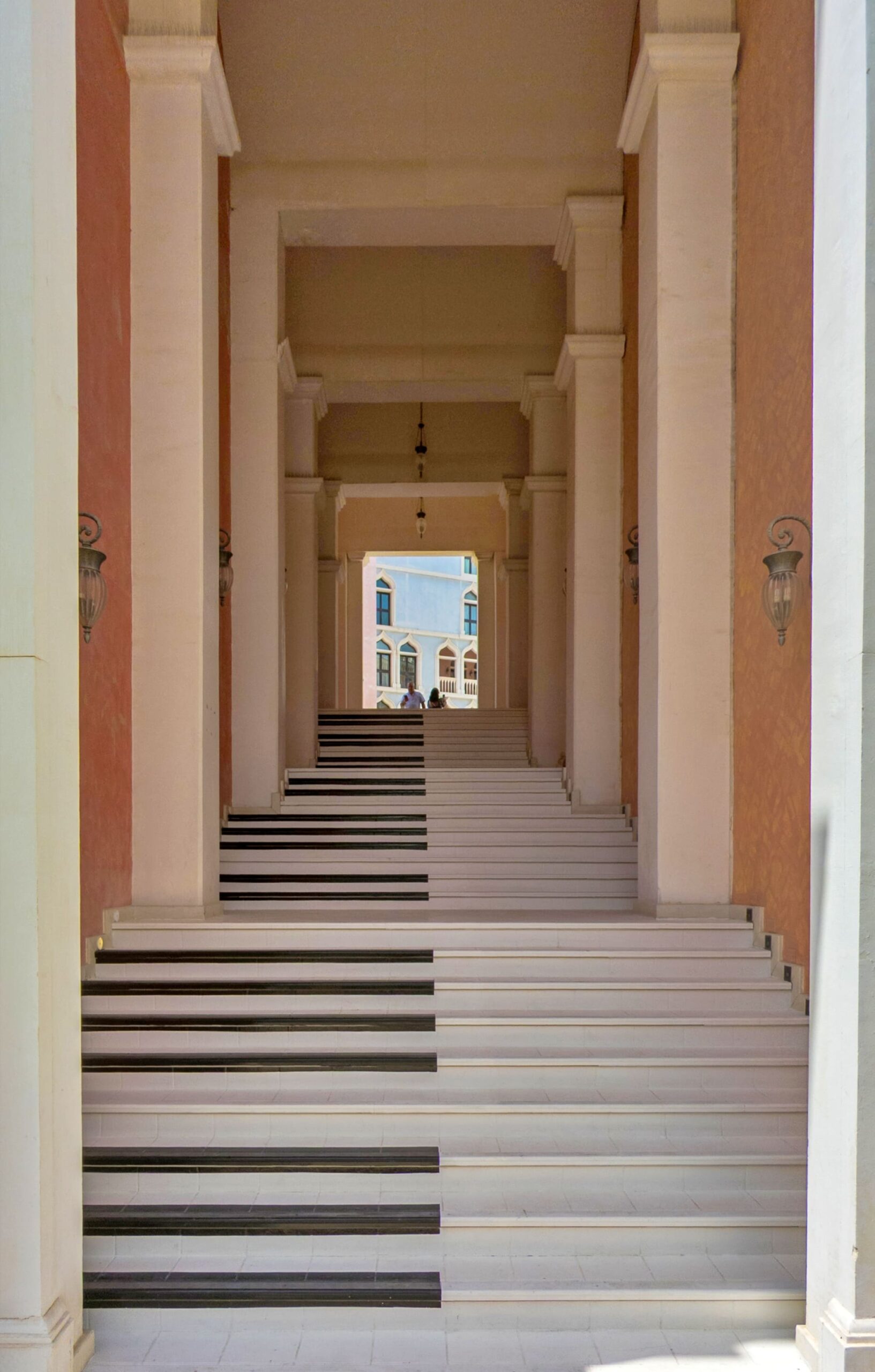 Relax at a Pristine Family-Friendly Beach
You may not know that Qatar has some world-class beaches, but it's true! Qatar's beaches are a well-guarded secret, but we're letting the secret out to share the very best family-friendly ones to add to your Qatar itinerary.
Doha itself has a whole host of wonderful beaches on its doorstep. The most popular are Katara Beach, B12 Beach Club and West Beach. At these beaches, you'll find everything you'd need for an easygoing family day out, including lounge chairs and umbrellas (essential for escaping the harsh sun!), watersports and children's entertainment facilities like playground areas.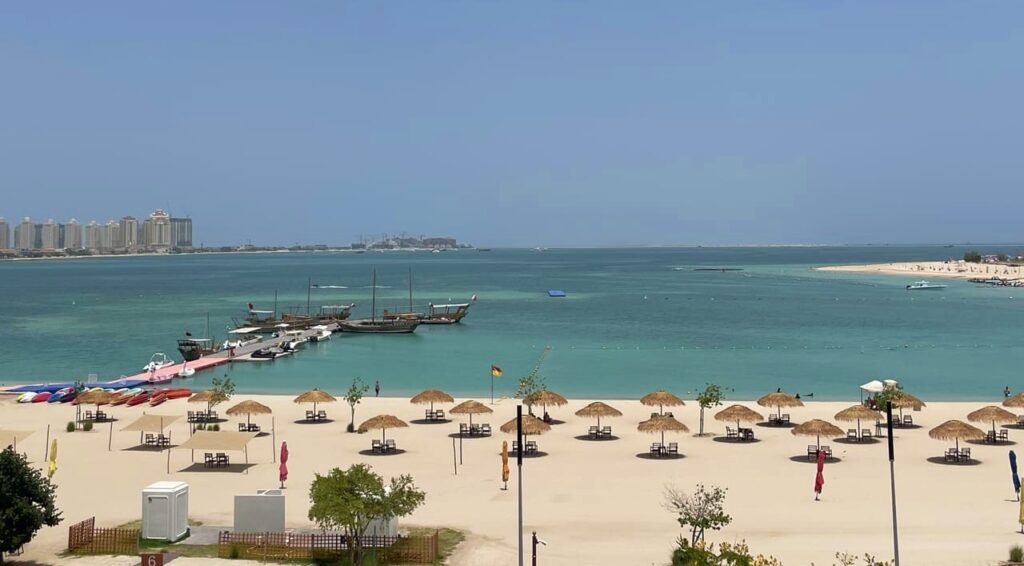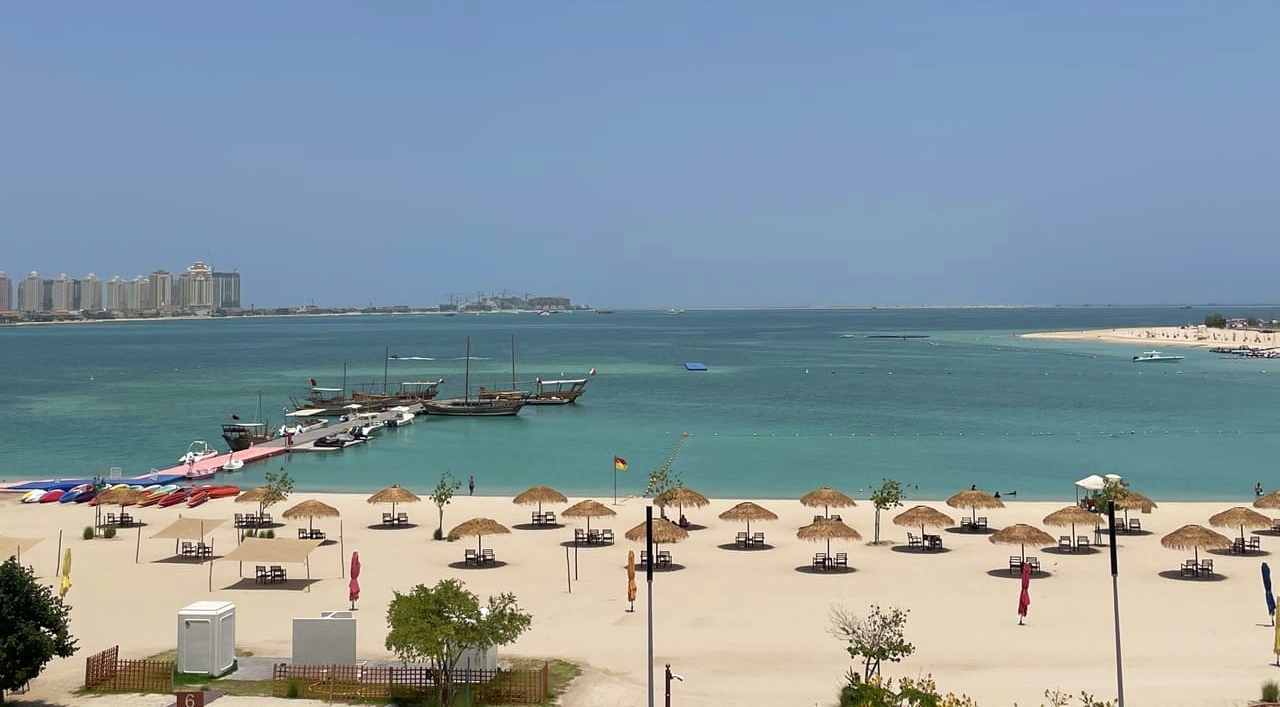 Want to venture further afield? No problem. You'll find fabulous, family-friendly beaches even outside of Doha. Located around 1 hour away, Hilton's Salwa Beach Resort & Villas is perfect for families looking for a luxury getaway. The biggest draw for families is without a doubt the Desert Falls Water and Adventure Park, which we've already talked about.
Finally, if you're an active family wanting to have a sporty beach holiday, look no further than Al Thakira Beach, about 50 minutes north of Doha. With kitesurfing and kayaking on offer, it's easy to keep your little ones entertained here. The Al Thakira Mangroves are just a short kayaking trip away, and a must-see in Qatar!
Immerse Your Family in Qatar's Culture
It's no secret that Qatar is jam-packed full of cultural and historic attractions, and we've rounded up the very best family-friendly ones to kick off your family's Qatar adventure.
Souq Waqif
One of the best ways to immerse your family into the sights and sounds of traditional Qatar is at the lively Souq Waqif, a popular marketplace full to the brim with shops, eateries, and cafes. As you wander through the maze-like market, you'll discover a world of sights, sounds, and smells that will transport you straight to the heart of Qatar's local culture.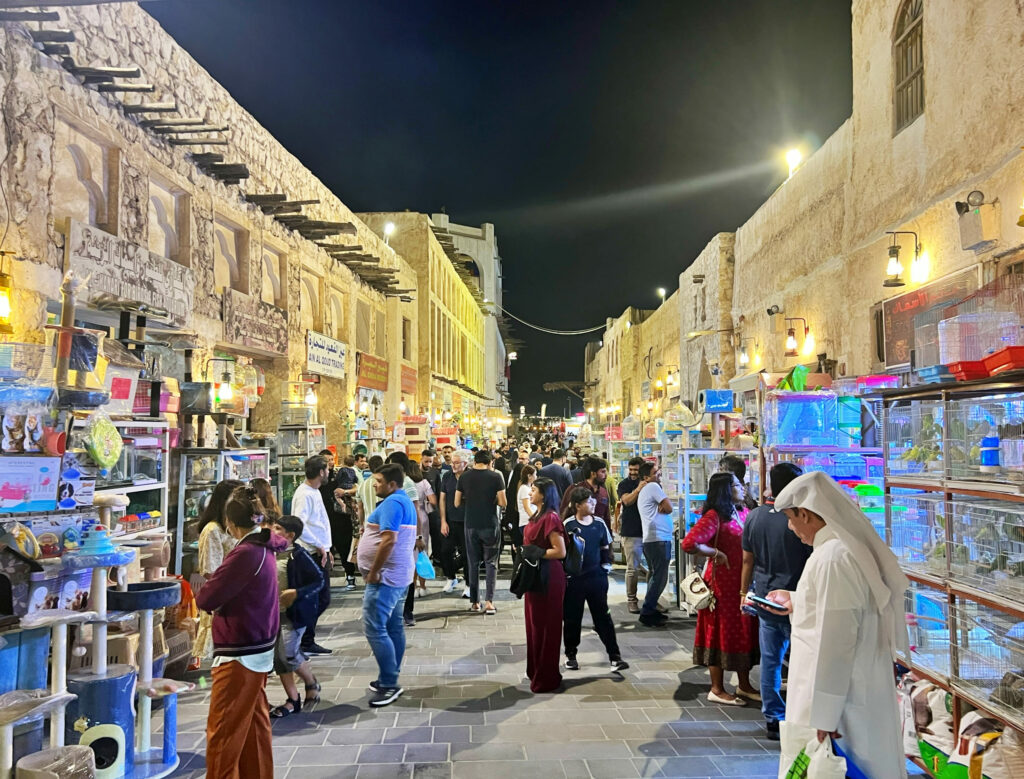 For the best experience, plan your visit to Souq Waqif in the early evening when the stalls open, at around 4 pm. This is the perfect time to meander through the colourful and aromatic spice souq, where you can indulge in some delicious street food and sample dishes you've never even heard of before.
At the Falcon Souq, you'll get to see the majestic birds up close and learn about the ancient art of falconry. Besides, your kids will get the incredible opportunity to hold a falcon and ask the falconer anything they want to know.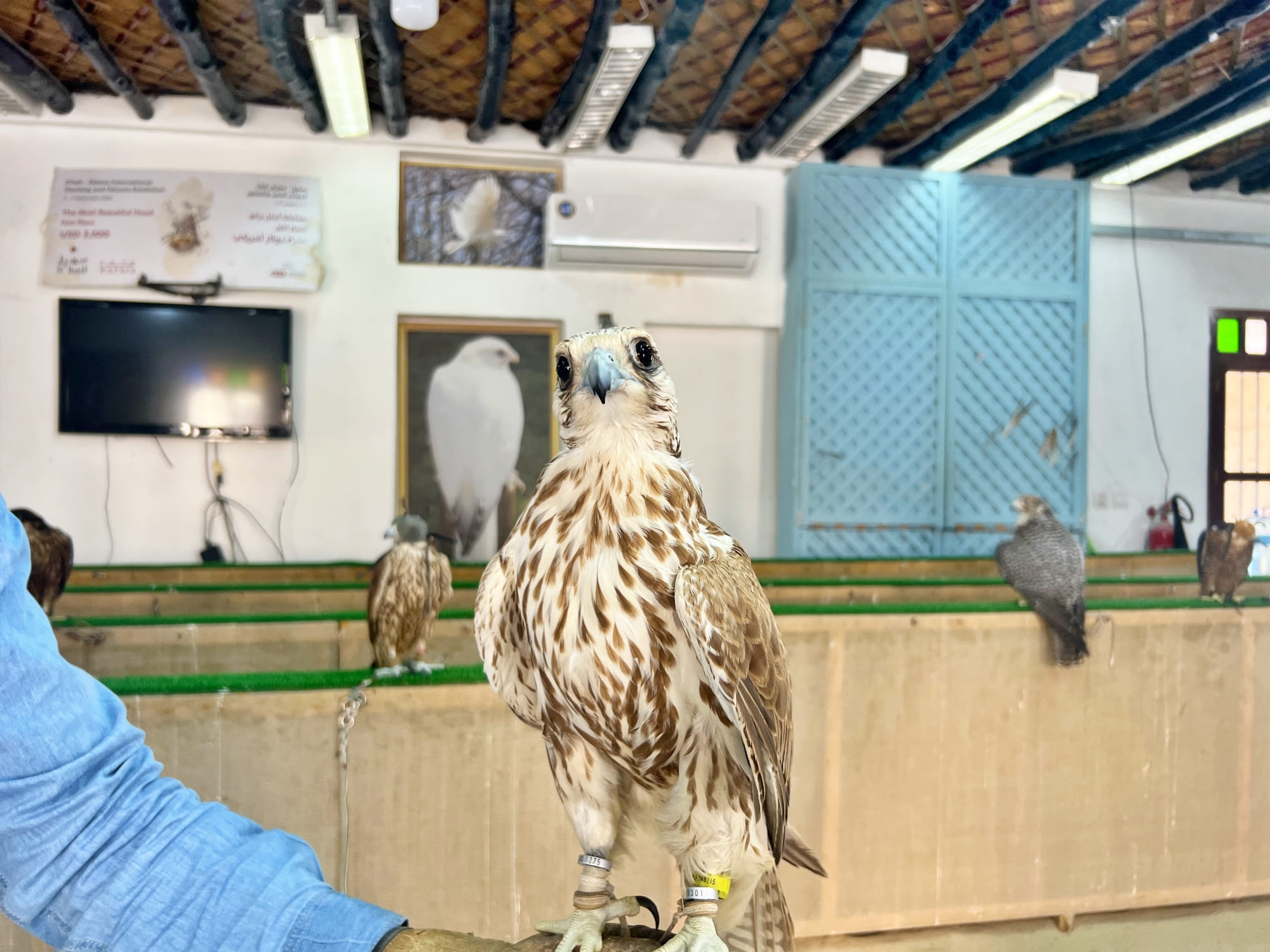 If that wasn't enough, carry on the adventure by heading to the nearby stables, where you can watch Arabian horses strut their stuff. Your kids will love interacting with these gentle creatures and learning about their significance in Qatari culture.
Katara Cultural Village
Another top family attraction in Qatar is the Katara Cultural Village, an enchanting hub of art, architecture, and entertainment located between West Bay and The Pearl, two of Doha's main districts.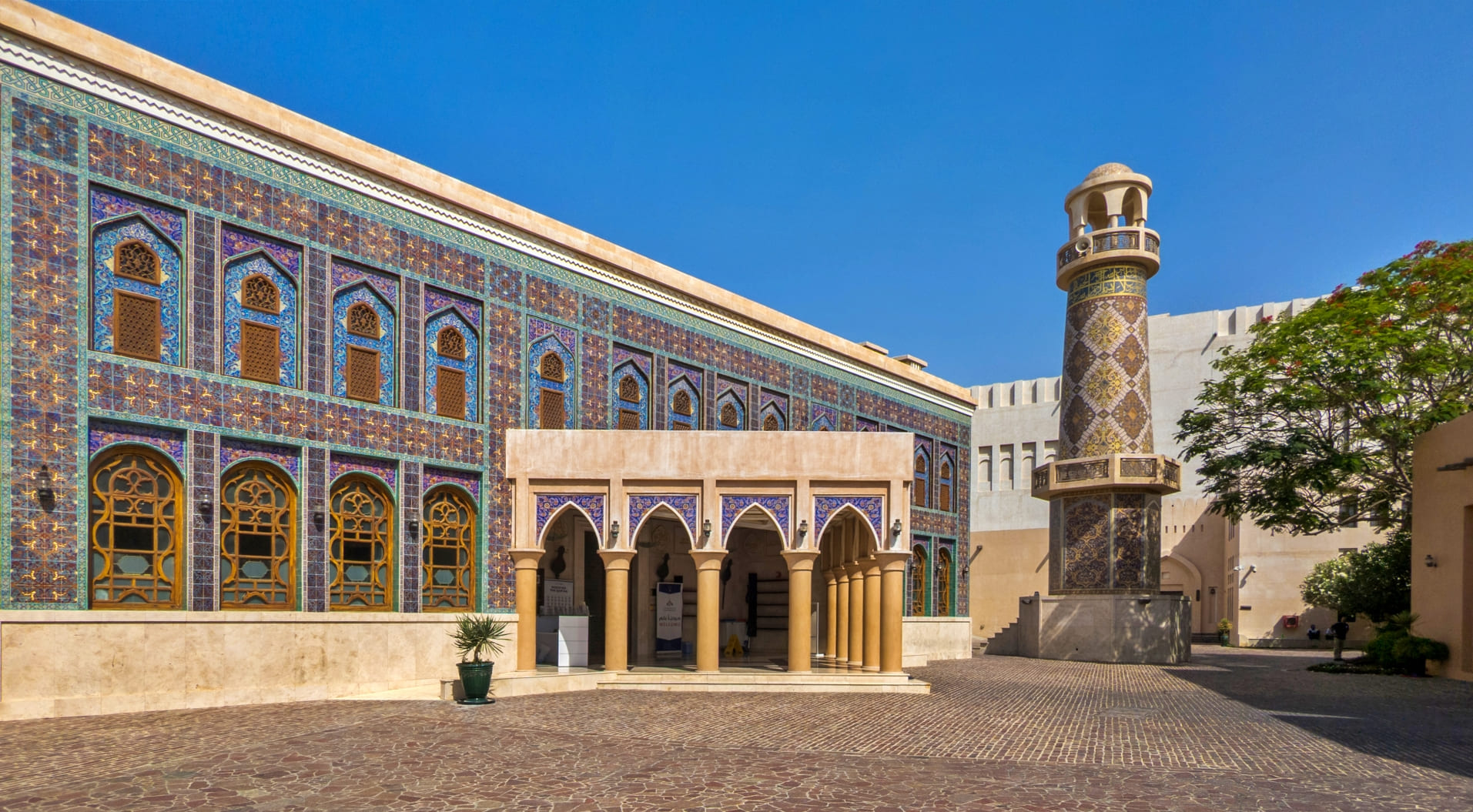 This cultural haven offers an incredible array of activities that showcase Qatar's rich heritage and diverse culture.
As you explore Katara, be sure to marvel at the stunning architectural wonders of The Golden Mosque and The Blue Mosque. You're in the area, after all, so they're worth a quick visit to check out the shimmering gold and intricate blue tiles.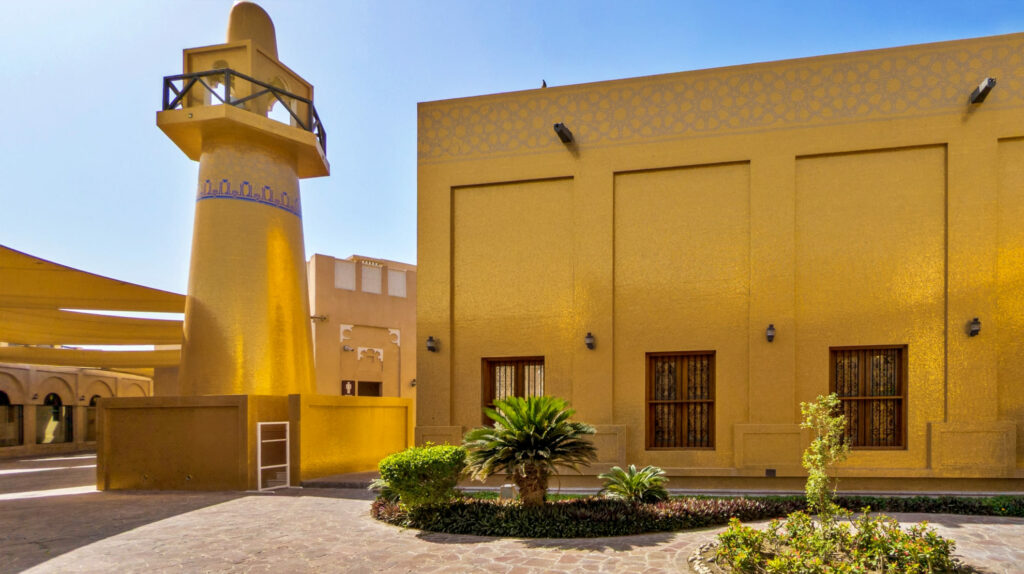 Then, bring your little ones to the Al Thuraya Planetarium, where they can play and learn in a safe and welcoming environment.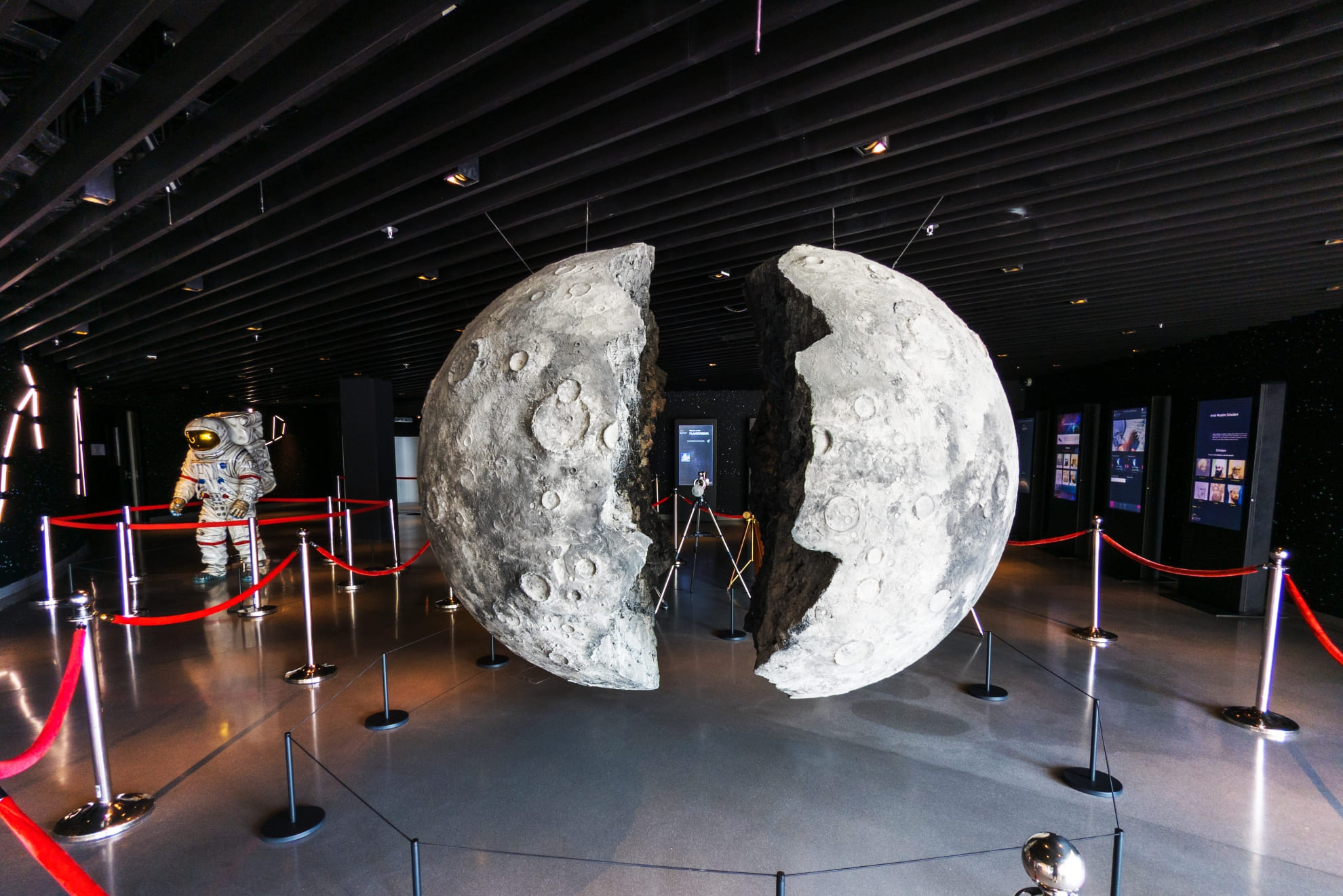 If your bellies are rumbling, there's no better place to get your fill of delicious food in Katara than on the aptly named Tasty Street. Here, you'll find three streets filled with street food options from all over the world. Kids won't be able to resist ice cream with a twist from Icy Melon, where you'll find watermelon soft serve sold inside actual watermelon! You don't need to be a kid to enjoy delving into watermelon ice cream here – it looks too delicious to resist!
Should you find yourself feeling thirsty, consider trying one of Bubble Bea's many milk teas. They offer a wide array of flavors ranging from strawberry-infused to taro and honey milk.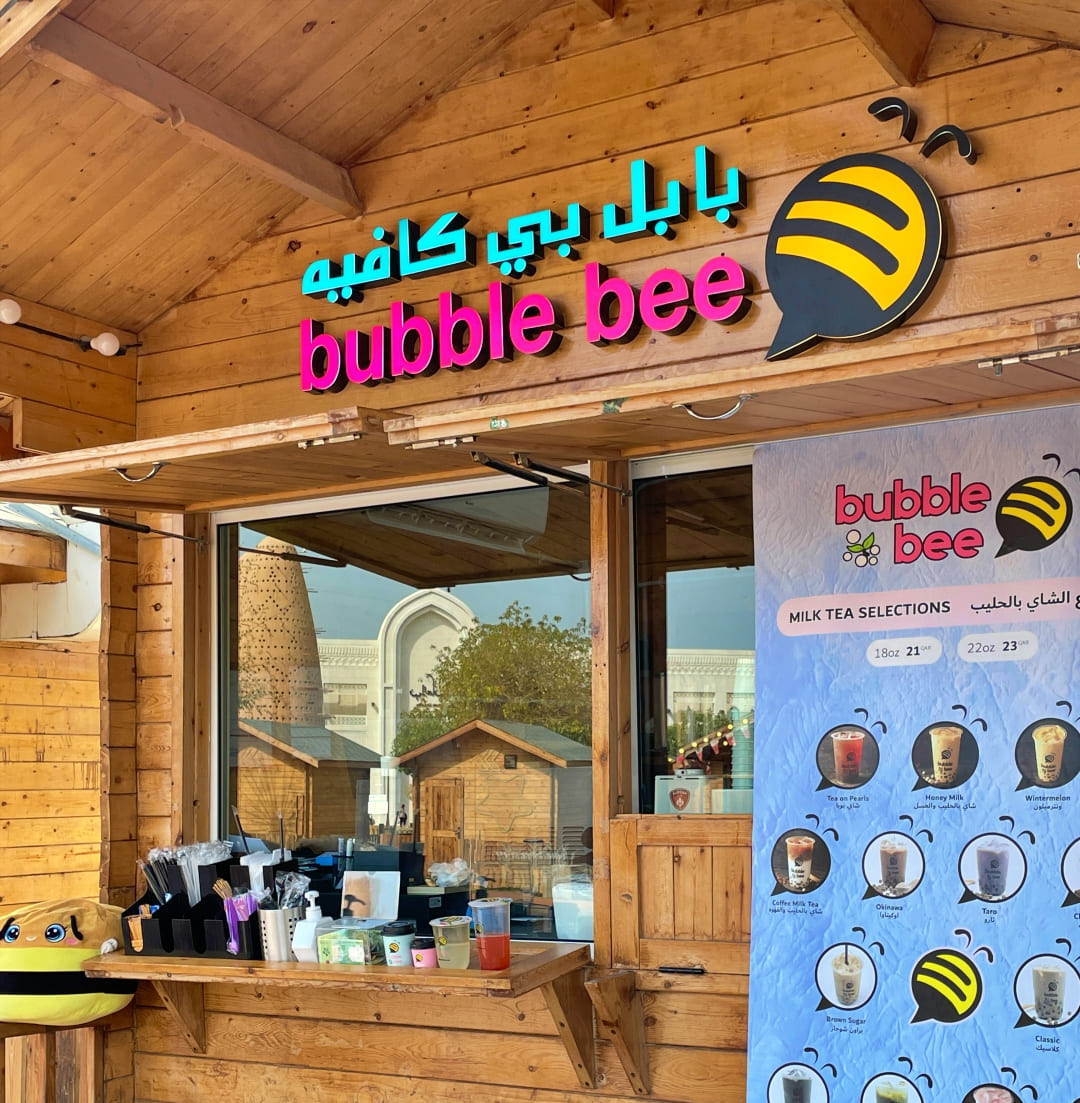 Tip: Head to Tasty Street from 4pm onwards to be sure that all the stalls are open. If you have time in the evening, head back after dark to check out the awesome neon lights and signs dotted all over Tasty Street that you'll all want to pose for photos with.
After all that sightseeing, a stroll along the waterfront promenade of the Katara Cultural Village is the perfect opportunity to let your kids run around and blow off some steam. Lined with beautiful public art installations, ranging from traditional sculptures to modern murals, there's plenty to keep you entertained here as the kids pose for photos with their favourite art pieces.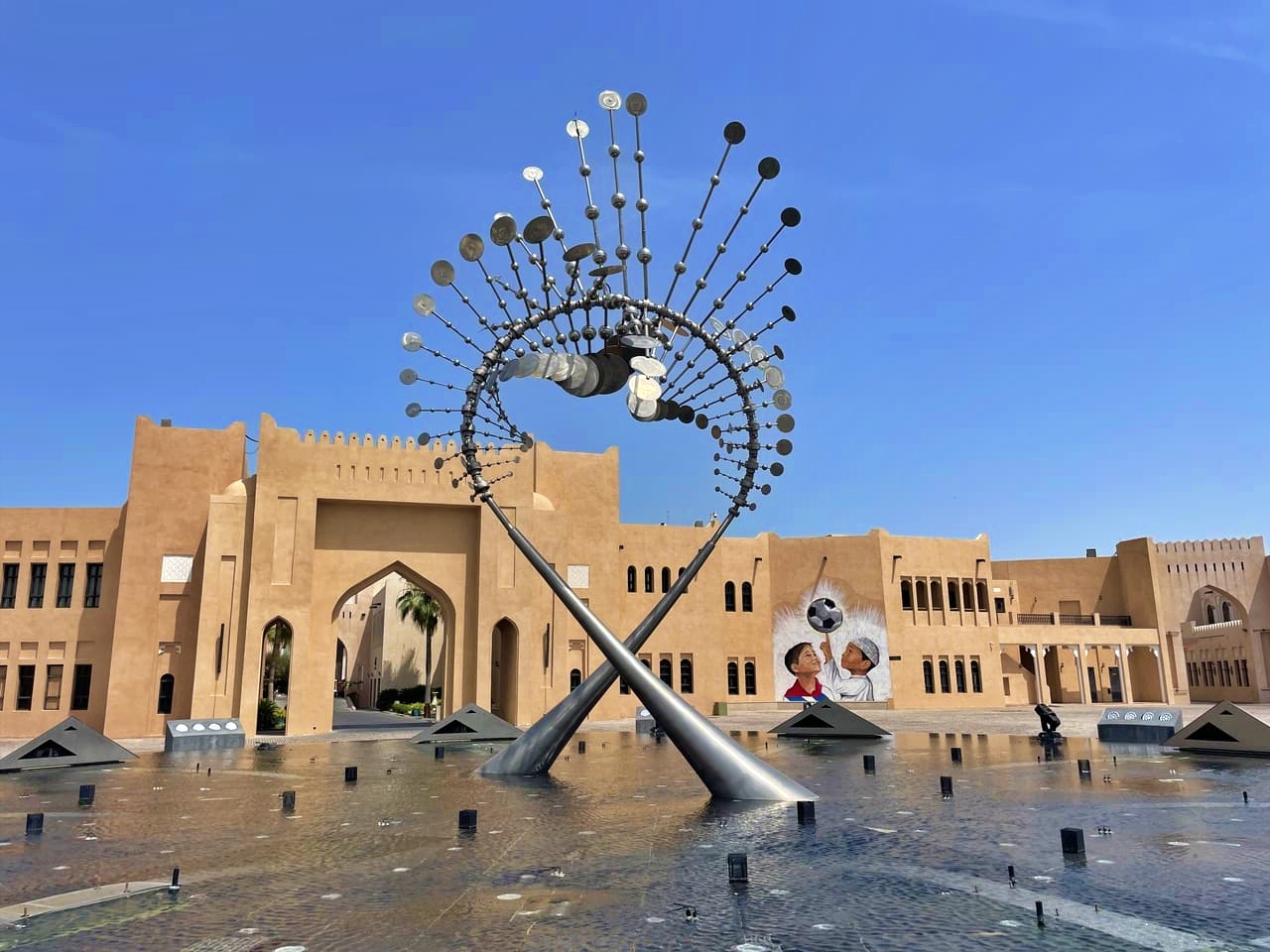 And of course, let's not forget Katara Beach, where your kids can enjoy the children's playground, swimming, and pedal boating, which we've talked about in the previous section.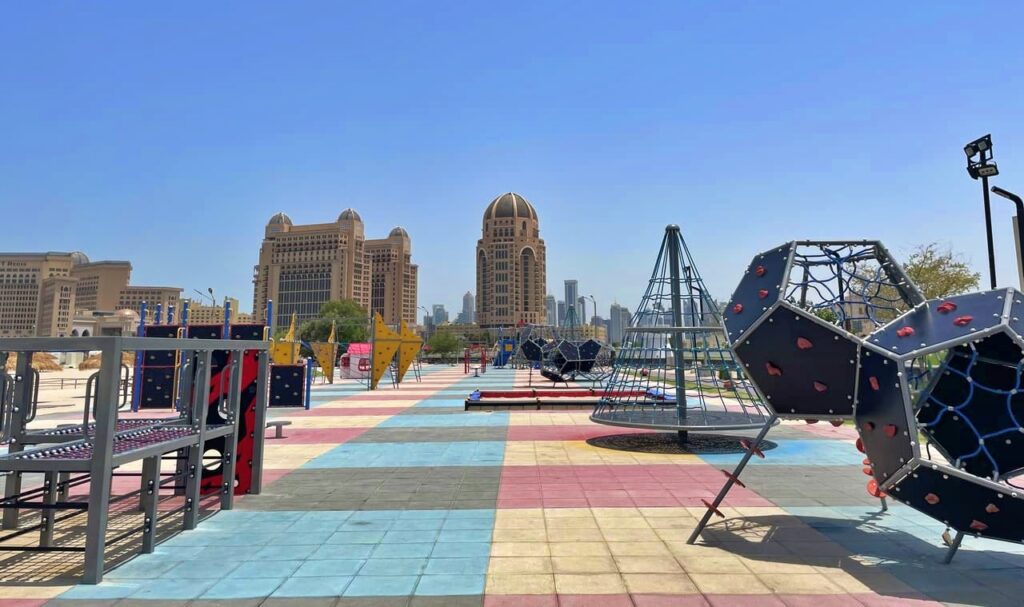 Dhow Boat Cruises
To cap off your family's unforgettable Qatar adventure, consider booking a traditional dhow boat cruise. Step aboard these timeless wooden boats that have been used for centuries in the region, and get ready for an unforgettable experience!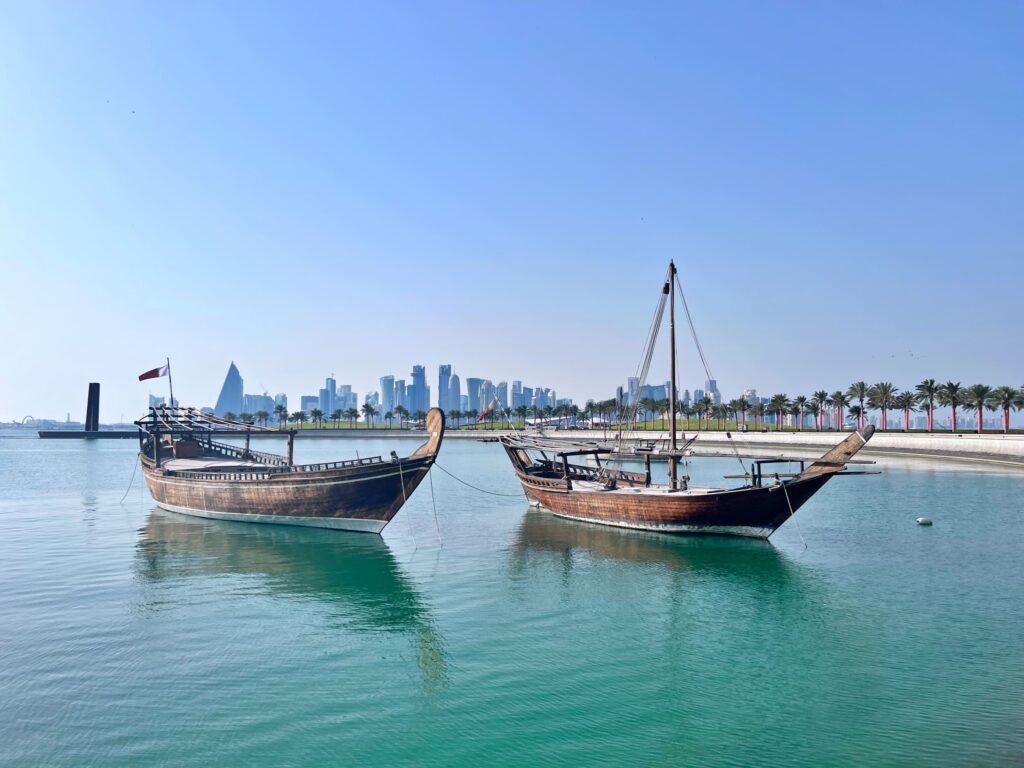 As you sail along the water, you'll be treated to breathtaking views of Doha's stunning skyline from a unique perspective.
Explore some of Qatar's Fun Museums
Who said museums are boring? You'll find out that the museums in Qatar beg to differ, as they provide an excellent mix of education and entertainment.
National Museum of Qatar
For a deeper dive into local history, the National Museum of Qatar is a must-visit. Shaped like a desert rose and located along Doha's waterfront Corniche, this state-of-the-art museum will take you on a journey through Qatar's history, from its geological formation to its present-day development.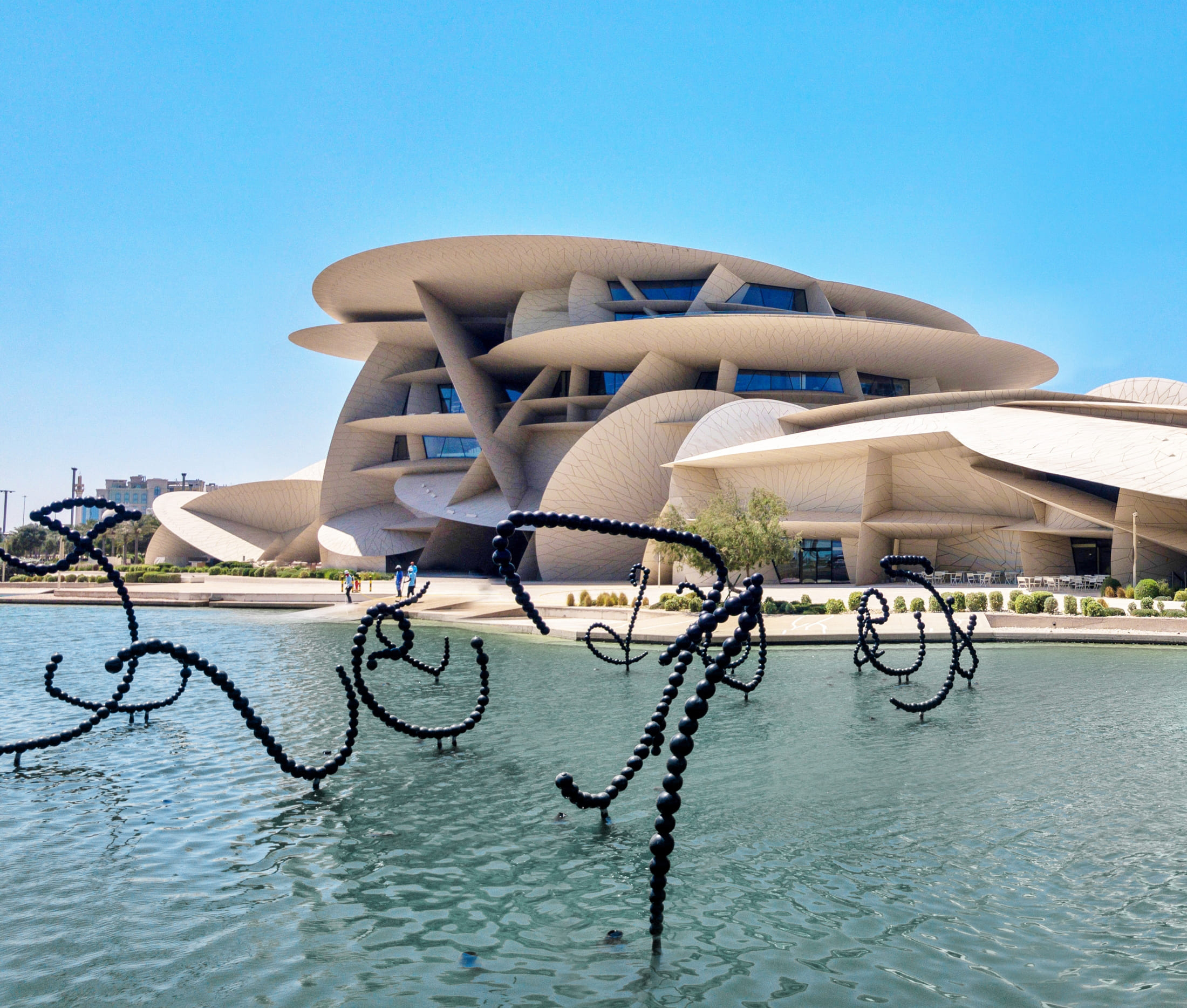 With child-friendly exhibits, interactive displays, immersive experiences, and engaging storytelling methods, the National Museum of Qatar is an educational adventure for visitors of all ages. At the Children's Discovery section, your kids can play and learn through hands-on exhibits, puzzles, and games.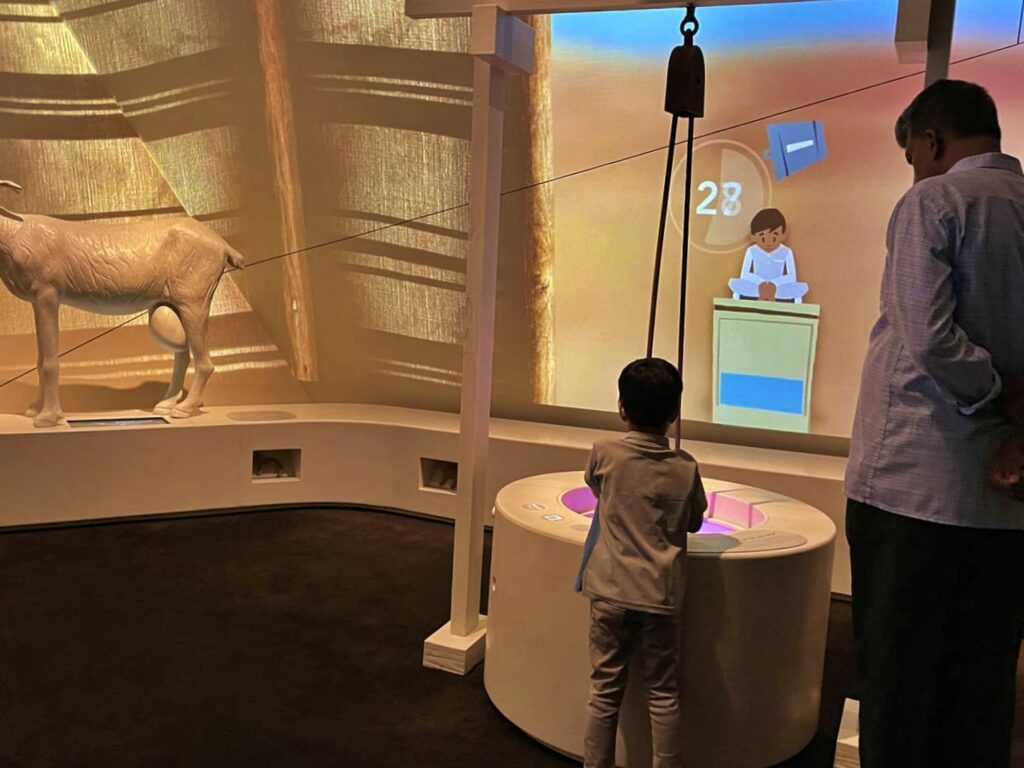 Your kids will also have fun outside the museum at the Cave of Wonders and Adventure Ship playgrounds, where they can experience a lifelike underground cavern and immerse themselves in Qatar's history by engaging in interactive learning about fishing, pearling and sailing.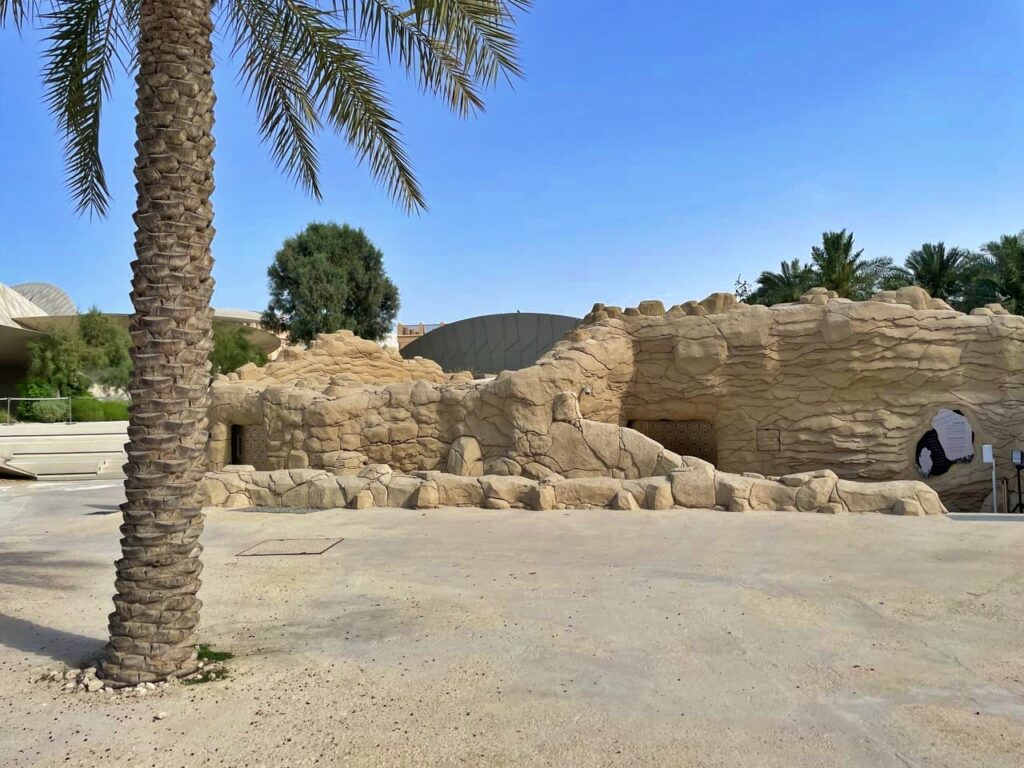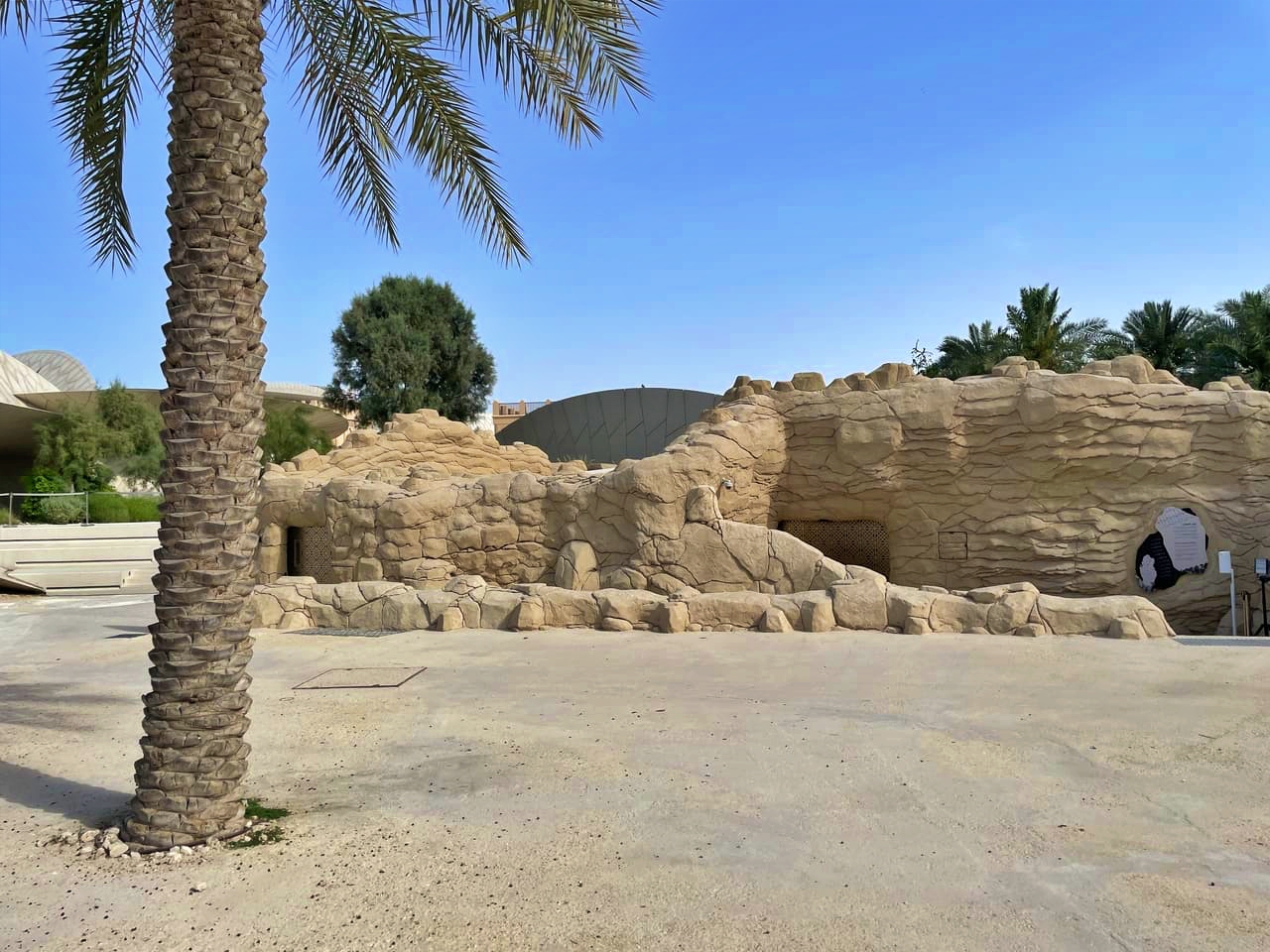 OliOli Children's Museum
The OliOli Children's Museum is another fantastic choice for families, with over 45 interactive exhibits designed to inspire children's creativity and curiosity. Located at Katara Cultural Village, next to Galeries Lafayette Doha, this innovative, experiential museum encourages kids to explore and learn through play, making it an ideal destination for a fun-filled day out.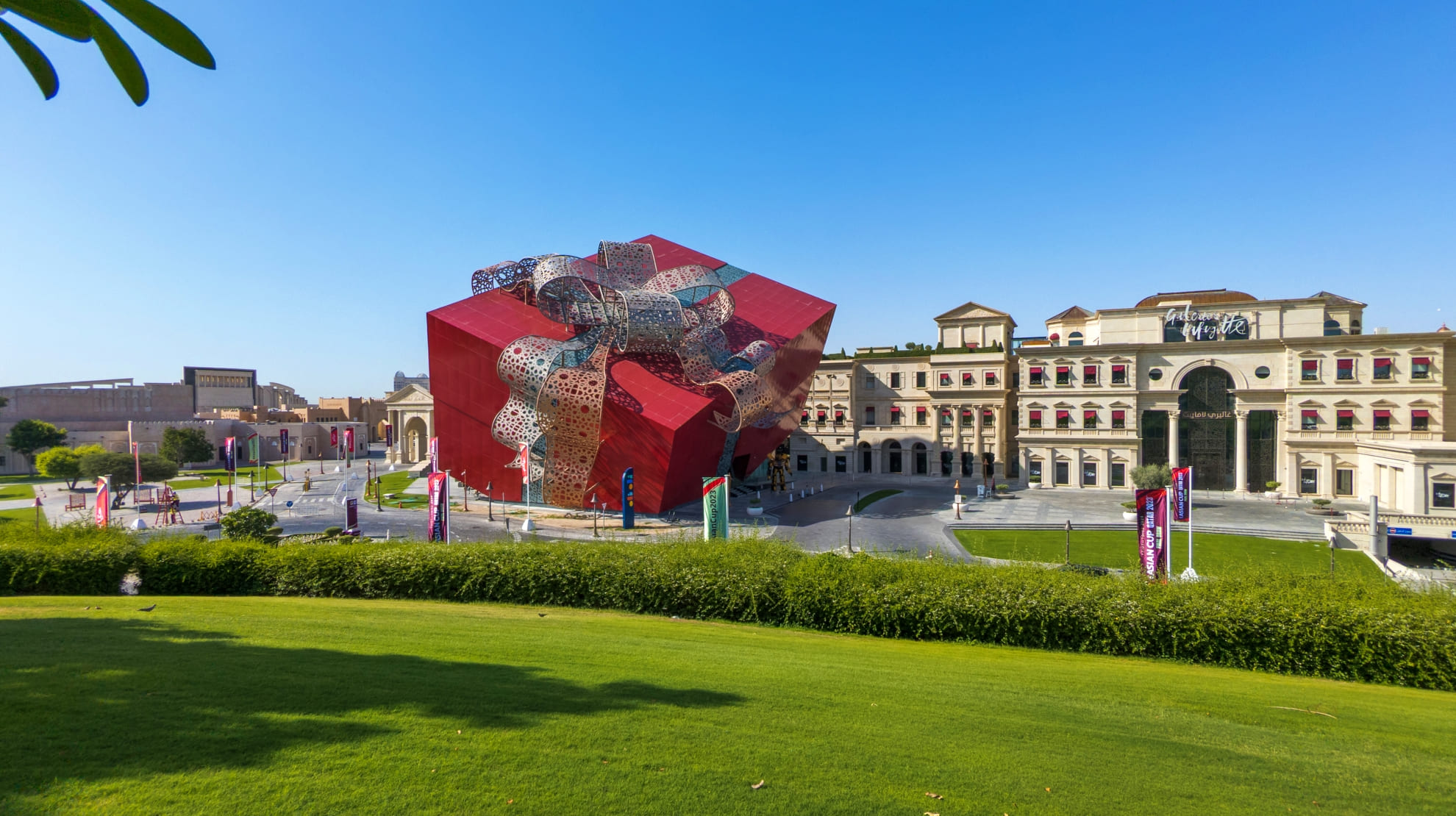 Museum of Illusions
Neither a theme park nor a museum per se, the Museum of Illusions is a place that is both entertaining and mind-bending for your kids (and parents!) of all ages. It's also a great place to snap unique and hilarious photo opportunities. You can expect to be challenged and surprised as your perceptions are twisted and your imagination stimulated.
Museum of Islamic Art (MIA)
Your kids probably won't care who designed this architectural masterpiece, but they will care about the Planet Kids Club at the museum's MIA Library. This monthly family-friendly event teaches kids about all the different ways they can protect our planet through hands-on workshops, and it's popular with locals and tourists alike.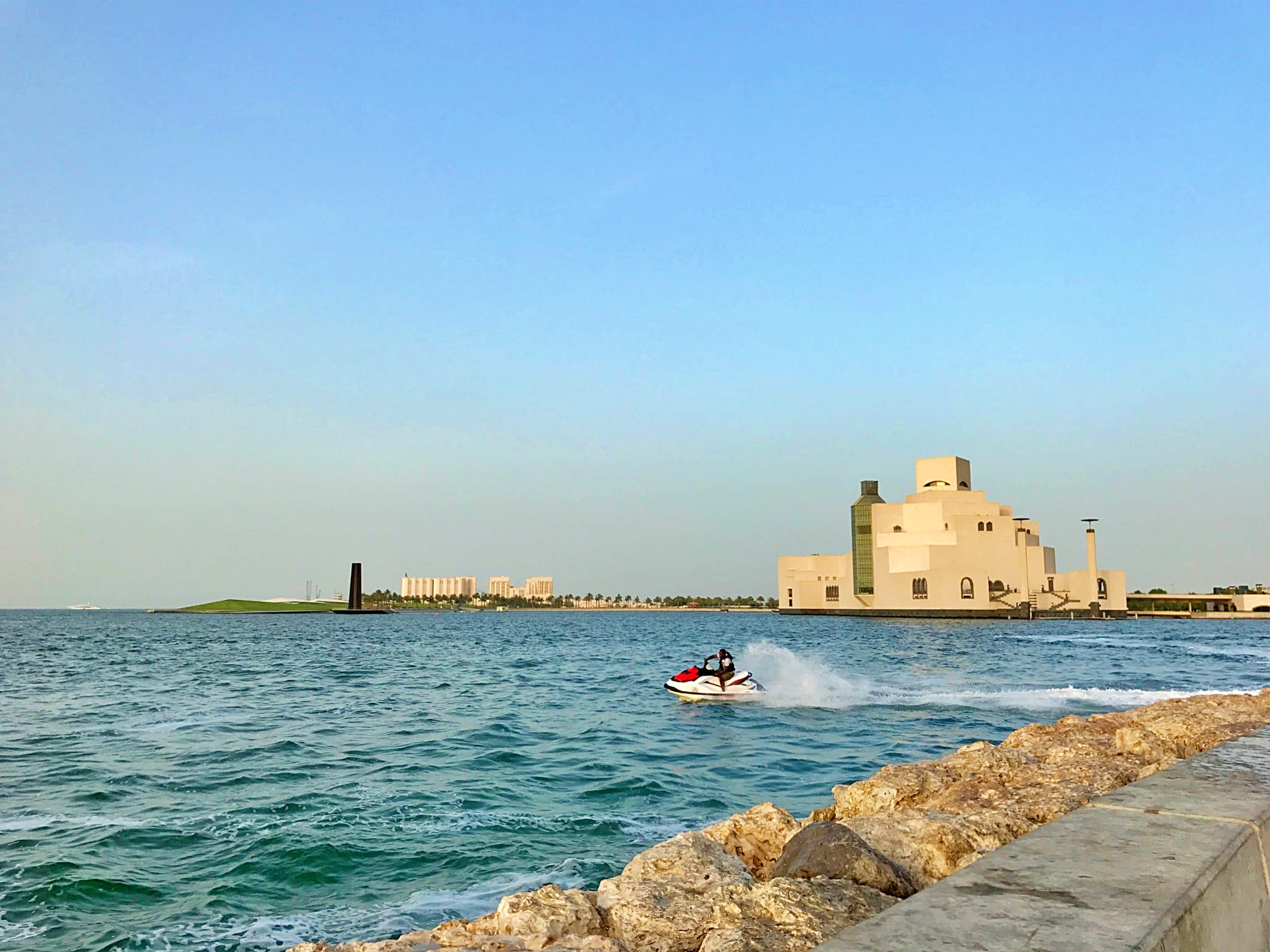 Unwind in Doha's Parks for a Relaxing Stroll
Some are plain and simple parks for relaxing walk, other will make your kids happy as they meet with animals.
Aspire Park
We've already mentioned the many family-friendly activities Aspire Park offers for families. After the fun times at KidZania, Gondolania and Jungle Zone, you'll surely appreciate a leisurely stroll through Aspire Park, Qatar's largest park. It features a children's playground and options to rent paddle boats for a fun family outing on the water.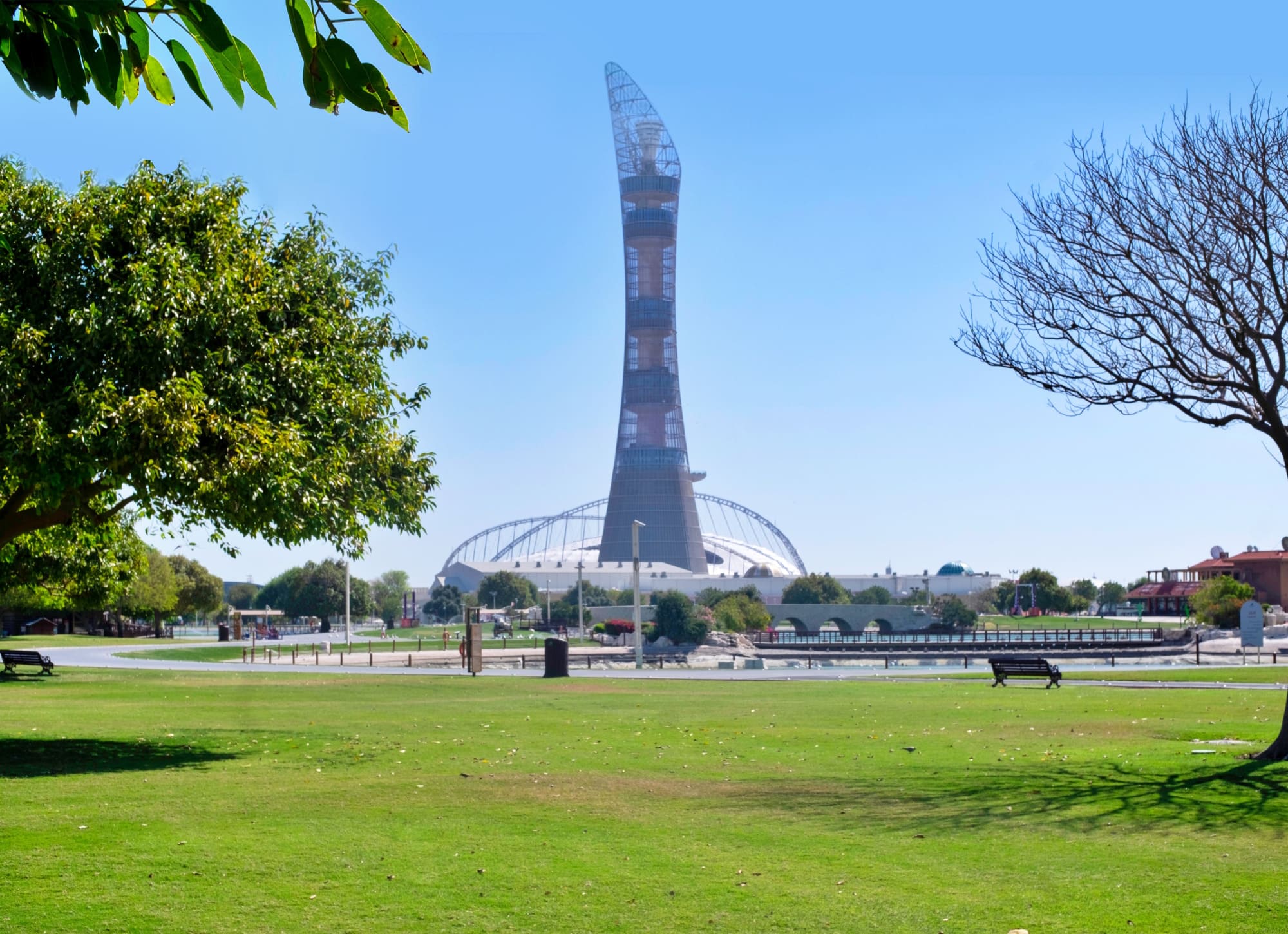 Katara Hills
If you are yearning for a more verdant retreat, Katara Hill awaits your discovery. Walking up the winding paths that meander through the hill offers panoramic views over the city skyline and the nearby sea.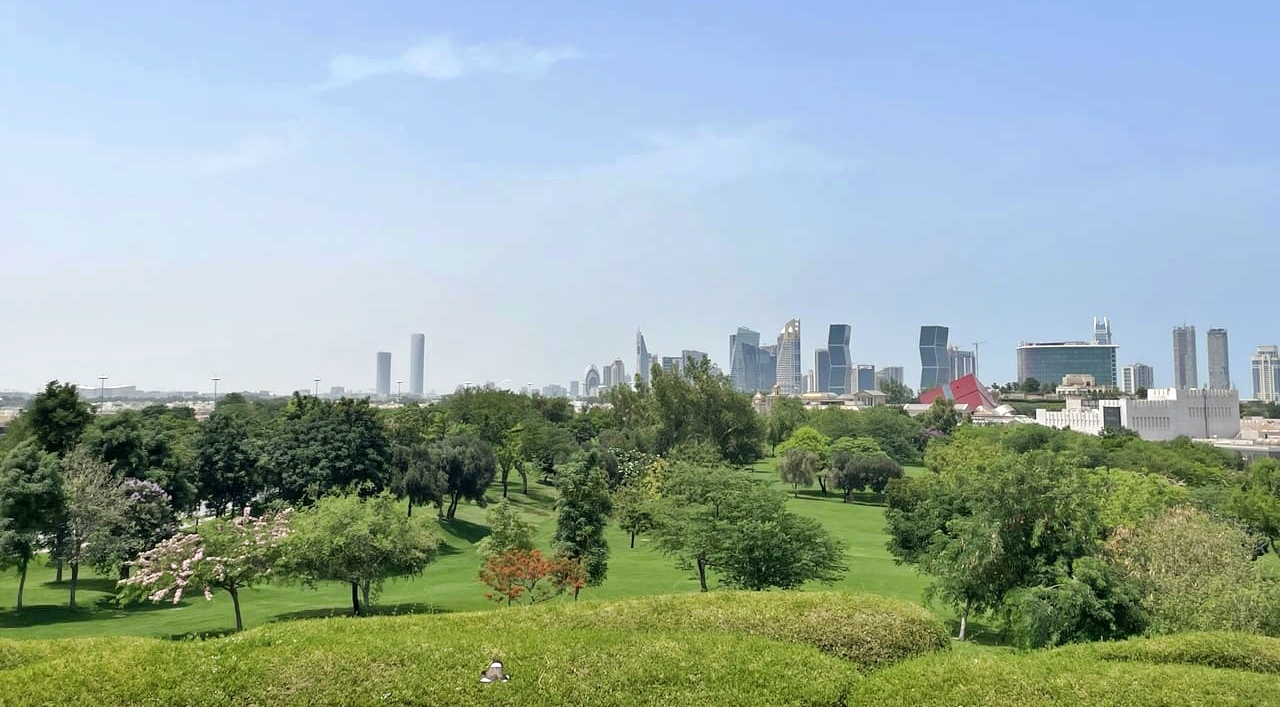 Meet Fascinating Creatures
Panda House
Beyond Doha, don't miss a visit to Panda House Park, the first panda park in the Middle East, where your children will be delighted to meet Suhail and Thuraya, the resident giant pandas. This zoo is located in Al Khor Park, 45 minutes north of Doha, near Al Khor, one of Qatar's main cities.
Baladna Park
Imagine a day where your family can enjoy the excitement of a theme park and the wonders of a working farm, all in one place! Baladna Park is that kind of spot.
Your little ones will love feeding a variety of animals in the Animal Zone, exploring the Kids Adventure Land, and more. For the thrill-seekers in your family, the Karting zone and Extreme Sports Zone offer a rush of adrenaline.
Take a moment to learn together at the Dairy Production Unit and discover the fascinating process of milk production. When hunger strikes, head over to the Baladna Restaurant for delicious dishes made from the farm's very own produce.
Where to Stay with Your Family in Qatar
Qatar is known for its world-class hospitality, and you'll be spoilt for choice when it comes to hotels that'll welcome your little ones with open arms and do everything possible to make sure they have the time of their lives. Looking for a family-friendly hotel in Qatar? Here are our top picks!
Al Messila, a Luxury Collection Resort & Spa
You really can't go wrong with Al Messila, a Luxury Collection Resort & Spa, which is in Doha. As home to the biggest hotel kids club in the country, you can guarantee that your kids will love it here! The Little Explorers' Kids Club is open from 11 am to 8 pm and welcomes all kids under 12. With a children's cinema, a mini gym, a range of arts and crafts activities, and trampolines, amongst other top-notch facilities, your kids won't want to leave!
The Banana Island Resort Doha by Anantara
Okay, so Al Messila takes the top spot, but it was close. The Banana Island Resort Doha by Anantara gives it a serious run for its money when it comes to family-friendly facilities and services. Their Kids and Teens Club, which is for kids aged 4-12, is open daily from 9 am to 9 pm and will treat your little ones like the treasures they are. With supervised play, scheduled activities such as cooking classes, yoga and meditation, and an indoor play area on offer, there's never a dull moment for kids here. No wonder why it's often considered one of the top resorts for families in Qatar.
Kempinski Residence and Suites
Your family will be in safe hands at the Kempinski Residence and Suites. The Kempinski Playroom is open daily from 9 am to 6 pm (closed from 1 pm to 2 pm), and your kids won't want to leave it! Fancy a date night? No worries – the hotel offers a babysitting service from 6 pm until midnight.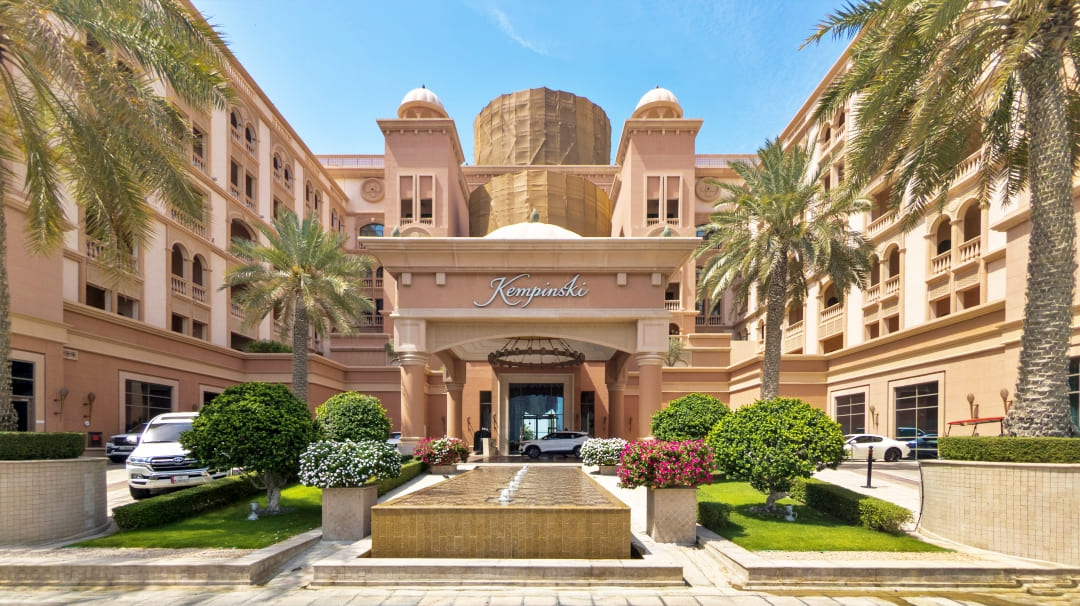 Four Seasons Hotel Doha
Finally, the Four Seasons Hotel Doha offers a Kids Club for ages 4-12, which is open daily from 10 am to 6 pm. You'd be forgiven for choosing this hotel thanks to its location alone, near the beach and hotel marina, but the kids club here provides yet another reason to stay. With a PlayStation 5, toys, games, and scheduled activities, their fun-filled roster will keep your kids out of mischief and entertained during their stay. It's worth noting that booking in advance is required for their scheduled activities.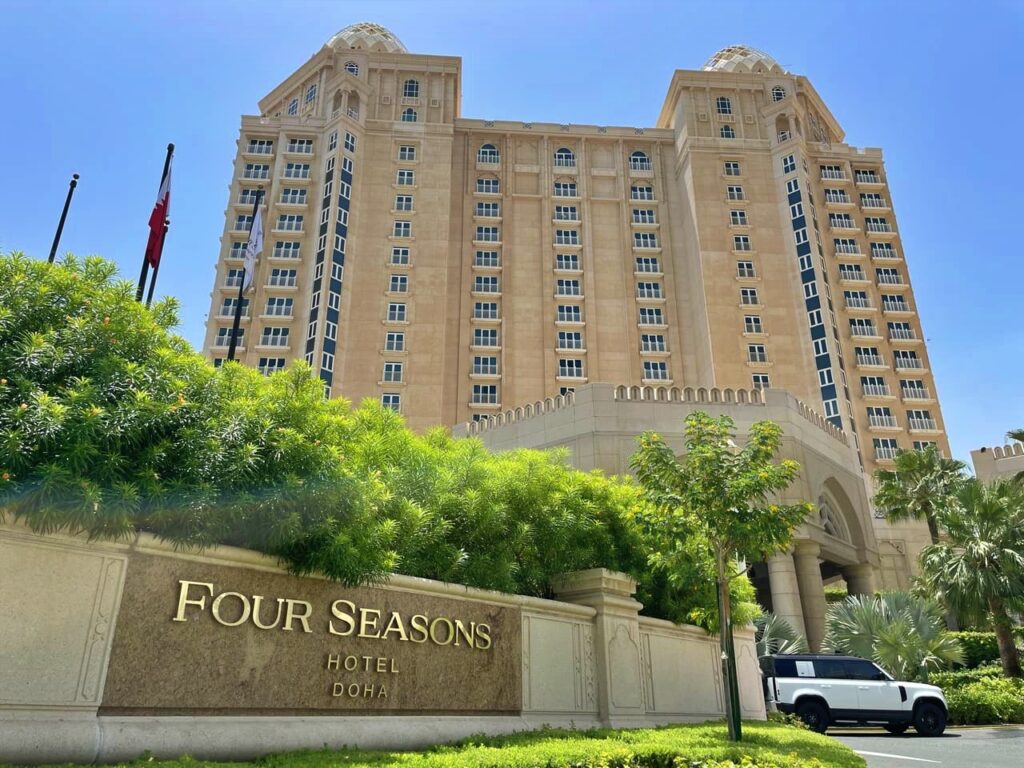 It would have been impossible to cover all of the hotels that are great for families, but, with this selection of the very best, we've provided a helpful starting point. Key factors to consider when you're choosing a place to stay for your family in Qatar include the location, proximity to attractions, and family-friendly amenities such as interconnected rooms, cribs or rollaway beds, and kids' play areas.
Kid-Friendly Restaurants to Try Out in Qatar
Qatar isn't all about fancy fine dining. Of course, if that's what you're looking for you won't need to look very far, but there's also an impressive range of more casual and kid-friendly restaurants in Qatar. Here are our top picks.
Deli Kitchen, situated in Al Messila Resort, is the perfect dining option for families, and that's all thanks to the Resort's awesome kids club, which we've already discussed. You don't need to stay at the Resort to make use of it, though. Diners can drop their kids off at the Kids Club for QAR 150 (US $41), or QAR 75 (US $21) during the Deli Kitchen Saturday Brunch. What's more, kids under 4 eat for free here and kids under 12 eat for half price!
Doha is thousands of miles away from Greece, but at Mykonos Restaurant, you'll feel like you've been transported to the shores of the Greek Islands. Whilst you dine on authentic Greek cuisine your children can choose a mouth-watering dish from the kids' menu. With engaging activities printed right on the menu, your kids will be kept busy as you dine.
Movie buffs will love Planet Hollywood at Doha Oasis. Located within the Doha Quest indoor theme park, this movie-themed restaurant is the perfect place to dine during your trip to Doha Quest. The fun old-Hollywood design will fascinate your kids, and, since it's located inside a theme park, it goes without saying that the staff here are used to accommodating kids. Burgers and fries are the name of the game here, which are sure to delight your childrens' taste buds.
It can be a nightmare to get some kids to eat their veggies. At The Torba Store, a farmers' market, they do the hard work for you, serving kid-friendly meals with hidden veggies. The dishes are so delicious that your little ones won't even notice! The restaurant's playroom, equipped with books and toys, is open daily from 8 am to 10 pm, so the kids can entertain themselves as they wait for their food.
Stock Burger Co. is one of Doha's most popular sports bars, but it's also family-friendly, serving up delicious kids' burger options, with a budget-friendly QR35 deal that includes a main, side, and drink. If you're here to watch a game, you won't need to worry about your kids – the menu features colouring and activities to keep little ones happy during mealtime or game time.
Finally, getting to Ted's on Banana Island is half of the fun, because you'll need to clamber aboard a boat to get here (it takes 25 minutes)! The restaurant offers American favourites and a kids' combo meal for QAR65 (US $18) in a casual environment catered towards families.