Are you torn between Abu Dhabi and Doha as your next layover destination? It's a tricky one! These cities are two of the most popular layover destinations in the world and, as international flight hubs, they're perfectly set up for short layover trips.
It's no secret that both cities offer a unique mix of attractions – from stunning beaches to otherworldly sand dunes, to opulent malls practically dripping in money. But which city is better for your holiday needs? We've got the answer! In this blog post, we'll compare Abu Dhabi and Doha side by side so you can decide which one is right for you.
Let's dive in!
Getting There
When you're deciding whether to stop over in Abu Dhabi or Doha, the best place to start is with the airport.
It's worth considering which airport will be the cheapest for you to get to, or which has the better connections for your journey. Realistically, this factor is the one that will overshadow all the others. However, if layovers in Doha and Abu Dhabi are equally convenient, there are a few other things to think about.
Skytrax, an air transport rating organization, hailed Doha's Hamad International Airport as the World's Best Airport for the second year running in 2022, and the World's second Best Airport in 2023. It comes as no surprise. Hamad Airport's design is nothing short of spectacular. Renowned for luxury, Hamad is a destination in and of itself, with upscale shopping and gastronomy, a world-class art collection, entertainment options, and a spa – all inside the airport! Whether you're looking for things to do during your 6-hour layover at Doha airport or you're in for an overnight layover, you'll always find plenty of things to do at Doha airport.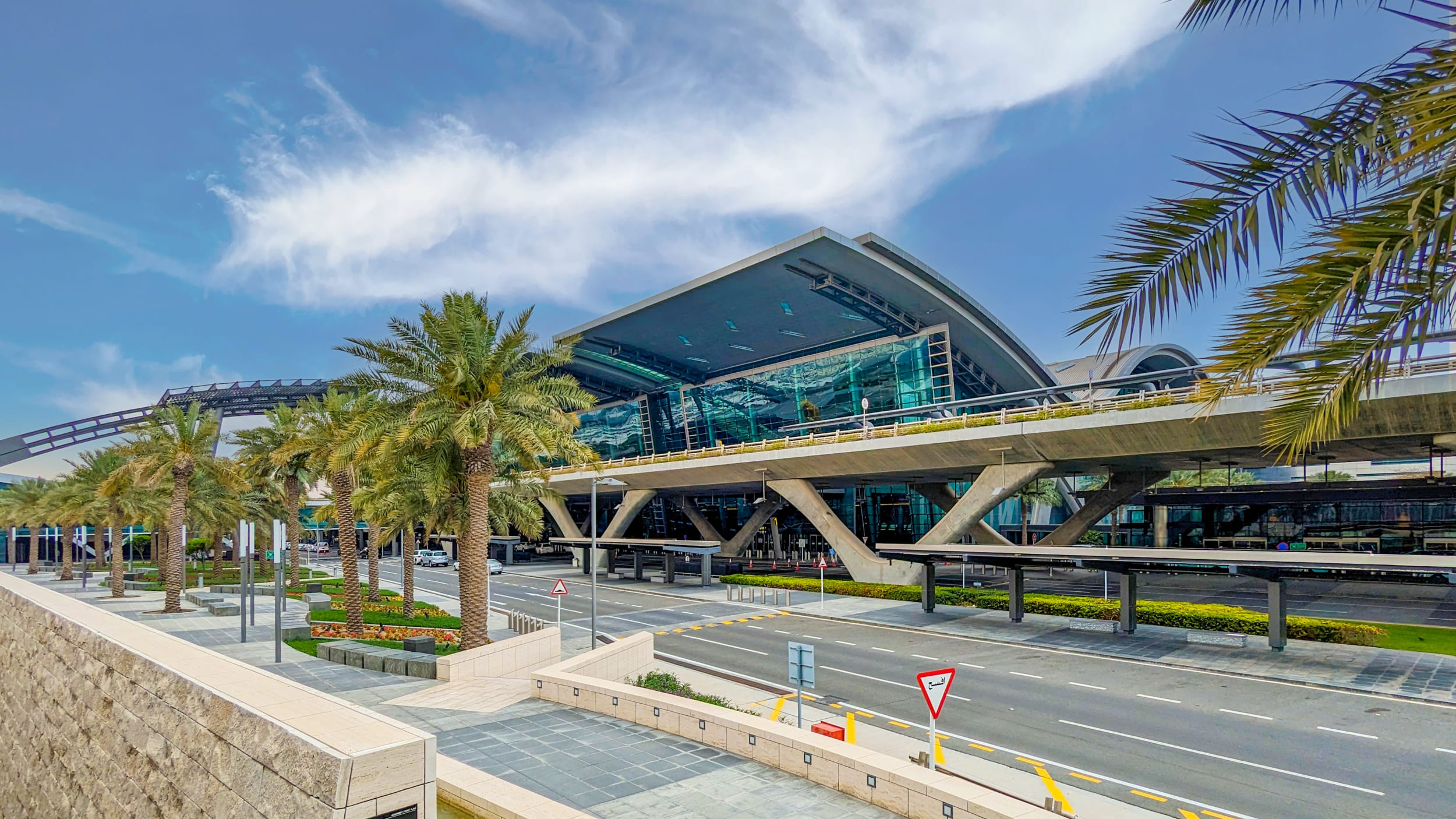 Though Abu Dhabi International Airport gets a pretty good four-star Skytrax rating, it's hard for it to compete with Hamad Airport. It's hard for any airport to compete with Hamad! Additionally, Qatar Airways, based out of Doha, has been ranked the World's Best Airline for seven years in a row. Etihad Airways, on the other hand, which is based out of Abu Dhabi, is still a solid airline, but it just doesn't get the same level of rave reviews as Qatar Airways does.

Based on the airports and airlines, Doha is the better stopover destination.
Weather & Climate
Since both Abu Dhabi and Doha are in desert environments, expect hot, dry weather in both. With that said, there are a few slight differences between the two. In Doha, temperatures can get a bit hotter in the summer and a touch colder in the winter, with a difference of about one degree Celsius (two degrees Fahrenheit). If you're sensitive to heat, this could be the deciding factor in your choice. Doha also receives slightly more rainfall than Abu Dhabi, but not by much. Overall, the weather in Doha and Abu Dhabi really is very similar.

Abu Dhabi and Doha have very similar climates with hot, dry weather. There's no clear winner here!
Things to See
Things to See in Abu Dhabi
When it comes to Abu Dhabi, one thing is certain – it's a paradise for those interested in Islamic architecture and world-class art. Throw in some of the most impressive skyscrapers in the world and epic beaches for good measure, and you'll agree that Abu Dhabi has something for everyone.
There's no better example of Abu Dhabi's ancient architecture than the Sheikh Zayed Grand Mosque. This striking masterpiece has over eighty marble domes, which are made up of over 90,000 tons of pure white marble.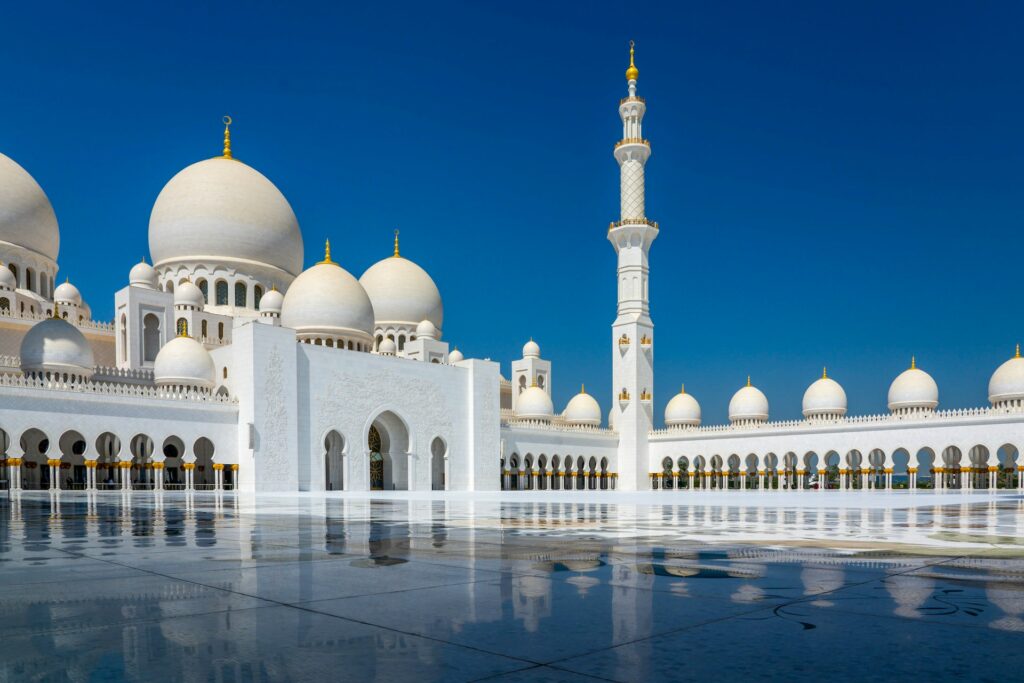 In classic Abu Dhabi style, no expense was spared. The marble was imported all the way from the Republic of Macedonia, in Europe, for the construction. The luxury doesn't end there. Semi-precious stones, such as lapis lazuli, red agate, abalone, jasper, and mother-of-pearl, enhance the marble's intricate designs. Conceived by Sheikh Zayed bin Sultan Al Nahyan, the mosque is a must-visit destination.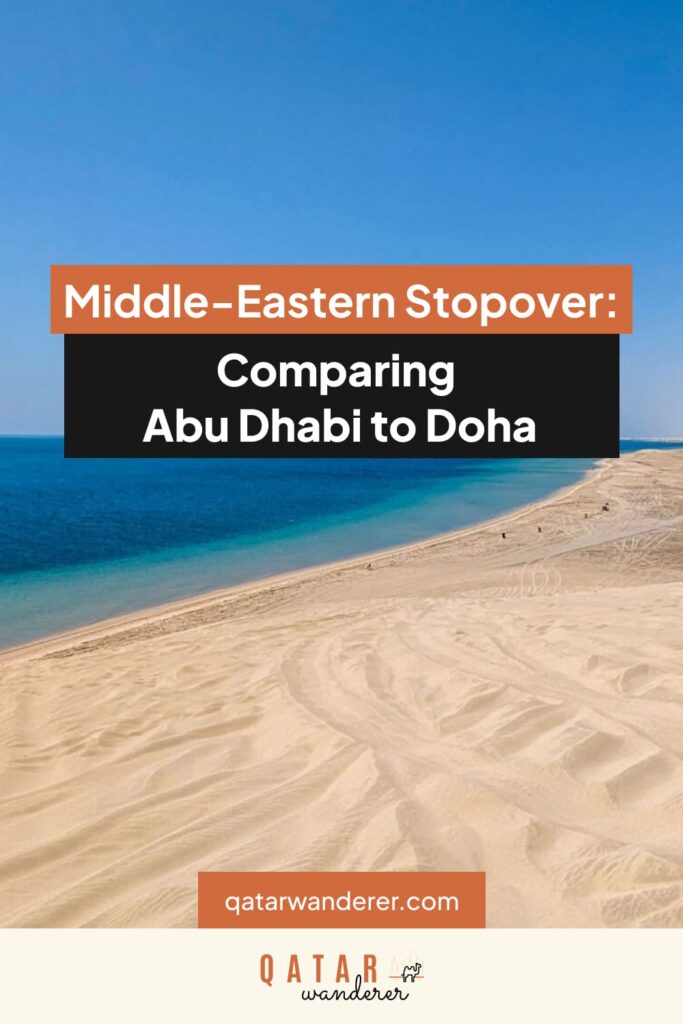 No time to read?
Pin it on Pinterest and revisit it later.
Art enthusiasts, you can forget all about Paris' Louvre. That's because Abu Dhabi has one of its very own – the Louvre Abu Dhabi. The building itself is spectacular, and that's before you even start to look at the art inside. With a giant filigree dome and plaza jutting into the sea, it's one of the most unusual buildings in the Middle East.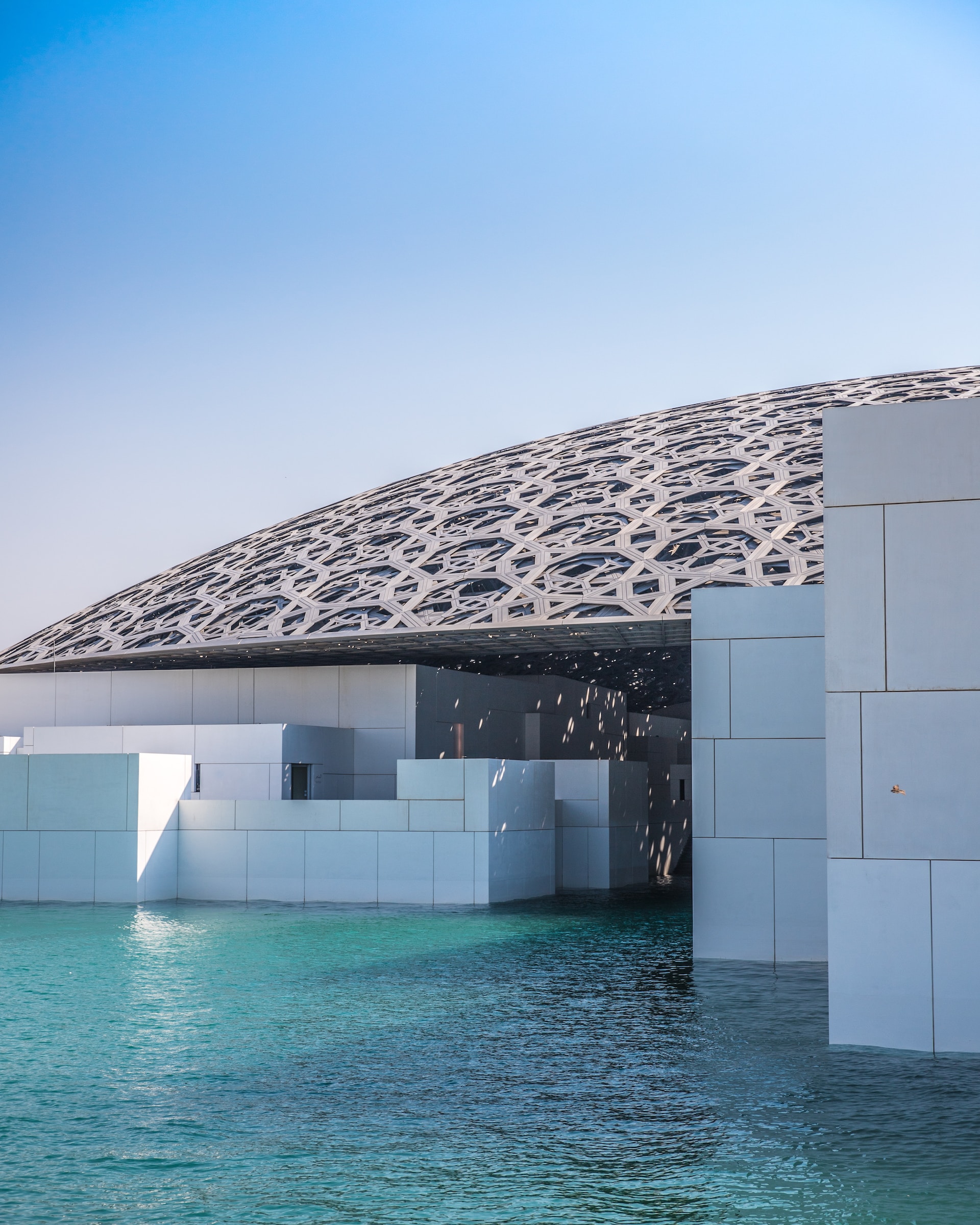 The museum's twelve galleries display a world-class collection of both contemporary and historical art using a non-traditional curation system that clusters the artwork by theme and period.
Visiting the Heritage Village is a must-do activity whilst you're in Abu Dhabi. After all, this area has been inhabited for as long as anybody can remember, and there's a tonne of history here. This walled complex offers a unique insight into a traditional way of life, featuring wooden homes, traditional tents, a fort to defend against invaders from the sea, a souq for goat trading, and a mosque – the central part of daily life. Just in case you needed more encouragement to visit, entry is free.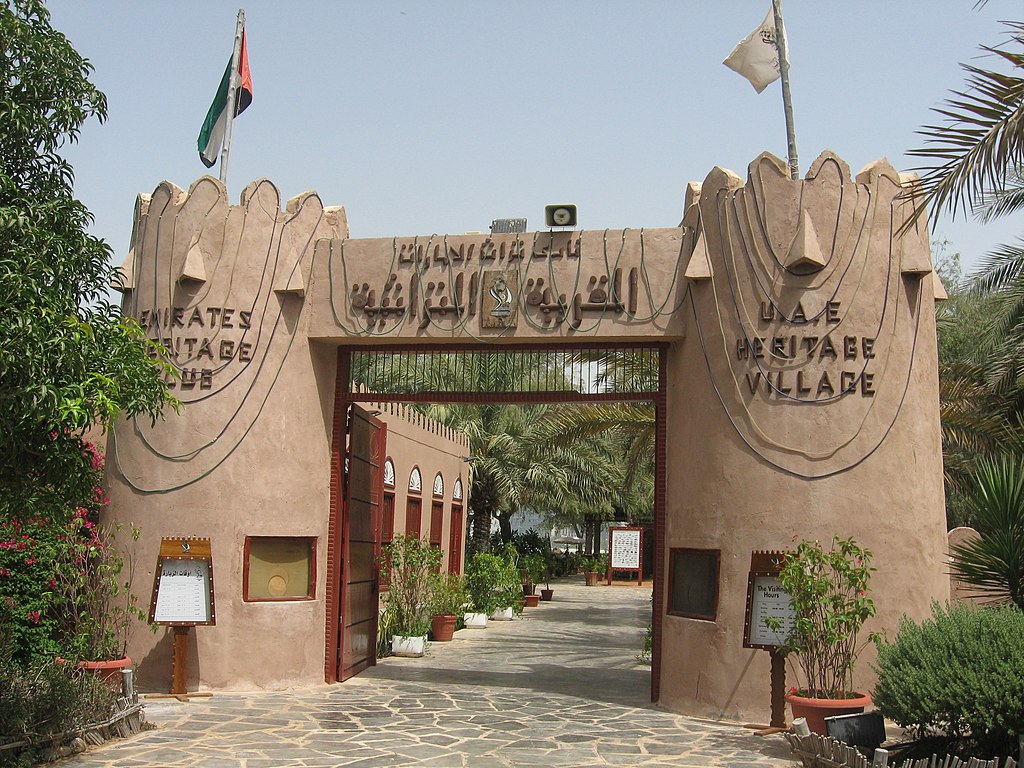 Add on a visit to the Emirates Heritage Club to immerse yourself in the traditional art and craftsmanship of the area. From delicate pottery sculptures to blown glass and textiles made by local artisans, this is the best place in Abu Dhabi to find a unique souvenir.
Things to See in Doha
Doha stands out from the crowd thanks to its captivating blend of futuristic architecture, ancient markets, and reams of fascinating local history. Ultra-modern buildings adorn the skyline and contrast handsomely with its traditional souks and historical landmarks to create a city that looks like nowhere else.
Right on the waterfront, the renowned Museum of Islamic Art encapsulates 1,400 years of Islamic heritage with one of the most comprehensive collections of Islamic art and artefacts in the world. And nope, this isn't just Qatari art – the pieces on display here have been sourced from all over the world.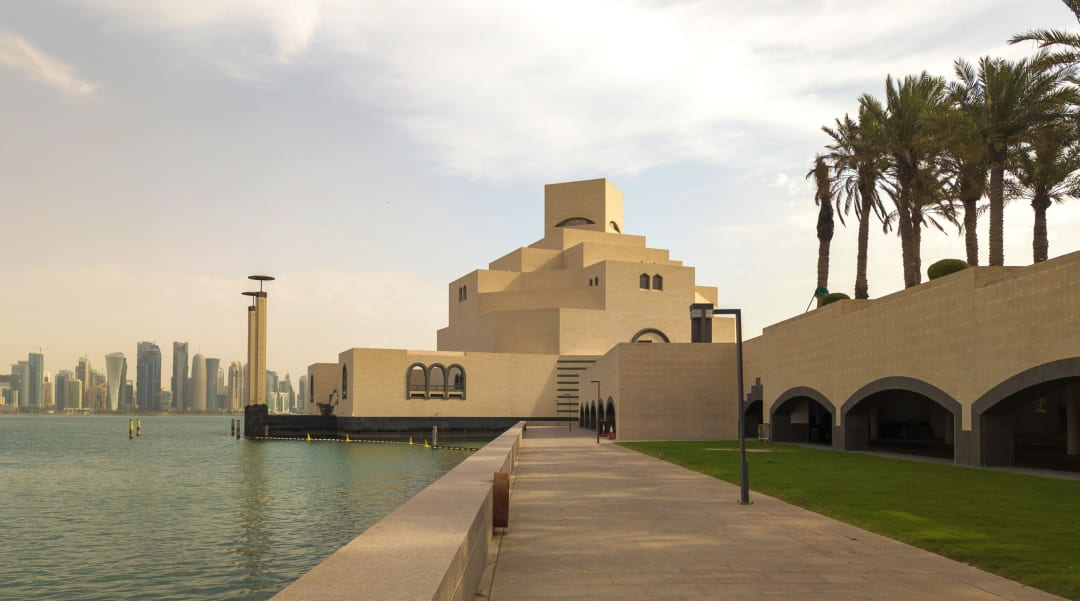 The next stop on your Doha itinerary should be Souq Waqif, a shopping complex consisting of restored old Qatari buildings. Shopping has been the name of the game in this area for centuries. In fact, the Souq Waqif is built on an ancient market site where Bedouins used to trade their sheep, goats, and wool.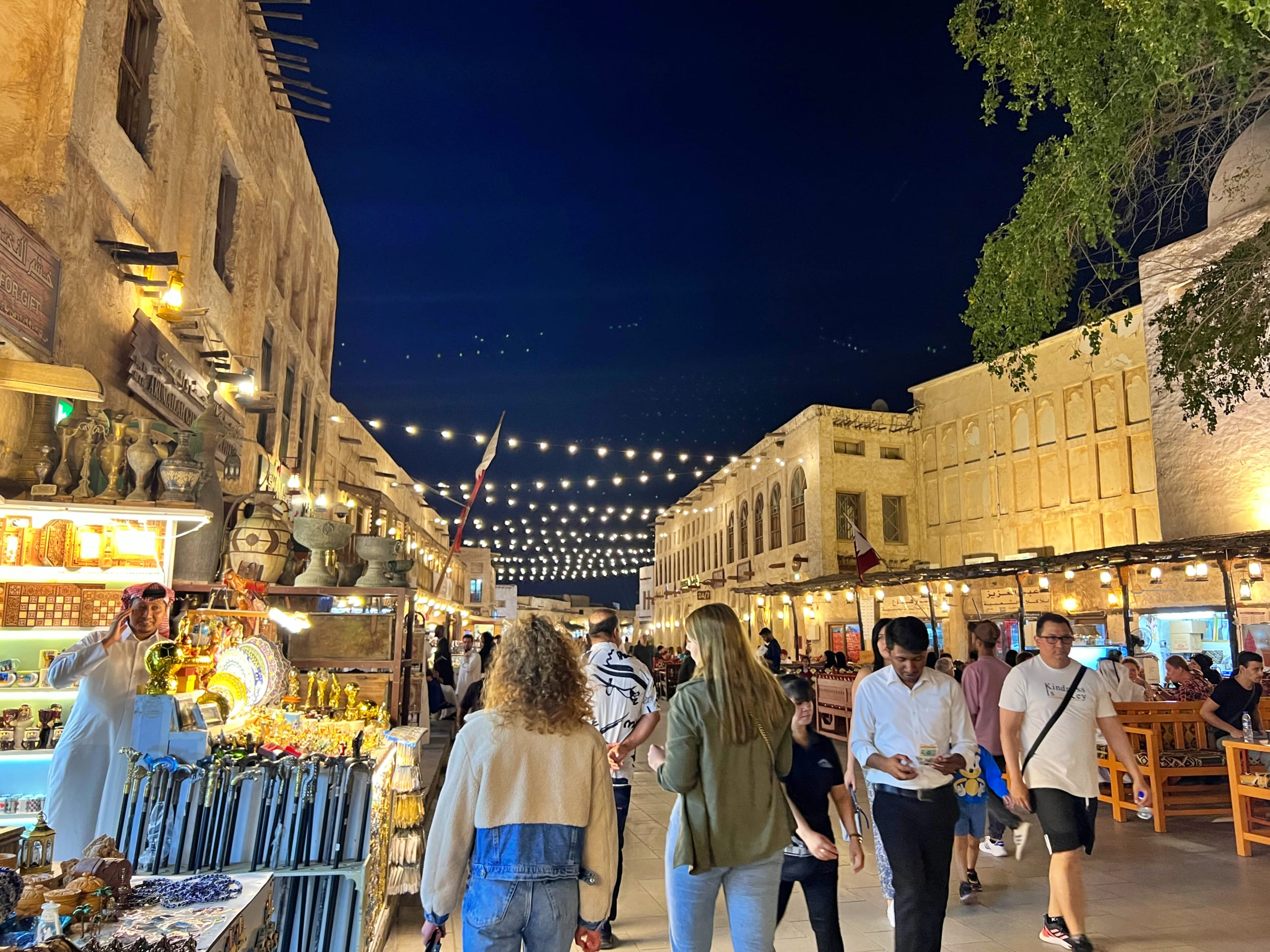 This lively market is the perfect example of Qatar's ability to blend the old with the new, and it remains the heart of Doha. This is the best place in Doha to delve into Middle Eastern cuisine. There are so many different food options here that you won't know where to start! Since Doha is such a huge shopping destination, it also goes without saying that Souq Waqif does not disappoint. You can find everything here – from aromatic spices and unique handicrafts to glittering diamonds and high-end designer products.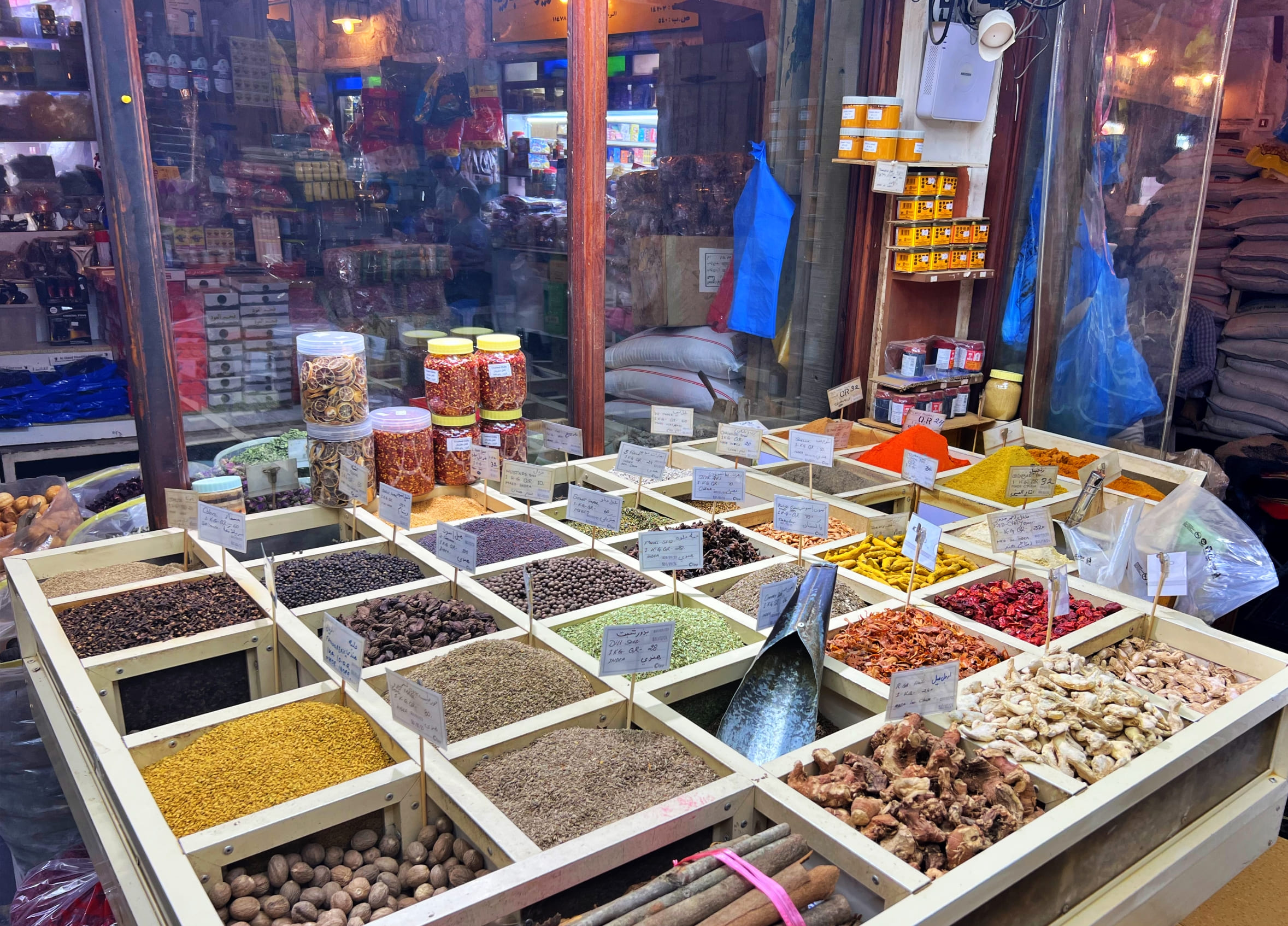 The Katara Cultural Village was created to be a vision of an ideal future where people from different cultures could embrace a united humanity, without borders and divisions. Sounds lovely, right? With beautiful theatres, concert halls, and exhibition galleries, Katara is the frontrunner when it comes to multicultural activities, events, and art exhibitions in Doha. It's a must-visit whilst you're in town.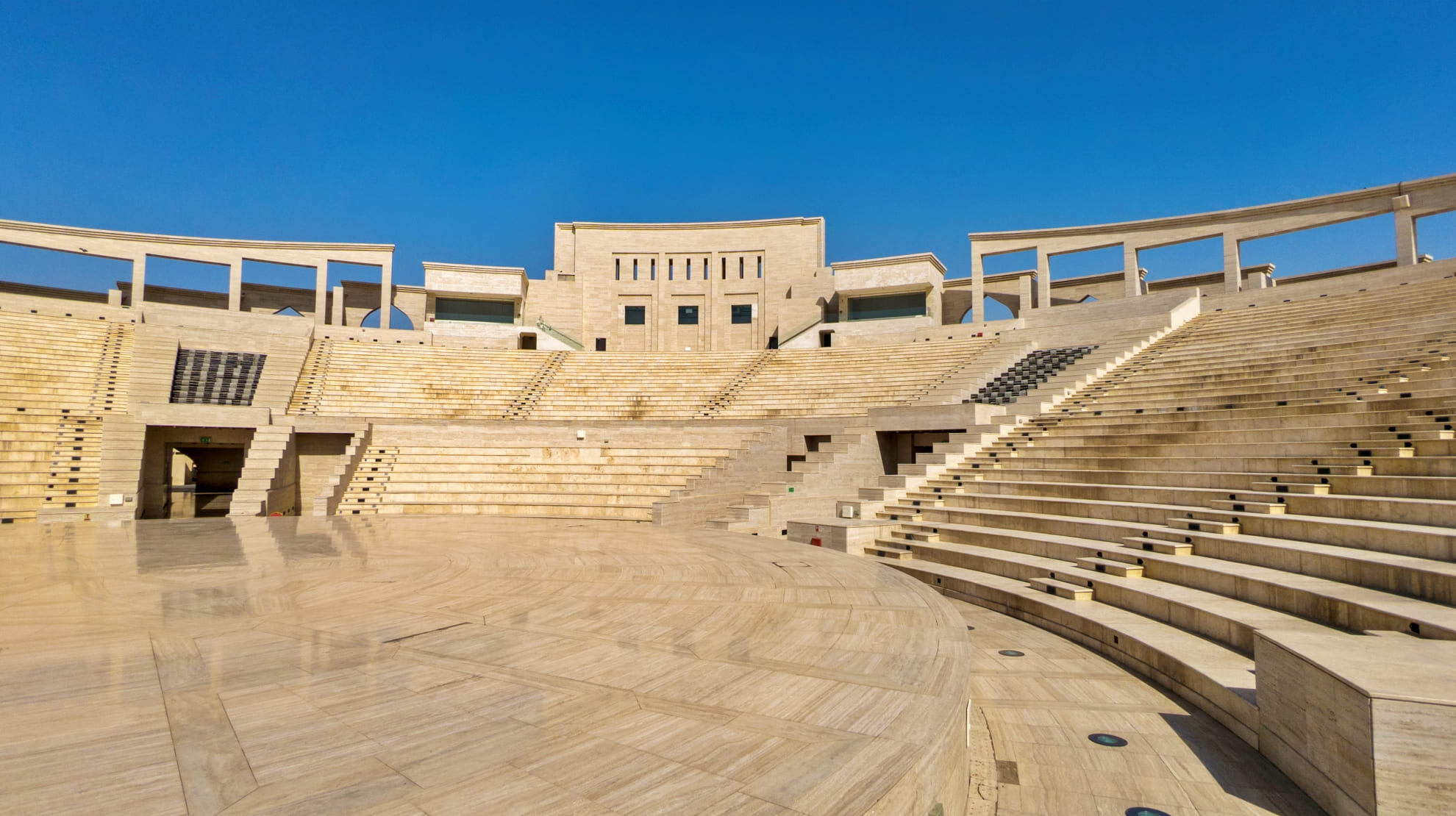 Verdict on things to see in Abu Dhabi vs Doha
Both cities have a wealth of impressive buildings, skylines, museums and ancient architecture. If you're eager to check out some of the best Islamic architecture and historic sites in the world, though, Abu Dhabi is the destination for you. However, if you'd prefer to visit a city that combines modern buildings, rich traditions, and a diverse range of museums, Qatar is the right choice.
Things to Do
Water Activities
Water Activities in Abu Dhabi
Don't forget to pack your flip-flops, because whilst you're in Abu Dhabi you won't be able to resist a visit to the famous turquoise waters of Corniche Beach on the Arabian Gulf.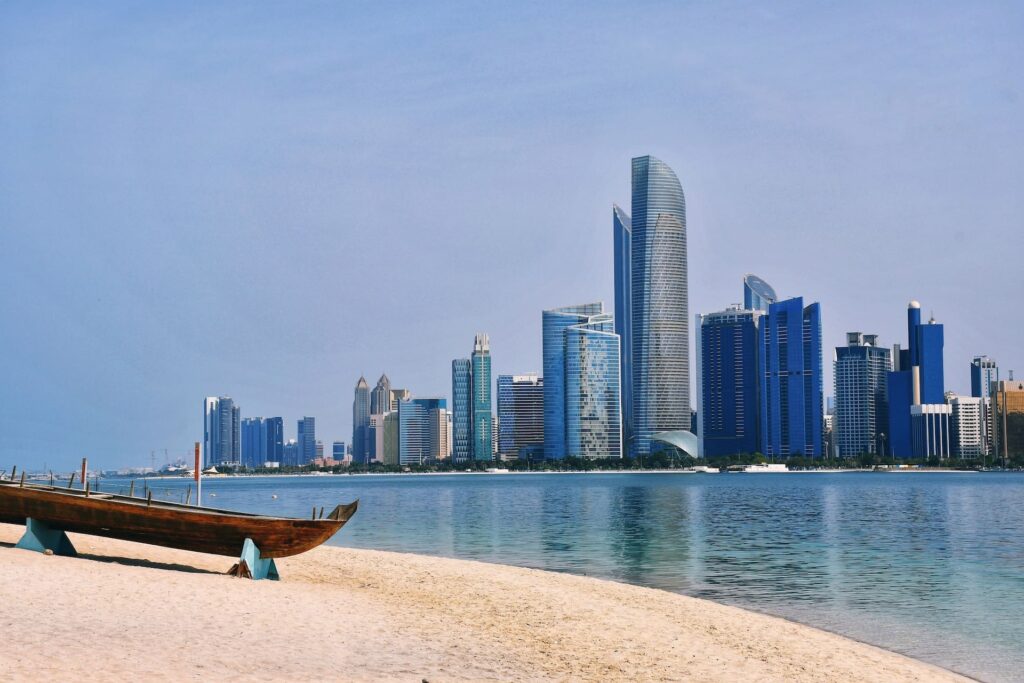 More active visitors can paddle the pristine waters of Mangrove National Park on a kayak tour. The biodiversity living in the park's salt marshes, mudflats, and algal communities is nothing short of mind-blowing! Keep your eyes peeled for crabs, turtles, herons, flamingos, foxes, dugongs, and dolphins.
Abu Dhabi has a growing reputation as a kitesurfing destination, thanks to a beach on Yas Island that opened in February 2023 and is completely dedicated to kitesurfing. The strong winds and powdery sands here provide the perfect environment for catching big air. You don't need to worry about your travel companions as you kitesurf, either, because Yas Waterworld is right next door.
This huge waterpark has flow boarding and bodyboarding simulators, insane water slides, and water features for the whole family. Forget windsurfing – the Bubble's Barrel ride simulates regular surfing on the world's largest sheet wave. Hang ten!
Water Activities in Doha
There's nowhere quite like the beaches of Qatar. The best place to check out the dramatic landscape of desert dunes meeting the crystalline waters of the Arabian Sea is at Sealine Beach.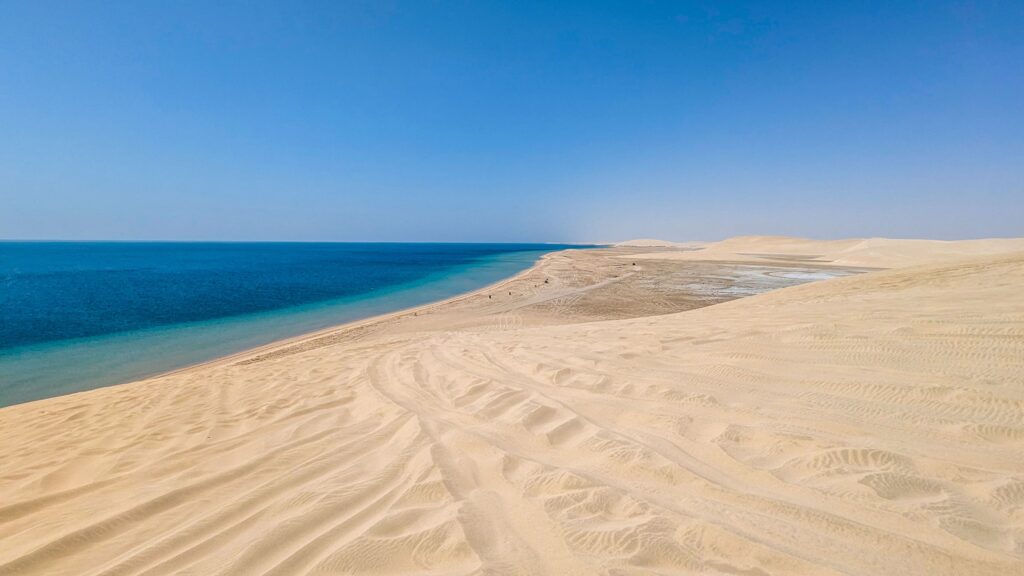 Adrenaline junkies will want to check out Katara Beach, where they can kneeboard or jet ski. Of course, there are also more laid-back options here like taking a relaxing gondola ride or exploring the water from a kayak.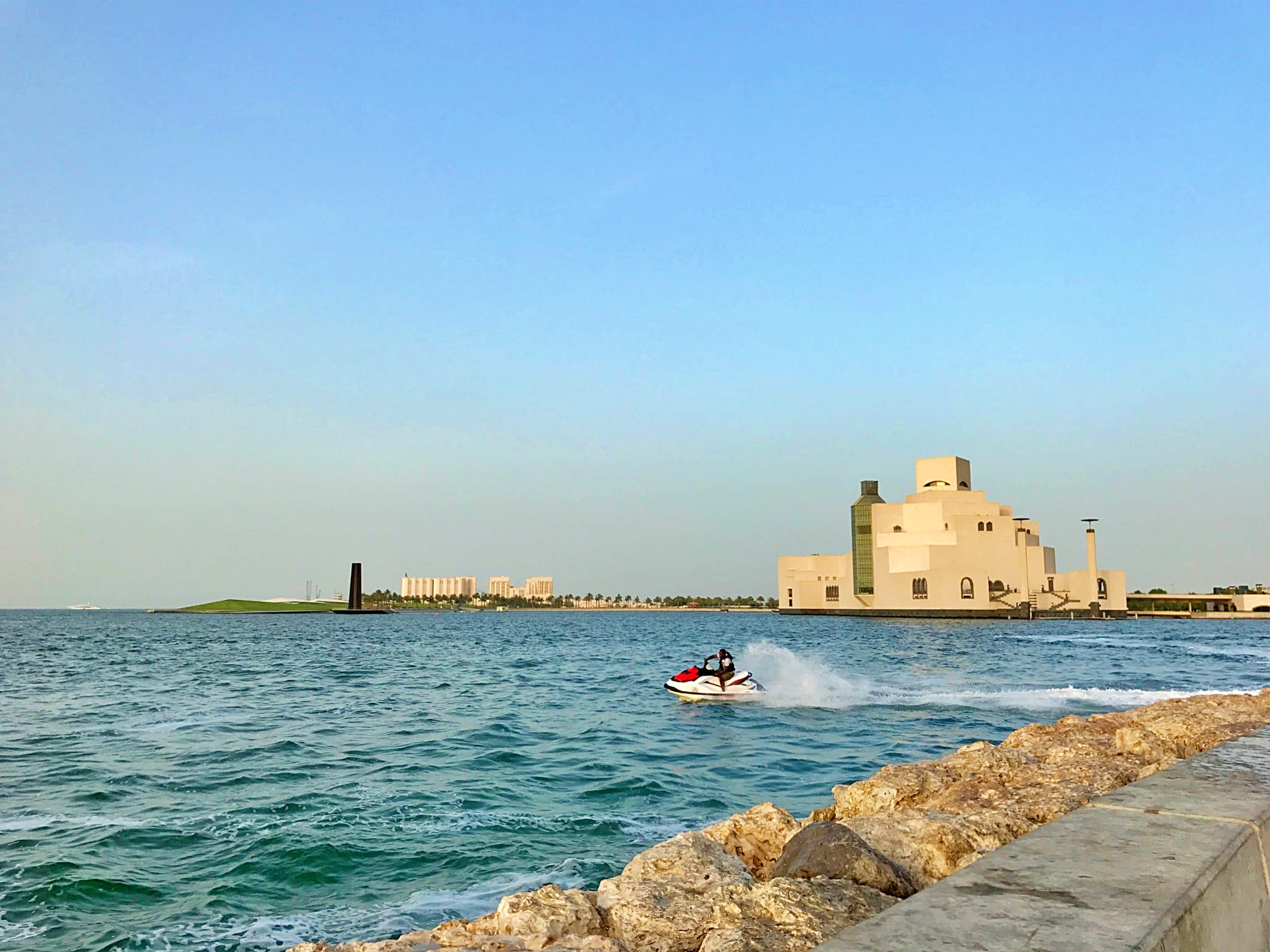 For an untouched and rugged stretch of sand, head to Khor Al Adaid Beach, a paradise for nature-lovers. Recognised by UNESCO for its natural reserve, the beach here boasts a unique ecosystem you'd struggle to find anywhere else in the world.
The crusty surface of the coastal areas between sea and desert is made up of deposits of calcium carbonate, gypsum, and salt. It doesn't just look pretty, though – the reserve is home to an array of interesting wildlife, from Arabian gazelles to camels, flamingos, finless porpoises, bottlenose dolphins, and the endangered dugong species.
Qatar is already well-established as a top destination for kitesurfing. The new Fuwairit Kite Beach Resort (FKB) is completely dedicated to the sport. With an unusually long kitesurfing season, ideal conditions, and plenty of equipment to rent, FKB is the go-to spot for both beginners and experts.
FKB is so impressive that the Global Kitesports Association (GKS) World Tour will be hosted there in 2023 and 2024!

Verdict on water activities in Abu Dhabi vs Doha
Both destinations have fabulous beaches – there's no denying it. If you're into kitesurfing, Doha is undoubtedly the more established destination. However, if you're travelling with non-kitesurfers, Abu Dhabi offers a better range of other activities near the kitesurfing hotspots. If you're looking for beach landscapes unlike anything you've ever seen, Khor Al Adaid Beach makes Doha the right destination for you.
Shopping
Shopping in Abu Dhabi
On Yas Island, the Yas Mall is not your average shopping destination. Sure, you can shop for almost every brand under the sun here, but it's also a social and cultural hub where the city's inhabitants get together to escape the heat. This architecturally brilliant megamall, replete with an immense reflecting pool and detailed landscaping, covers 2.5 million square feet, with more than 370 stores, sixty-eight restaurants, and a twenty-four-screen Vox movie theatre.
Located in one of the most prominent districts, the gigantic Marina Mall is the place to see-and-be-seen. Here, you'll rub elbows with Abu Dhabi's elite as you shop high-street and designer brands like Louis Vuitton, Tiffany & Co, Gucci, Prada, and Yves Saint Laurent.
Shopping in Doha
As previously mentioned, exploring the alleys and passages of Souq Waqif is the ideal way to experience the traditional Qatari market experience of yesteryear. It's also a great place to shop for locally-made and authentic wares.
When it comes to luxury shopping, though, Villaggio Mall is the top pick in Doha. This Venetian-inspired mall takes its theme seriously, and even has indoor canals where people can ride gondolas. There's also an indoor theme park inside the mall, Gondolania, with fairground-style rides and games!
For a more laid-back shopping experience, head to The Pearl. This stunning, man-made island spans nearly four square kilometres and boasts a unique necklace shape, which pays homage to Qatar's pearling history. Stroll through the Mediterranean-style marinas filled with sleek yachts, and discover high-end boutiques and exclusive shops – perfect if you prefer the finer things in life.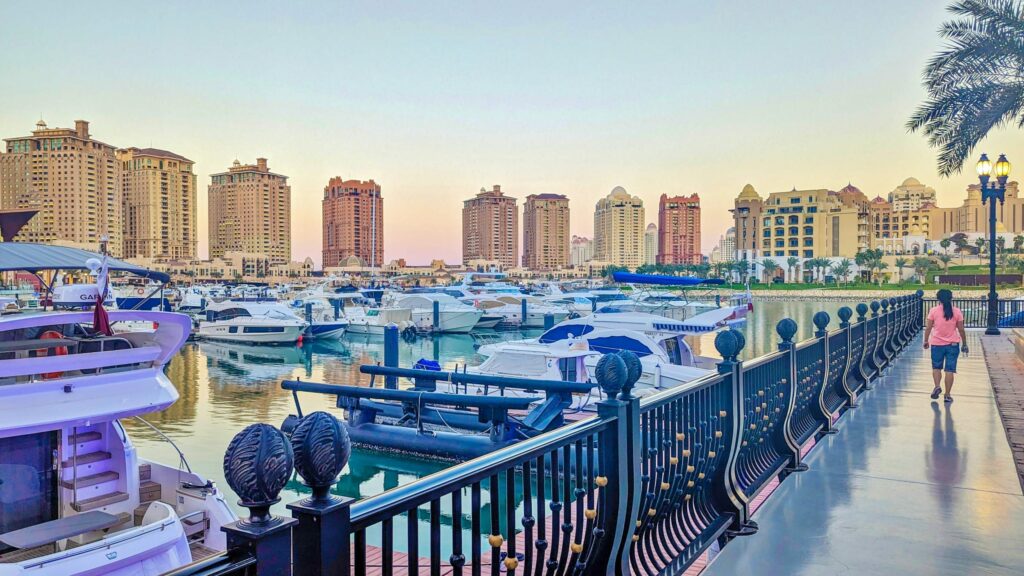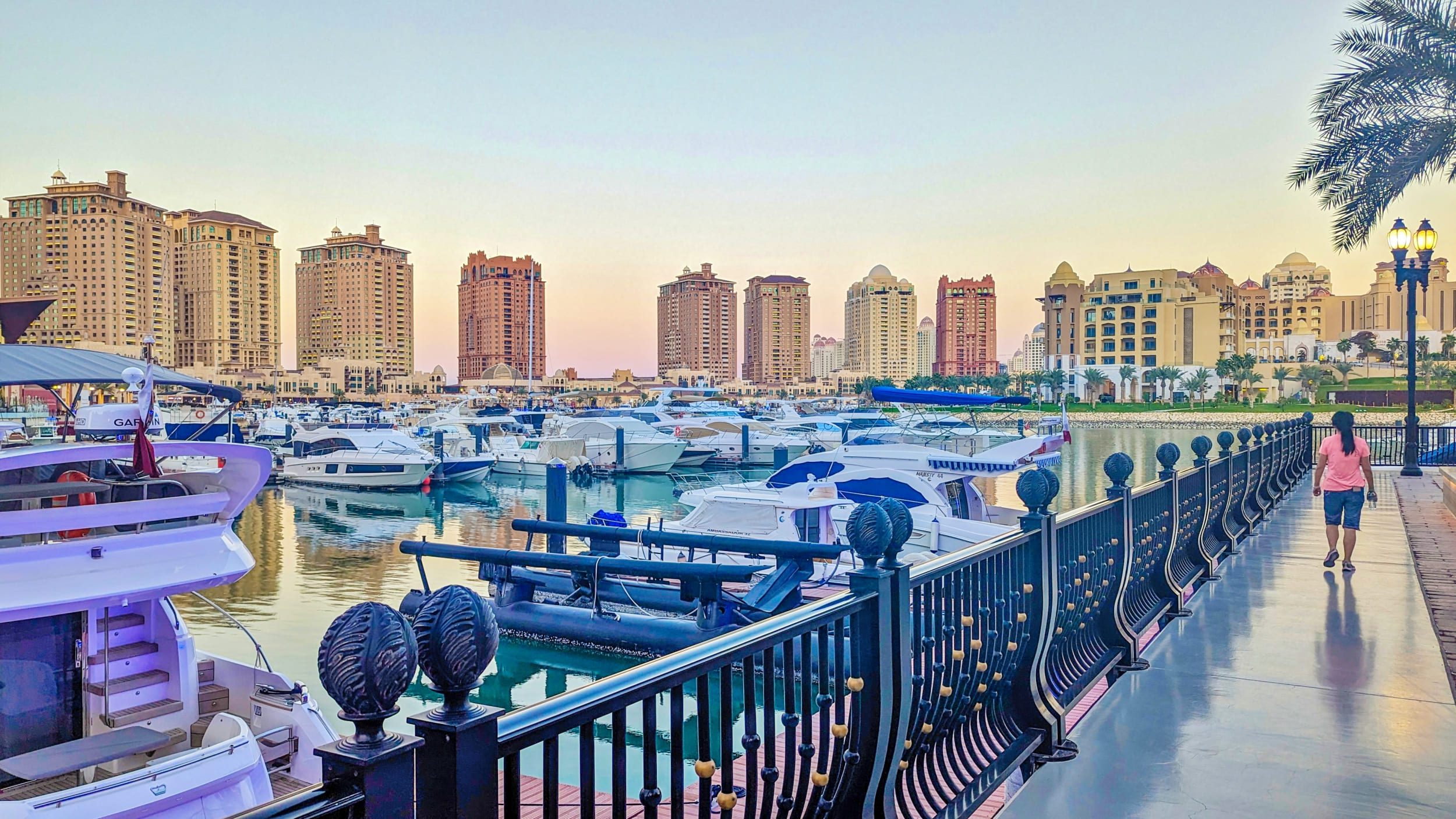 Verdict on shopping in Abu Dhabi vs Doha
Souq Waqif in Doha has an authentic and traditional atmosphere that can't be found in the high-end malls of Abu Dhabi. However, those who enjoy luxury shopping may prefer Abu Dhabi.
Entertainment
Entertainment in Abu Dhabi
Abu Dhabi is famous for its impressive theme parks. And when you consider just how many theme parks there are in this part of the world, this is no mean feat! Thrill seekers won't want to miss Ferrari World, home to the world's fastest roller coaster, Formula Rossa.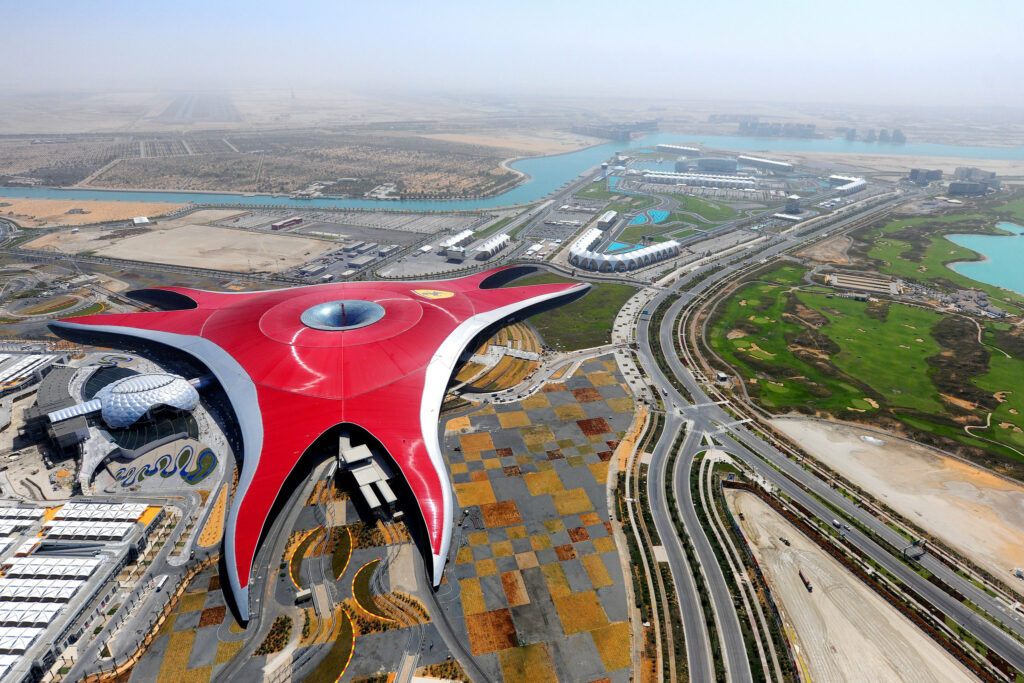 Another top attraction in Abu Dhabi is the new National Aquarium, which has made a splash as the biggest aquarium in the Middle East. Its state-of-the-art facilities are home to 46,000 animals spread across ten zones. It's seriously impressive. As if that wasn't cool enough, the aquarium also offers visitors opportunities to shark dive, scuba dive, and get involved in native wildlife rescue programs.
Entertainment in Doha
The famous Aspire Park is Doha's largest park, with beautiful gardens, fountains, playgrounds, and Doha's only lake. This green oasis in the middle of the desert is a total wonder, and the perfect escape from the sweltering heat of the region.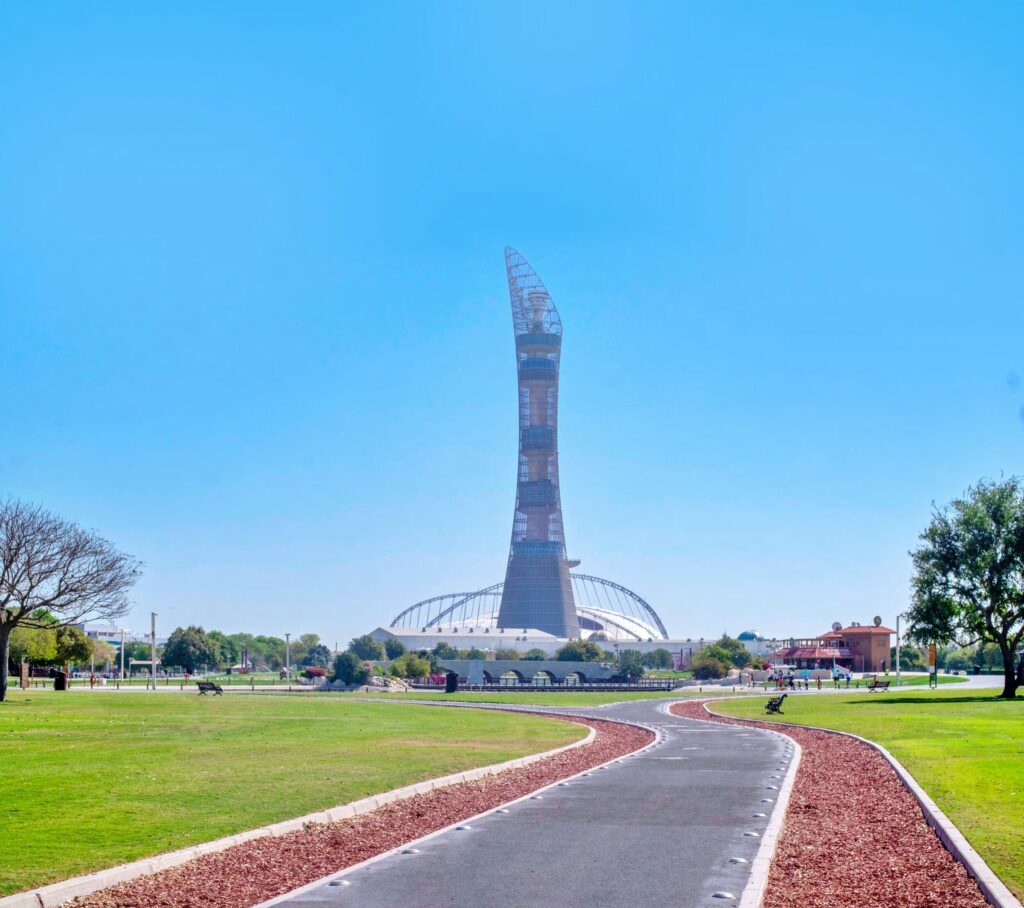 For family-friendly entertainment, be sure to check out Doha Quest and, among the biggest theme parks in the Middle East, Desert Falls & Adventure Park, offering thrilling experiences for all ages.
Why escape the desert, though, when you could embrace it? Desert sandboarding is one of the most popular activities in Doha, with taking a desert camel ride coming in a close second.

Verdict on entertainment in Abu Dhabi vs Doha
The entertainment in Abu Dhabi focuses more on adrenaline-filled activities such as Ferrari World, whereas visitors in Doha have a wider variety of family-friendly entertainment and desert experiences at their fingertips. The option to kick back in the relaxing gardens of Aspire Park is the perfect way to spend an afternoon in Doha if the heat gets too much.
Grand Prix
Motorheads love this region of the world because both Abu Dhabi and Doha are renowned for their Grand Prix events. Abu Dhabi hosts the final race of the Formula One season at the Yas Marina Circuit, which is a highlight for motorsports fans around the world!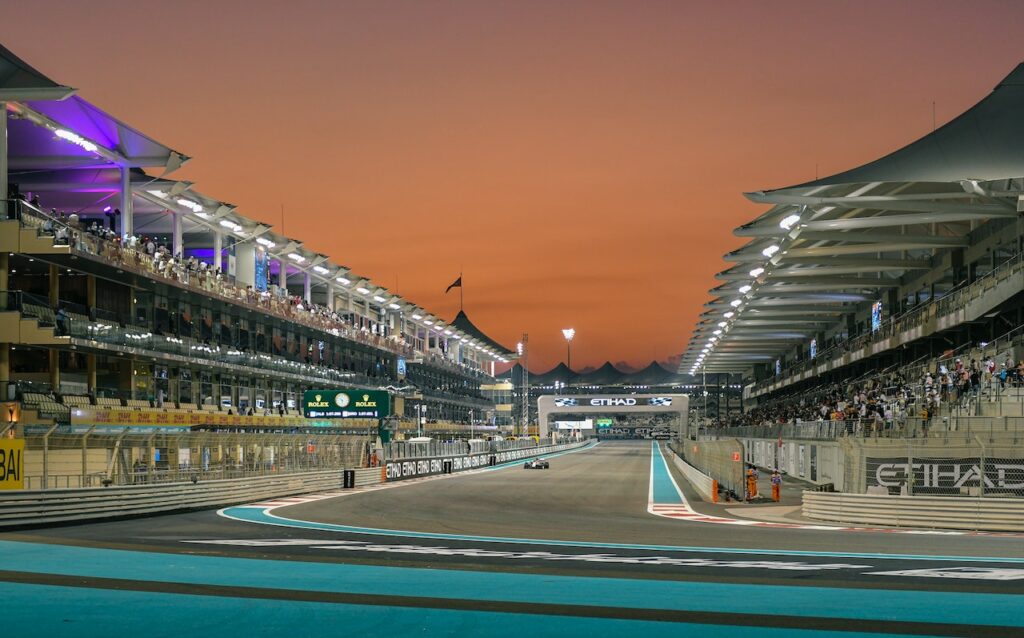 The Yas Marina Circuit is also a year-round attraction where amateurs can try racing for themselves as they drive, drag, drift, kart, ride, and tour around the circuit. In Doha, the Lusail International Circuit hosts the MotoGP Grand Prix of Qatar, the first race of the MotoGP season.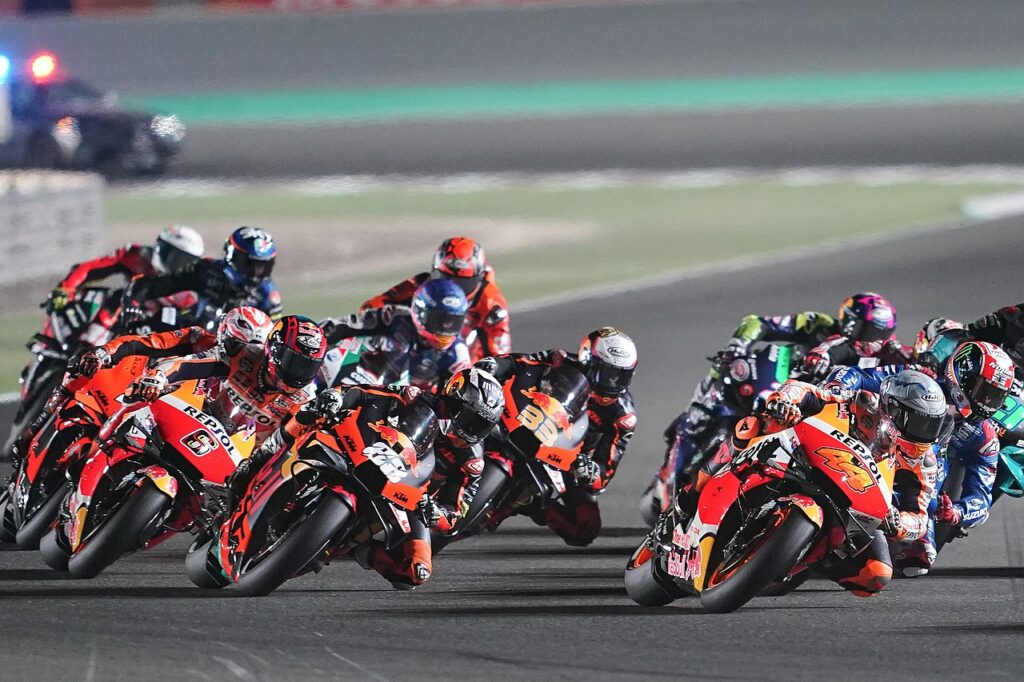 Grand Prix in Abu Dhabi vs Doha
Founded in 2009, the Abu Dhabi Grand Prix is a very established event and is more well-known than Doha's MotoGP Grand Prix. It also attracts more international visitors. This makes it a must-visit if you're into motorsports, and a must-avoid if you're not – accommodation prices skyrocket during race periods! It's no secret that both destinations offer world-class racing, but there really is only one winner in this category, and that's Abu Dhabi.
Safety
In terms of safety, Qatar is generally considered a safer country than the UAE, and when we compare the cities of Doha and Abu Dhabi, the answer is the same.
Doha in Qatar is safer for tourists than Abu Dhabi. This is due to recent drone attacks by the Houthi rebels in Yemen, who targeted oil refueling vehicles in Abu Dhabi. Of course, it is highly unlikely that you will come to any harm in either destination, but the cities' respective safety reputations are worth bearing in mind.

Safety on Abu Dhabi vs Doha
Due to the recent Houthi rebel attacks in Abu Dhabi, Doha is considered safer.
Frequently-Asked Questions
Are Abu Dhabi, Doha, and Dubai in the same country?
Many people think this, but the answer is nope! Abu Dhabi and Dubai are cities in the UAE, whereas Doha is a city in the separate country of Qatar. It's common to confuse the three cities since they're all located in the Arabian Gulf region and are known for luxury amenities. Also, a topic of interest often debated among travelers is Doha vs Dubai for tourism, as both cities serve as major travel hubs between Asia and Europe.
The UAE itself has quite a confusing setup, but here's the basic version. Before the formation of the UAE in 1971, Abu Dhabi and Dubai were part of the same country. Now, they are two of the seven emirates that make up the UAE. Each emirate has its own government and ruler, but they're all united under one federal system with a president and a prime minister.
How far is Doha from Abu Dhabi?
By road, Doha and Abu Dhabi are approximately 546 kilometres (339 miles) away from each other.
Can you drive from Abu Dhabi to Qatar?
Yes. The journey will take around six to seven hours, depending on traffic and border formalities between the UAE and Qatar. It's worth checking the latest border regulations and entry requirements before making the journey.