Qatar has been the talk of the town recently, and it's about time it gets the recognition it deserves as an awesome travel destination! There's no doubt that the 2022 World Cup has given the nation a huge tourist boost, but what you may not know is that Qatar has also been steadily growing in popularity with solo women travellers!
Qatar is the perfect introduction to the Middle East for solo female travellers, and that's not just because of its stellar reputation for safety. Where else would you be able to visit world-class museums, rocket through the desert in a dune buggy, sunbathe on the beach, and explore ancient mosques in one day other than Qatar?
This country may be small, but it's mighty, and if Qatar isn't on your solo female travel bucket list yet, it should be!
By the end of this post, we'll have you itching to book your flights and pack your bags, ready for a fabulous solo female trip to Qatar.
Tip #1: Choose the Right Time to Visit
There's no doubt about it – the timing of your trip to Qatar is crucial. The best time to visit Qatar is undoubtedly during the cooler months, from November to March. With average daily temperatures ranging from 18°C to 26°C (65°F to 78°F), it's pleasant to explore and enjoy outdoor activities.
Strolling through the bustling Souq Waqif or lounging in the sun on a picturesque beach is all possible without breaking a sweat during this season!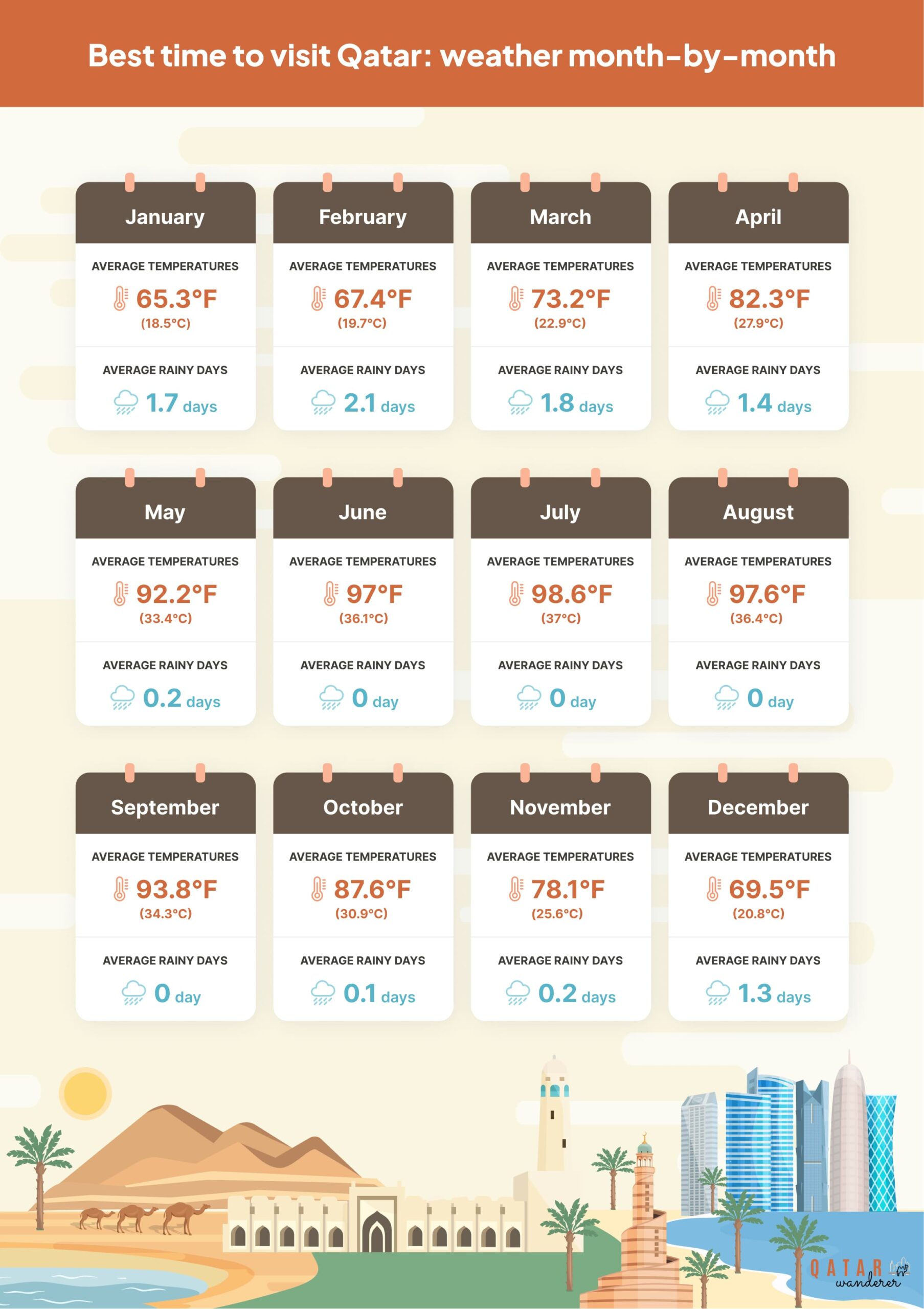 However, if you happen to visit during the summer months, from July to September, be prepared… This time of year isn't for the faint of heart! Although you can still have a great trip to Qatar during this time, you'll have to get creative and plan an itinerary that's almost exclusively indoors. With daily temperatures above 34°C (93°F) on average, Qatar in summer is hot! Luckily, the Qataris have become pros at dealing with these temperatures, so you'll find air conditioning everywhere and plenty of fun indoor attractions to keep you busy. You'll still be able to enjoy world-class museums, shopping malls and indoor theme parks like Gondolania and Doha Quest!
Tip #2: Learn About Local Customs and Etiquette
The biggest concern on most solo female travellers' minds is the cultural differences they might experience in Qatar. The good news is, since Qatar isn't as conservative as some other countries in the Middle East, you won't need to do too much to fit in and have a stress-free trip. That said, Qatar is still an Islamic country, so there are a few things worth bearing in mind before you visit.
Swearing and making rude gestures is also frowned upon in Qatar. The solution is simple – avoid doing this, and you'll avoid offending anybody. Easy!
There's often a misconception that you can't drink alcohol in Qatar. This isn't the case. It's fine to drink alcohol if you want to in Qatar, but it's not as widely available as it is in Western countries. It's generally only available in certain international hotels and restaurants. You'll also have to drink it on the premises. Drinking alcohol in public is prohibited.
Finally, be mindful of your actions during the holy month of Ramadan (which usually runs from late March until late April), when Muslims fast from sunrise to sunset. During this time, eating, drinking, or smoking in public during daylight hours is considered disrespectful, but you are, of course, allowed to do all these things in private. As a tourist, you won't be expected to fast (although you are welcome to), but it goes without saying that you should be respectful of others who are fasting.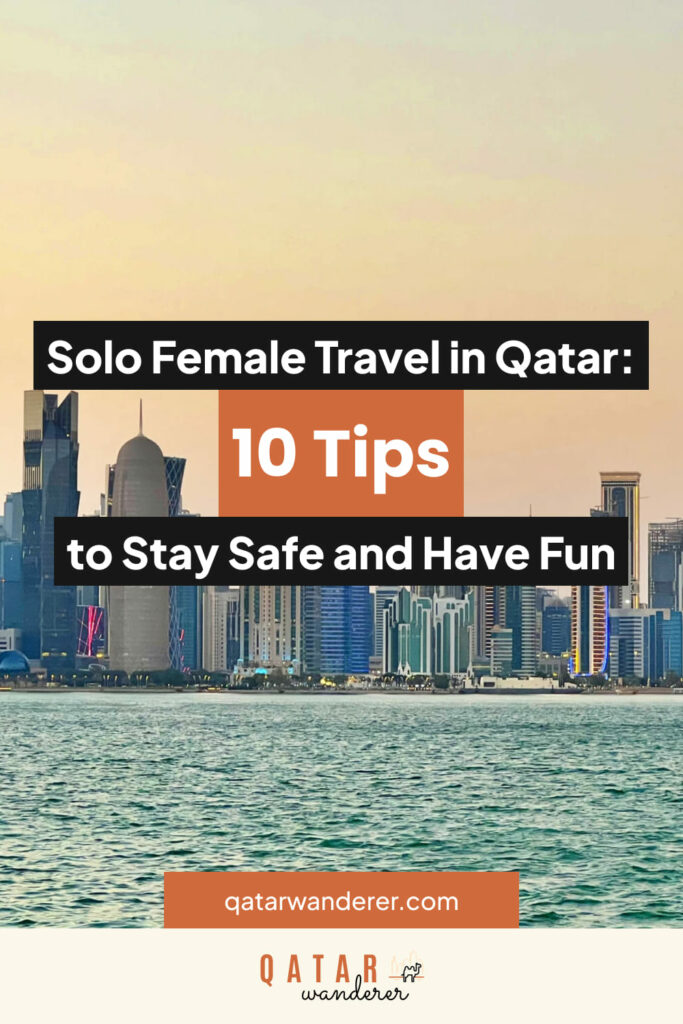 No time to read?
Pin it on Pinterest and revisit it later.
Tip #3: Respect Local Dress Codes
Dress codes are another part of Qatari culture that have a lot of misconceptions.
The good news is there's no strict dress code for tourists. That's right – there's no need to wear an abaya or cover your hair unless you want to. However, it's best to dress modestly, especially when visiting religious sites or more traditional areas. Dressing modestly not only shows respect for the local culture but will also help you to feel more comfortable and blend in with the locals.
As a solo female traveller, loose-fitting clothing that covers the shoulders, arms, and knees is the way to go. Not only will it help you to blend in with the locals, but it'll also help to protect your skin in case you're in Qatar during the summer. As I mentioned earlier, wearing a headscarf isn't mandatory but you may want to pack one just in case – it can be a sign of respect in more conservative areas like mosques.
Here are some additional tips on what to wear based on different locations you might visit in Qatar:
At your hotel or at the airport, feel free to wear more casual and western-style clothing. The same goes for the hotel's private beach or pool, where bikinis are totally fine!
Public beaches in Qatar, such as Katara Beach, have modest dress codes. Modest beachwear like shorts and a t-shirt is the best way forward here.
If you're doing sporty activities like going to the gym or practicing yoga, sportswear is fine, but err on the side of caution with your gym wardrobe. For example, leggings or sports pants paired with a t-shirt will be fine.
Tip #4: Pack the Right Stuff
A good trip all starts with the right packing, but luckily, after reading our dress code tips, you'll be well-prepared. Light, loose-fitting clothes are perfect for summer, while a light jacket or pashmina may be useful for chilly, air-conditioned interiors. Yes, even in Qatar it can get cold sometimes!
Speaking of the cooler winter months, it's always a good idea to pack layers, as temperatures can drop significantly. Don't forget essentials like sunglasses and sunscreen, which are year-round staples for Qatar. As we discussed earlier, a scarf for covering your hair is totally optional but could be worth packing if you're planning to visit religious sites.
So, your clothes are packed, but what else are you forgetting? It's easy to overlook, but you'll probably need a power adapter for Qatar. Here, people use type G plugs, the same as the ones used in the UK. Another packing essential is a reusable water bottle, which is the perfect alternative to single-use plastics.
As I mentioned earlier, alcohol is heavily regulated in Qatar, and it's forbidden to bring any alcoholic beverages into the country. You'll have to skip the duty-free shopping this time around!
Tip #5: Relax!
Qatar is home to some of the most luxurious spas in the world, so there's only one thing for it: treat yourself! Embrace some well-deserved relaxation during your visit to Qatar by unwinding in one of Doha's renowned spas, such as the Sisley Paris Spa at W Doha or the Spa by Clarins at Marsa Malaz Kempinski. These spas offer top-notch treatments and services that will leave you feeling a million dollars.
For the yogis reading this, you can't miss taking a class with a stunning view. Trying out a class at the Marriott Hotel's heliport is an experience you won't forget in a hurry, but it's also easy to find classes taking place at the beach or the park. You can also visit Vishnu Swasthi Yoga Studio at the Sheraton Grand Doha Resort & Convention for a full schedule of hatha, detox yoga, and power yoga.
There's nothing better than relaxing on the beach, and you don't even need to venture out of Doha to do this! There are plenty of beaches to enjoy within Doha, with special shout-outs going to B12 Beach Club and Doha Sands.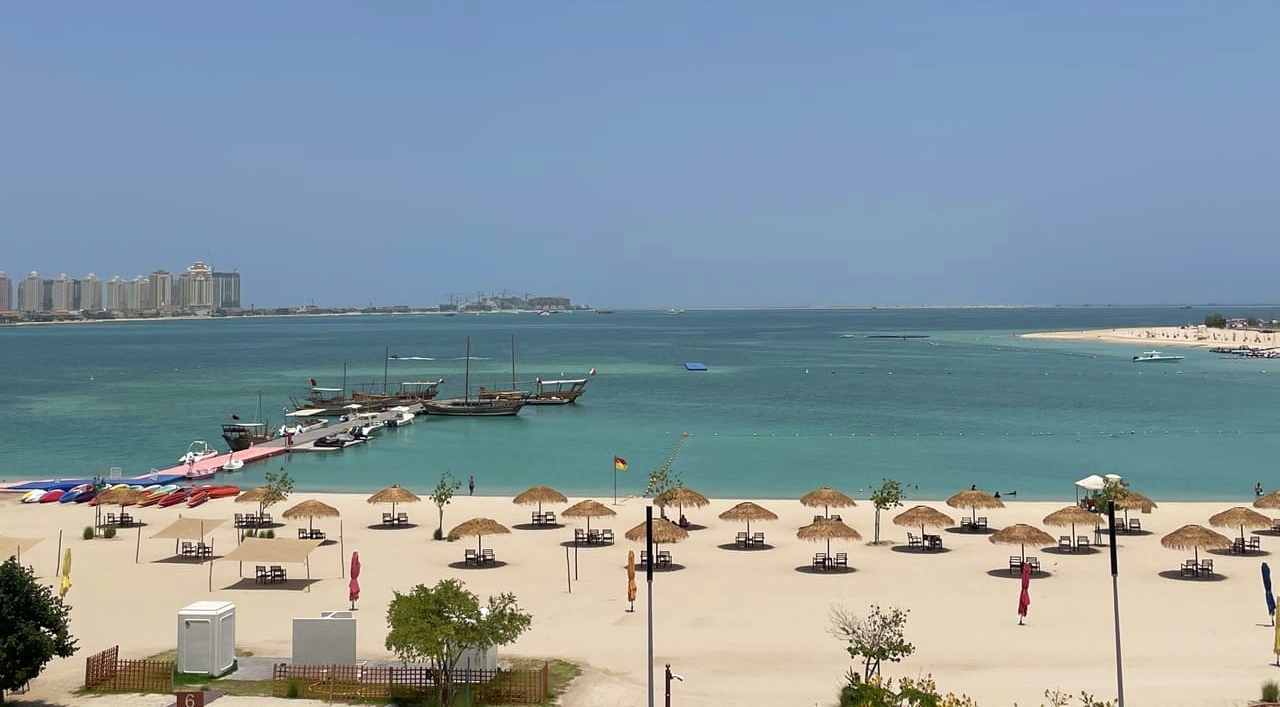 If you'd prefer to stay sand-free and lounge by the pool, several of Doha's 5-star hotels offer ladies-only access to their pools, including Centara West Bay on Mondays from 6.30 am to 3 pm, InterContinental Doha – The City on Wednesdays from 4 pm to 9pm, and The Torch Doha on Sundays and Mondays between 9am and 2pm.
Tip #6: Apply Common Sense and Trust Your Instinct
Okay, okay… this is common sense, but just because Qatar is a safe country to visit doesn't mean you should ever let your guard down completely. Just like anywhere else in the world, avoid heading out alone in the dark in remote areas. Stick to well-populated and well-lit areas, and if something doesn't feel right, trust your gut and remove yourself from the situation.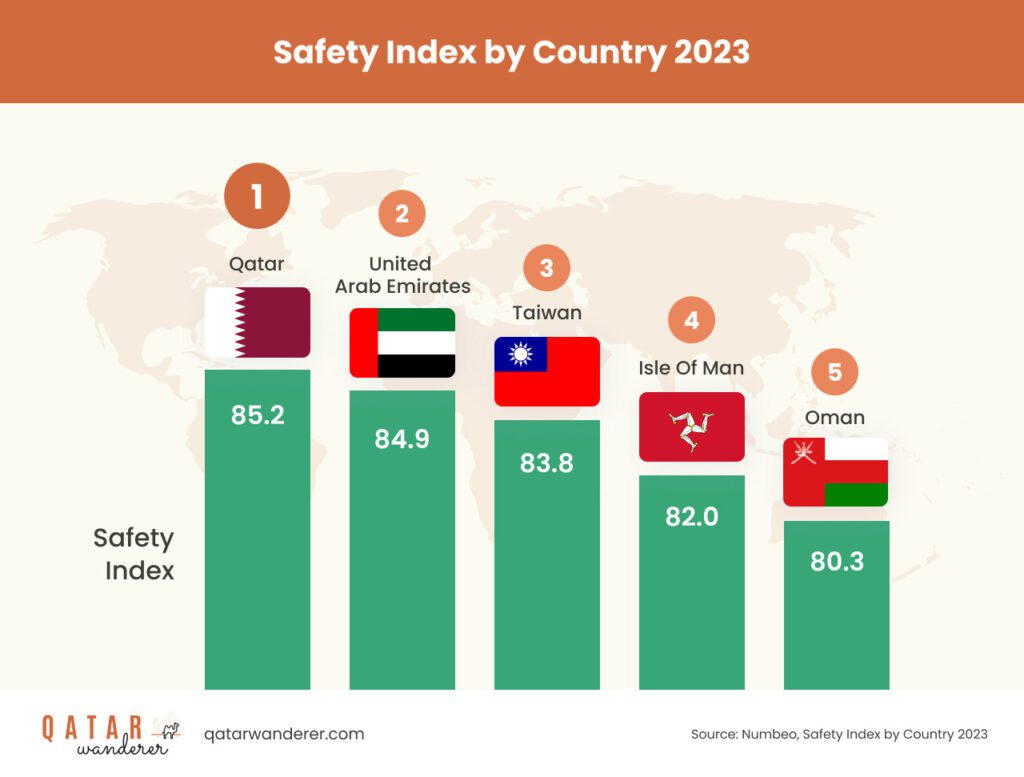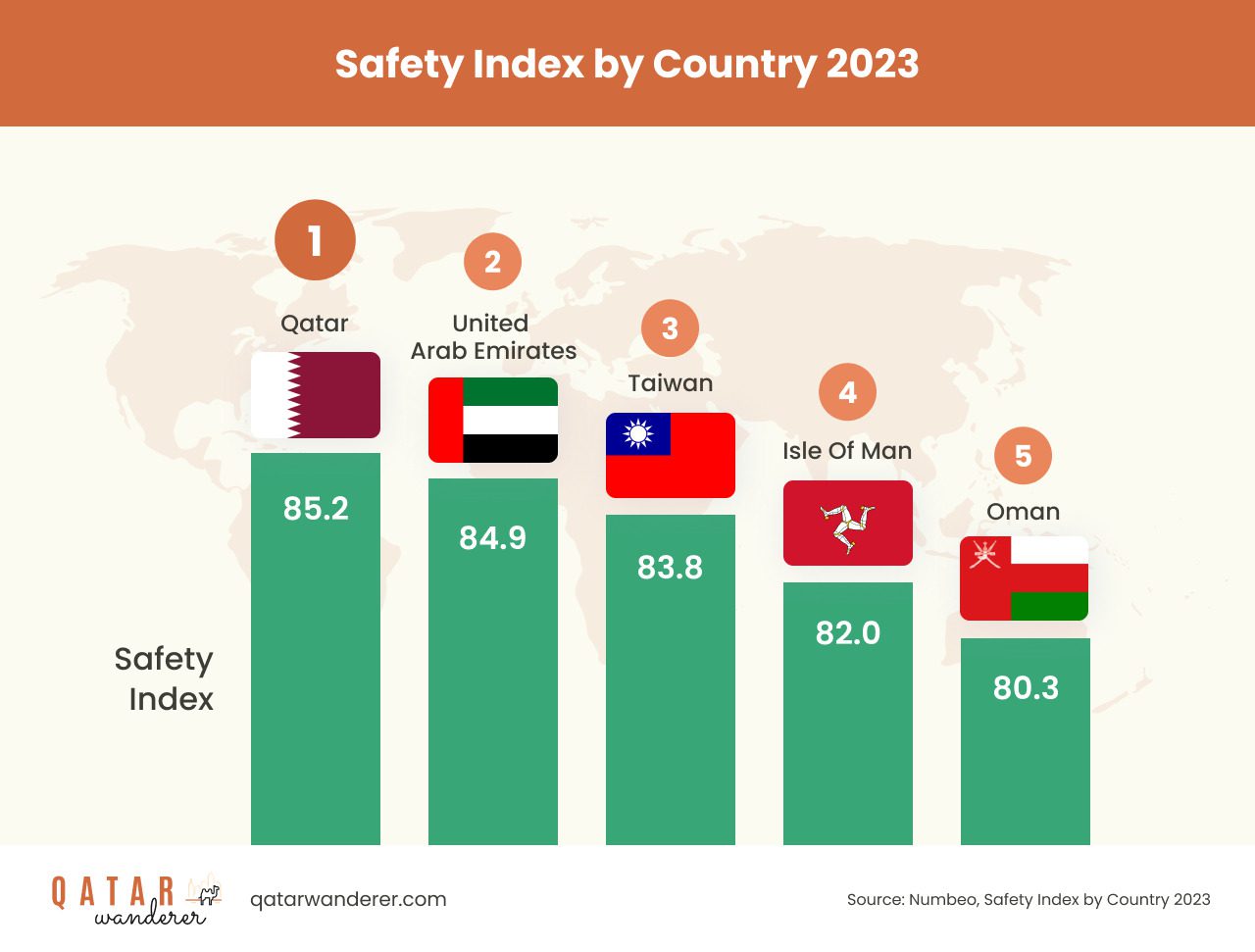 With the warnings out of the way, let's get down to the safety statistics. The good news is, Qatar is considered a safe destination for solo women travellers, and its ranking as the safest country in the world in 2023 (for the fifth year running!) backs us up here. What little crime the country does have is severely punished, so you can rest assured that you're not taking a risk with your safety by visiting Qatar solo.
Tip #7: Make Friends with Other Women Travellers
Travelling solo doesn't mean you have to be alone all the time! If you've never travelled solo, you'd be surprised by just how easy it is to make friends when you travel by yourself.
One way to connect with like-minded women is by joining local social media groups. For example, the Facebook group Girls Who Brunch – Doha, Qatar is a fantastic platform for discovering activities and events in the region. Participating in brunches, afternoon teas, yoga sessions, or even one of the many ladies' nights offered by luxury hotels in Doha are just a few of the fun ways you can meet other solo women travellers or expats.
Tip #8: Pick the Right Place to Stay
For the best experience, be sure to pick a hotel in one of Qatar's top tourist spots, such as West Bay, The Pearl, Souq Waqif and Msheireb. That way, you'll have plenty of tourist attractions right on your doorstep and you'll minimise the time spent getting from A to B.
Here are some of the best hotels to stay at in these top locations:
West Bay
W Doha Hotel: An uber-luxurious 5-star hotel in West Bay's business district, offering knockout views of the Arabian Gulf and Doha's skyline, and ranking first on TripAdvisor among Doha hotels.
The Pearl
Marsa Malaz Kempinski: A 5-star hotel on The Pearl's artificial island, featuring impressive Venetian palace-inspired architecture with European and Arab influences.
Souq Waqif – Msheireb
Park Hyatt Doha: A luxury hotel in Msheireb, near Souq Waqif, boasting not one, not two, but three gourmet restaurants, as well as top-notch amenities. It has everything you need for a safe and comfortable stay.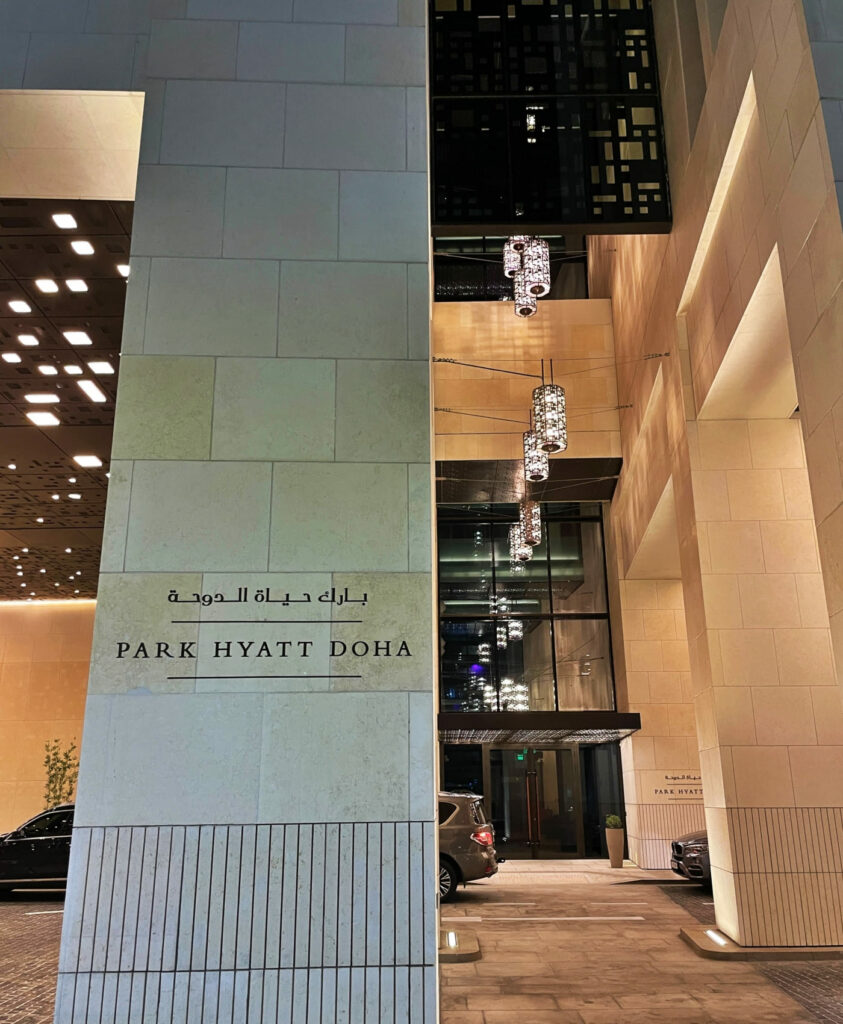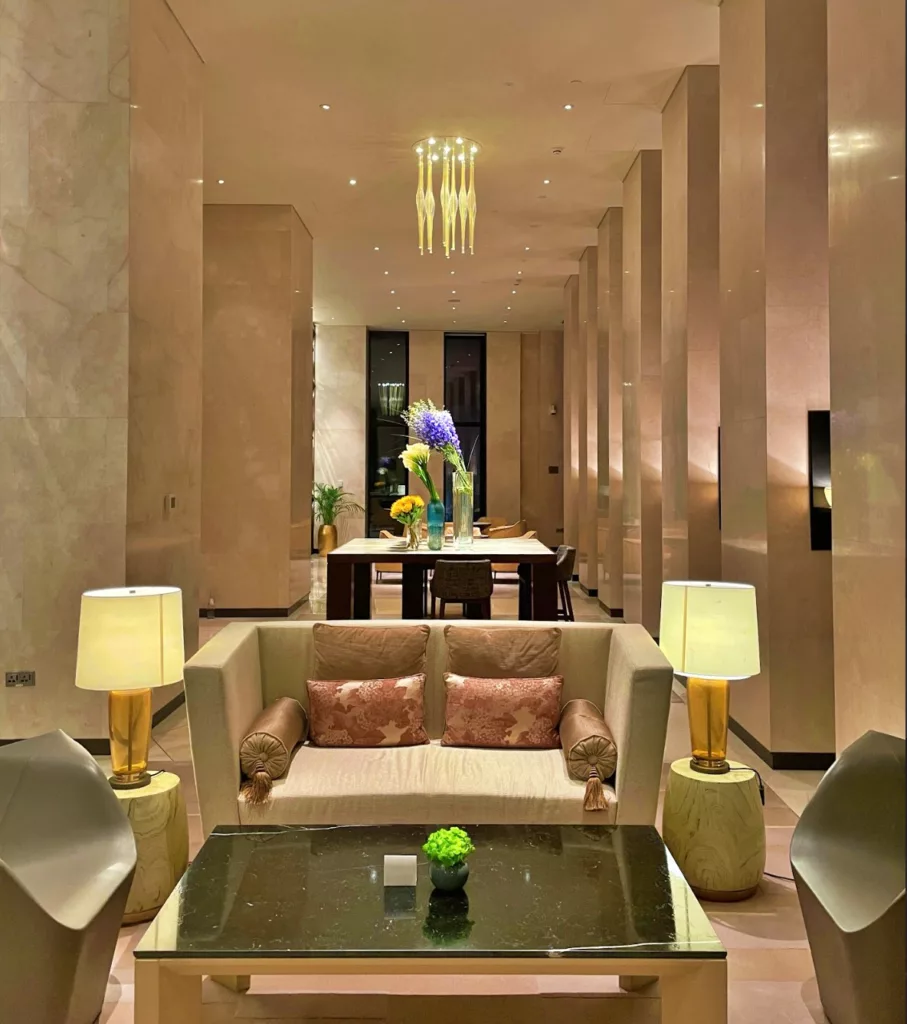 On a stopover in Qatar? If you're flying with Qatar Airways, you can stay at a 5-star hotel from just $20 a night, thanks to the generous stopover packages provided by Discover Qatar.
Tip #9: Use the Metro or Ridesharing Apps
Qatar is a well-connected place, with plenty of safe public transportation options that'll get you around with ease. The Doha Metro is a practical, economical, and ultramodern choice, boasting an average speed of 50 mph. When we compare that to the NYC metro's average speed of 17 mph, it's seriously impressive. It comes as no surprise, then, that the Doha Metro ranks among the most punctual metro systems in the world.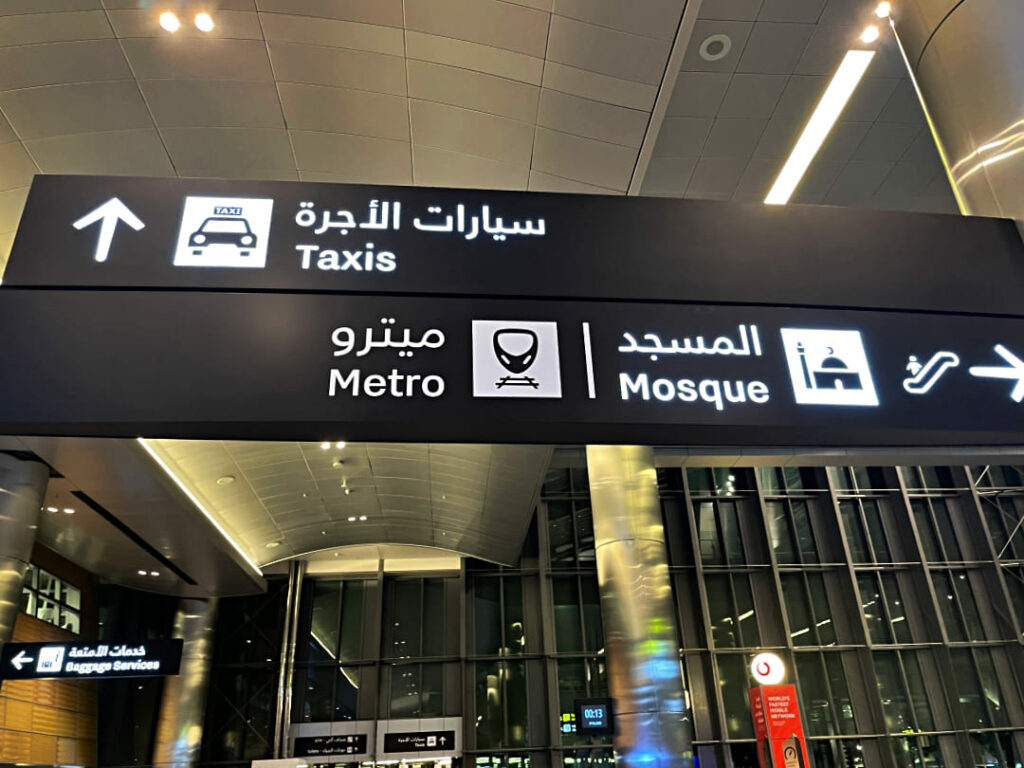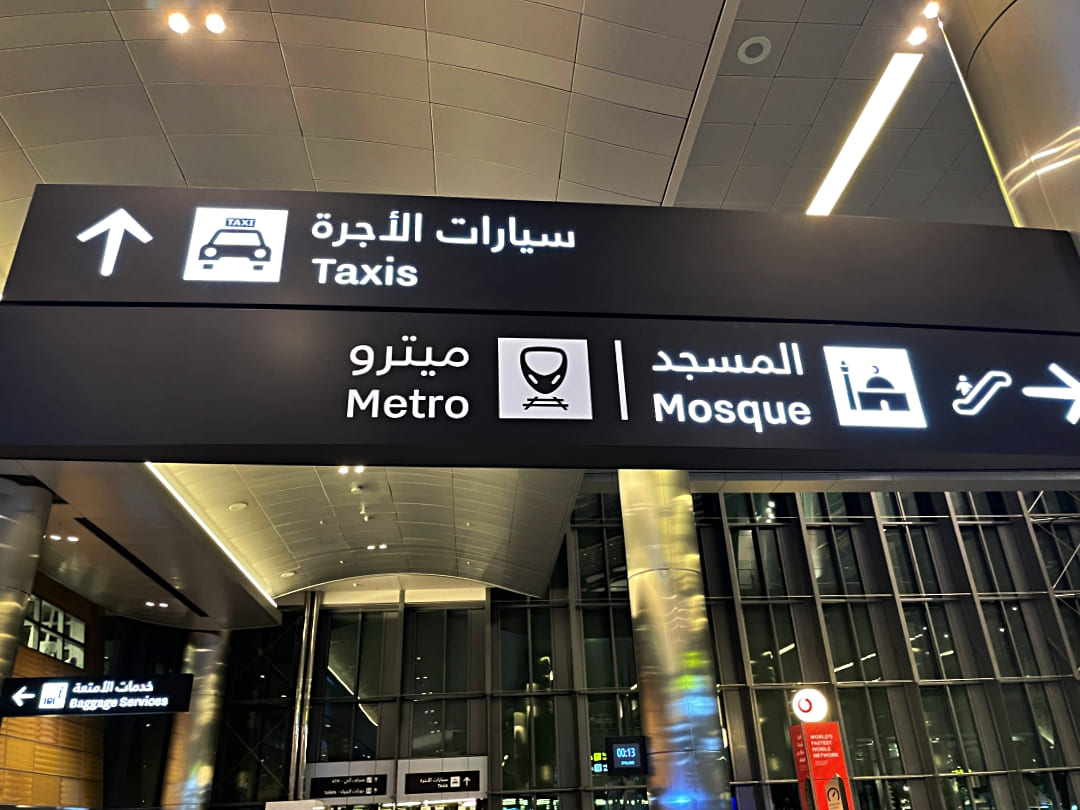 When it comes to private transportation in Qatar, Uber is the most convenient and safe options for solo women travellers. Note that there used to be an alternative called Careem but it got bought by Uber. Uber offers the advantage of GPS tracking, driver identification, and cashless transactions, which can offer peace of mind during your travels.
If you prefer to use a regular taxi, always choose a licensed and reputable service, and avoid accepting rides from strangers or unmarked vehicles. If in doubt, head into a nearby hotel and ask if they can call one for you.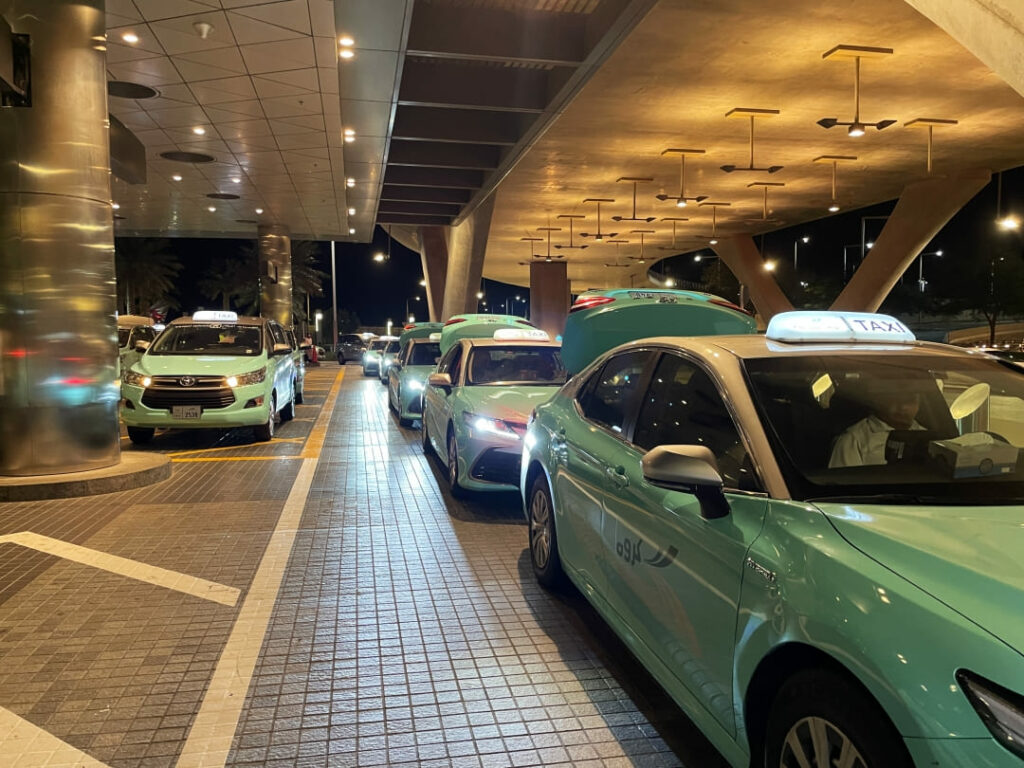 While renting and driving a car in Qatar is possible, it's generally not recommended due to heavy traffic and hefty fines for any traffic violations.
Tip #10: Enjoy One of These Fun Activities
Qatar offers a huge range of fun activities for solo women travellers to enjoy, providing an exciting mix of cultural, outdoor, and shopping experiences. Here are a few of our top picks to add to your itinerary, depending on what you enjoy the most:
If you're into arts and museums: delve head-first into Qatar's thriving art scene by visiting some of its many galleries, museums, and cultural centres. The impressive Museum of Islamic Art, which houses a vast collection of artworks and artefacts from the Islamic world, is a true gem.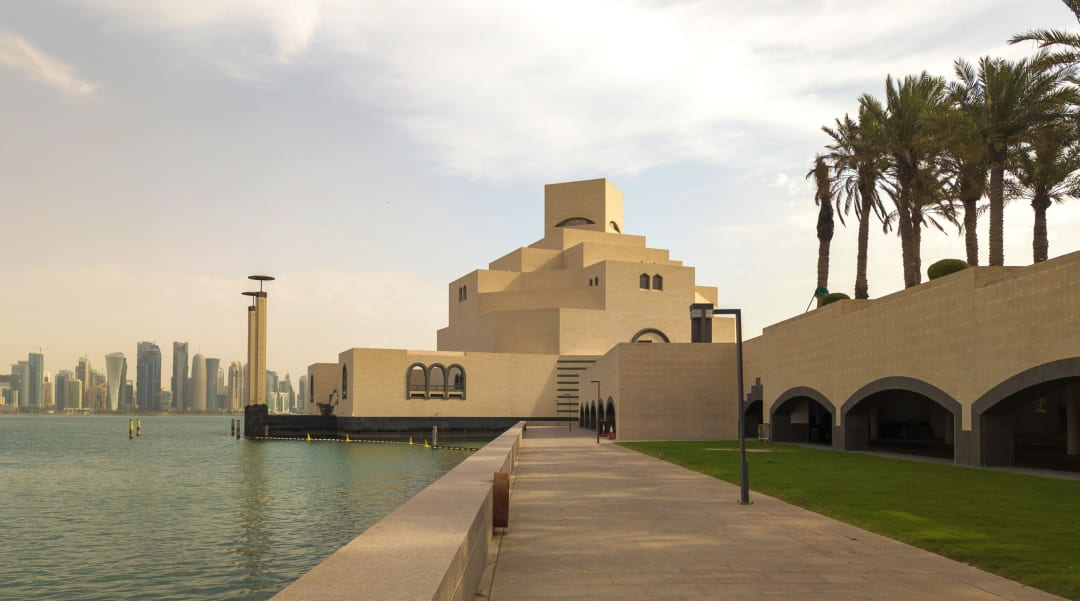 If you're into immersive experiences: the vibrant atmosphere of Souq Waqif is not to be missed. Here, you can shop for traditional Qatari clothing, spices, and souvenirs, while also getting a taste of local culture. Once you've shopped till you dropped and indulged in the delicious food Souq Waqif restaurants offer, take a dhow cruise along Doha's coast, taking in the stunning views of the city's skyline.
If you're into adventure: embark on a thrilling desert safari adventure, complete with dune bashing, camel riding, and a traditional Bedouin camp experience in Khor Al Udaid.
If you're into watersports: get your adrenaline pumping with exciting water sports and activities, such as jet-skiing, paddleboarding, kitesurfing or scuba diving at Sealine Beach in Mesaieed or Fuwairit Kite Beach resort in the north of Qatar.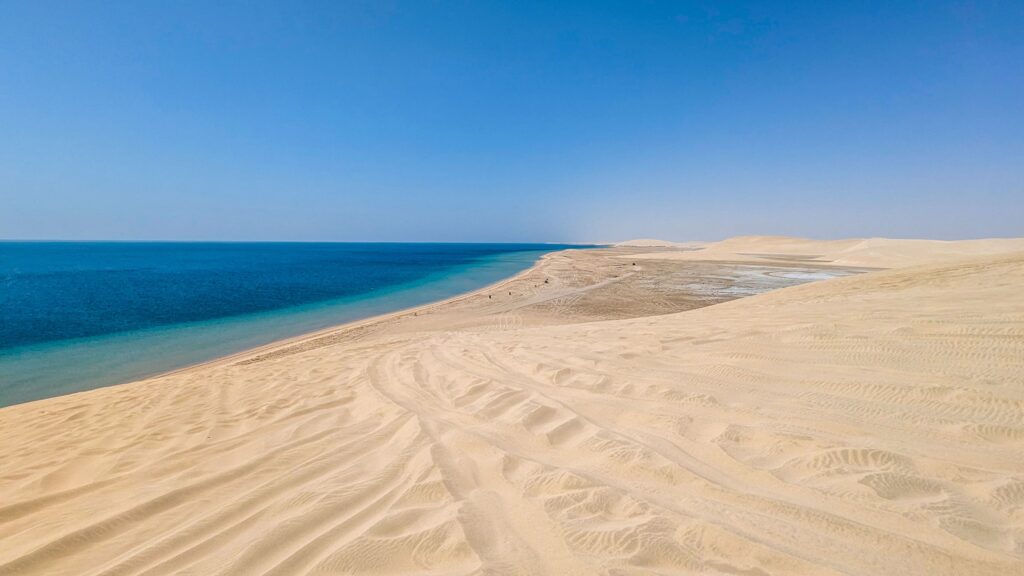 If you're into shopping: Qatar is one of the world's top shopping destinations, and you can find whatever you're looking for here – from high-end luxury malls like Villaggio Mall and Place Vendôme Mall, to hip fashion stores at Msheireb Galleria, to the traditional setting of the Souq Waqif.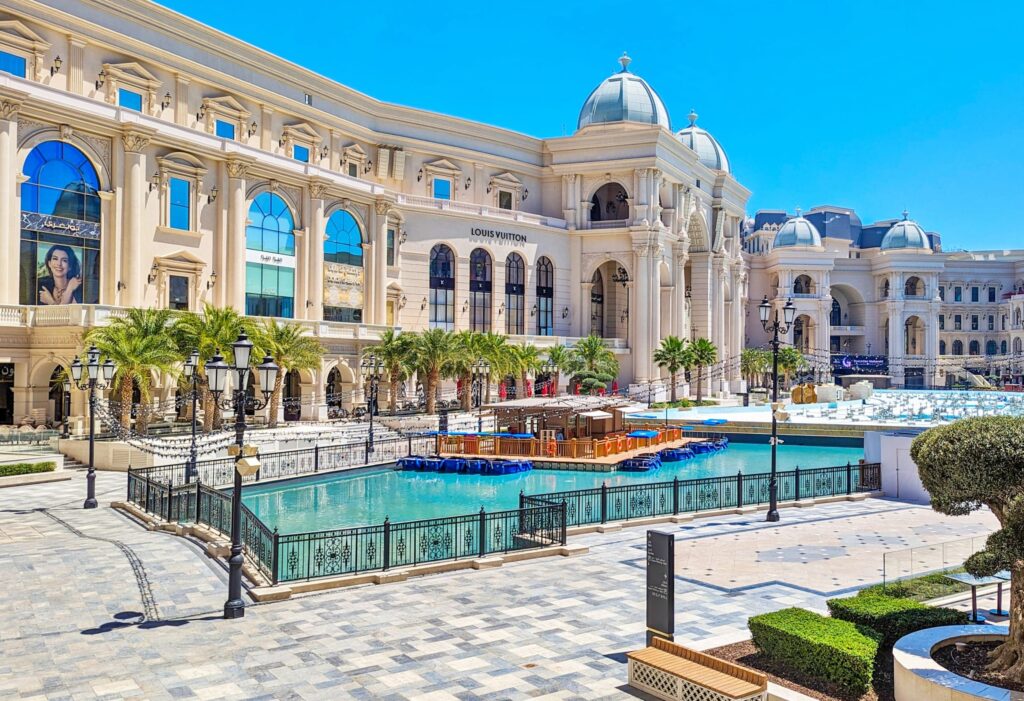 Summary of the Tips: Travelling Solo as a Woman in Qatar