If you're planning a trip to Qatar, you may have certain expectations about what you'll find there. Well, you may be in for some surprises. As you set foot in Qatar, a small peninsula in the Arabian Gulf, prepare to be swept away by the symbiosis of age-old traditions and modern flair.
Before you pack your bags and head off on your adventure, however, there are a few things you should know. In this article, we'll cover key tips to help you make the most of your time in Qatar.
1. The Best Time to Visit Qatar
If you're planning a dreamy trip to Qatar, the best time to go is during the cooler winter months from November to March. You'll love the perfect daytime temperatures of 23°C to 30°C (73°F to 85°F), while the evenings are just as pleasant, ranging from 15°C to 20°C (58°F to 71°F).
This is an ideal time of the year to explore Qatar's natural beauty, soak up the sun on a beach holiday, and get lost in Doha's stunning architecture and museums. Plus, with the great weather, you can take advantage of thrilling water sports like kitesurfing, diving in the Arabian Gulf, relaxing on the beach, going on a desert safari, or birdwatching in the picturesque Al Thakira mangroves.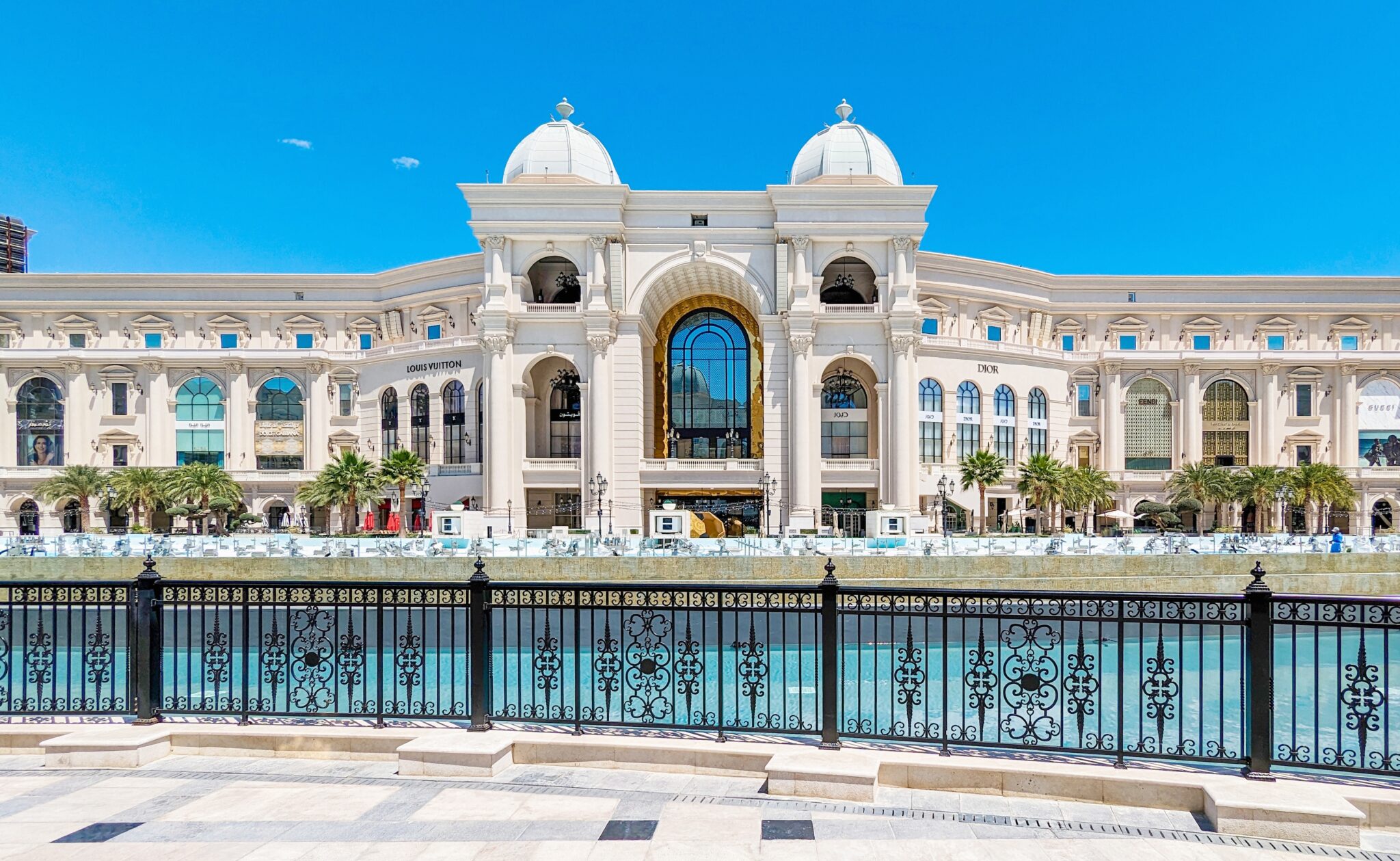 If you do find yourself in Qatar during the summer heat, don't worry! Besides shopping destinations such as Villaggio Mall and the more recently opened Place Vendôme, Qatar's world-class museums (which we'll describe momentarily) offer a cool respite from the sun. And if you really want to be outside during the summer, you can head to open-air places like Galeries Lafayette, Souq Waqif, and Al Gharrafa Park, where air-conditioned spaces offer a pleasant retreat from the heat.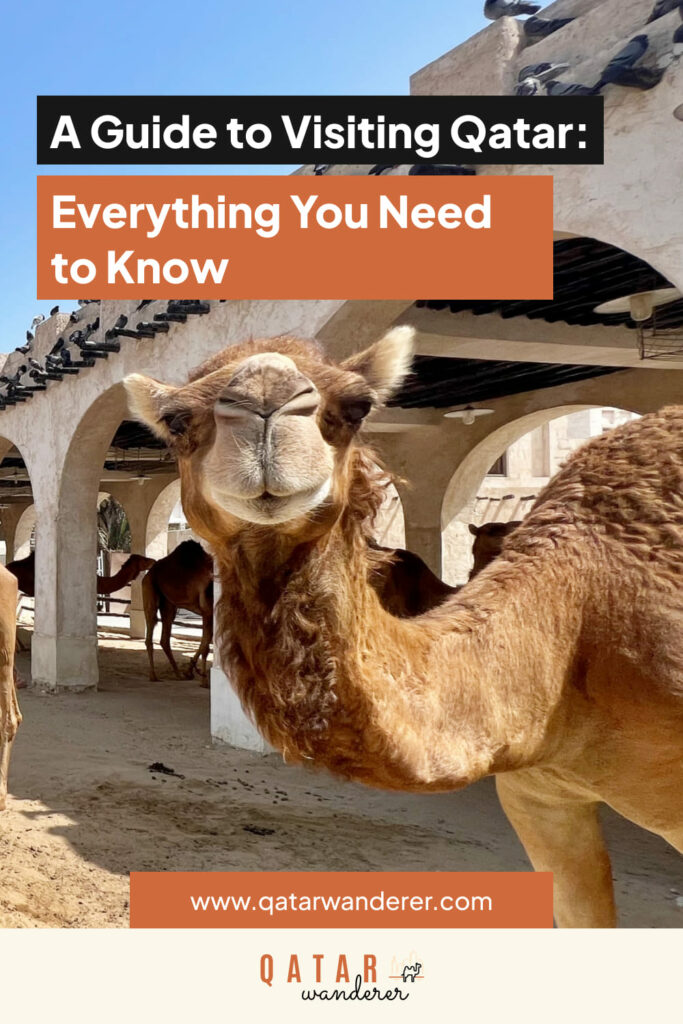 No time to read?
Pin it on Pinterest and revisit it later.
2. Things to Do in Qatar
a. If you're into the arts and culture
Qatar is a treasure trove for visitors who appreciate the finer things in life. With its rich cultural offerings, you'll find yourself immersed in world-renowned art museums and the vibrant Katara Cultural Village, a haven for creatives that boasts museums, theaters, and artist studios.
As you explore Doha, be sure to visit the iconic Museum of Islamic Art, a masterpiece by architect I. M. Pei, where you'll discover 14 centuries of Islamic art from three continents, not to mention some captivating contemporary exhibitions and international collaborations.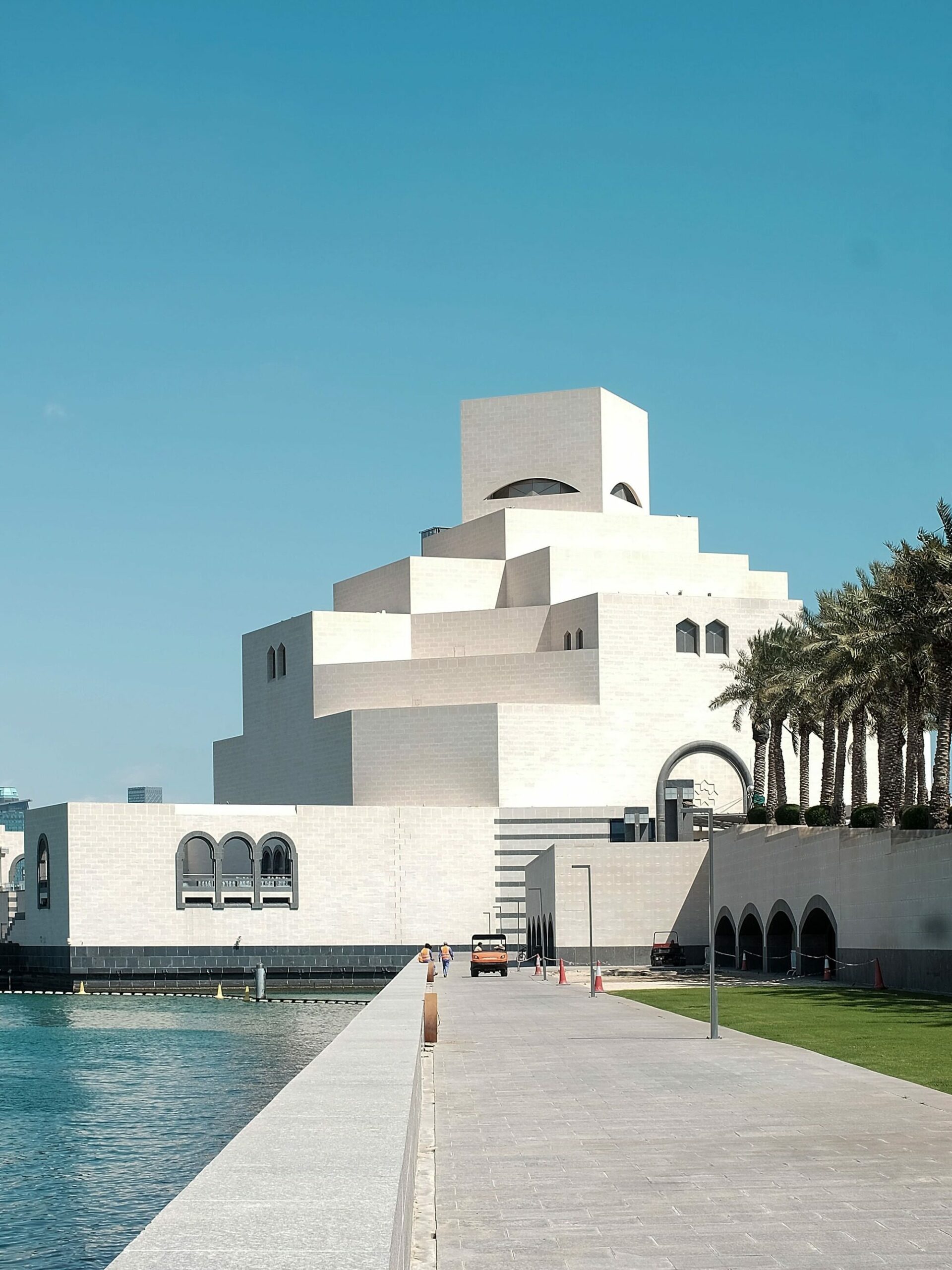 A 5-minute drive away from the Museum of Islamic Art, the National Museum of Qatar, designed by renowned French architect Jean Nouvel, will leave you speechless with its desert rose-inspired architecture as you dive deep into Qatar's history and culture through interactive, immersive exhibitions.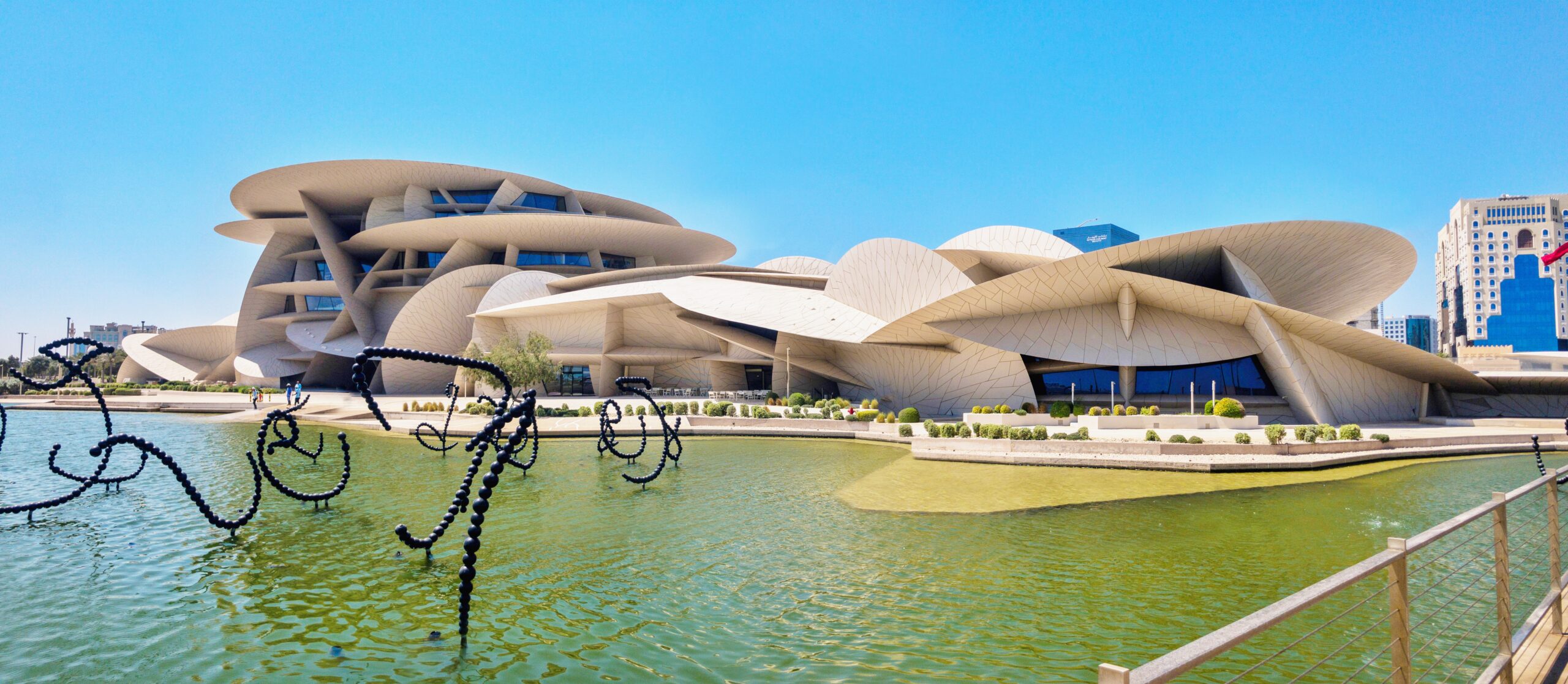 b. If you're into architecture
Architecture aficionados will love the treasures of Qatar's groundbreaking, sky-puncturing structures. Picture yourself standing beneath the Tornado Tower, its hourglass silhouette reaching toward the sky. Within its 52 floors, this masterpiece houses a bank, a restaurant, and luxury office spaces, each vying for your attention.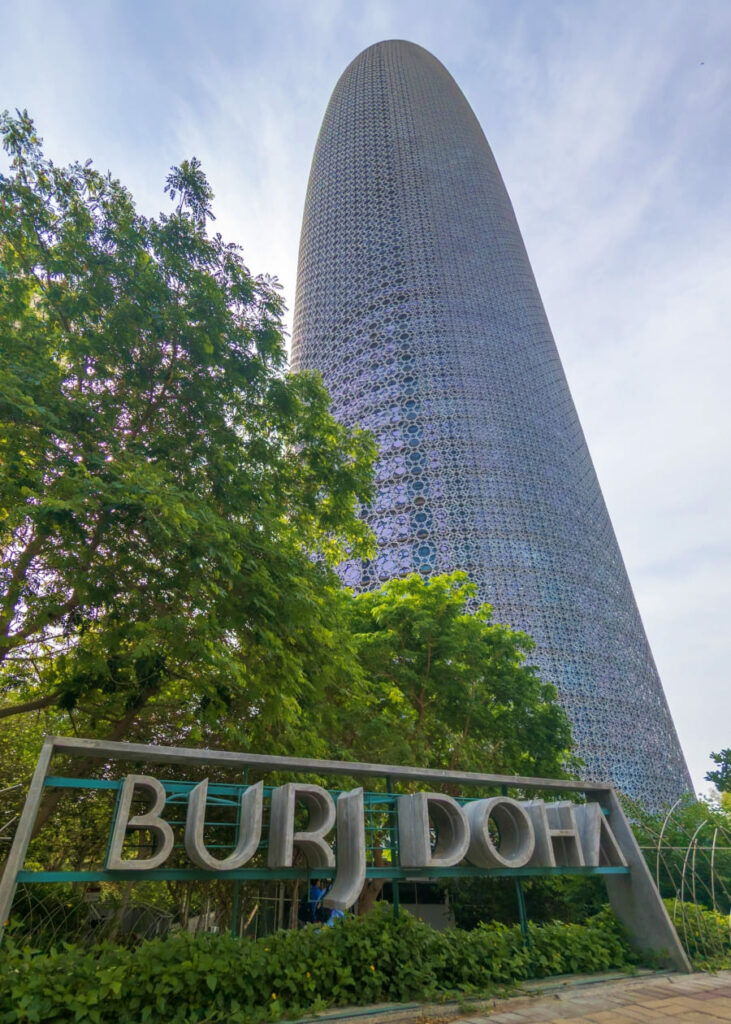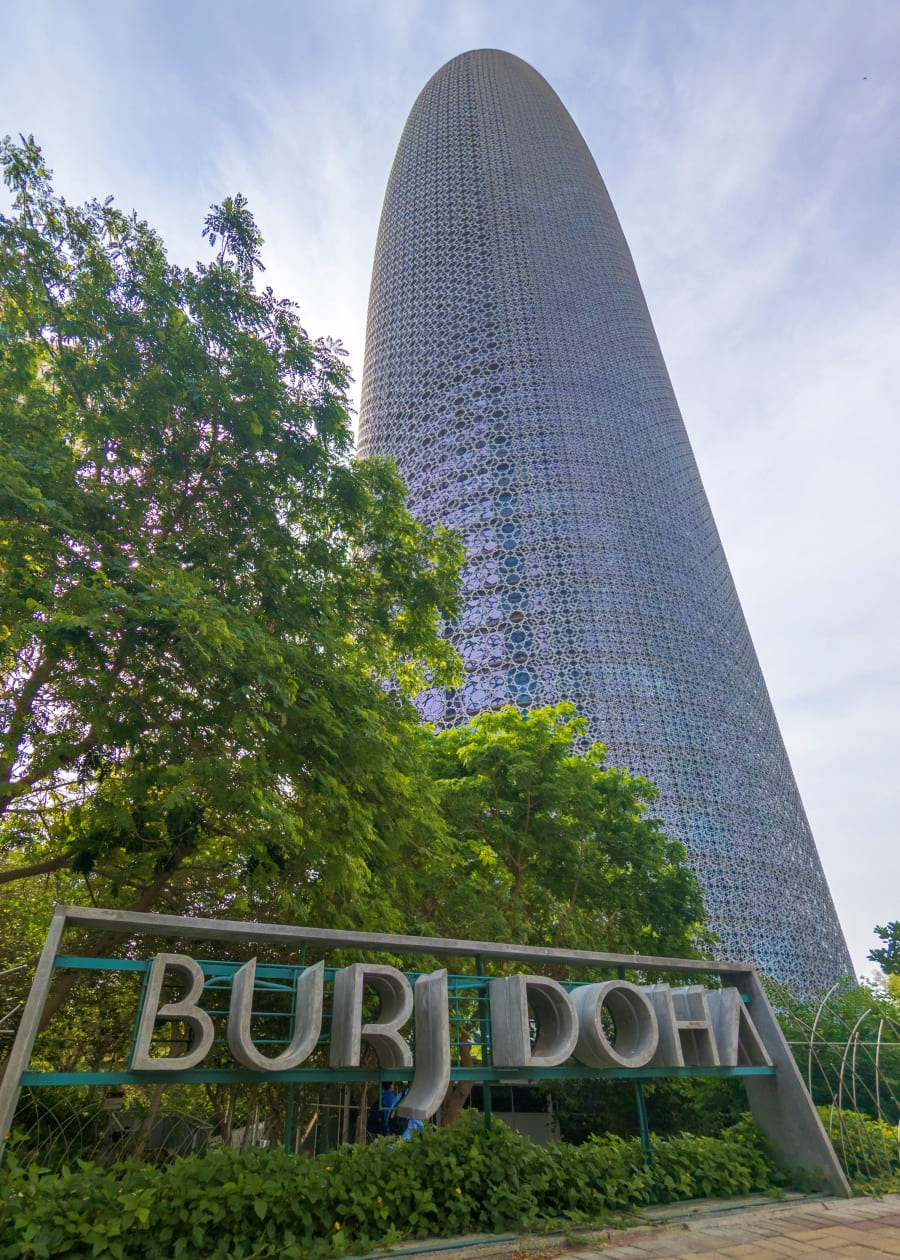 Your journey continues as you find yourself drawn to the heart of the West Bay business district, where the Burj Doha, also known as Doha Tower, stands tall. The brainchild of Jean Nouvel—yes, the same architect who designed the National Museum—this 238-meter (780-foot) skyscraper is an ode to his creative genius. But the architectural marvels don't end there.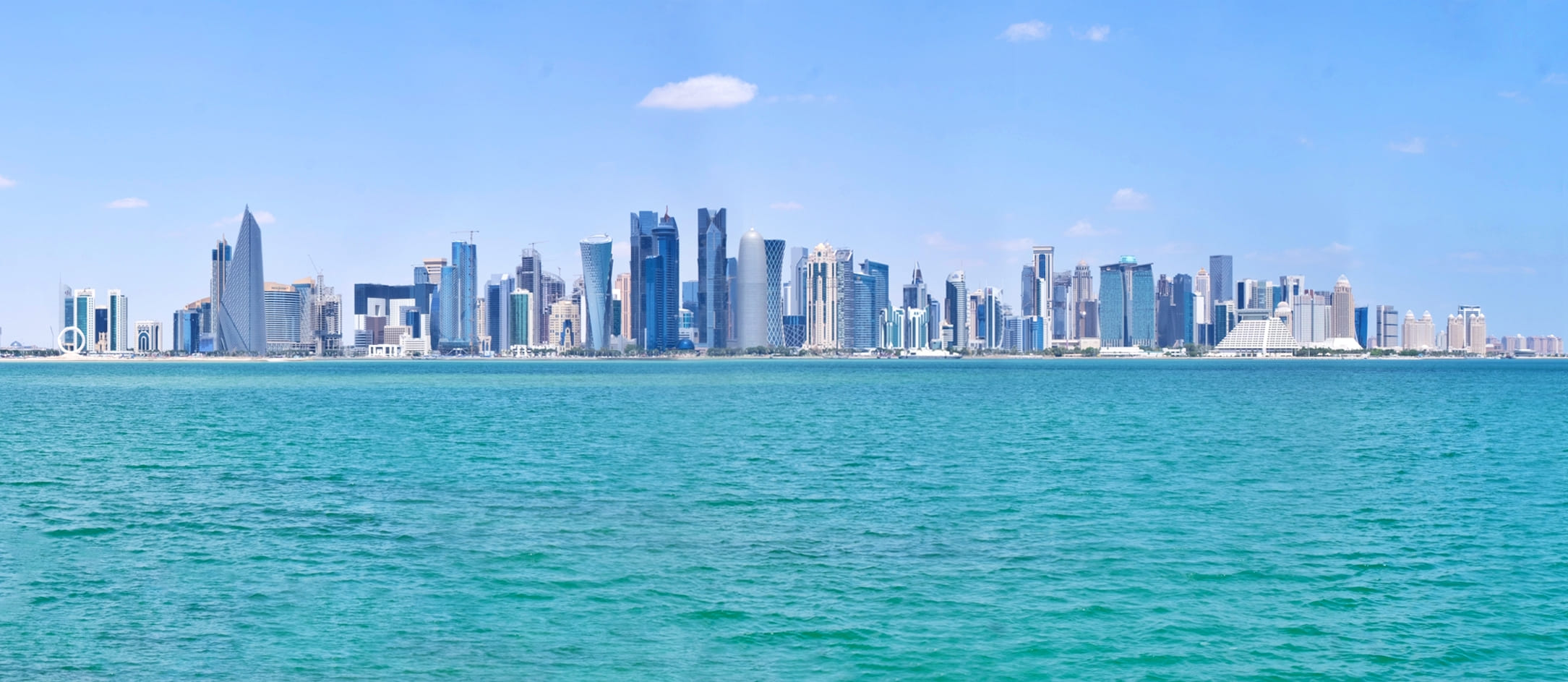 Be sure to venture to the Abdullah Bin Zaid Al Mahmoud Islamic Cultural Center, also known simply as Fanar, where you'll be enveloped in a cultural haven. Displays on Islam, guided tours, and Arabic language classes await you near the bustling Souq Waqif. As you delve deeper into the past, explore historic Al Koot Fort, a museum repurposed from its past lives as a police station and jail that now showcases Qatari handicrafts, paintings, and photos.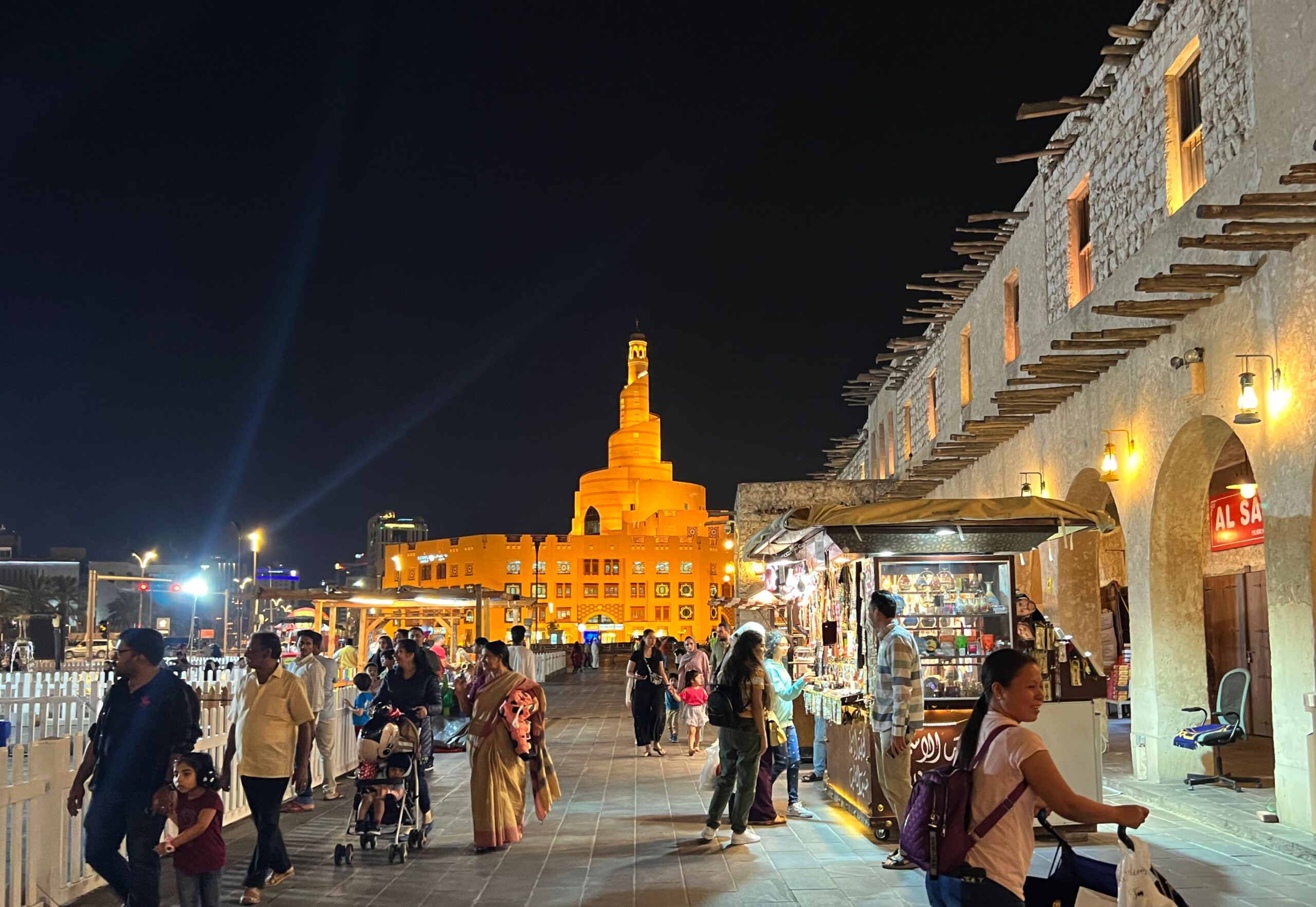 Next, gasp in awe at the Zig Zag Towers, the world's tallest residential zigzag twin towers, a testament to the ingenuity of the architects and a spectacle for visitors.
Finally, wander through the futuristic streets of Msheireb Downtown, where the past and the present collide in harmony. A sustainable district where traditional Qatari design melds with green technology, this urban marvel boasts the highest concentration of LEED-certified buildings in the world. If you're wondering what to do in Msheireb, exploring its galleries and museums, its numerous cafes, restaurants and hip stores.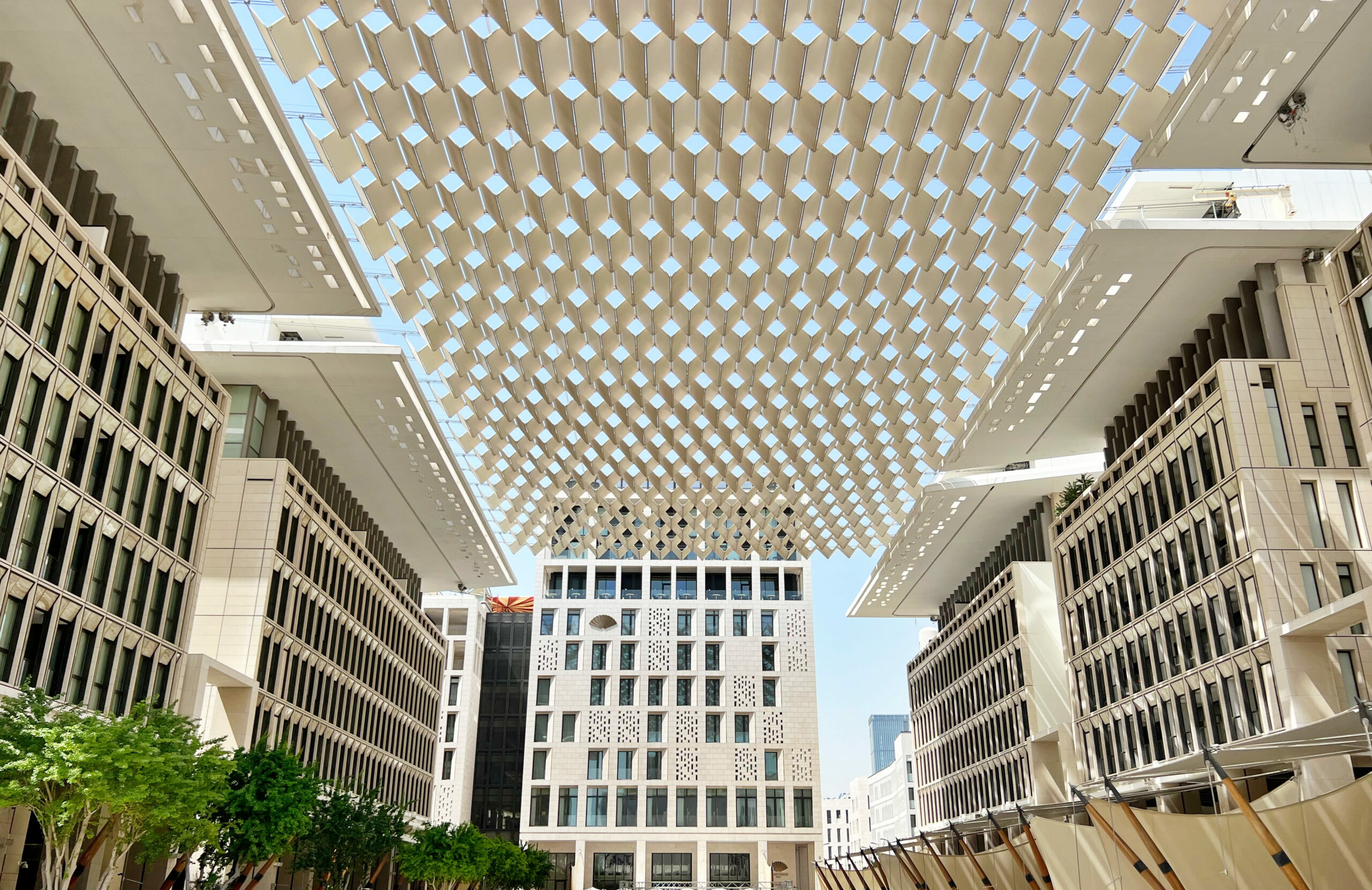 In Qatar, every step you take is a step into a world where architectural wonders abound.
c. If you're into adventure
As you set foot in Qatar, a land of contrasts, prepare for a whirlwind of adventure that will sweep you off your feet. Let the enchanting landscapes captivate you as the sea reaches out to embrace the desert, the majestic Mesaieed dunes beckoning you to explore their secrets. A dip in the tranquil Inland Sea awaits, offering a soothing reprieve from your arid surroundings.
On a journey to the UNESCO World Heritage Site of Khor Al-Adaid, you will see the desert dunes entwine with the sea in an eternal dance. Exhilaration takes center stage as you conquer the sands in a dune buggy rental, try 'dune bashing' (a form of off-roading), head out on 4WD escapades, or simply hike or play in the tall dunes.
As you return to civilization, immerse yourself in Qatar's rich maritime heritage with a serene boat ride on a traditional Qatari fishing vessel, known as a dhow. Glide through the Corniche harbor to witness firsthand the harmonious blend of tradition and modernity.
If you're eager for more adventure, you can harness the power of the wind as you kite-surf along the Qatar coastline or make a splash on a jet ski. The cool waters of the Arabian Gulf offer respite from the desert heat.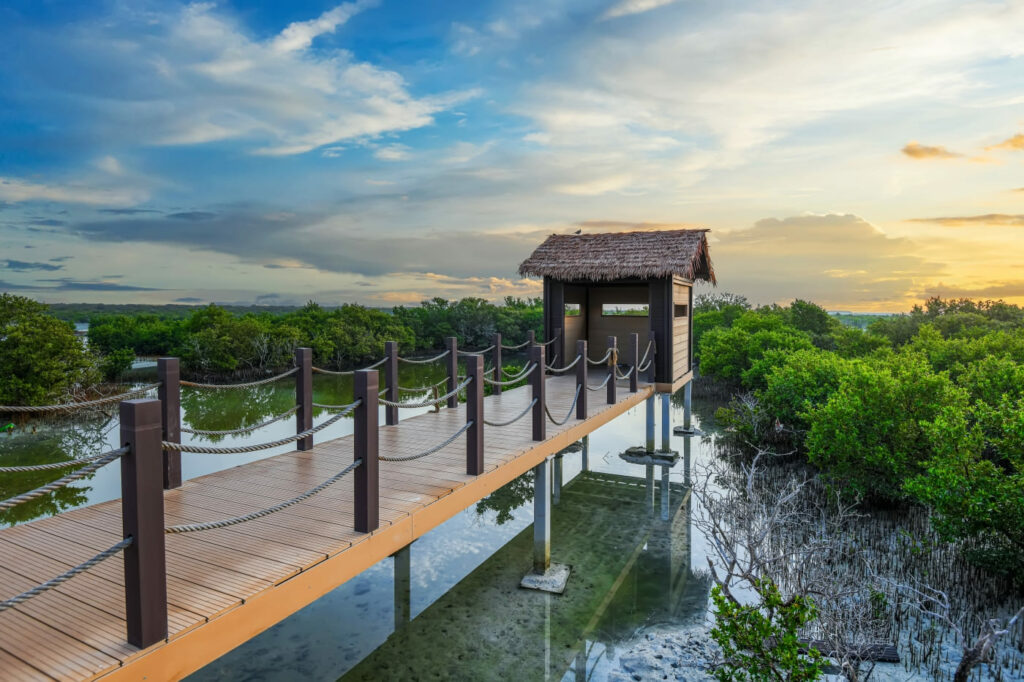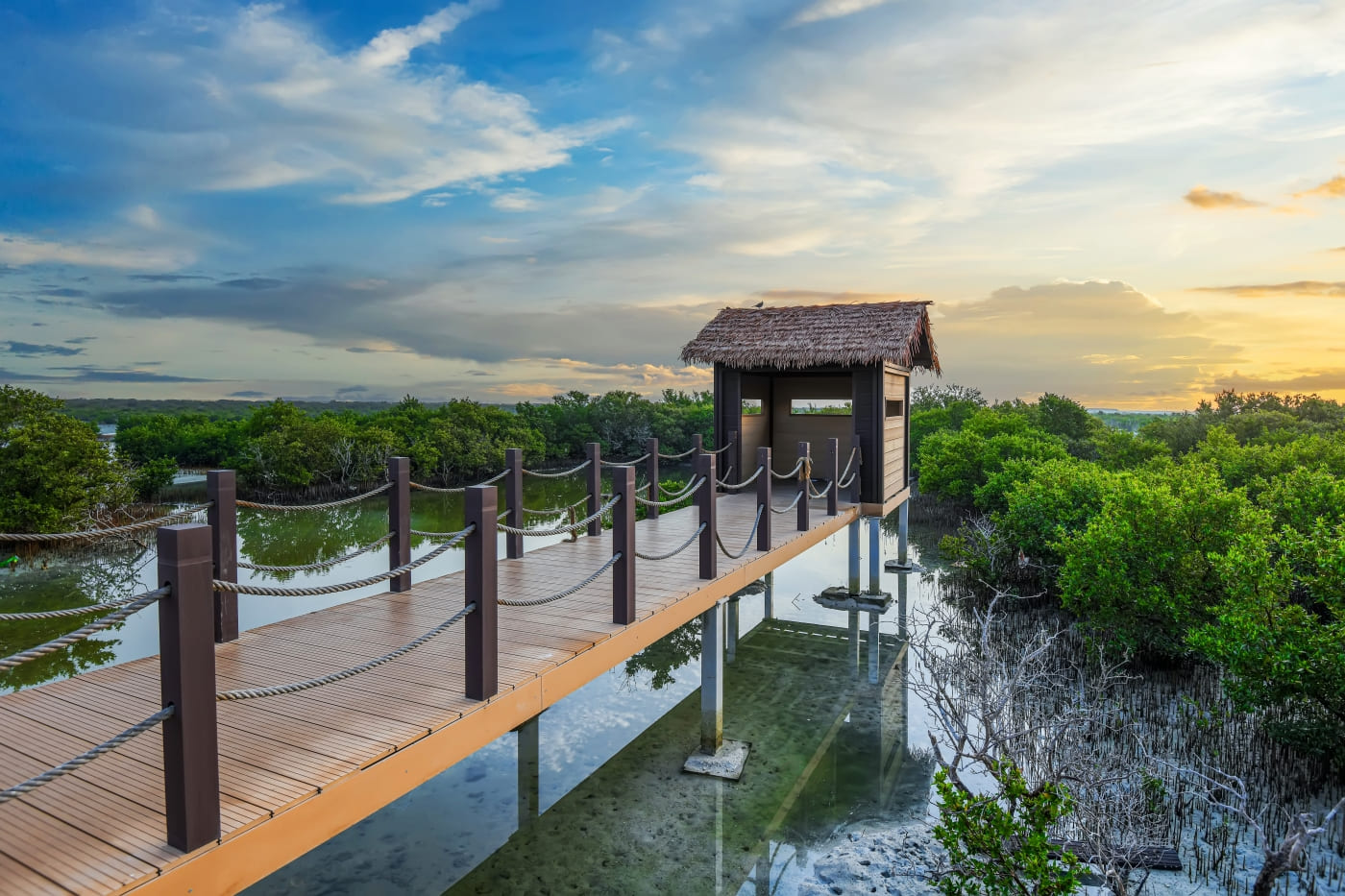 Nature's wonders continue to unfold before you as you navigate the unique ecosystem of Al Thakira Mangroves in a kayak, a world apart from the desert landscapes you've explored.
Finally, in a crescendo of adrenaline, you can take to the skies, skydiving high above Doha and the surrounding desert, your heart racing with the thrill of freefall as the world below stretches out before you.
d. If you're with your family
As you embark on your family-oriented Qatari adventure, your first stop could be the thrilling Desert Falls Water & Adventure Park, where aquatic and land-based activities captivate the entire family. This place is one of the largest theme parks in the Middle East, with more than 50 rides and 18 attractions. Let your little ones splash around in the pools while older children indulge in laser tag, canyoning, and go-karting.
Next, the exhilarating Quest Theme Park awaits with more than 30 rides and attractions. Marvel at the EpiQ Coaster, the world's tallest indoor rollercoaster, and plunge into immersive 3D experiences, laser tag, and carnival games.
For an educational yet entertaining experience, don't miss OliOli, an interactive children's play museum located in Katara Cultural Village. This captivating and lively indoor play space was created by parents who are enthusiastic about nurturing playfulness and harnessing the potential of creativity.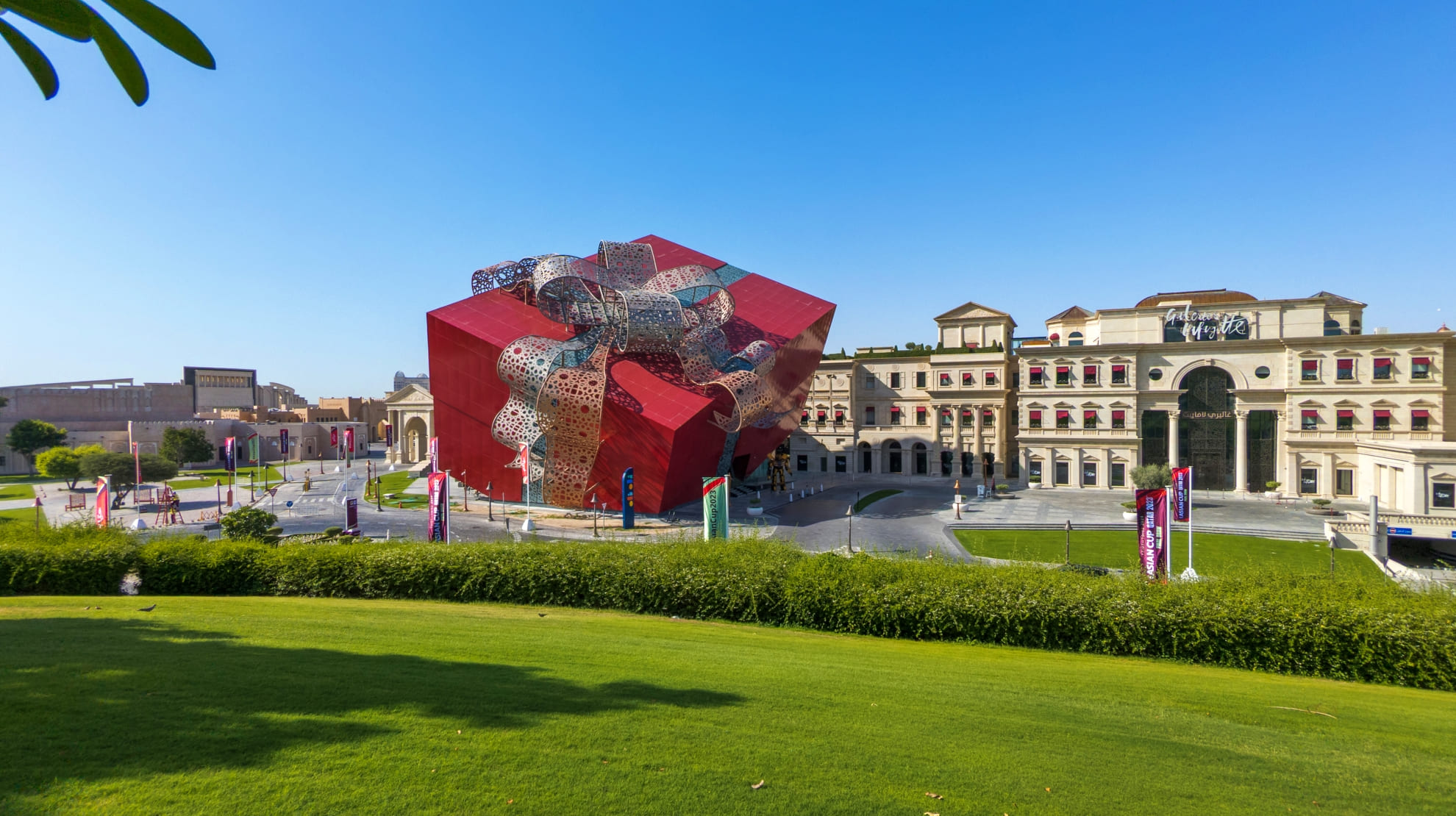 Haven't had enough? The Museum of Illusions offers a spellbinding indoor experience with interactive illusions and displays that ignite the imagination.
Finally, stroll through the Pearl-Qatar's Mediterranean-style marina where world-class restaurants and premium retail offerings will tempt your senses.
You can stop by Megapolis, a family entertainment hub in the Pearl's Qanat Quartier, and indulge in bowling, car racing simulators, golf simulators, and arcade games. For younger children, Minipolis offers rock wall climbing, inflatable games, and a Lego area, ensuring unforgettable memories for the whole family.
e. If you just want to relax
After exploring the bustling city, it's time to unwind and relax. Fortunately, there's no shortage of options to soothe your soul and rejuvenate your body.
One of the best ways to relax is to take a leisurely stroll through one of the city's parks. The Aspire Park in the middle of Doha boasts the largest lake of the city and is a great place for a relaxing stroll. Alternatively, the Hotel Park in West Bay is a lush green oasis with spectacular skyline views, fountains, and walkways.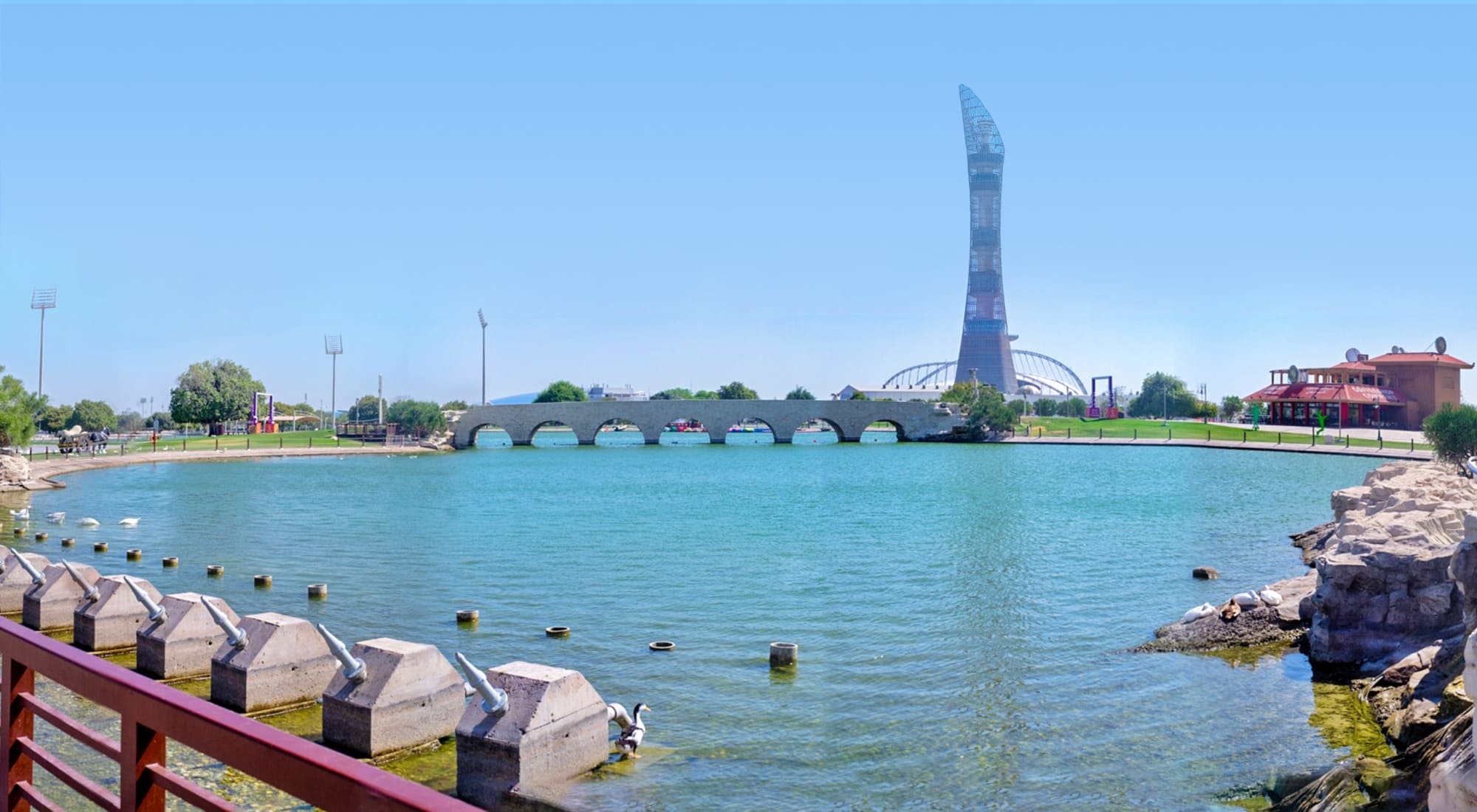 If you're in the mood for a more luxurious experience, the Ali Messila Spa, The Spa: Al Jasra Boutique Hotel, and Jaula Spa and Club at Grand Hyatt Doha each offer an array of treatments to help you unwind. If you're looking for a beach club experience, Sharq Village is one of the best, especially for families. With private villa rentals and more than 250 treatments, it's the largest spa in Doha. Meanwhile, The Diplomatic Club offers family-friendly fun with pools, water activities, and kid-friendly dining options. Check the beach club rules for public access.
Finally, the Doha Corniche is a crescent-shaped promenade on the bay that offers marvelous skyline views, which you can admire on a walk from the Sheraton Hotel park to the Museum of Islamic Art park.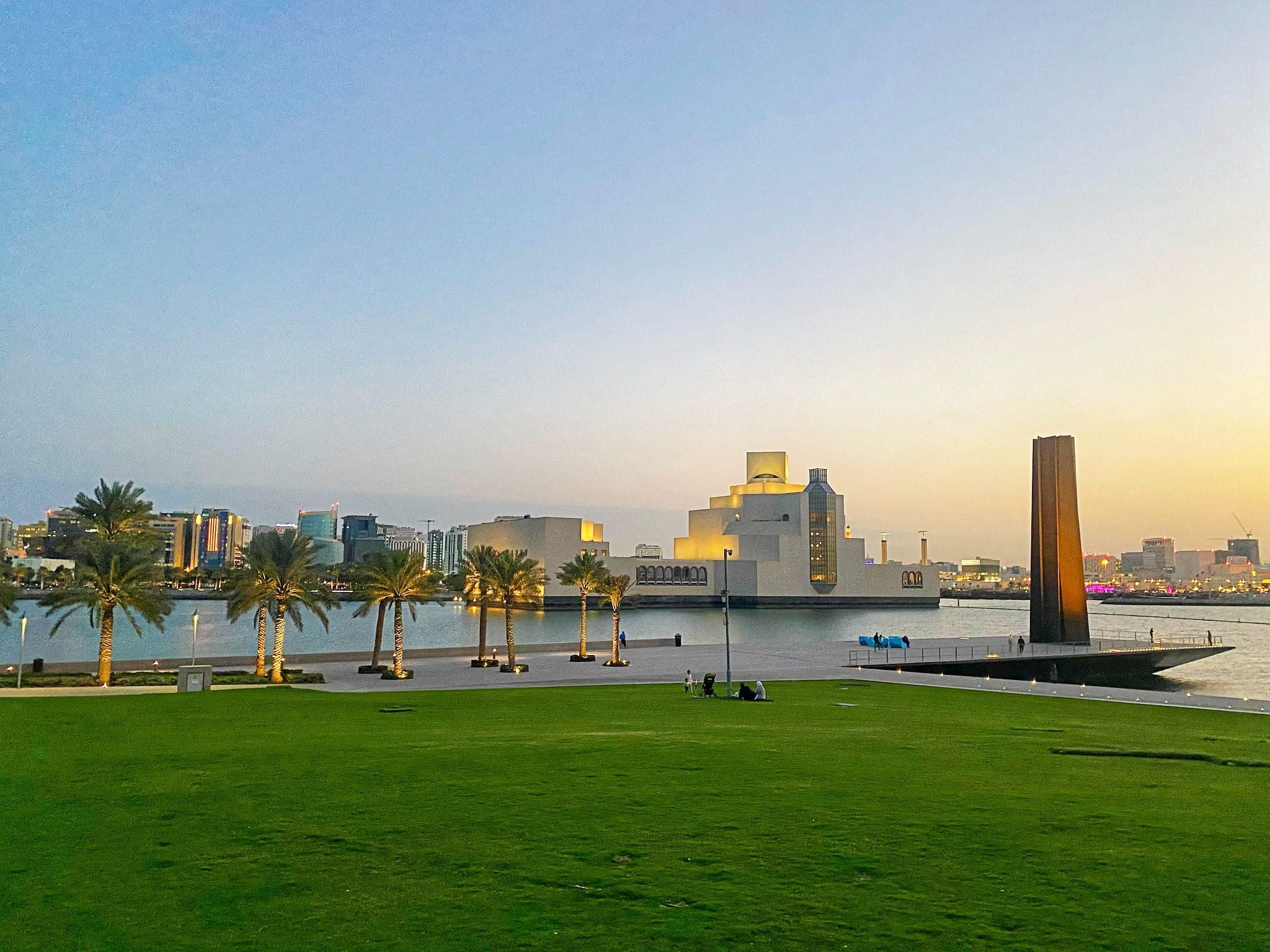 3. Where to Eat in Qatar
Whatever your culinary preferences, Qatar has plenty of delightful options to satisfy your cravings. If you're in the mood for casual Syrian fare, head to Damasca One, where you can enjoy outdoor dining at the vibrant Souq Waqif.
For a more upscale experience, try Parisa, an elegant Persian restaurant that will transport you to another world.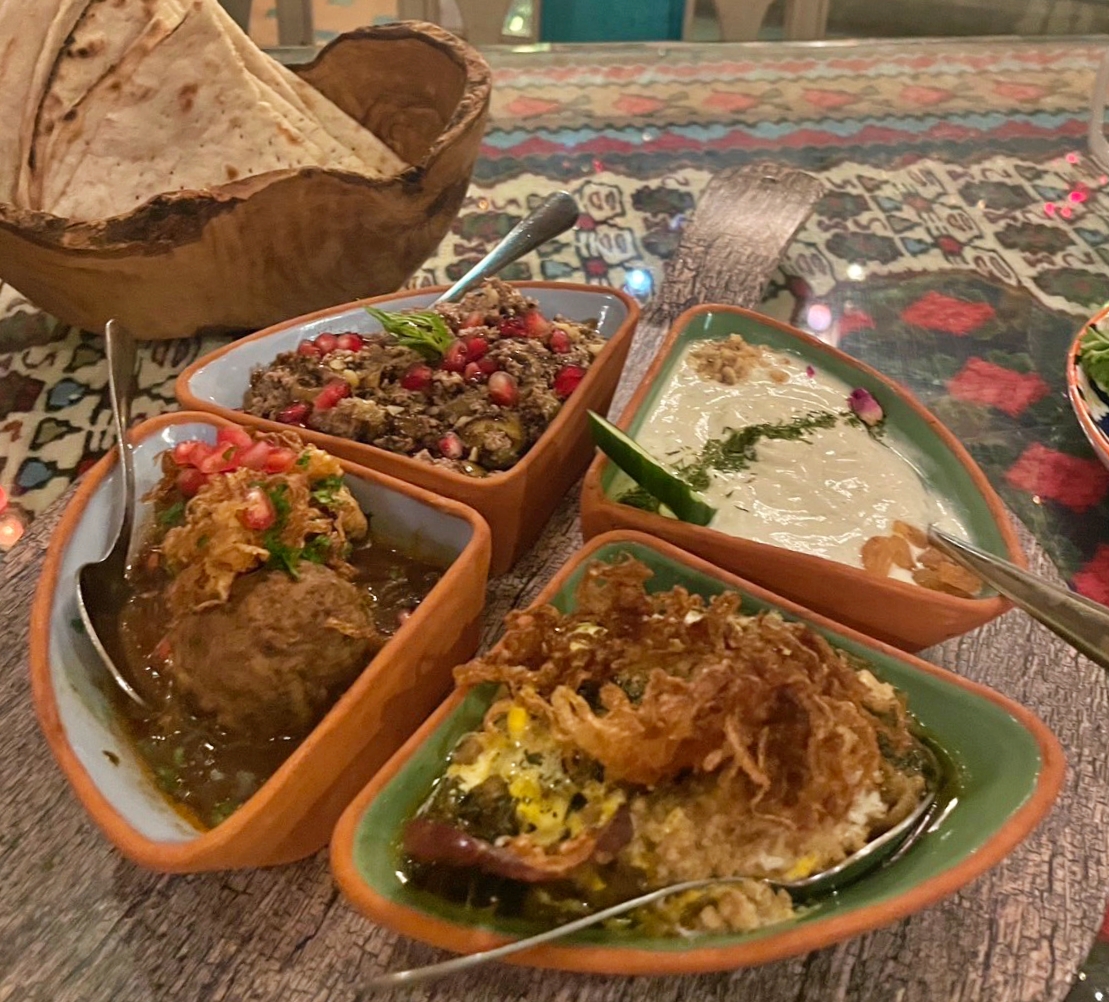 If you're craving Latin American cuisine, you can't go wrong with Curiosa at the Four Seasons, La Mar, or SushiSamba (Japanese-South American fusion cuisine).
Looking for the newest hotspots? Check out Alba at Raffles or Masala Library at the Fairmont. For dining with an Asian flair, Spice Market at W Doha Hotel offers Southeast Asian-inspired cuisine. Or if you want to indulge in some Wagyu beef and contemporary desserts, CUT by Wolfgang Puck is the place for you. Finally, Hakkasan is a Michelin-starred restaurant offering Cantonese cuisine in Doha.
Now that you've got a flavor of what to expect on the dining scene, you may wonder what to drink after your meal. If you want to feel truly local, look no further than the country's beloved drink, karak tea (also known as karak chai). Introduced in the 1950s by Indian and Pakistani expats, this tea is boiled with milk, sugar, and spices such as cardamom, cinnamon, cloves, or ginger. To enjoy it in the most authentic way, head to Doha's local cafes or chai houses, where you'll witness men playing dominoes while sipping on this beloved beverage. Not only is it a cultural experience, but it won't break the bank, with prices typically no more than 4 QR (about $1 US) per cup. So, take a break from your sightseeing and indulge in the rich flavors of karak tea while soaking up the lively atmosphere of Qatar's cafes.
4. Where to Stay in Qatar
If you're planning a trip to Qatar, we recommend basing yourself in Doha for the duration of your stay.
For a traditional Qatari experience as well as for the location, it's hard to beat the Souq Waqif/Msheireb district. This area boasts traditional architecture, a vibrant atmosphere, and proximity to attractions such as the Museum of Islamic Art. A standout hotel in this area is the Al Najada Doha Hotel by Tivoli, which offers a blend of traditional and modern design, a rooftop infinity pool, and an extensive selection of dining options. An alternative at a slightly cheaper rate – and still under the Tivoli brand – is Najd Boutique Hotel. It is renowned for its luminous spaces adorned with traditional Arabic designs and rich decorative details in its rooms. Plus, it's located right next to Souq Waqif metro station!
Alternatively, there are many budget-friendly options in the area or nearby.
If you prefer a bustling business district, West Bay is the place. This area is known for its high-rise buildings and landscaped parks, and it's convenient for both business and leisure travelers. The JW Marriott Marquis City Centre and The Ritz-Carlton, Doha are two excellent hotels in West Bay that offer panoramic views of the city skyline.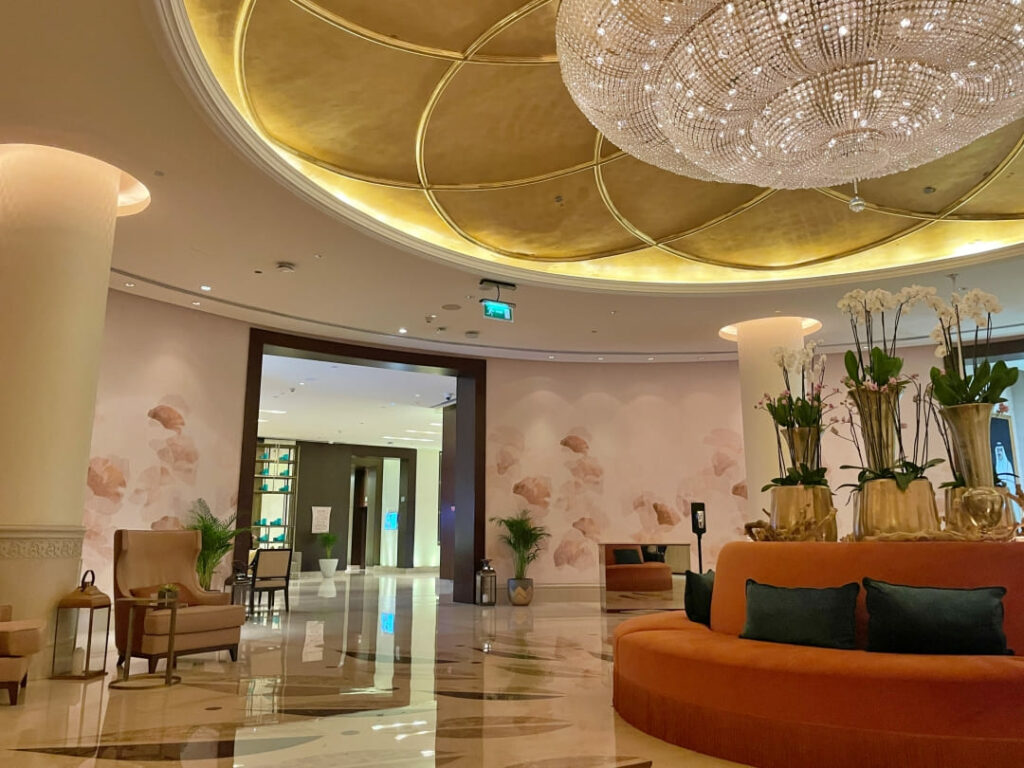 For a luxurious island escape, consider staying on Banana Island. This secluded, family-friendly island is accessible only by boat or helicopter. The Banana Island Resort Doha by Anantara is a top hotel on the island, offering luxury villas and suites with private pools, a marina, and a nine-hole golf course. The hotel's spa is exceptional, too, featuring a wide range of treatments and facilities, including a Turkish hammam and an hydrotherapy pool. It's a great place for families to stay in Qatar.
Another luxurious option is The Pearl, an island district that boasts high-end residential areas, shops, and restaurants as well as a marina and a beach club. The Marsa Malaz Kempinski on Pearl Island has a palatial design inspired by Venetian palazzos, a world-class spa, and dining options with sea views.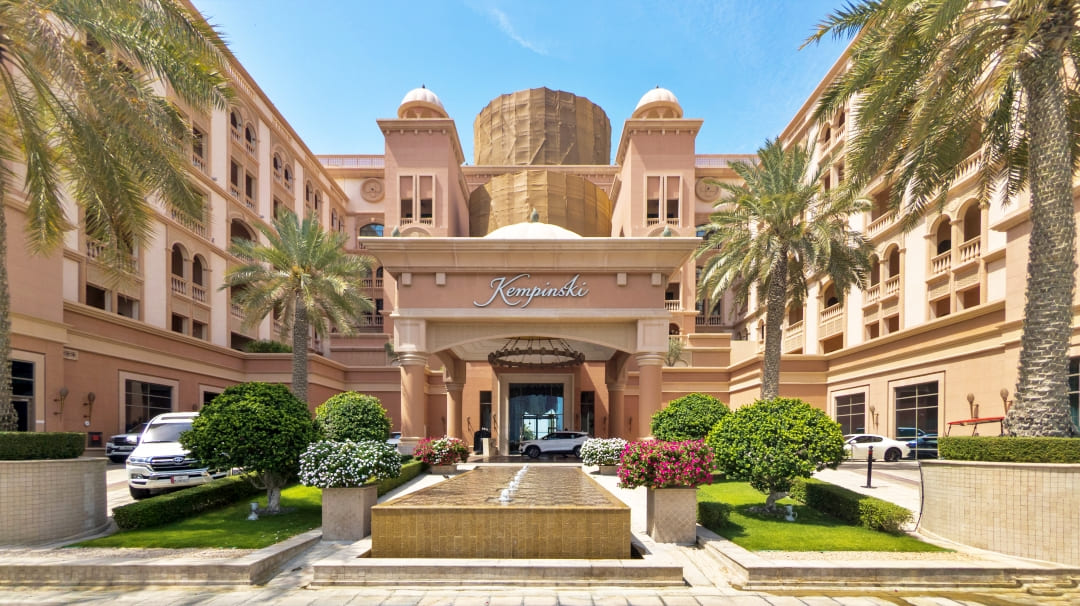 5. The Best Ways to Get Around
If you're planning a trip to Qatar and looking for the best ways to get around, there are a number of options available to you. One of the most technologically advanced and affordable ways to travel is via the Doha Metro. With three lines and modern, dedicated stations, major attractions are easily accessible. The one-way fare is only 2 QAR (0.55 US), and during special events, operating hours are extended. You can purchase a travel card for 10 QAR ($2.75 US) for standard seating or 100 QAR ($27 US) for Gold Club premium seating.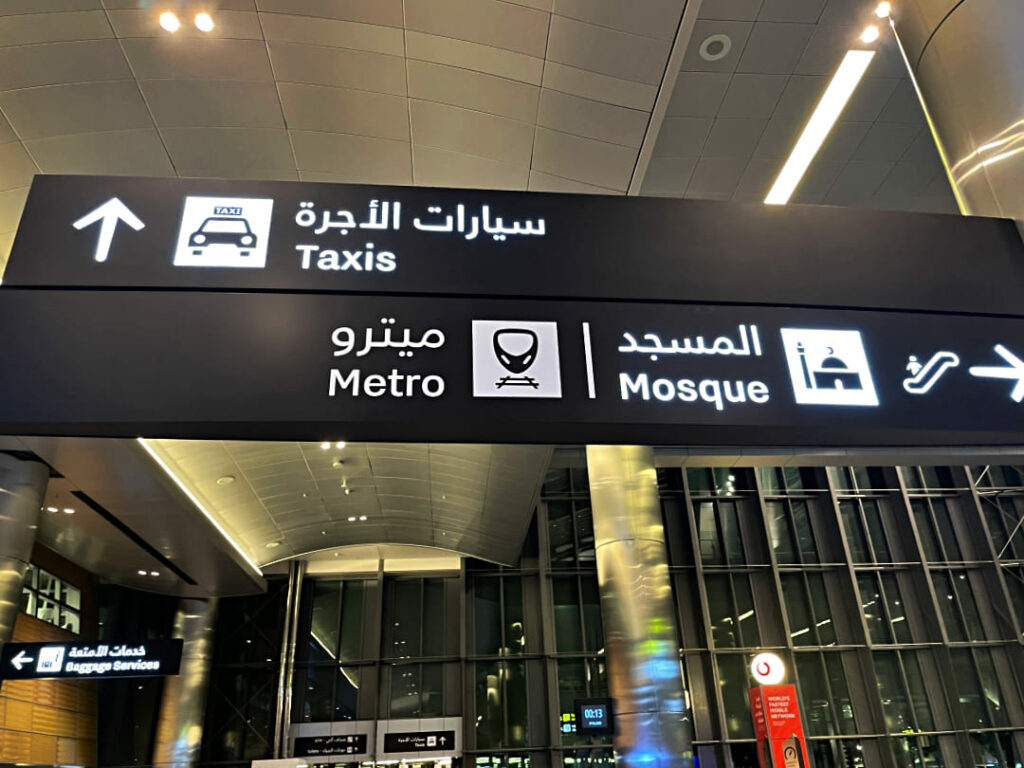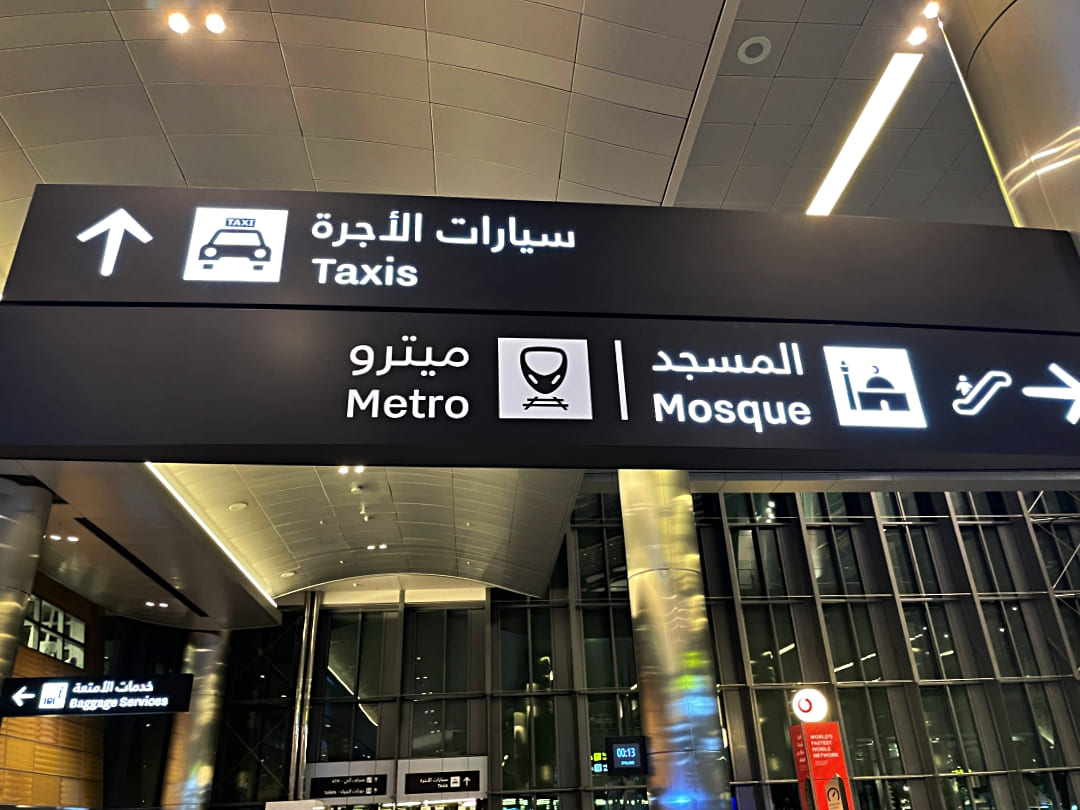 Taxis and ride-sharing services like Karwa taxis and Uber are also clean, affordable, and convenient.
For those who prefer eco-friendly options that add a dose of excitement and exercise, there are dedicated cycling areas such as Doha Corniche and Al Bidda Park, where bike rentals are available. Electric scooters can also be rented from Loop Mobility and Falcon Ride.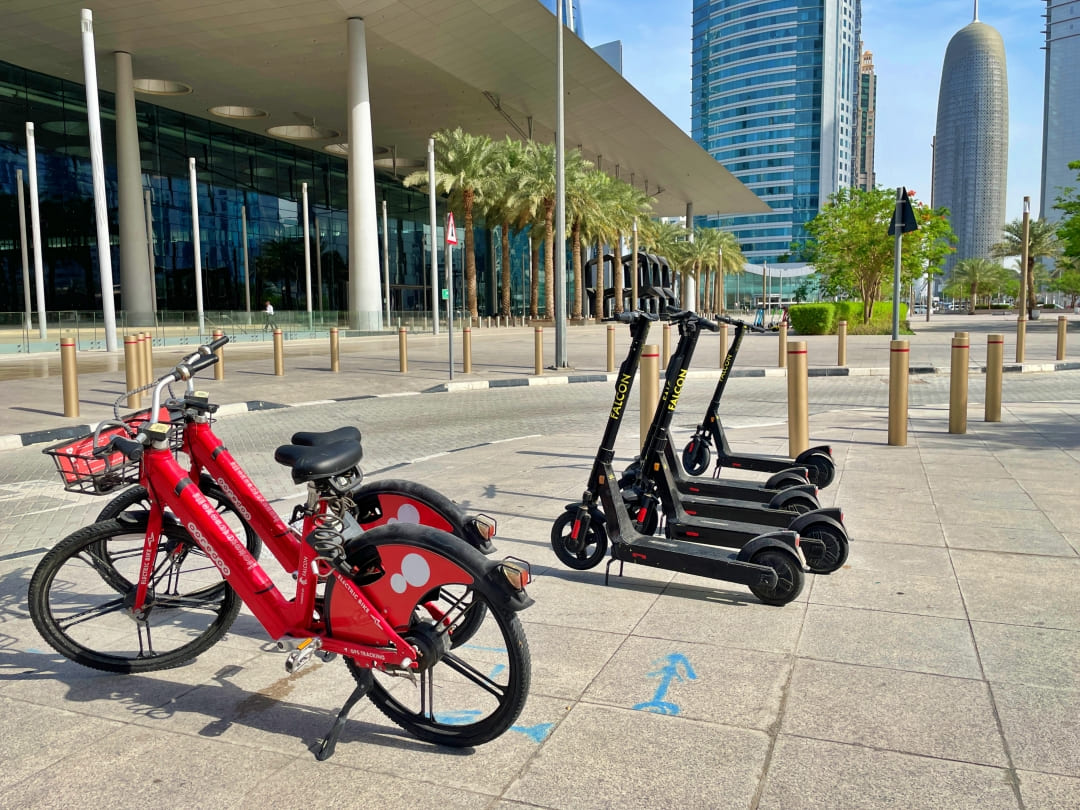 Finally, you can rent a vehicle, which is an especially good choice if you plan to explore remote attractions. However, this requires confidence in your driving ability in a foreign country and an understanding of local laws. You will also need an international driving license.
6. Local Customs: Dos and Don'ts
When traveling to Qatar, it's important to respect the local culture and certain customs. Below are some guidelines you need to be mindful of.
a. How to dress
When traveling to Qatar, it is important to respect the local culture, including the dress code. It is usually recommended to wear long and loose-fitting clothes and cover your shoulders and knees to conform to the expectations of tourists in a Muslim country. However, in hotels and certain areas such as The Pearl, the atmosphere tends to be more relaxed, allowing for greater flexibility in your dress code.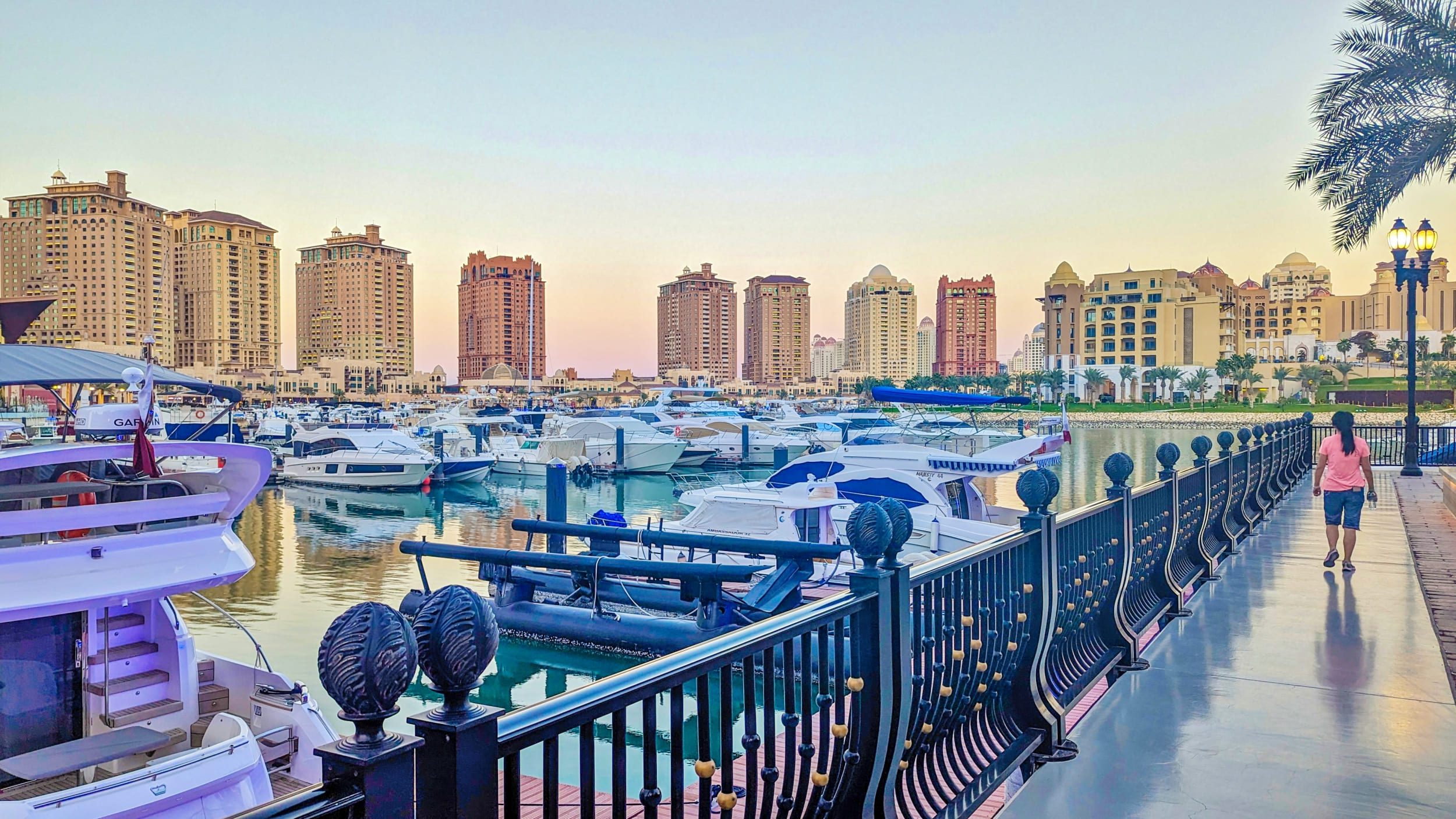 While the dress in Doha is more casual than elsewhere in the Middle East, it is still important to be modest. Keep your shoulders and knees covered when visiting religious sites, museums, souks, government buildings, healthcare facilities, and shopping centers. Women should wear a headscarf when entering mosques.
Bathing suits are only permitted in hotel pool areas or on private beaches. To ensure comfort during the summer months, it's recommended to wear breathable fabrics such as linen, chambray, or cotton, as they help you stay cool and comfortable in the heat, while avoiding heat-retaining materials like rubber, leather, polyester, acrylic, and denim.
At the airport, dress codes are less strict, but wearing clothing that covers most of the body is still recommended for comfort.
b. Can you drink alcohol in Qatar?
While non-Muslims can buy alcohol in designated QDC (Qatar Distribution Company) shops, it is strictly forbidden to drink alcohol in public.
As a tourist, you can enjoy alcohol in bars and restaurants at hotels and tourist complexes, but it's essential to remember that excessive drinking is not well-received. It's also prohibited to drink alcohol in residential areas or public areas outside of authorized hotels and restaurants.
c. Can you take photos of locals in Qatar?
While exploring Qatar, just as you'd expect in many other countries, keep in mind that local people might not appreciate being photographed without their consent—especially women. But who knows? If you do ask for permission to take a photo, it could lead to a meaningful conversation and a deeper understanding of Qatari culture.
d. What is it like to travel as a couple in Qatar?
While hand-holding is acceptable, public displays of affection such as kissing, hugging, and cuddling are prohibited. Gender segregation is prevalent in public spaces, with separate queues and waiting areas for men and women. Women-only beaches and parks have designated "ladies' days," and it's essential to follow rules and signs for "ladies only" or "women only" spaces.
e. Should you tip in restaurants in Qatar?
While there are no rigid regulations regarding gratuities, tourists are expected to tip in Doha, particularly if they are satisfied with the service provided. In Qatar, it's considered courteous to offer a small gratuity to waiters and other staff members. A tip of 10-15 percent is generally appropriate for restaurants, cafes, and bars, while a gratuity of 5-10 QAR ($1.37-$2.75 US) is expected for taxi drivers and gas station attendants.
f. When is the weekend in Qatar?
In Qatar, the weekend falls on Friday and Saturday, with the workweek running from Sunday to Thursday. On Fridays, many establishments close temporarily between 11 a.m. and 1 p.m. for congregational prayers, including the metro in Doha, which only runs from 2 p.m. to midnight on Fridays.
Similarly, restaurants, cafes, and museums don't open until 1 or 2 p.m. on Fridays, and two of the city's most popular attractions, the Museum of Islamic Art and Souq Waqif, are closed on Friday mornings. On Saturdays, these places generally operate with regular hours. If you plan to visit Qatar on a Friday, be sure to structure your itinerary around these restricted hours and plan accordingly.
Frequently Asked Questions
1. How long should you stay in Qatar?
For a brief layover on a trip that includes stops in other countries, two to three days is enough time to see the main attractions in Doha, such as the Museum of Islamic Art, Souq Waqif, and the Corniche. However, if you're looking to venture beyond the city and explore the desert or Inland Sea—or try kitesurfing in Fuwairit—you'll need at least four days. Even if you have a short stopover of fewer than 24 hours, though, you can still enjoy the city's world-class museums, impressive malls, and dazzling skyline.
If you're flying with Qatar Airways and plan to stay one to four nights, be sure to check out their stopover deals for a discounted stay in four- or five-star hotels. For less than 20 euros a night, you can enjoy a mini-stay in Qatar and take advantage of a free transit visa included with your booking. With these attractive transit deals, you can easily extend your layover and experience the best of Qatar without any hassle.
2. What kind of visa do you need to visit Qatar?
Qatar offers one of the most flexible entry systems in the Middle East. More than 95 countries, including most European countries, can enter Qatar visa-free for a stay of up to 90 days! For travelers requiring a visa, a four-day transit visa is available to all nationalities. Of course, it is recommended to check the current entry requirements before traveling.
3. Is Qatar safe for solo female travelers?
Qatar is safe for tourists. In fact, it has emerged as one of the safest countries in the world, with a low crime rate and a welcoming atmosphere. In particular, solo female travelers can feel safe and secure while exploring the country's diverse attractions, from world-class museums and luxurious shopping centers to stunning desert landscapes and traditional souks.