What if you could find a single destination that melds the cultural richness of Paris, the tranquil beach utopia of the Maldives, and the authentic, vibrant spirit of Marrakesh? With its luxurious spa retreats, gourmet dining, thrilling desert safaris under the stars, and enriching cultural encounters, Qatar offers a strikingly diverse range of activities tailored for couples.
If you're visiting Qatar as a couple, here are 15 experiences you can enjoy!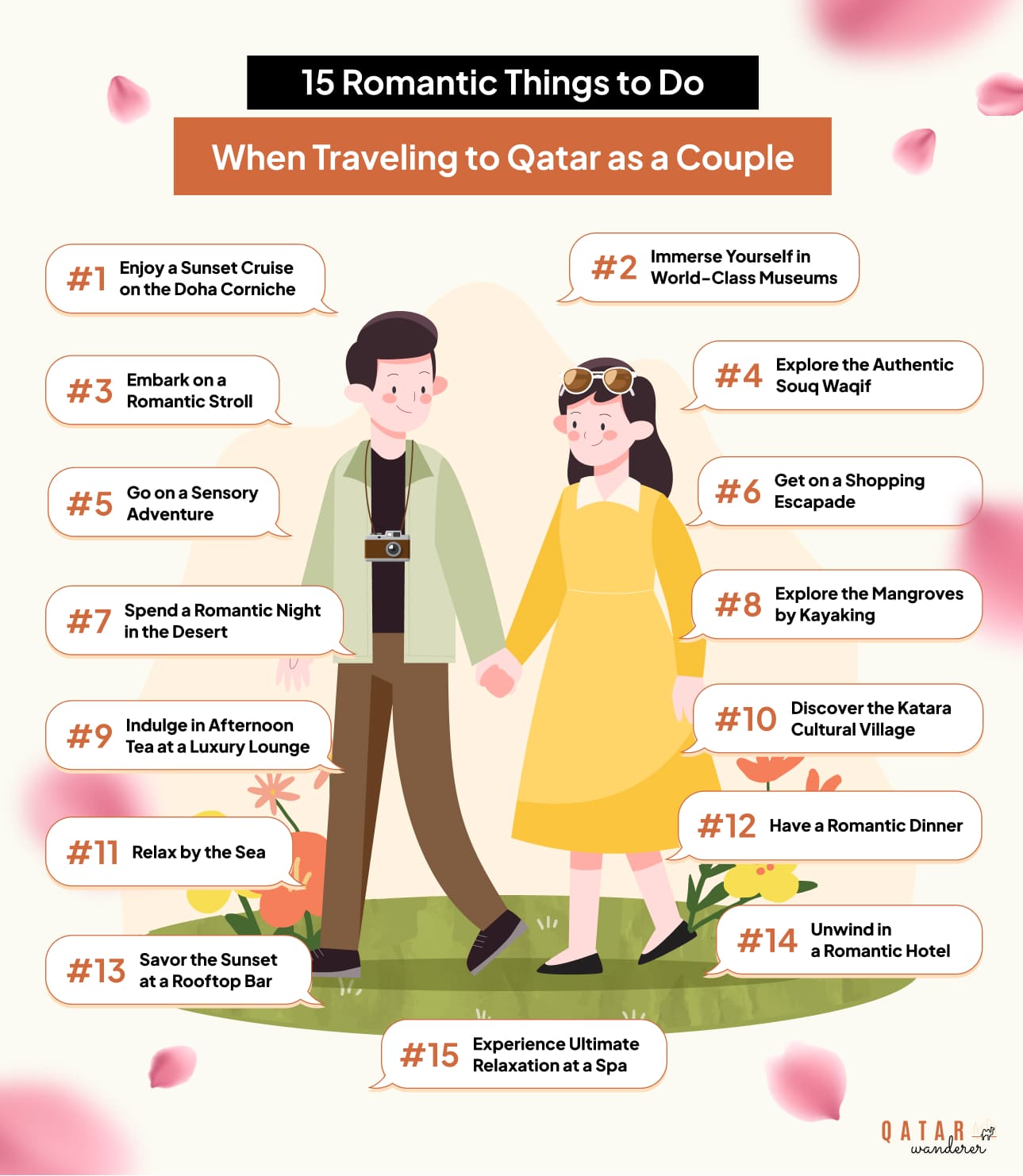 1. Enjoy a Sunset Cruise on the Doha Corniche
Sunset, of course, is the best time to embark on a romantic cruise on Doha Bay. You can experience this dreamy scenario on a traditional wooden boat, known as a dhow. As you cruise along the Doha corniche, with the calm sea beneath you and the mesmerizing views of Doha's skyline above, it's a truly magical experience. Private dhow cruises last about two to four hours, and your hotel can easily arrange one for you. As the city lights start to twinkle in the twilight, you'll feel as if you're in a different world!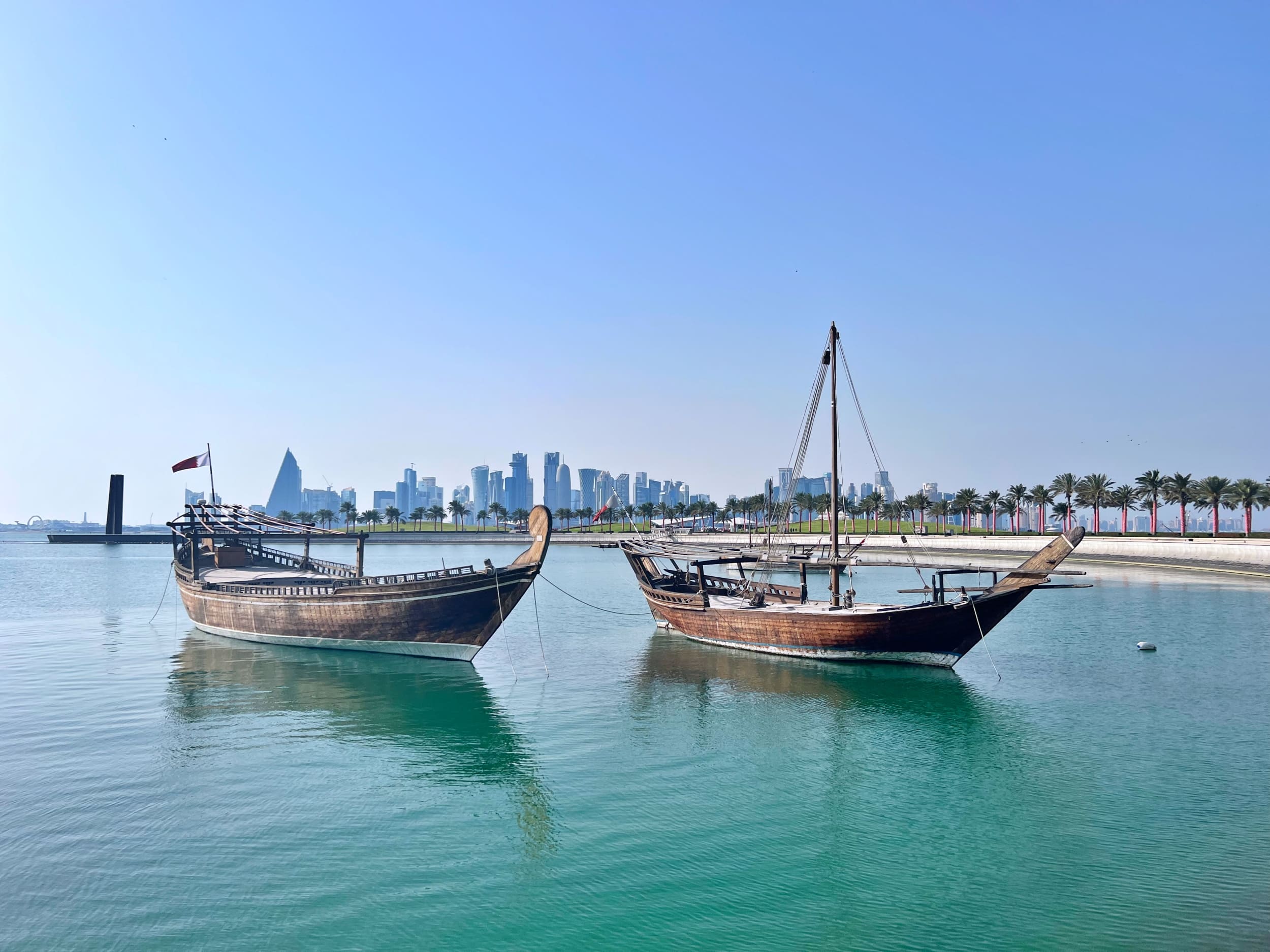 2. Immerse Yourself in World-Class Museums
Discover the rich culture and history of Qatar by visiting the National Museum of Qatar and the Museum of Islamic Art in Doha, which are among the most popular museums in Qatar.
The National Museum's distinct architecture, inspired by a desert rose, provides a perfect backdrop for romantic selfies. Inside, you'll journey through Qatar's past, present, and future. You can spend an entire afternoon here, and have an exquisite dinner at Jiwan, the fine-dining restaurant by Alain Ducasse, located on the museum's top floor.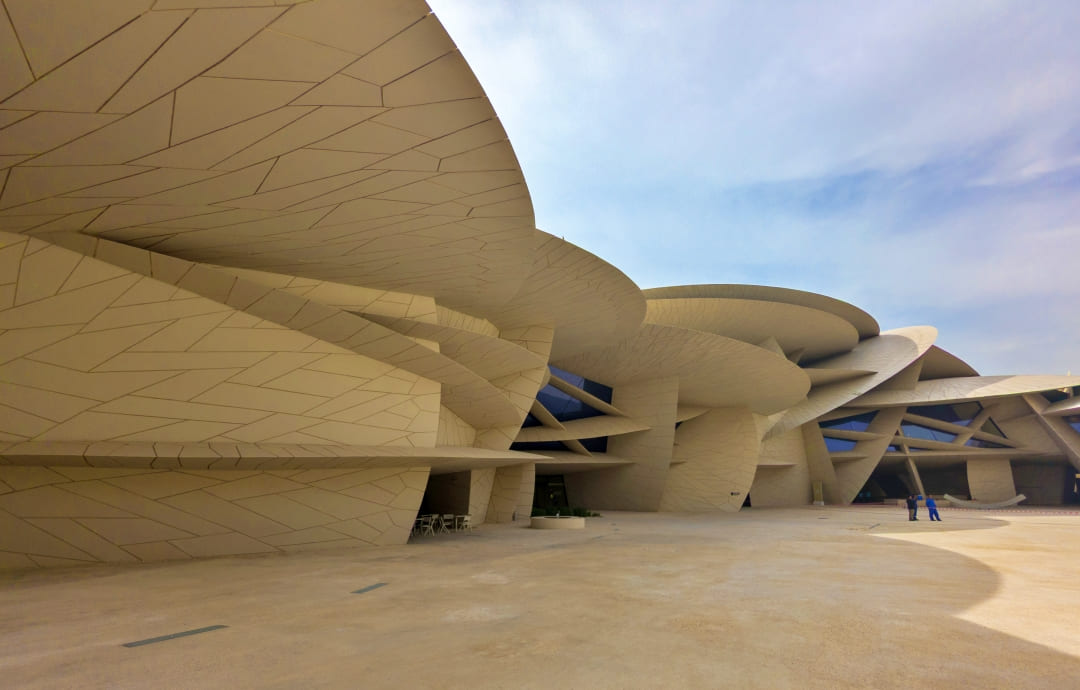 The Museum of Islamic Art is another architectural marvel of Qatar. It was designed by I.M. Pei, the architect behind the glass pyramid at the Louvre. The museum houses a collection of Islamic art spanning over 1,400 years. It's an engaging way to learn about the rich history and culture of Islam and snap a few couple selfies with the Doha skyline in the background.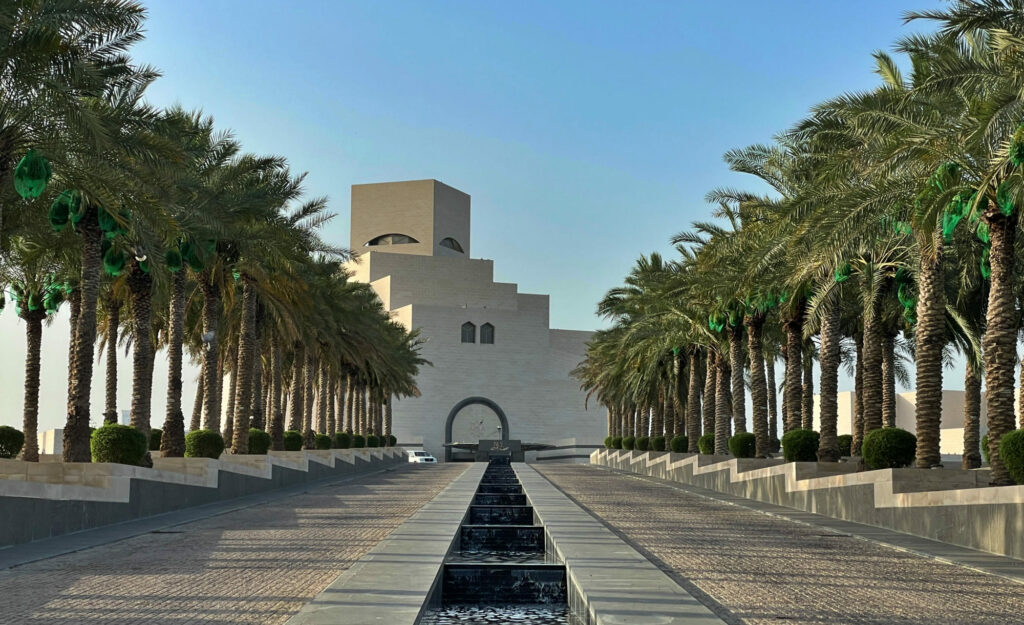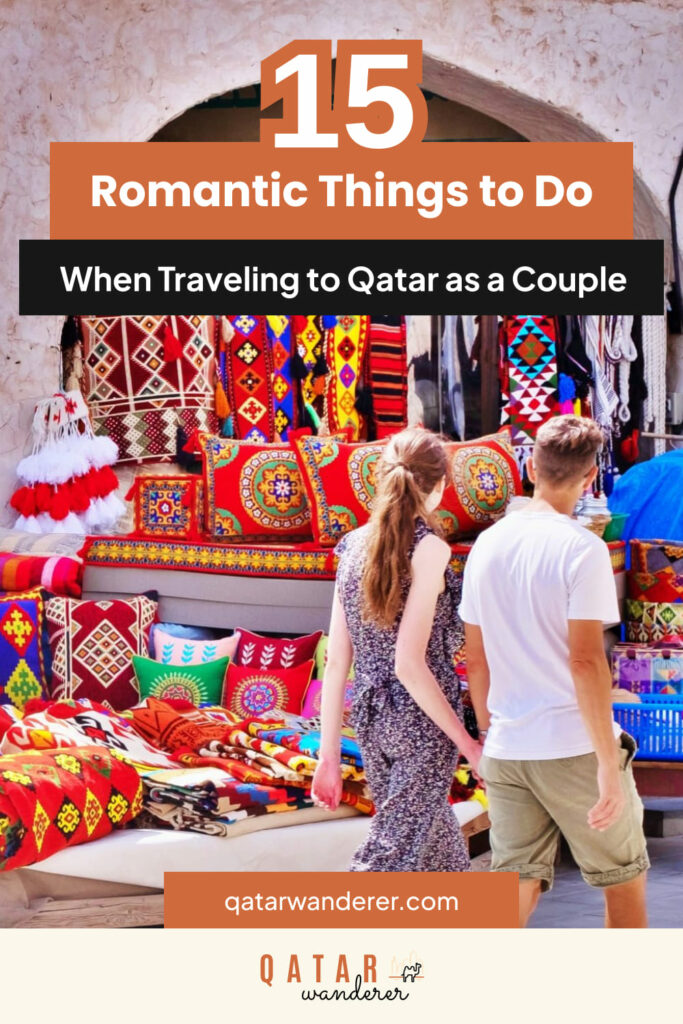 No time to read?
Pin it on Pinterest and revisit it later.
3. Embark on a Romantic Stroll
If you're up for a four-mile (six-and-a-half-kilometer) adventure, start at the park next to the Museum of Islamic Art, which offers stunning views of Doha. Meander through the colorful streets of the Mina District, and end your journey at the iconic pyramid-shaped Sheraton Hotel.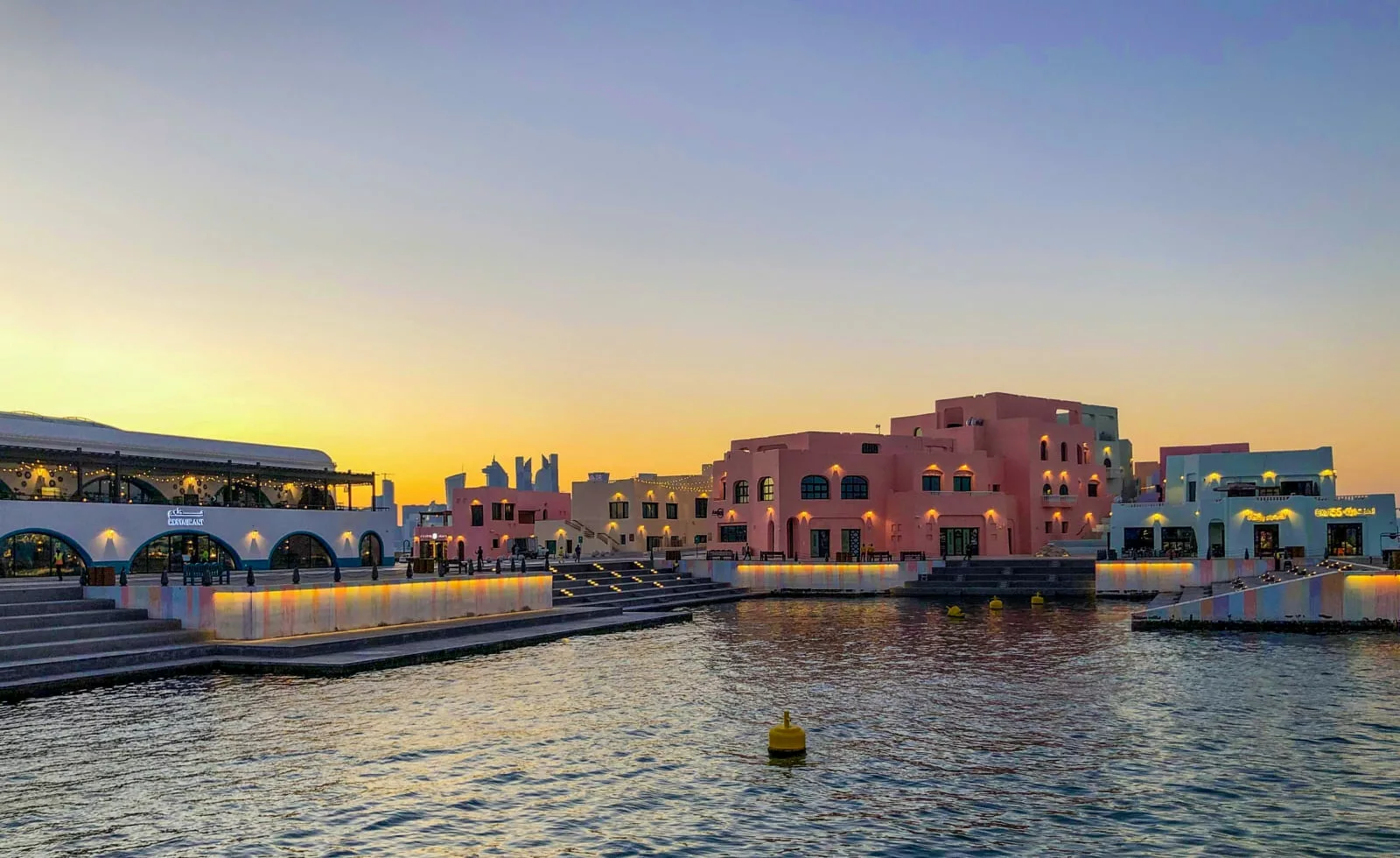 Along the way, you'll encounter the camel pen on the outskirts of Souq Waqif market, the beautiful Amiri Diwan building, the Al Bidda Park – one of the best green spaces in Doha -, and the stunning West Bay towers!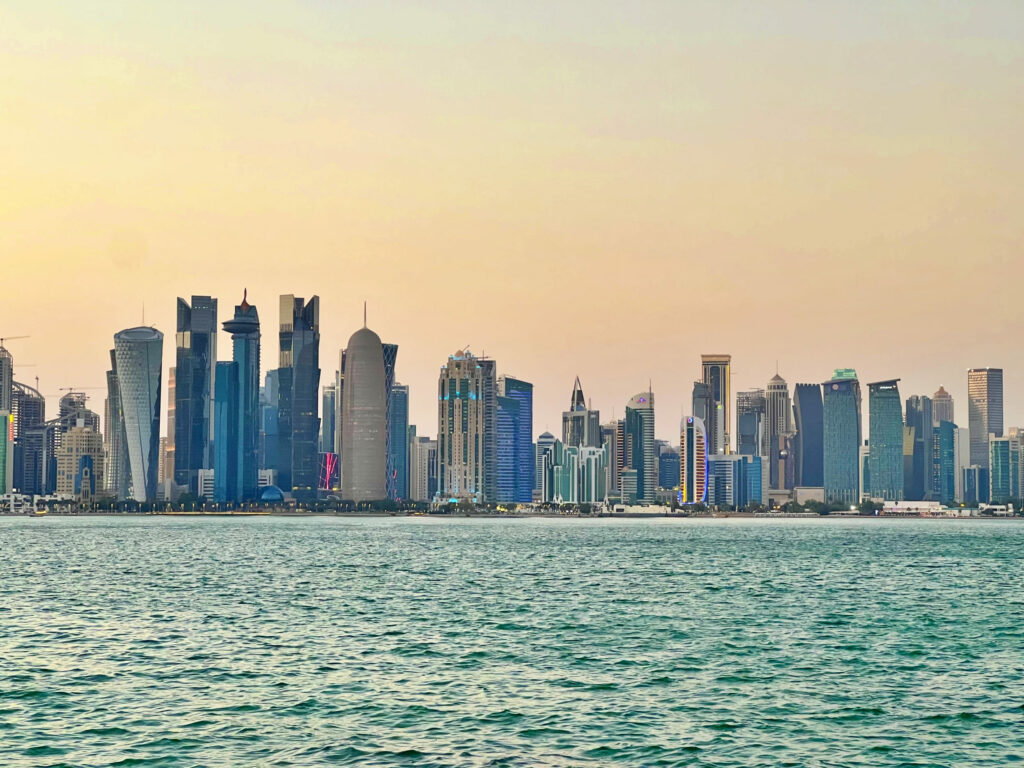 As you approach the end of your Corniche promenade, you'll arrive at Al Dafna park in the West Bay business district, an ideal spot to capture the futuristic skyline in your photos.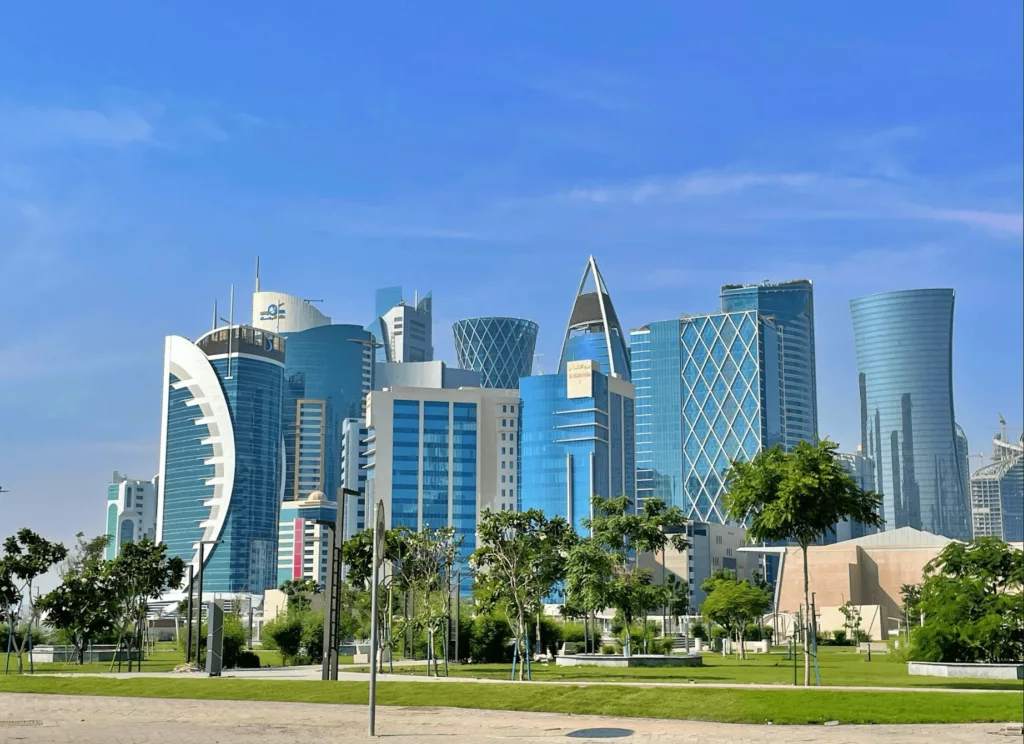 Consider visiting the nearby Sheraton Hotel, Doha's oldest. Inside, it's far from a mere lobby lounge: grand chandeliers, armchairs adorned with gold trim, and a striking geometric sculpture at its center beckon guests. Here, you can savor well-deserved tea and pastries, admiring the striking geometric architecture and soaking in the ambiance of live piano music.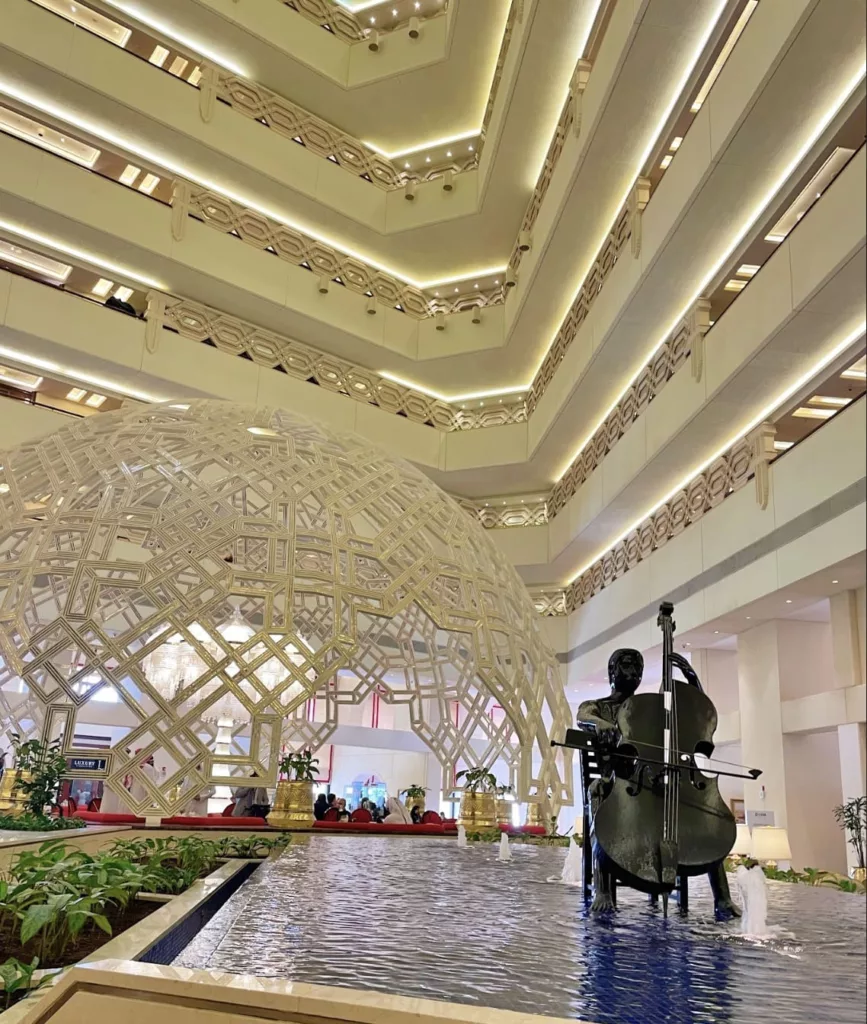 If you fancy a shorter stroll, feel free to cut your walk short at Al Bidda Park and catch the metro from there.
Another option for a scenic stroll is to head to Pearl Qatar's marina promenade to admire the beautiful yachts and explore the Venetian-esque streets of Qanat Quartier.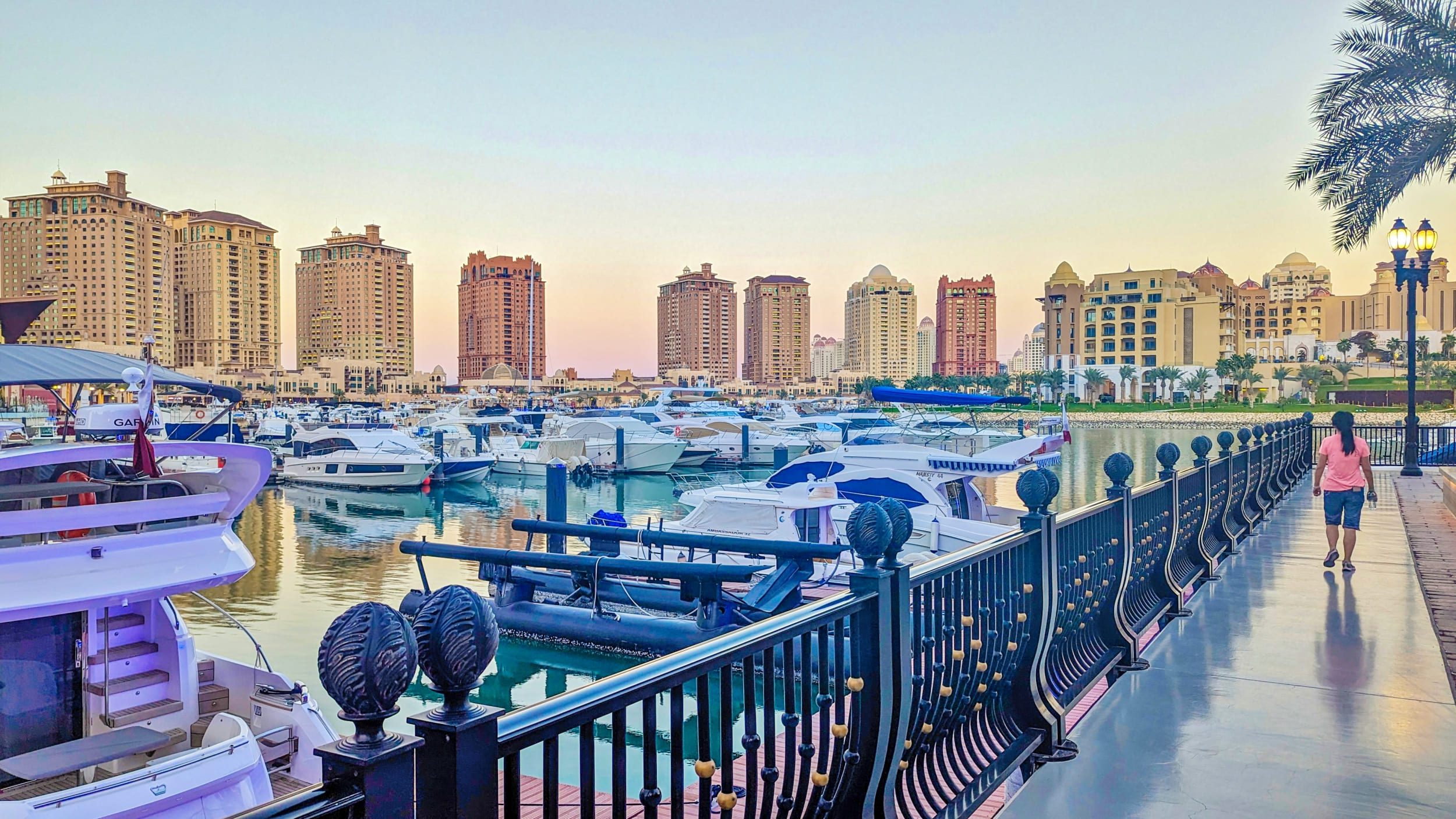 Lastly, if you're more into parks, you'll enjoy Aspire Park, Doha's biggest park, where you can walk around the lake and stop to have a coffee. The lake is Doha's biggest and you can hop into a paddle boat for a fun-filled mini-cruise!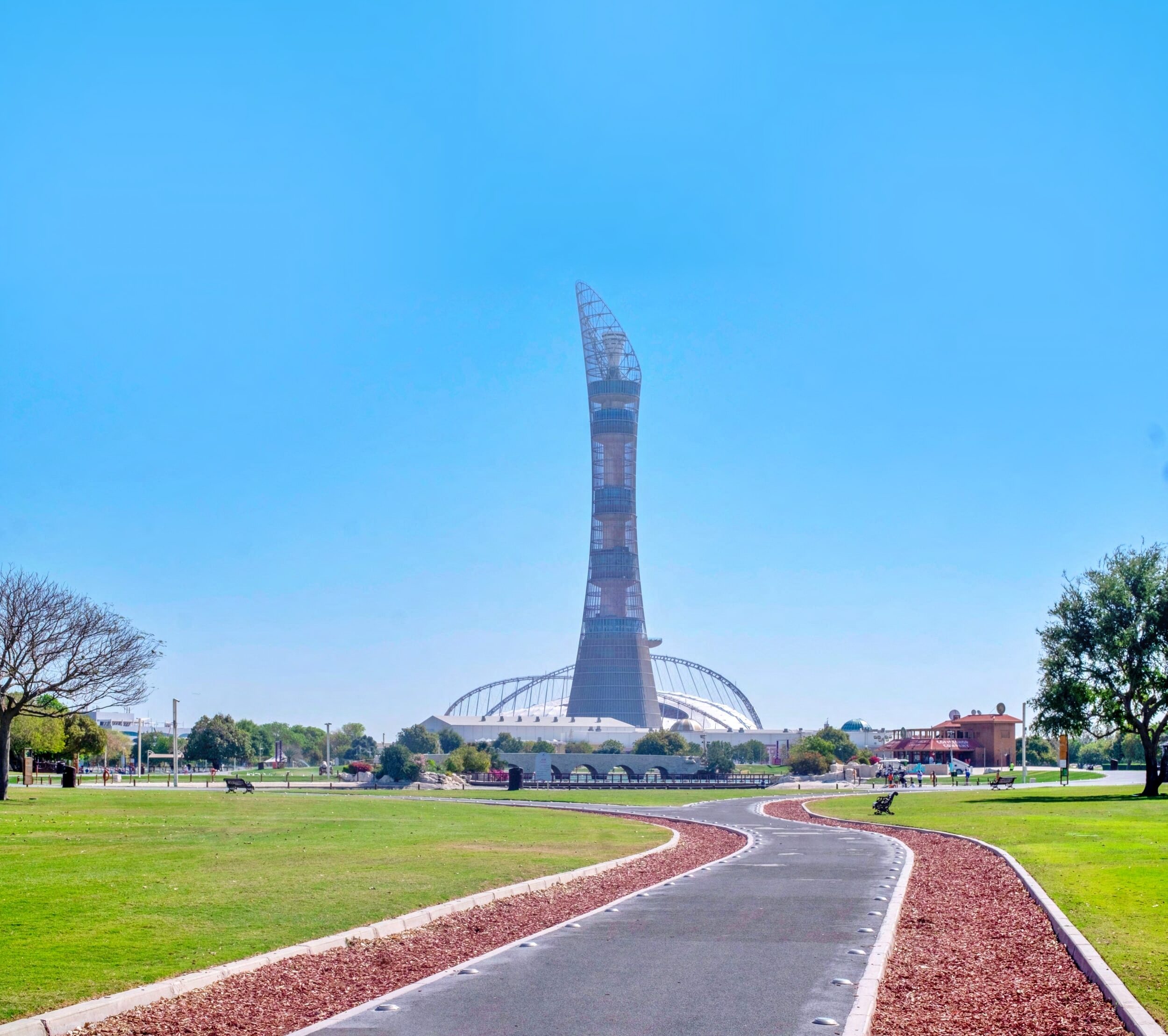 4. Explore the Authentic Souq Waqif
For an authentic Qatari experience, explore the Souq Waqif which is a labyrinth-like bazaar. This vibrant marketplace, brimming with aromatic spices, traditional garments, and intricate handicrafts, is a treasure trove for couples seeking a cultural adventure.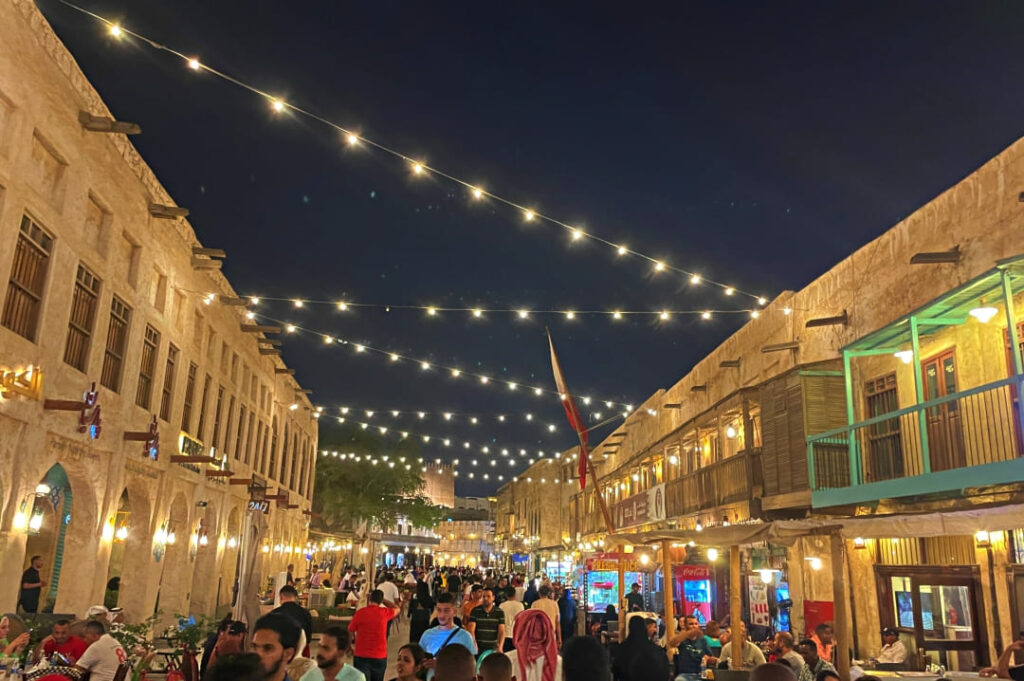 As you explore the souk, you'll most likely see camels and horses, and the majestic falcons at the Falcon Souk, a can't miss experience. If you are an art-loving couple, you should head to the Souq Waqif Art Center, with its captivating collection of local artwork reflecting Qatar's dynamic art scene. At the Gold Souk, you'll marvel at the dazzling displays of jewelry, perhaps even picking up a keepsake of your romantic getaway.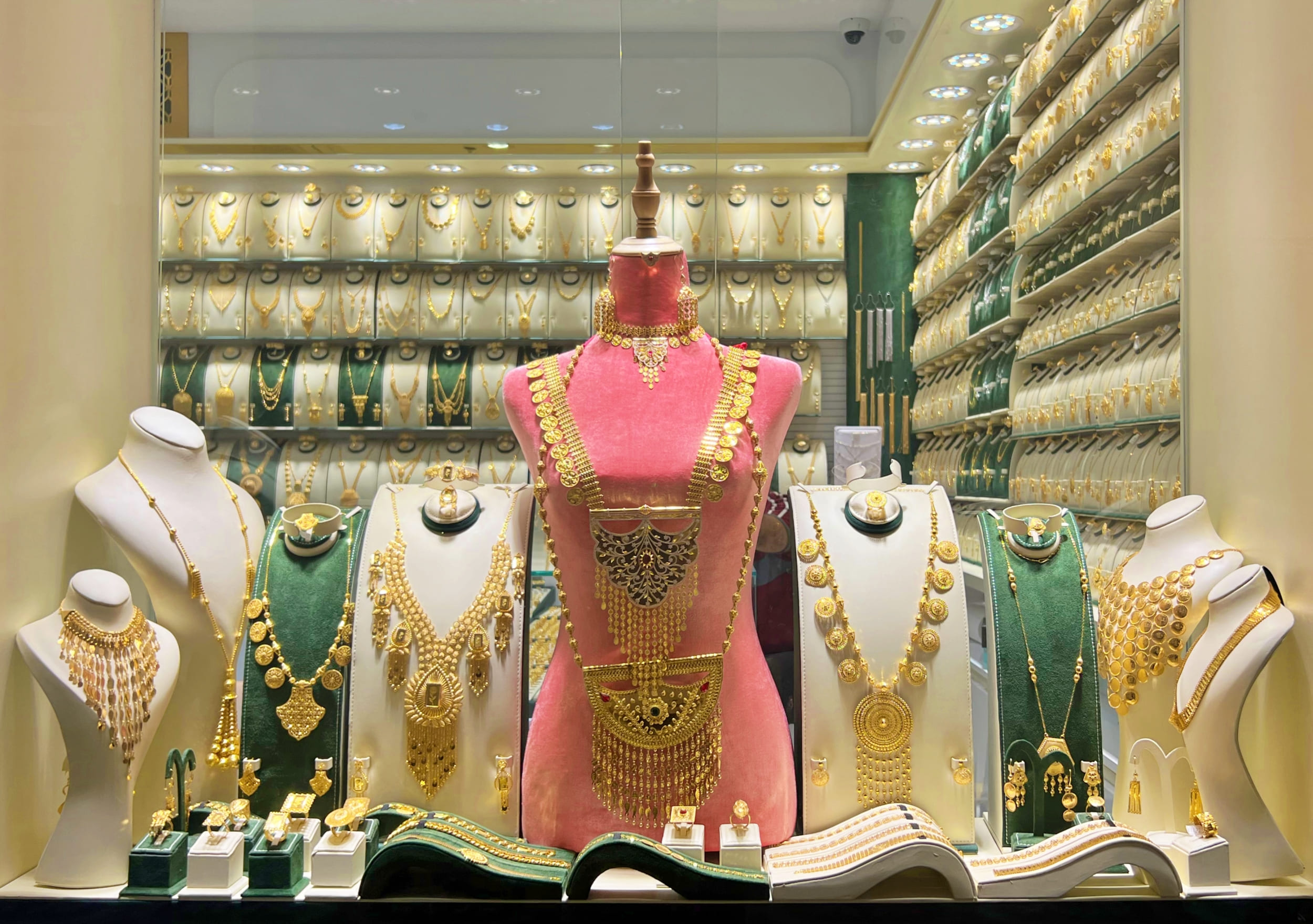 Just a short walk from the souk, you'll find Al Koot Fort, a historical gem that offers a romantic backdrop for a couple's photo.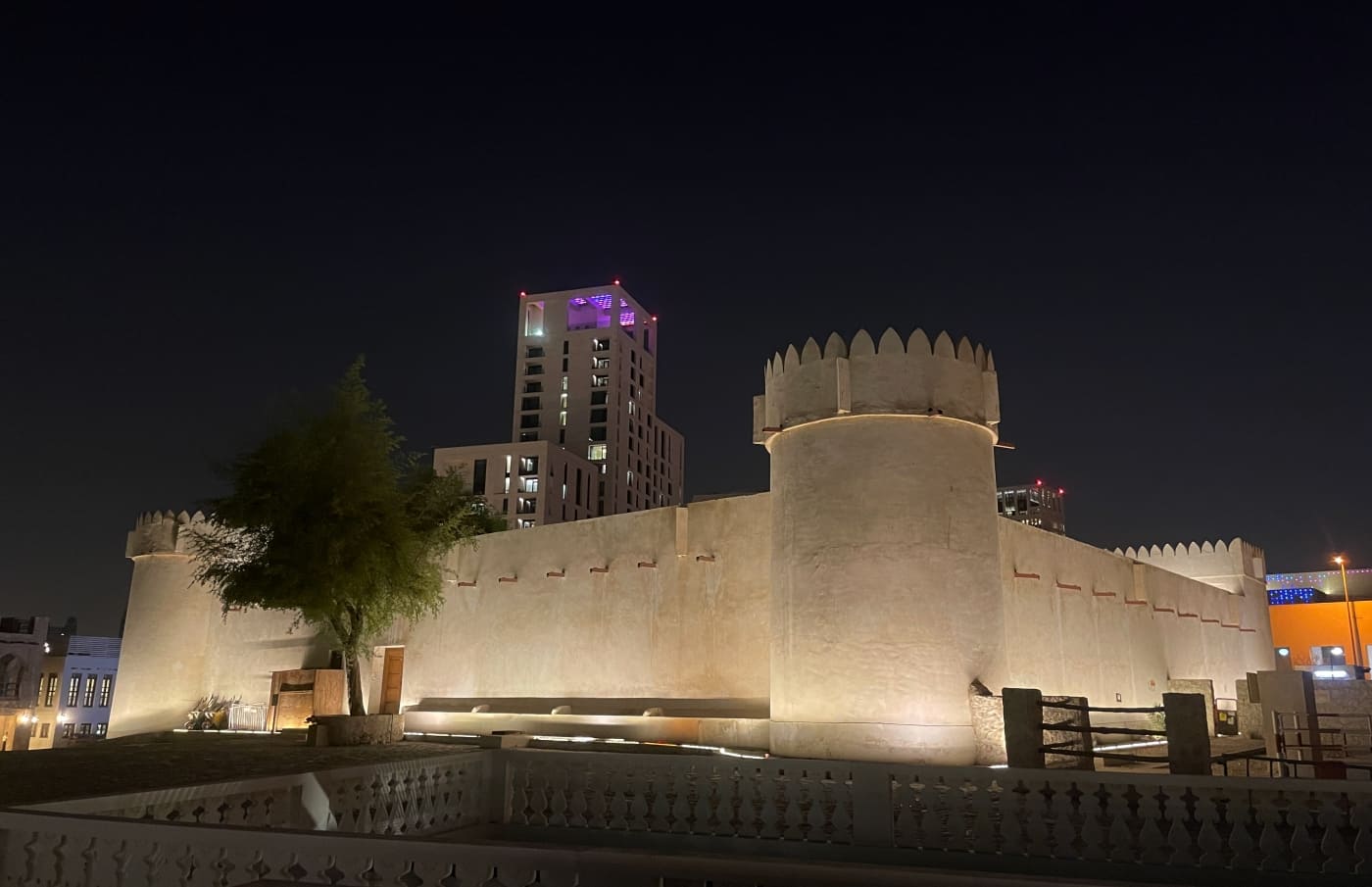 Amidst the hustle and bustle, make sure to stop by one of the many restaurants inside the souq to enjoy Middle Eastern delicacies, from succulent kebabs to sweet baklava, offering a culinary journey through the region's rich flavors. Then, take a moment to relax and savor a cup of karak tea, a local favorite similar to chai, as you watch the world go by.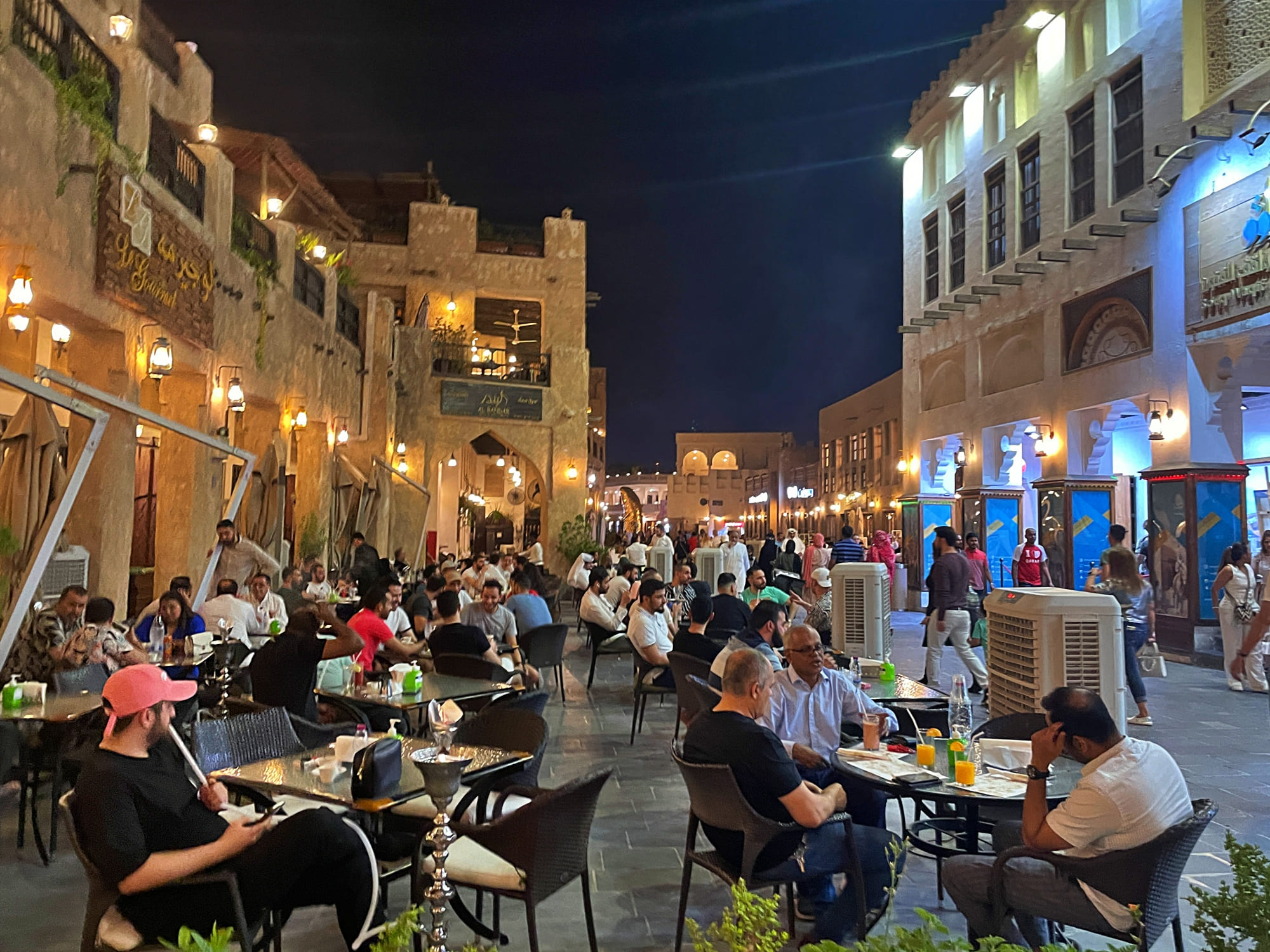 5. Go on a Sensory Adventure
For a fun and unique experience as a couple, check out the Museum of Illusions. This is not your typical museum. This is a place where you can challenge your perceptions and have a lot of fun in the process. The museum is filled with interactive exhibits that will make you question reality.
Do more of what makes you happy !#museumofillusionsdoha #qatar #doha pic.twitter.com/GX0JAXIkZp

— Museum of Illusions Doha (@MIllusions_Doha) November 5, 2021
You'll find yourselves laughing and bonding as you navigate through the various illusions, from rooms that defy gravity to mind-bending optical illusions. It's a playful and interactive way to spend an afternoon, and you'll leave with some fantastic photos and memories.
6. Get on a Shopping Escapade
Qatar offers a unique blend of shopping experiences, and bringing home a piece of Qatar is a must to remember your trip. Beyond the traditional market of Souq Waqif, teeming with an array of souvenirs, gifts, and traditional clothing, Qatar also boasts some of the region's most contemporary malls, each offering a distinct experience.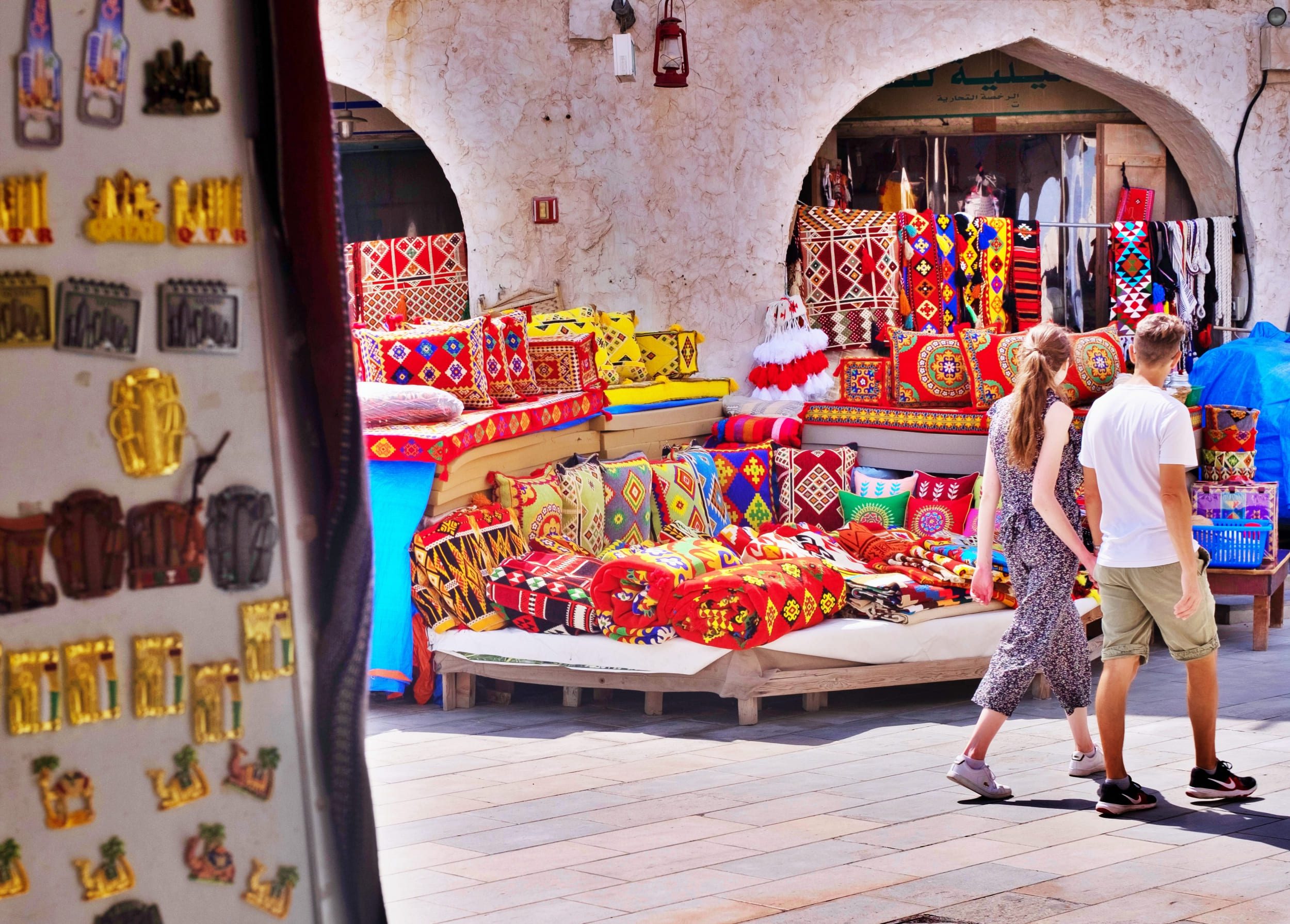 For a taste of Italian charm, make your way to the Villaggio Mall in Doha's Aspire Park. Here, you can embark on a romantic gondola ride along the mall's indoor canal, transporting you straight to the waterways of Venice.
If it's the Parisian allure you're after, the Galeries Lafayette shopping mall, located near the Katara Cultural Village, is a must-visit. It's French-inspired architecture and high-end boutiques make for a delightful afternoon of shopping.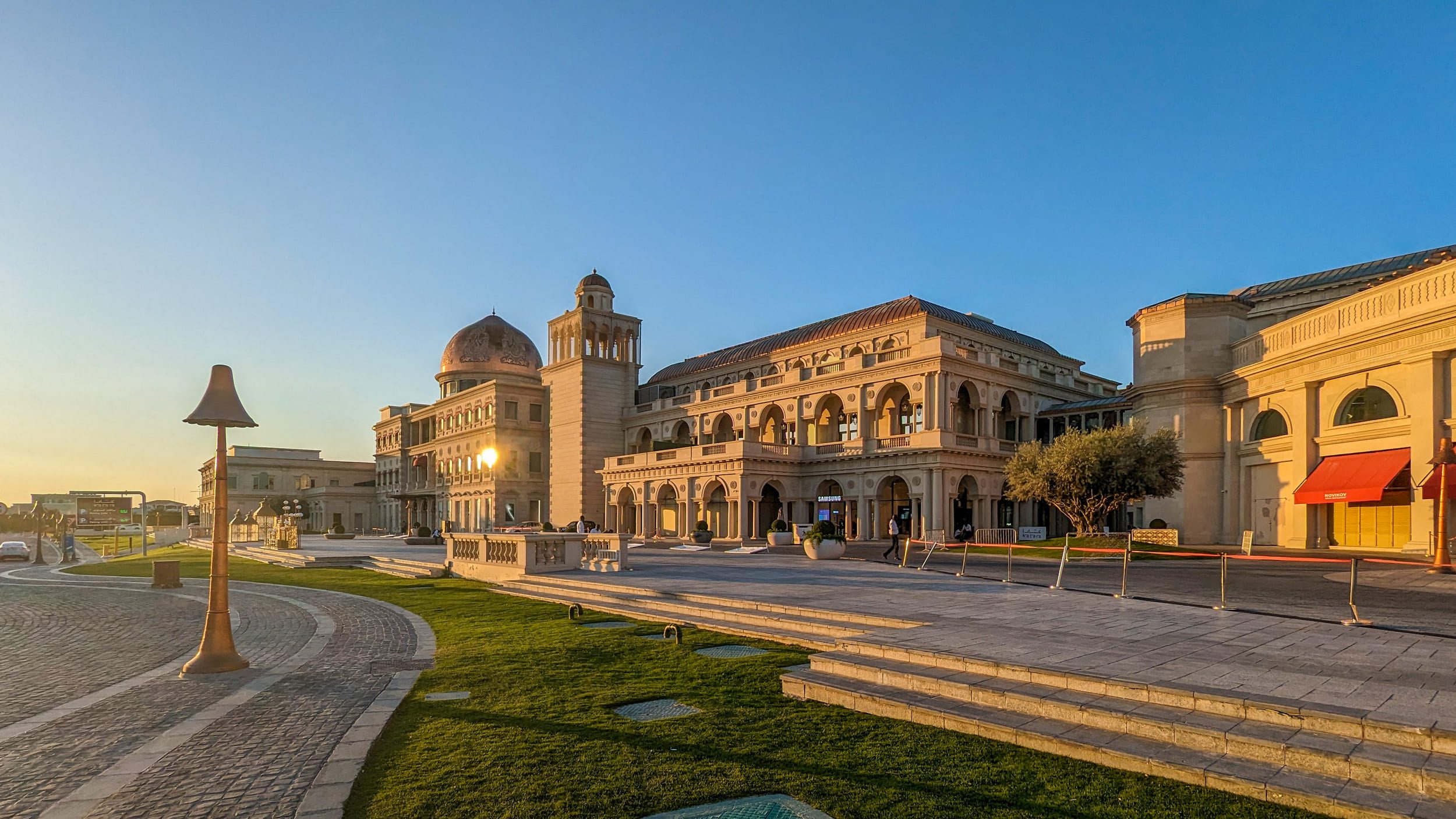 If you're seeking the epitome of luxury, Al Hazm Mall and the Via Domo area at Vendôme Mall offer an array of high-end brands and exclusive boutiques.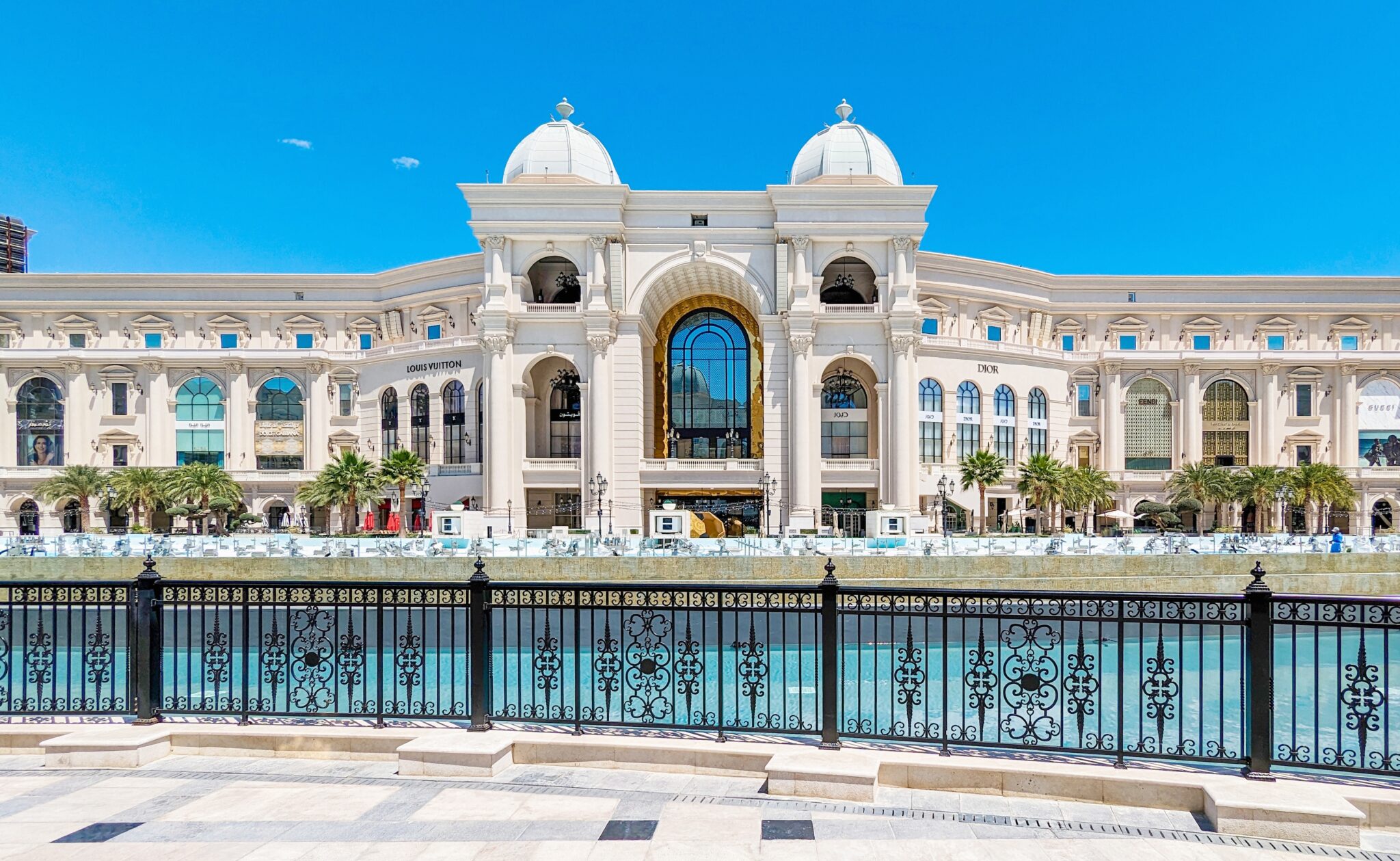 And if you're keen on discovering emerging fashion trends, don't miss out on Msheireb Galleria, a hub of innovative design and style located in the new district of Msheireb.
7. Spend a Romantic Night in the Desert
Southwest of Doha lies Qatar's largest sand desert. Going there is an epic adventure that's right at the top of everyone's Qatar bucket list.
Jump into a 4×4 for a thrill-a-minute desert safari ride. You'll be tearing across the dunes, your adrenaline spiking with every shift and turn.
Feeling adventurous? Why not try sandboarding down these massive dunes?
After that, it's time to chill out at the Inland Sea, or as the locals call it, Khor Al Adaid. This is one of the rare places in the world where the sea flows right into the dunes. It's so beautiful that UNESCO tagged it as a tentative World Heritage site.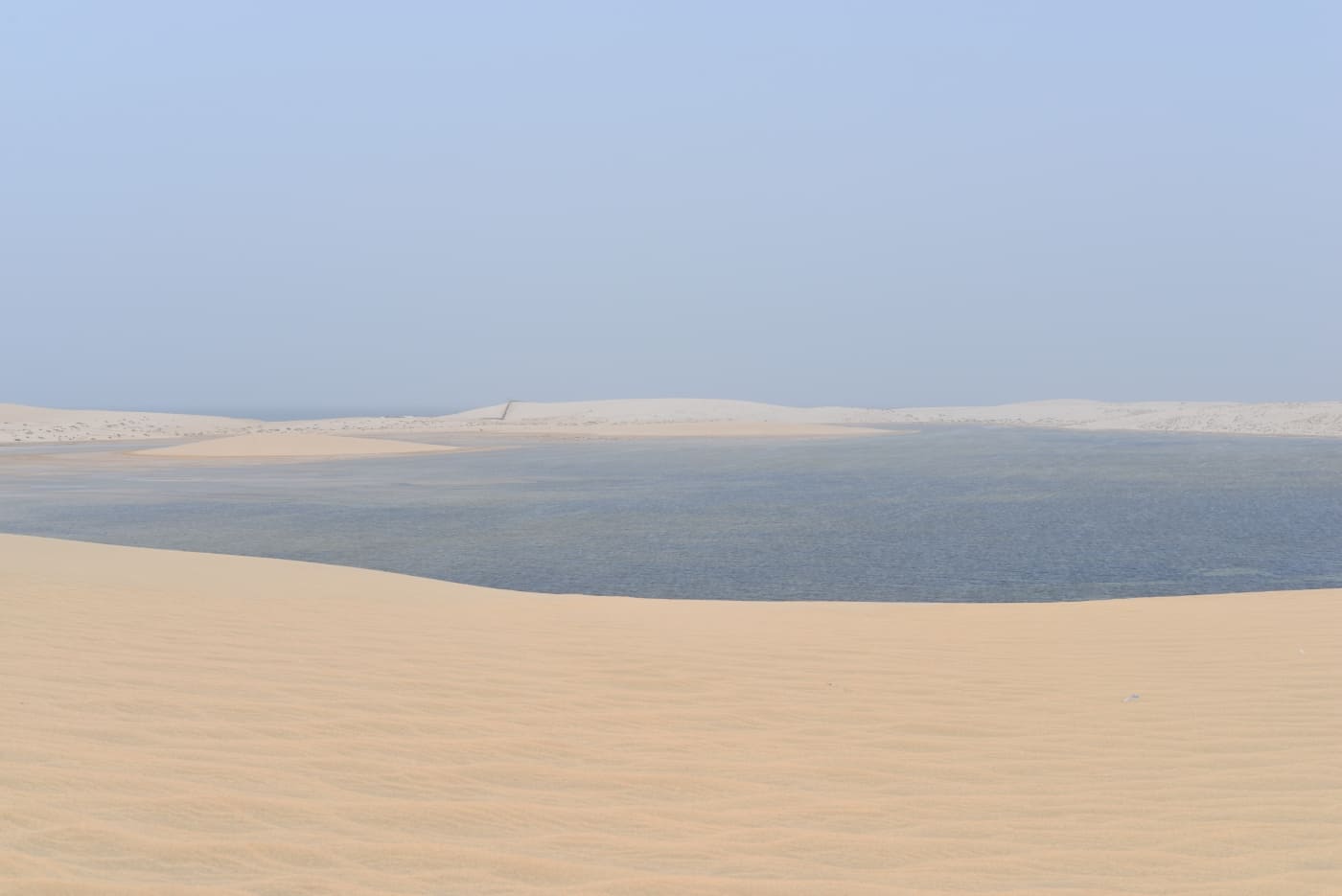 As daylight wanes, your adventure continues under the night sky. You'll head over to a traditional Bedouin tent where you'll be welcomed with dates and tea, an authentic taste of the region's famed hospitality. The romantic evening unfolds with a full barbecue dinner under the stars at the campsite, followed by a night in a luxury Arabian-style tent.
Wake up to a delightful continental breakfast and for a truly magical start to your day, climb to the top of a dune to witness the captivating Qatari sunrise. If you're in luck, you may even hear the mysterious sound of Qatar's singing sand dunes!
8. Explore the Mangroves by Kayaking
If the two of you are adventure seekers, you absolutely must go kayaking in the mangroves. You'll need to head to Purple Island, also called Bin Ghannam Island, an hour's drive north of Doha. Don't let the name fool you, Purple Island is a green oasis in the heart of Qatar's northeastern region, making it your paradise if you're into nature.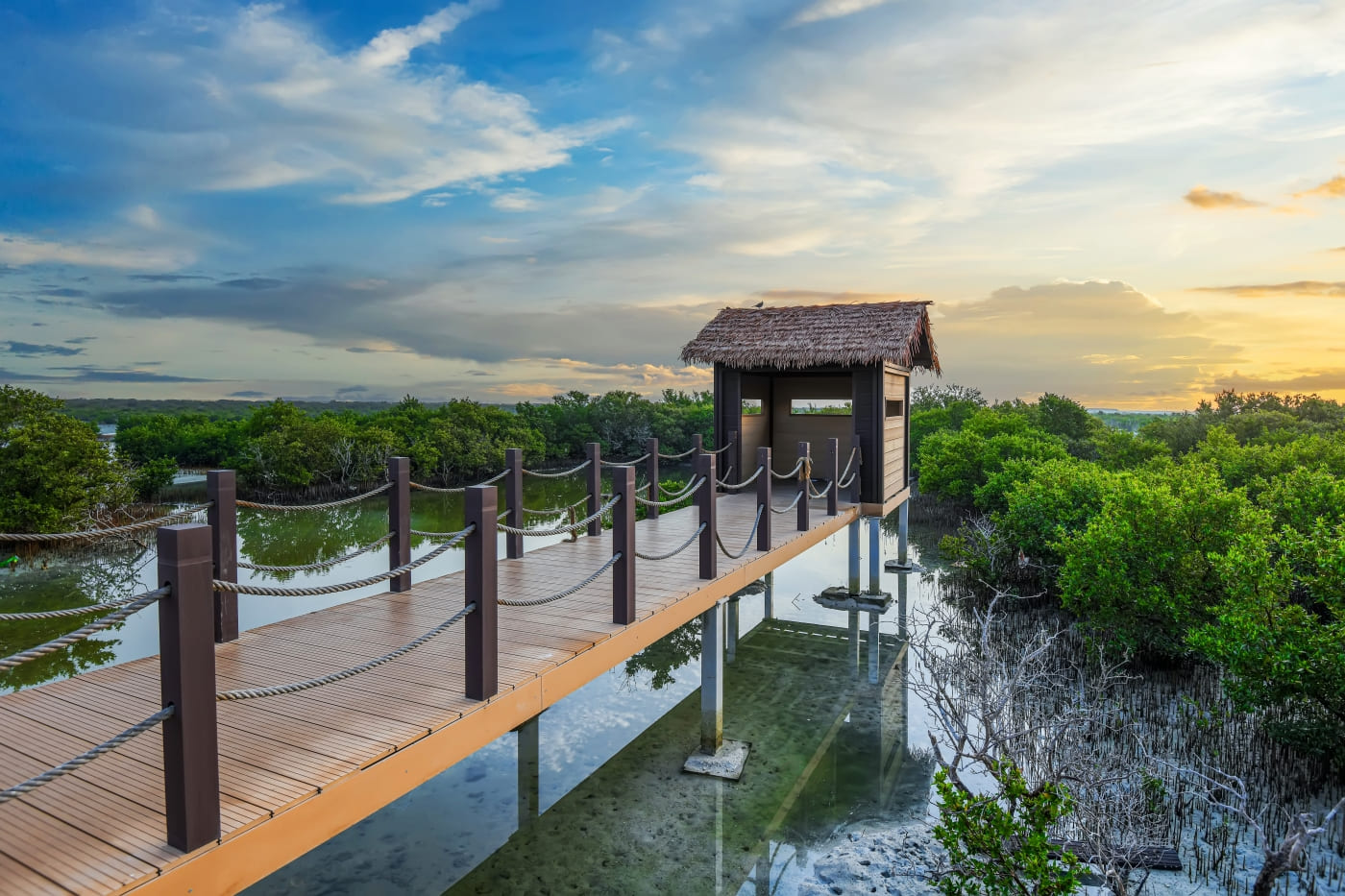 Once you step onto the island, you'll find yourself on a lively nature trail buzzing with life. You may spot all sorts of creatures like fish and crabs, not to mention a collection of unique plants and flowers.
Prepare for some exciting couple-time with popular activities like kayaking and stand-up paddling. It's more than just a fun workout – it's a unique chance for you to explore the mangroves and surrounding waters together. Besides, it's a haven for photography lovers!
9. Indulge in Afternoon Tea at a Luxury Lounge
Treat yourself to an afternoon of luxury at Mandarin Lounge, located in the Mandarin Oriental Doha. For QR310 ($85 US), you and your partner can enjoy the hotel's signature gold leaf cappuccino and butterfly pea flower mocktail, along with classic bites like local cucumbers and roast beef sandwiches and asparagus tart. If you have a sweet tooth, savor desserts like victoria sponge cake, raspberry trifle, and dorset apple cake. If you're planning a trip to Doha in February, you'll score a chance to taste their special Valentine's menu. Plus, it's one of the best months to visit Qatar.
Indulge in a delightful afternoon tea at Mandarin Oriental, Doha. Enjoy sweet and savoury treats as well as a wide selection of teas and other beverages at Baraha Lounge and Mandarin Lounge.#MOdoha #MandarinOriental #MandarinOrientalDoha #ImAFan #AfternoonTea pic.twitter.com/GHcjGuQ2iQ

— Mandarin Oriental, Doha (@MO_DOHA_) August 30, 2022
Alternatively, visit the Seasons Tea Lounge at the Four Seasons between 1pm and 7pm. Here, for QR295 ($81 US) per couple, you'll be served a variety of pastries, tea sandwiches, and homemade scones, all paired with some of the finest teas or cappuccino.
Start the week by treating yourself with our unmissable Sunset Afternoon Tea set. Discover our Ash el saraya in chocolate cup or indulge in our mouthwatering Warak enab skewers.

Which one of them will you try first ? #FSDoha #FourSeasonsDoha #Doha #Qatar pic.twitter.com/SwQe6aT8YF

— Four Seasons Doha (@FSDoha) April 24, 2022
10. Discover the Katara Cultural Village
Next, consider a visit to the enchanting Katara Cultural Village, a haven for art and culture enthusiasts. Strategically situated between West Bay and The Pearl, this romantic destination offers a range of cultural activities, including art galleries, musical shows, exhibitions, and theatrical performances.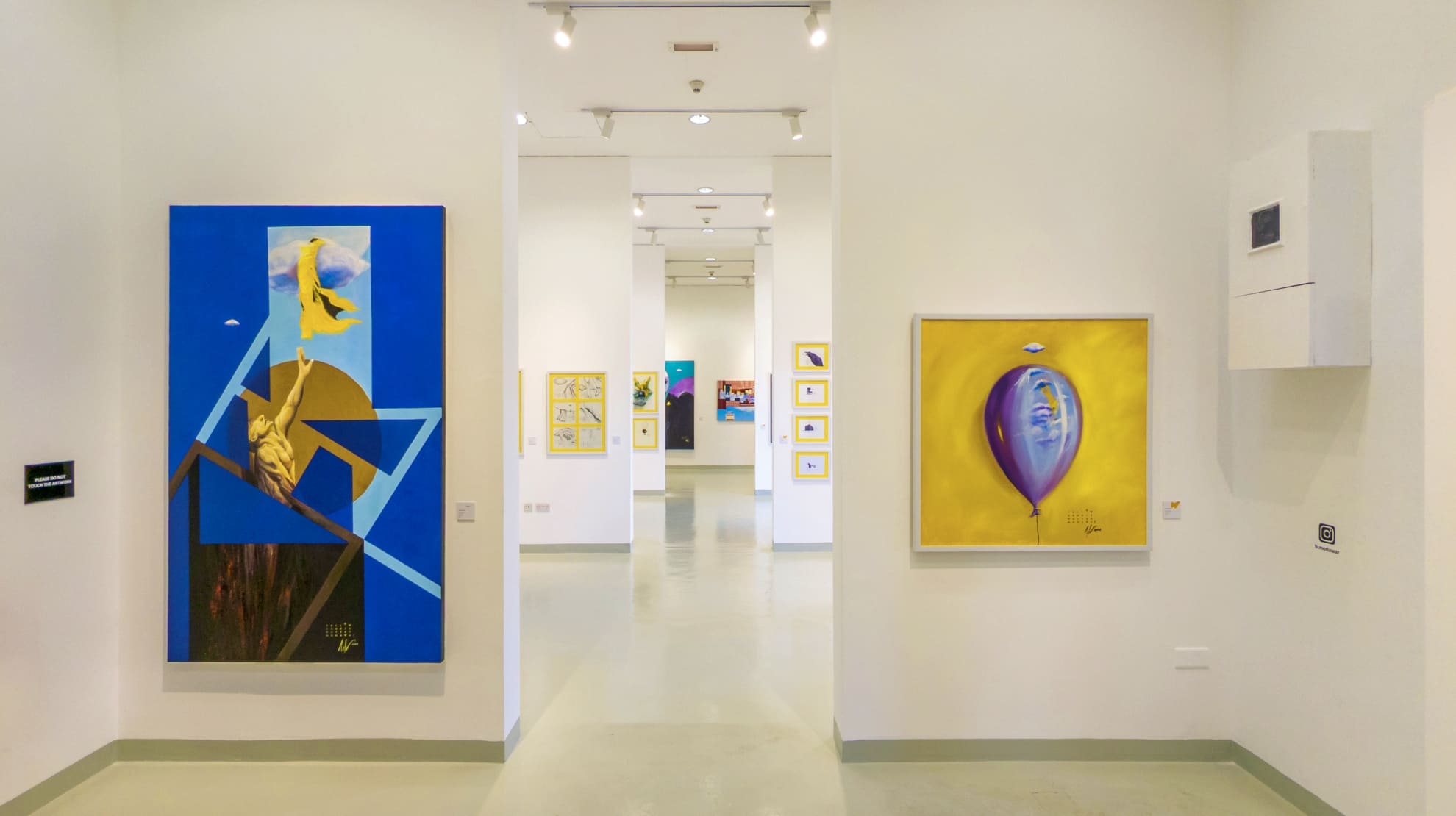 Begin your exploration by meandering through cobblestone alleys reminiscent of traditional souks. Here, art thrives in every corner. FromGreco-Roman amphitheater to the beautiful mosques, and the numerous sculptures and paintings.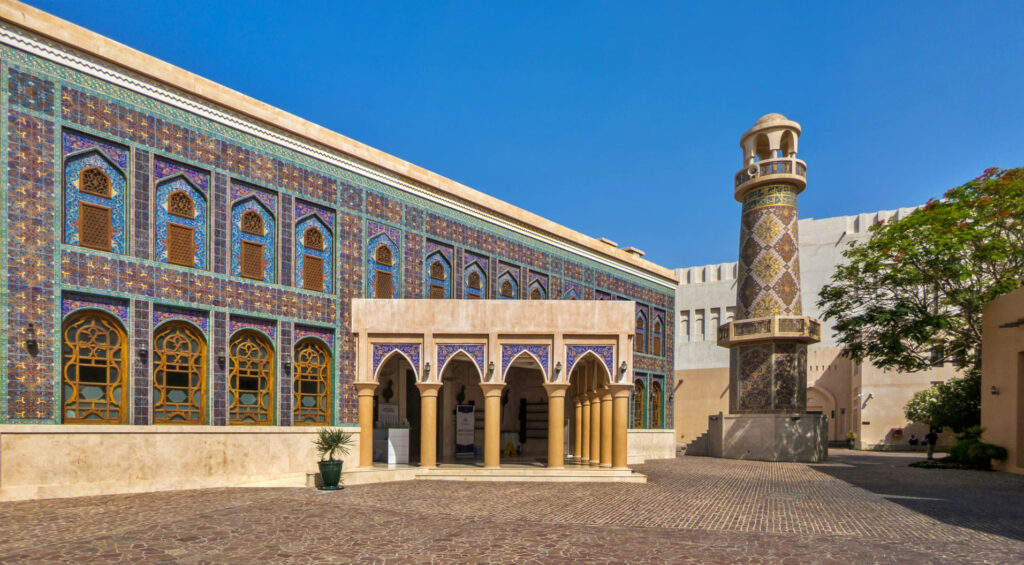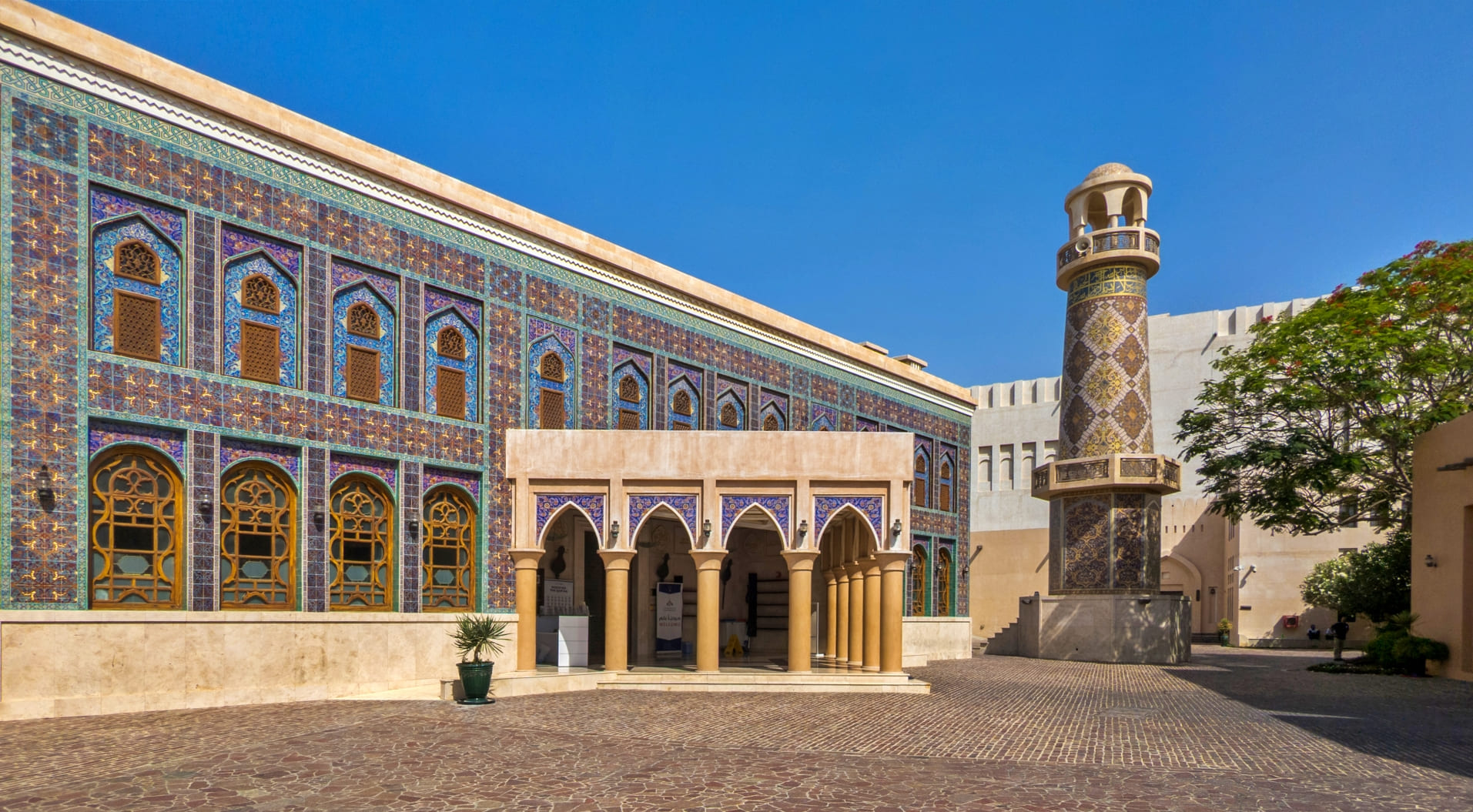 The Amphitheatre has been graced by a variety of international performances—from Tunisian singer Oumaima Taleb to the American legend, John Legend. If you're a classical music aficionado, consider booking two seats at the Katara Opera House to enjoy a symphony or a concerto. Don't forget to check out the schedule for upcoming concerts!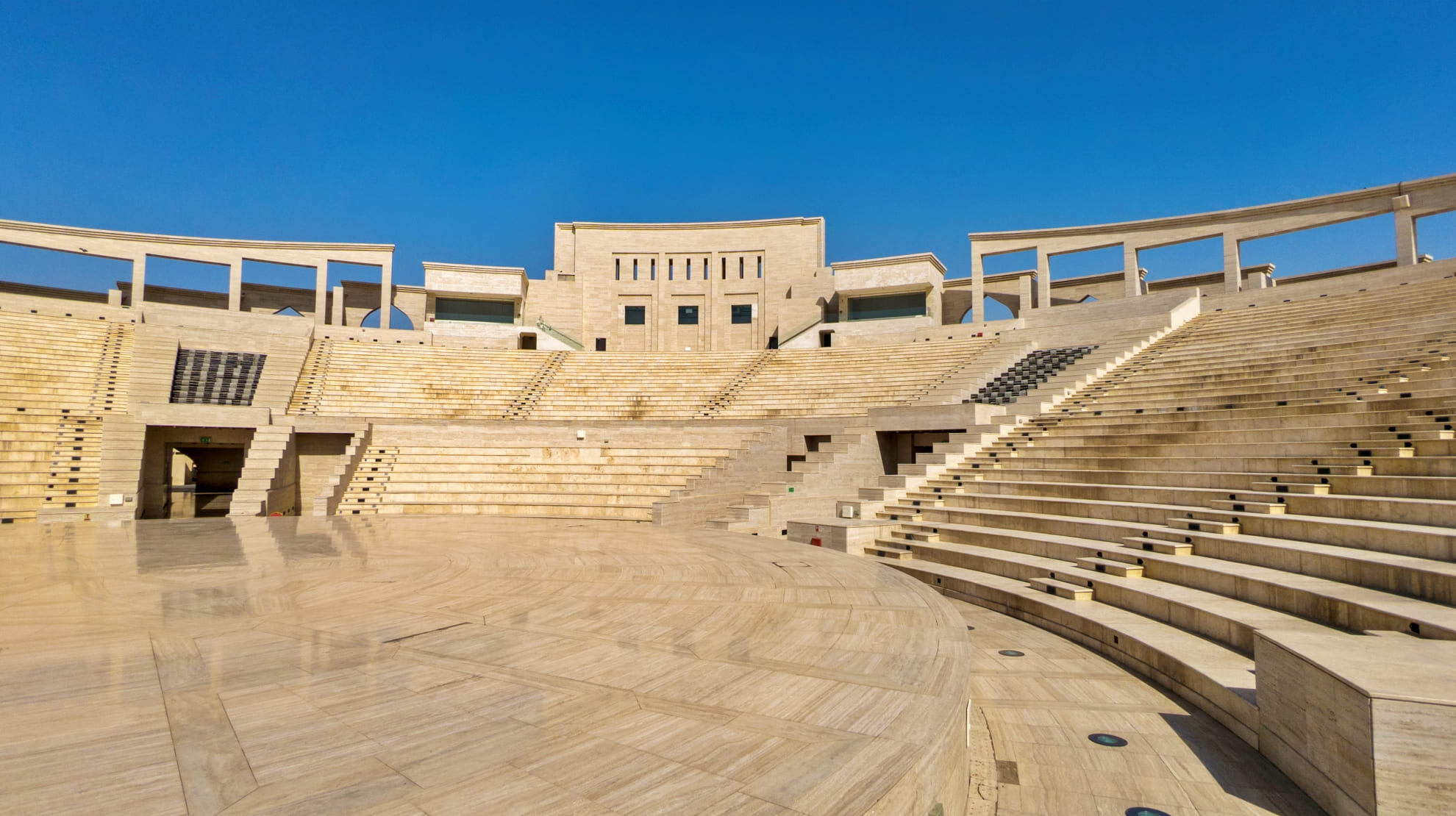 After 4 pm, make your way to the nearby Tasty Street. Here, you can choose from 40 different culinary experiences offered at quaint wooden food stalls, serving everything from delectable burgers to sophisticated ice creams and delightful bubble teas. Yummy!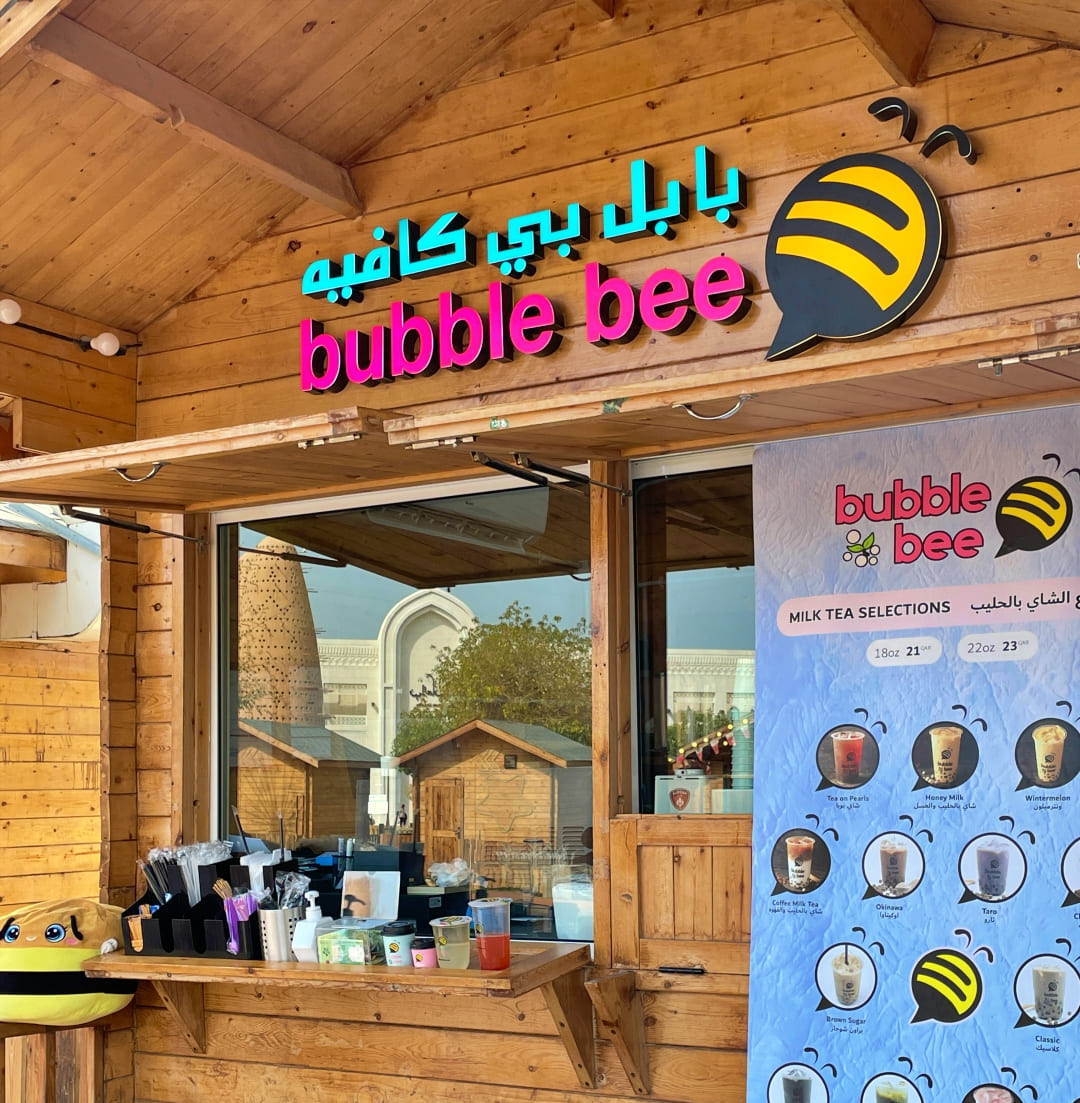 As the sun sets, there's no better way to conclude your evening than by savoring some of Qatar's finest seafood. Make your way to L'Wazaar, a top-tier seafood restaurant located in heart of Katara Cultural Village. Here, not only can you relish fresh oysters and exquisitely crafted sushi, but you also get a unique dining experience.
Upon entering the restaurant, you're greeted by an expansive counter where you can handpick your choice of fresh fish and have the chefs masterfully prepare it to your liking. The restaurant's sophisticated ambiance perfectly complements a menu rich with marine flavors.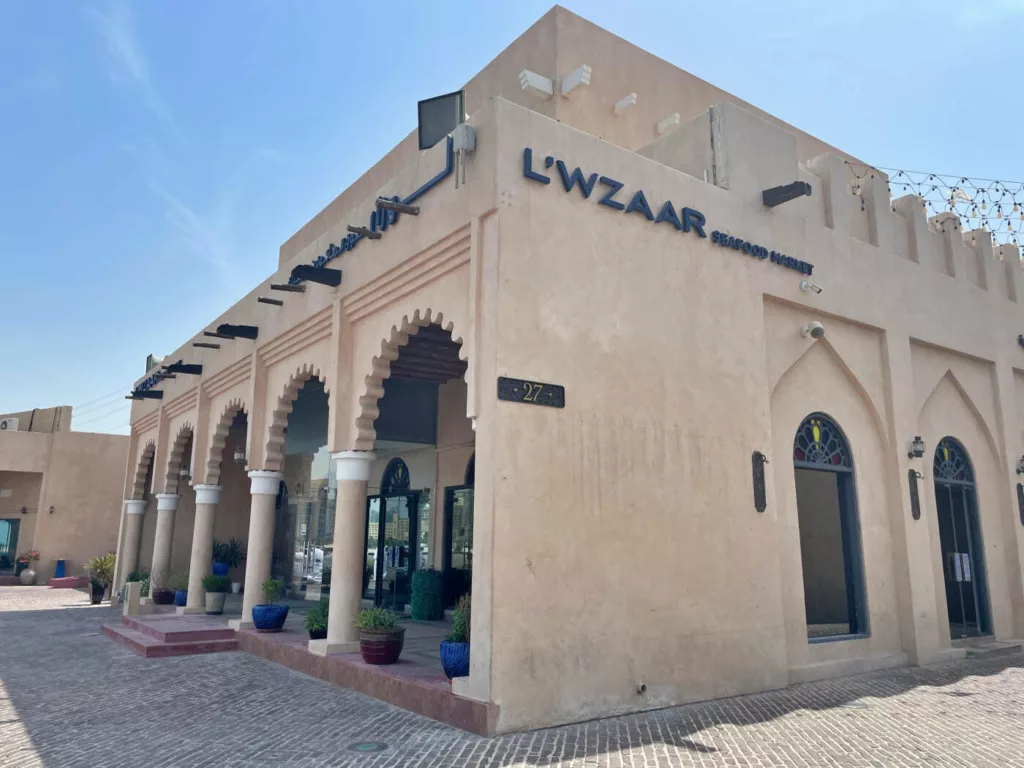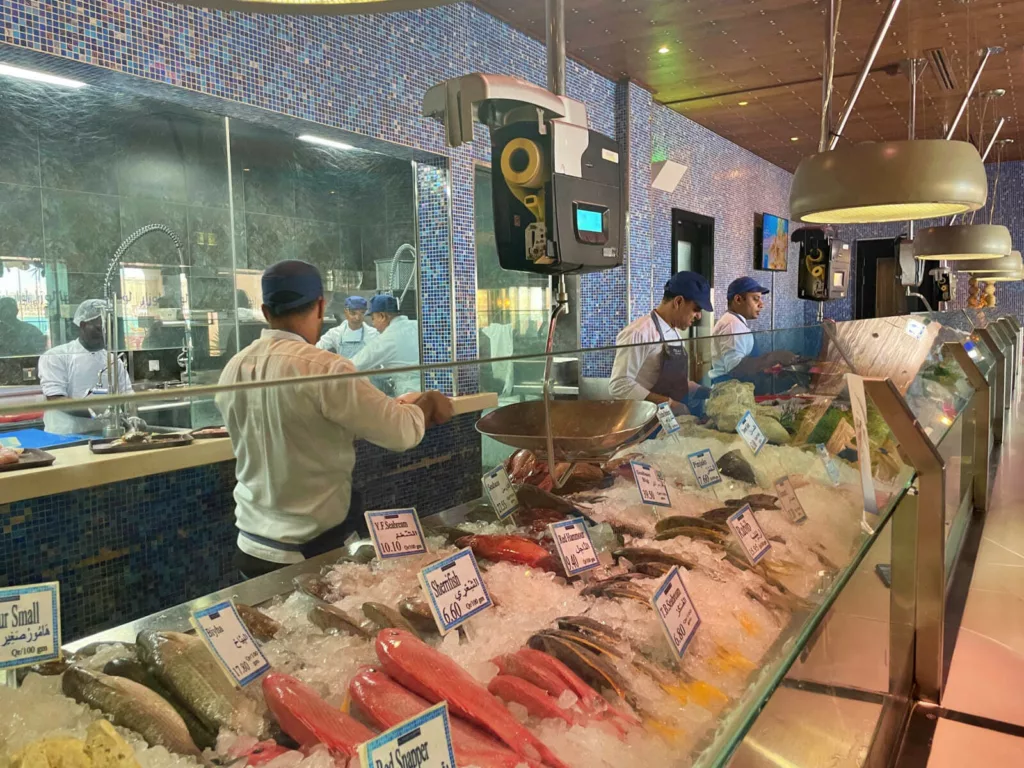 Bear in mind, this restaurant is a favorite amongst the locals… so you'd better call – or swing by early during your tour of Katara Cultural Village to secure your table – to secure your table.
11. Relax by the Sea
What's more romantic than a beach day, strolling hand-in-hand in the sand? Carve out time to enjoy Qatar's stunning beaches while soaking up the sun and sea.
One of the most popular beaches is Katara Beach, located within the cultural village of Katara in Doha, where you can indulge in thrilling water sport activities such as jet skiing, paddleboarding, banana boat rides, and even scuba diving amidst its pristine sands and azure waters.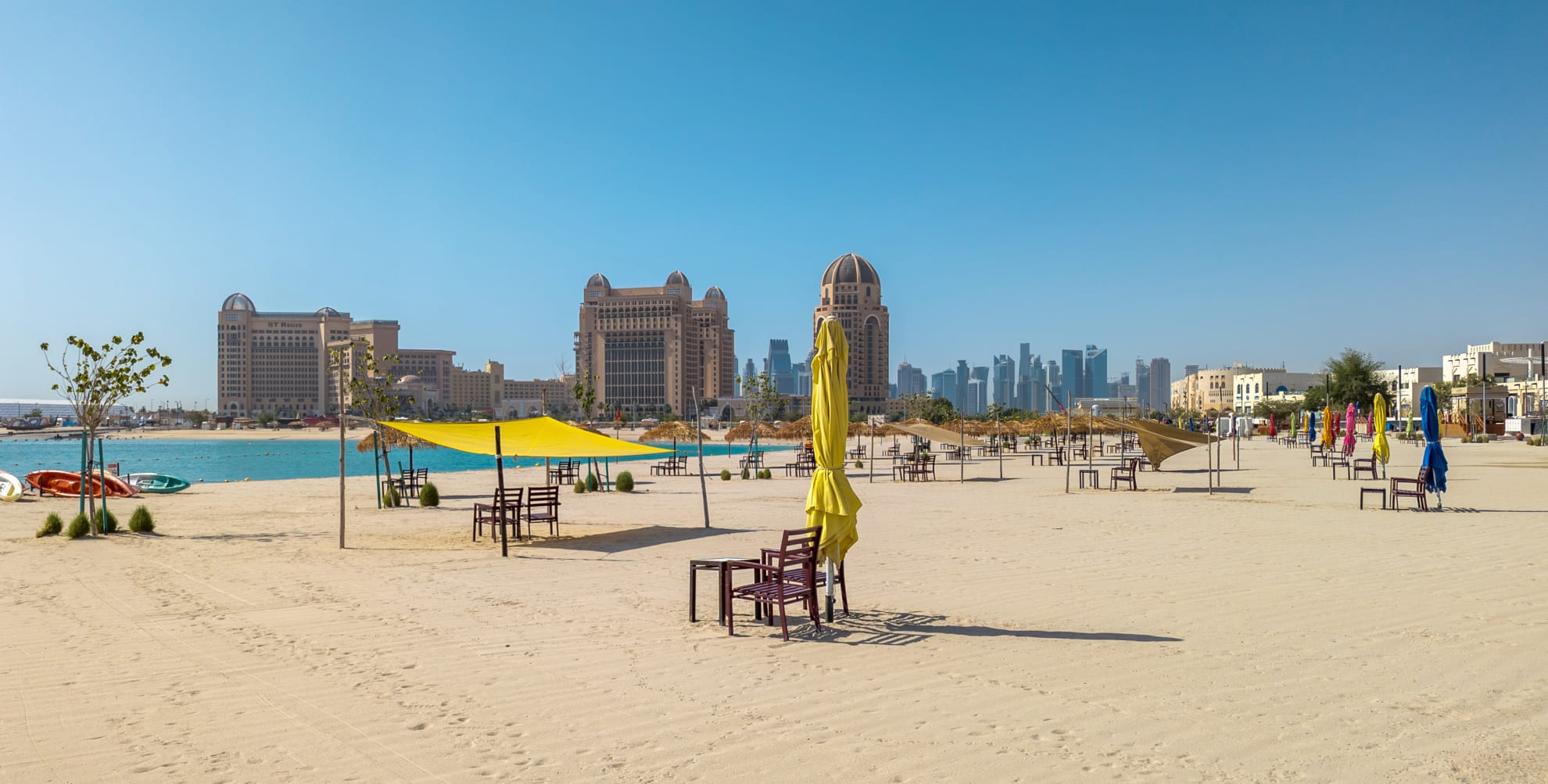 The InterContinental Doha Beach & Spa is home to La Mar, a beach paradise that offers breathtaking views of the West Bay skyline and the shimmering Arabian Gulf. Here, you can lounge on the pristine sands, dip your toes in the clear waters, or simply bask in the warm sun.
Enhance your beach day with a taste of Peru at La Mar's restaurant, where you can savor mouthwatering ceviche, anticuchos (kebabs), and other Peruvian delicacies. As the sun sets, sip on expertly mixed cocktails while enjoying live music on weekends, creating a vibrant and romantic atmosphere.
For a more active beach day, head to B12 in West Bay. This luxurious beach club offers a variety of water sports and activities, from jet skiing to paddleboarding, adding a dash of adventure to your beach experience. Menus include everything from pizzas and salads to sandwiches and cocktails.
B12 checklist:
Delicious food ✅
Fun activities ✅
Colorful views ✅ pic.twitter.com/qU3hr8cEP0

— B12 Beach Club Doha (@b12doha) December 10, 2022
If a bohemian vibe is more your style, the Monkey Tale Beach Club at the Grand Hyatt is the perfect spot. With its laid-back atmosphere, eclectic decor, and stunning beachfront location, it's an ideal place to unwind and enjoy the natural beauty of Qatar's coastline. Relax in air-conditioned cabanas or just soak up the sun on a daybed.
12. Have a Romantic Dinner
Qatar's culinary scene is as diverse as it is exquisite, offering a myriad of dining experiences that are perfect for a romantic meal together.
For an elegant, sophisticated meal, visit Nobu, the renowned Japanese restaurant. Doha's Nobu is the world's largest and it's located at the Four Seasons Hotel's private marina. It offers panoramic 360-degree views of Doha and the Arabian Gulf. You and your partner can indulge in exquisite sushi and sashimi, or try their signature black cod miso, all while taking in the stunning views.
For a truly royal dining experience, Yasmine Palace at The Pearl is a must-visit. This opulent restaurant transports you to a bygone era, with its grand architecture and lavish interiors. The menu offers a variety of Middle Eastern delicacies, allowing you to savor the rich flavors of the region.
If you're looking for a more contemporary setting, Sora at Park Hyatt in Msheireb offers a blend of modern design and culinary innovation. With its stylish decor and a menu that fuses Japanese and American cuisines, it's a perfect choice for a chic and trendy dinner date.
13. Savor the Sunset at a Rooftop Bar
Here are a few ideas for the perfect romantic date night at a rooftop bar in Doha.
Nobu, which we mentioned earlier, isn't just a dining destination; it also boasts a luxurious terrace bar that offers a majestic view of the Arabian Gulf, dotted with luxury yachts.
For a tranquil setting, The Secret Garden at Marsa Malaz Kempinski is your go-to place. Overlooking The Pearl, this oasis hosts ladies' night every Monday and night brunch on Fridays.
For a blend of relaxation and indulgence, try Mix Bar at The Westin Doha. The plush seating and warm lighting create an intimate atmosphere where you can enjoy a romantic evening of cocktails and light bites.
If you're looking for a place with a breathtaking view of Doha's skyline, Sky View at La Cigale Hotel is a must-visit. Perched on the hotel's top floor, this rooftop bar offers panoramic views of the city, along with sushi, a DJ, and nibbles.
Elevate your workweek with Sky View's Happy Hour, available Monday through Saturday (excluding Thursdays).
Join us from 5:30 pm to 9 pm to enjoy another stunning sunset ritual.
T: 4428 8204#SkyViewDoha #LaCigaleHotel #HappyHour #DohabyNight #Nighlife #DohaSocial pic.twitter.com/J4SGkBJIhU

— La Cigale Hotel (@LaCigaleDoha) June 7, 2023
Lastly, we'll mention The Rooftop at the St. Regis Doha. This stylish, modern area boasts stunning views of the Arabian Gulf, along with innovative cocktails, and live DJ sets. Sit back, relax, and enjoy the cool sea breeze with your loved one.
14. Unwind in a Romantic Hotel
As you plan your romantic journey in Qatar, you'll find a myriad of hotels that are perfect for a romantic getaway.
Let's start with Sharq Village & Spa, a Ritz-Carlton Hotel, tucked away at the end of the Corniche. You can unwind in the luxurious spa and indulge in its multiple restaurants, creating memories that will last a lifetime. Plus, you're just minutes away from some of the romantic activities we've mentioned in this post.
Sharq Village & Spa in Doha, #Qatar was built as a recreation of an old Qatari village. What do you think of the spa? pic.twitter.com/YcUU0zUc

— The Ritz-Carlton (@RitzCarlton) February 19, 2013
If you're looking for a more secluded retreat, consider Banana Island Resort Doha by Anantara. As you might have guessed, it's located on a private island, approximately a 25-minute boat ride from Doha. This idyllic resort offers overwater villas, providing a tranquil and intimate setting for your romantic getaway. Immerse yourself in the serenity of the island, arriving in style via a luxurious yacht ferry, and indulge in delicious, organic cuisine that tantalizes your taste buds.
Plan an enchanting stay in one of our luxurious Sea View Pool Villas, each tastefully furnished with family-friendly amenities. Cherish quality time together and come home with priceless memories.

Book your Anantara Villa Exclusive 👉 https://t.co/It0cvKCXKX pic.twitter.com/CJeN0D41Be

— Banana Island Resort (@BananaIslandDOH) March 25, 2022
If a blend of charm and luxury is what you're after, the Souq Al Wakra Hotel Qatar by Tivoli, located in Al Wakrah, a charming city near Doha, is a top choice. With its exquisite interior design, a fusion of Mediterranean and Middle Eastern cuisine, and a variety of amenities, this hotel ensures a comfortable and romantic stay.
15. Experience Ultimate Relaxation at a Spa
To end this list, if you're looking for the pinnacle of relaxation and luxury, Qatar's array of world-class spas offers an unparalleled experience.
The Zulal Wellness Resort by Chiva-Som, the world's first center for Traditional Arabic and Islamic Medicine (TAIM), offers a holistic approach to wellness in a tranquil setting.
Celebrate Eid Al-Fitr in one of our exclusive suites.

A premium retreat for rest and repair with a private infinity pool and sauna, even a garden, all on your own. An oasis of peace and privacy. #ZulalWellnessResort #Zulal pic.twitter.com/ko0CMoRjSJ

— Zulal Wellness Resort (@resort_zulal) April 23, 2022
Another option is the Mandarin Oriental Doha, in Msheireb, just a few minutes walk from Souq Waqif. For full on pampering, try the Omnia Treatment, a holistic experience that includes a nourishing hair and scalp treatment, an invigorating massage, and a revitalizing facial. As you luxuriate in this urban oasis, you'll also have the opportunity to marvel at the grandeur of Baharat Square. This architectural masterpiece, the largest open-air covered town square in the Middle East, adds a touch of the majestic to your spa experience.
Did you know Qatar has the world's largest Sisley Spa? That's right. The Sisley Spa in W Doha Hotel & Residences offers bespoke treatments in a serene setting. You and your partner can choose the renowned Sisley Phyto-Aromatic Treatments, which combine massage rituals from all over the world, using aromatherapy to reunite body and mind.
Adding to the list of luxurious retreats, the Four Seasons Spa offers a private spa suite for couples. This exclusive space features a private whirlpool, steam room, and Swiss shower. Here you can enjoy a range of spa treatments in complete privacy, making it the perfect place to unwind!