Doha has undergone a stunning transformation over the past few decades. What was once a small desert town with only a few buildings is now a vibrant metropolis with stunning skyscrapers and awe-inspiring architecture. Talk about a metamorphosis!
Thanks to the contributions of globally-acclaimed architects such as I.M. Pei, Jean Nouvel, Rem Koolhaas, and Zainab Fadil Oglu, Qatar will amaze you with its architectural masterpieces. What you'll surely find unique about it, is its diverse range of styles with a seamless blending of traditional Islamic motifs with modern design.
Whether you're an architecture aficionado or simply looking to explore a modern city with a rich cultural heritage, Doha's stunning blend of tradition and modernity will have you reaching for your camera at every turn!
National Museum of Qatar
The National Museum of Qatar, is a logical first stop on your journey to discover Doha even if you're just passing by on a short daytime layover in Doha. It's the perfect mix of culture and contemporary design. Designed by the French architect Jean Nouvel, the 40,000-square-meter museum's architecture was inspired by the desert rose, which is not a rose at all but instead a unique mineral found in the Arabian Gulf's deserts. The museum's interconnected steel discs extend for more than 350 meters, a mesmerizing sight that evokes Qatar's ever-changing desert dunes.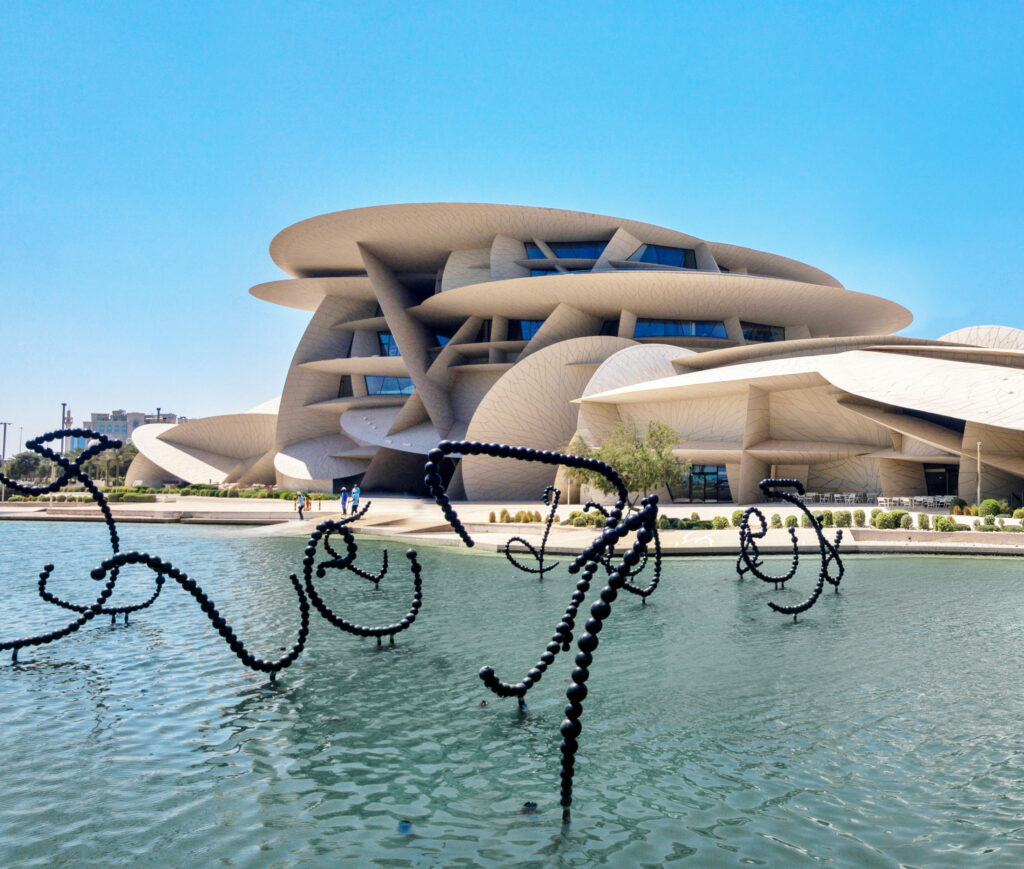 Step inside to find a stylish, monochromatic interior made of local materials such as sandblasted concrete and stone-stucco, which beautifully complement the artifacts on display. As you wander through the museum's captivating galleries, you'll discover a blend of old and new, highlighted by Sheikh Abdullah bin Jassim Al Thani's palace.
The National Museum of Qatar is a great destination to immerse yourself into Qatar's rich history, culture, and geology, with exhibits showcasing Islamic art, traditional jewelry and clothing, ancient weapons, and the country's modern story of oil, gas, and the sea.
Qatar National Library
If you are a book lover or simply an architecture enthusiast, you will love this building! The Qatar National Library, an architectural marvel designed by Dutch architect Rem Koolhaas and his firm OMA, opened its doors in Doha in 2018 after six years of construction. The massive 42,000-square-meter triangular building is a must-visit destination in the heart of Education City, not far from the Qatar National Convention Centre, another impressive landmark building in Qatar.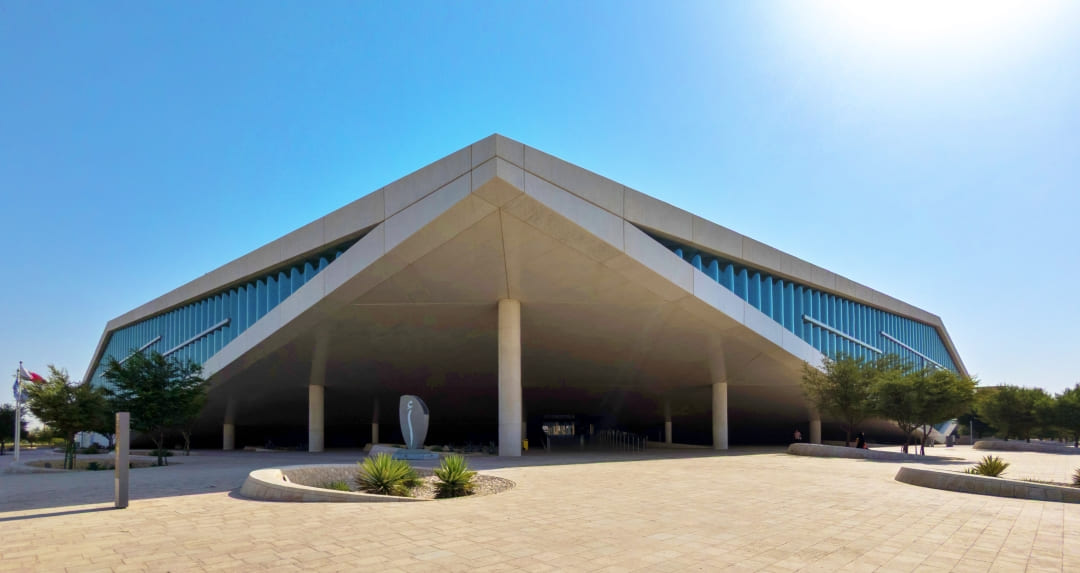 Inside, you'll find more than a million books, including the precious Heritage Collection with its rare manuscripts related to Arab-Islamic civilization. The airy, naturally lit interior features floor-to-ceiling windows, while a bridge serves as a social space, complete with reading tables and a versatile auditorium.
Museum of Islamic Art
As you stroll along the Corniche, Doha's picturesque 4.3-mile (7-kilometer) waterfront promenade, the Museum of Islamic Art emerges as an iconic landmark. Designed by the legendary Chinese-American architect I.M. Pei, this architectural marvel masterfully blends traditional Islamic elements with modern design.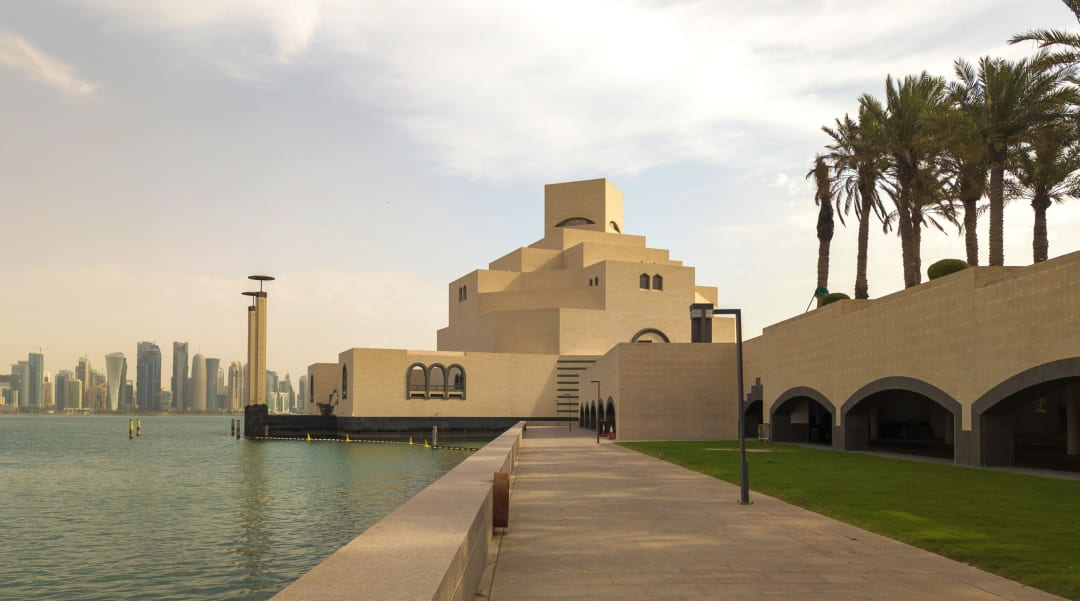 Inside, the five-story main building and its smaller education wing are connected by a stunning central courtyard that even made a cameo in a recent Jason Statham movie.
The museum's limestone exterior and striking 45-meter-tall windows offer breathtaking views of West Bay, while the intricate geometric patterns and elegant Arabic calligraphy adorning the walls and ceilings are so stunning that they alone are worth the visit. The high-domed atrium brings in the sunlight, which playfully peeks through the oculus to create a magical atmosphere. And let's not forget the fountains and mist gardens that pay homage to traditional Islamic aesthetics.
Don't miss the museum's remarkable collection of artifacts, including the Blue Qur'an and the Varanasi necklace, as you take a journey through Islamic history, culture, and art.
Al Thumama Stadium
Next, continue on your journey through Doha's architectural wonders by exploring the magnificent Al Thumama Stadium, found in the heart of the city. Masterfully crafted by renowned Qatari architect Ibrahim M. Jaidah, the 40,000-seat stadium draws its inspiration from the gahfiya, a traditional headpiece worn by men across the Gulf region.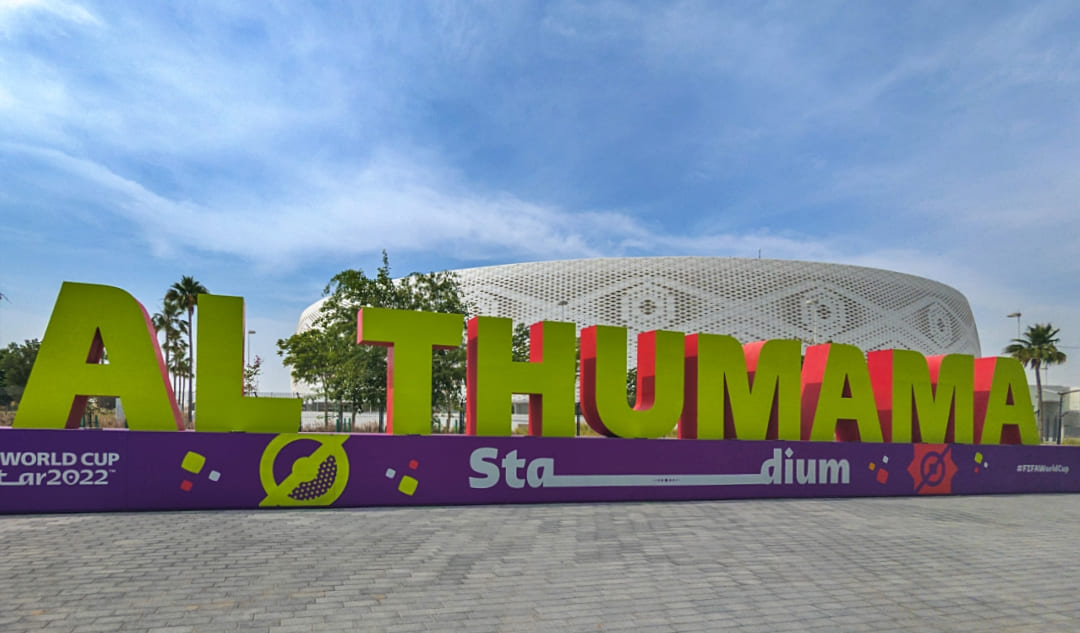 As you admire the stadium's stunning circular design and intricate diamond-patterned exterior, you'll be intrigued by the larger rhombic shapes and the roof's circular opening.
Built to dazzle the world during the FIFA World Cup Qatar 2022™, Al Thumama Stadium is among the eight impressive stadiums used during the event, and it stands out for its exceptional Qatari architecture. The other notable venues you've seen on TV if you watched the last World Cup, include Al Janoub Stadium, Al Bayt Stadium, and Education City Stadium.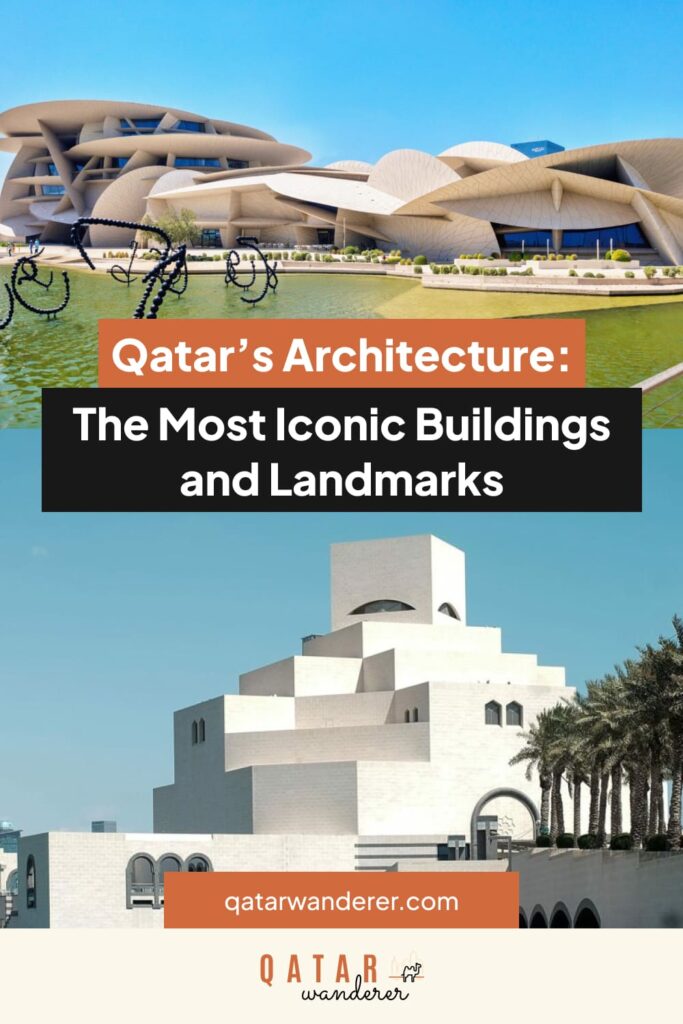 No time to read?
Pin it on Pinterest and revisit it later.
Burj Doha
The Burj Doha, which was previously known as Burj Qatar, is an unmistakable presence in Doha's skyline, capturing attention with its remarkable design.
Designed by Jean Nouvel, the Doha Tower – Burj means Tower in Arabic – is a fusion of contemporary design and traditional Islamic motifs that are emblematic of the local culture.
The tower's facade is a double skin made of aluminum that resembles traditional shanasheel Arab windows. This design not only looks impressive but provides optimal solar protection with its surrounding shade.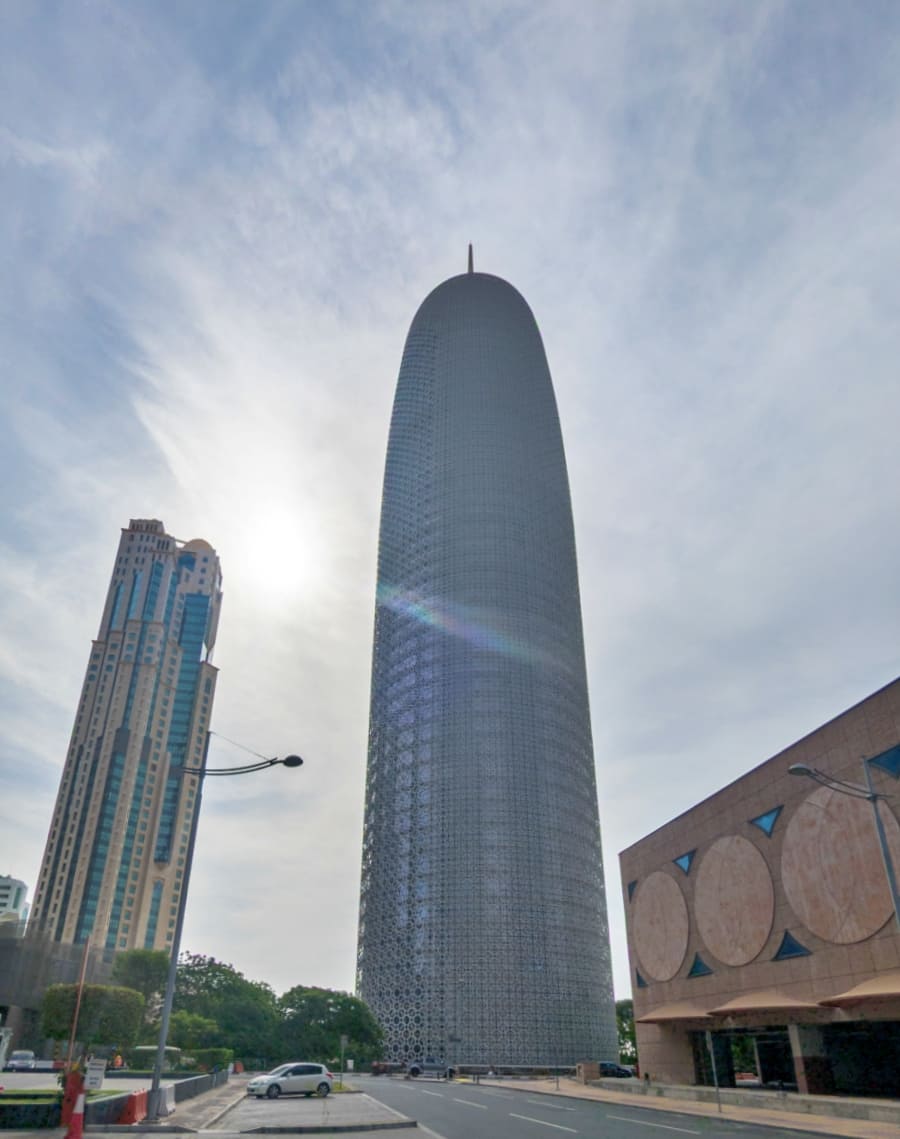 As you step inside the building through the landscaped garden, you'll be awestruck by the vast hall under a glass roof. The atrium on the 27th floor is at a dizzying height of 112 meters, making you feel like you're on top of the world.
The lobby itself boasts luxurious marble floors, polished metal, and intricate patterns on the walls, creating a sense of luxury and sophistication.
Tornado Tower
Right next to Burj Doha, the Tornado Tower is a 52-story cylindrical structure that stands at 195 meters, offering panoramic views of the cityscape. True to its name, the design resembles a tornado and is beautifully illuminated at night, creating a stunning spectacle of lights against the Doha skyline – a literal twister of lights!
Upon entering the Tornado Tower, you'll be met with grandeur and elegance. Marble floors, polished metal, and intricate wall patterns create an ambiance of luxury and sophistication.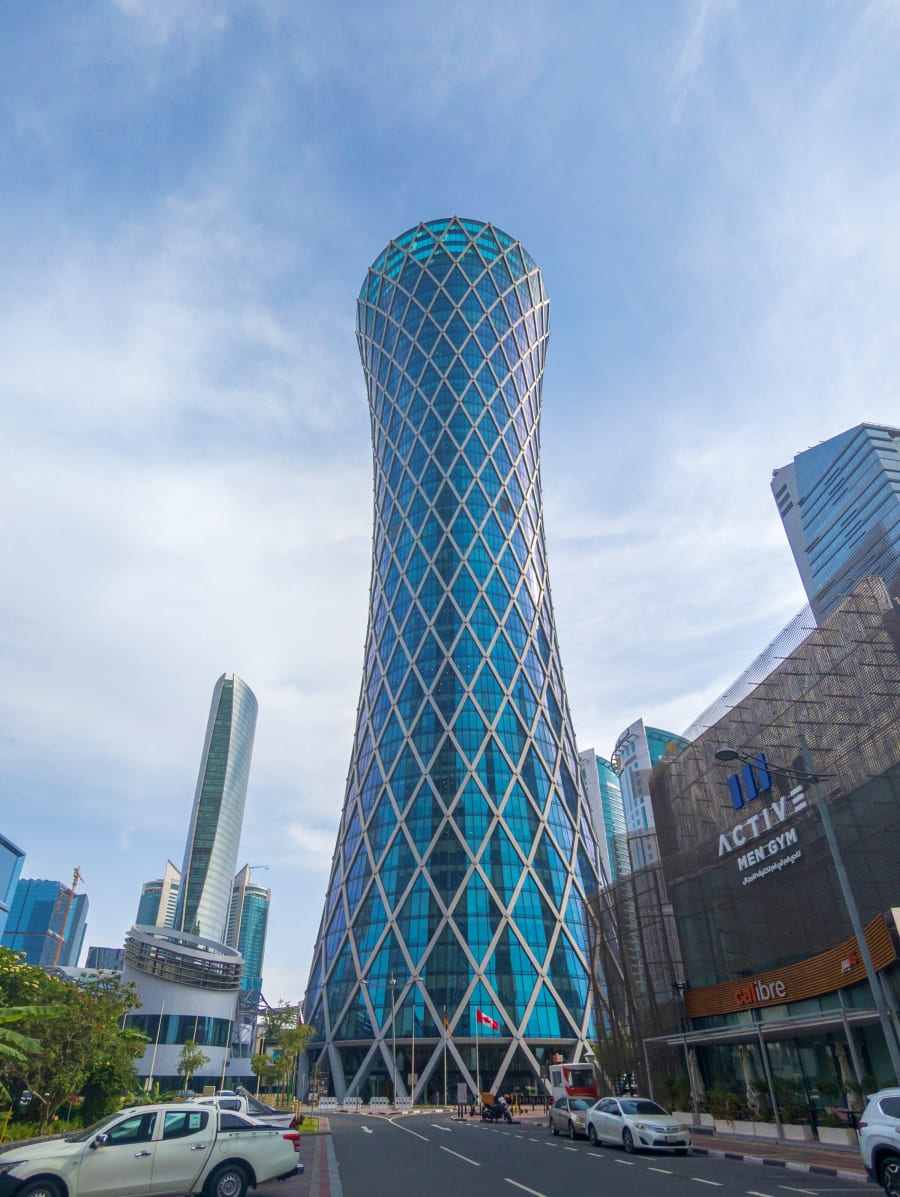 Craving a lunch with a breathtaking view? Head to the Anvil Rooms, situated on the 28th floor of the Tornado Tower. Savor a delicious steak while taking in the captivating vistas of the Arabian Gulf.
Katara Towers
If you enjoyed the Tornado Tower, you shouldn't miss the iconic Katara Towers, also known as Crescent Tower. This building is based in Lusail, the one of the main cities in Qatar, just a few minutes drive from Doha's city center. Even if you don't come close to them, you'll probably see them from afar.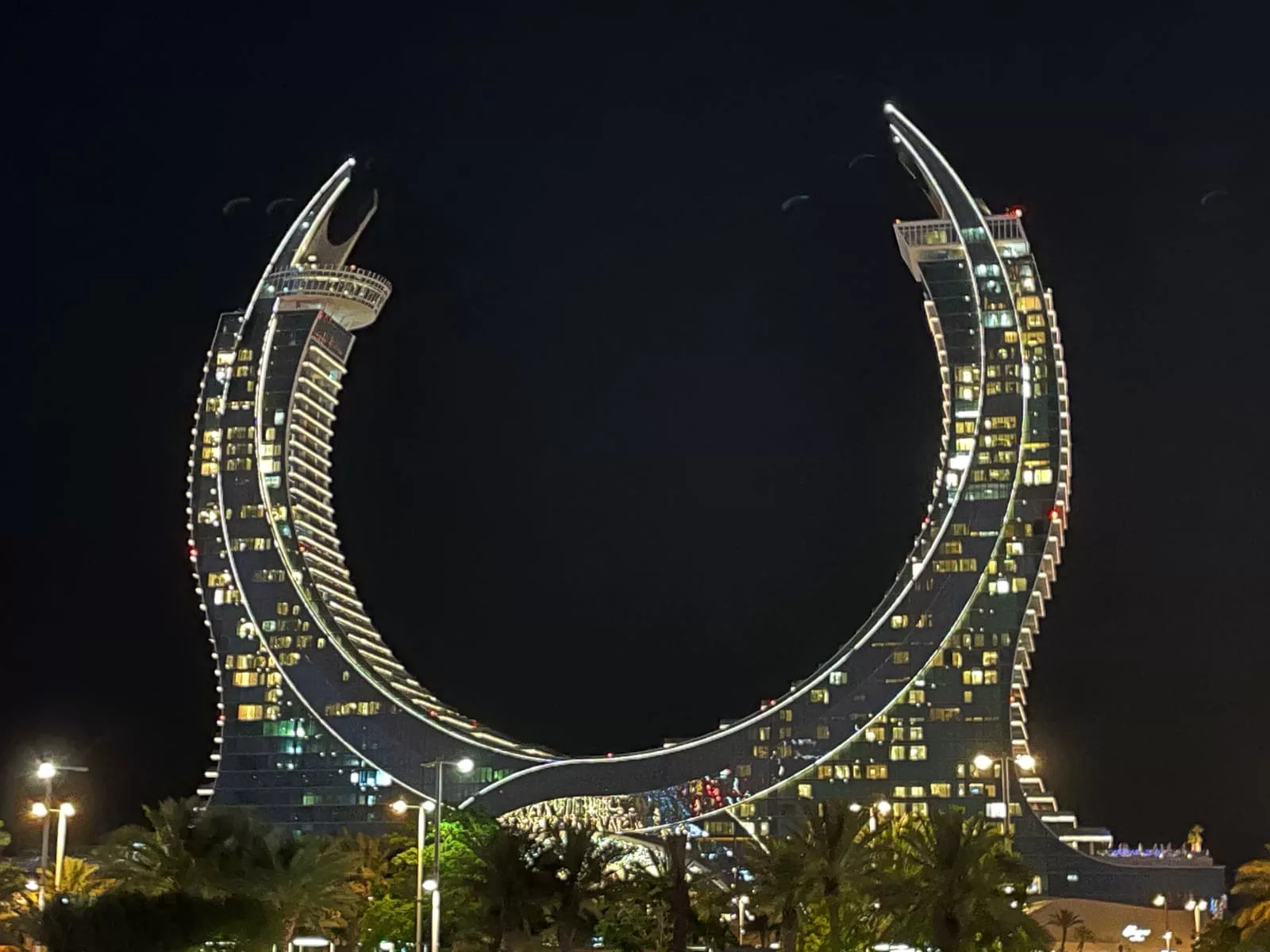 With a design that pays homage to Qatar's iconic scimitar swords, these towers host two of Qatar's most luxurious hotels: the Raffles Doha and the Fairmont Doha, both of which opened their doors during the 2022 FIFA World Cup.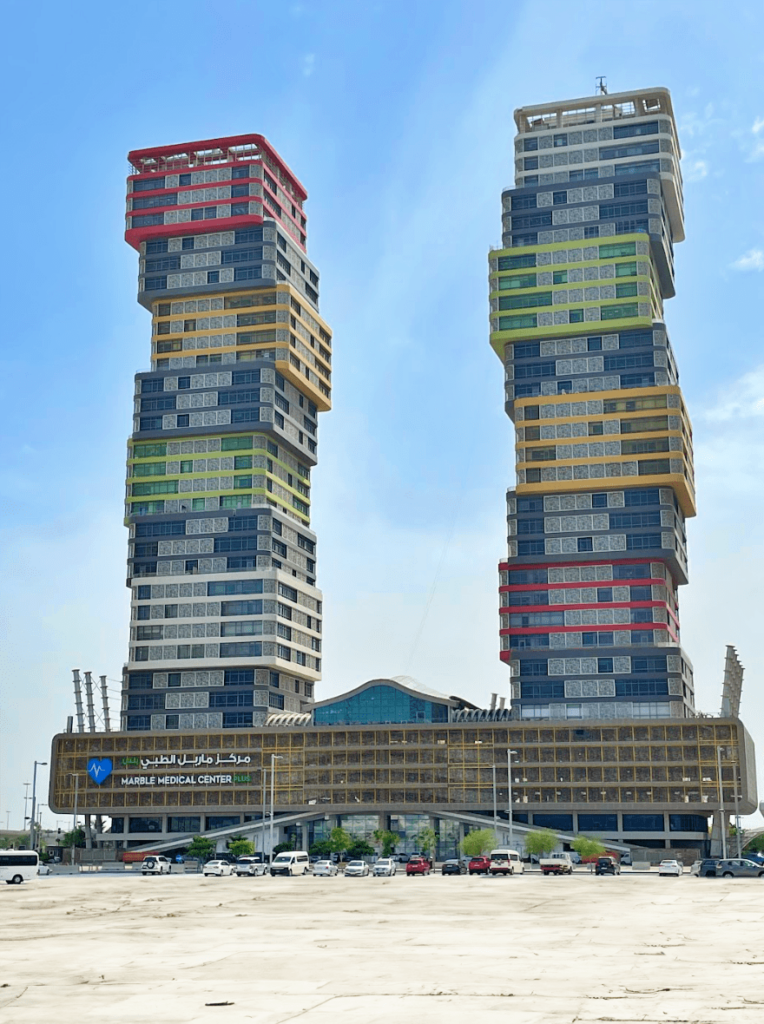 A few minutes' walk from these towers, you'll come across two vibrant 32-story structures, known as the Marina Twin Towers or the Lego Towers — and you'll quickly see why! Located within these towers, the Plan B Cafe, Laura Cafe, and Sidamo Cafe are fantastic spots to savor a coffee or a dessert while enjoying the scenic view of the Katara Towers.
East-West/West-East
Richard Serra's Steel Monoliths, known under the name "East-West/West-East", are a special art experience in the Brouq Nature Reserve, located 80 kilometers from Doha. Commissioned by Sheika Al Mayassa bint Hamad bin Khalifa Al Thani in 2014, the four steel monoliths stand 15 meters tall amidst the dunes of the reserve. You'll need to drive a 4×4 vehicle to access the site.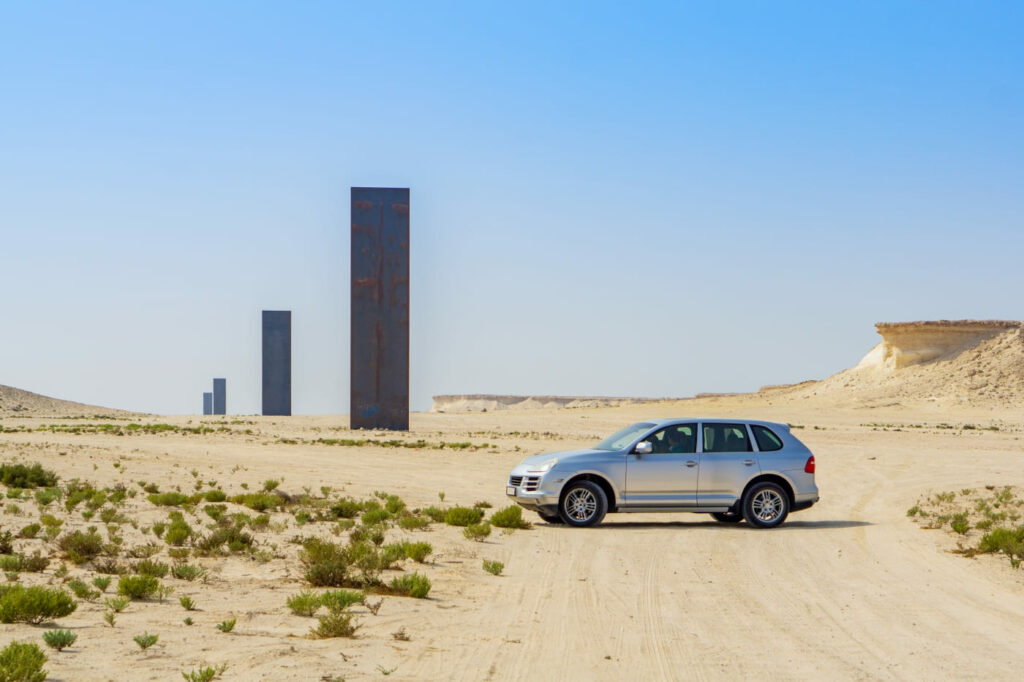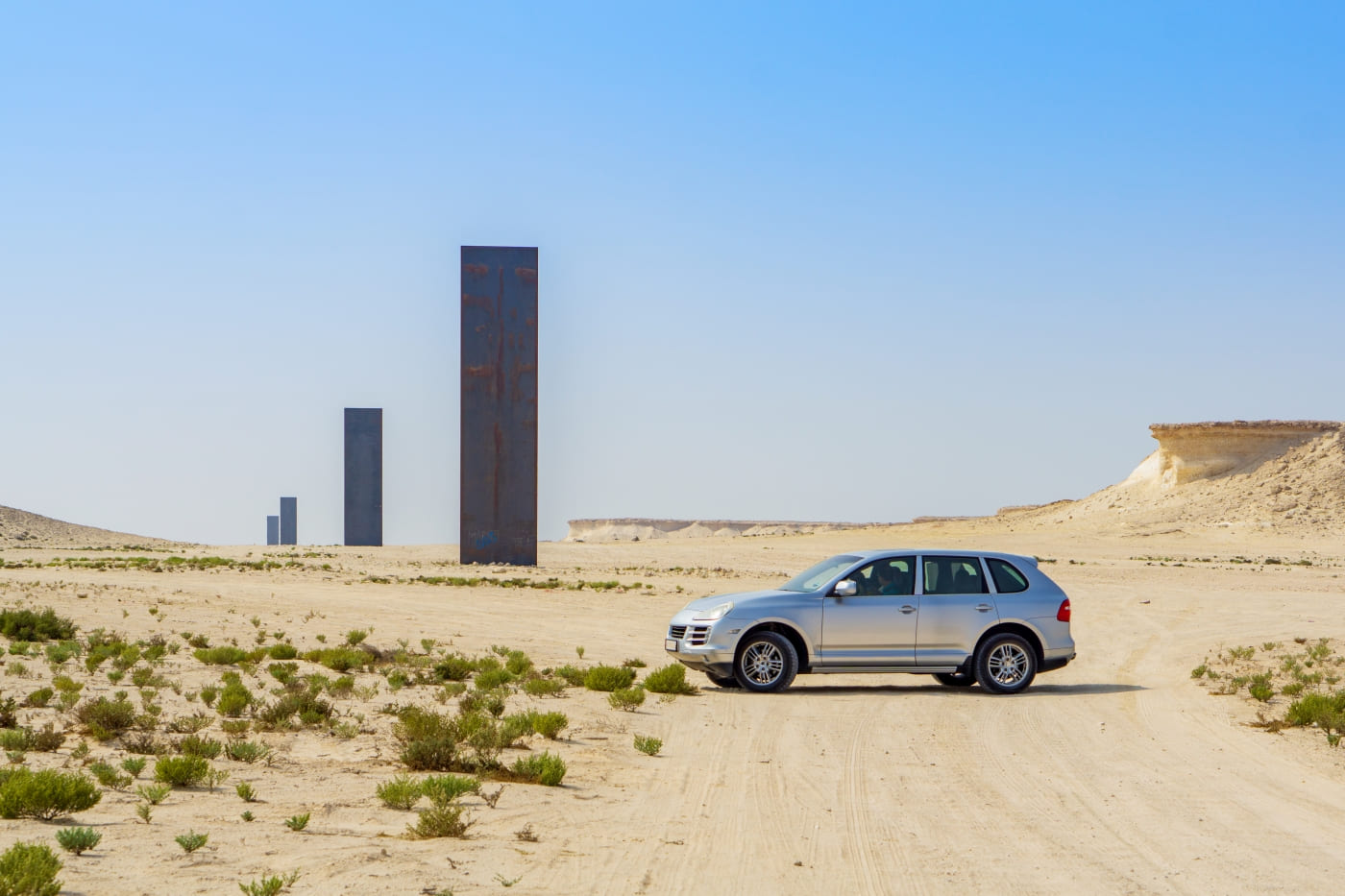 Serra's minimalist aesthetic and emotional impact are evident in the monoliths, which evoke a sense of human vulnerability in the face of nature's power. The integration of the monoliths into the landscape creates a sense of dynamism and encourages you to walk around and between them to experience them from different perspectives. And as if these towering beauties weren't enough, their smooth surfaces reflect the colors of the surrounding environment, adding a touch of chameleon-like elegance to the mix.
If you visit during the evening, as the stunning sunset casts the desert in a warm, golden glow, you'll witness the monoliths beautifully illuminated, further enhancing your experience.
Katara Mosque
A beauty created by the acclaimed Turkish mosque designer Zainab Fadil Oglu, the Katara Mosque's exterior exhibits intricate geometric patterns and a grand dome that stands out against the bright blue sky. But it's the elegant turquoise and purple mosaics inside and out that really showcase Ms. Oglu's artisanal genius.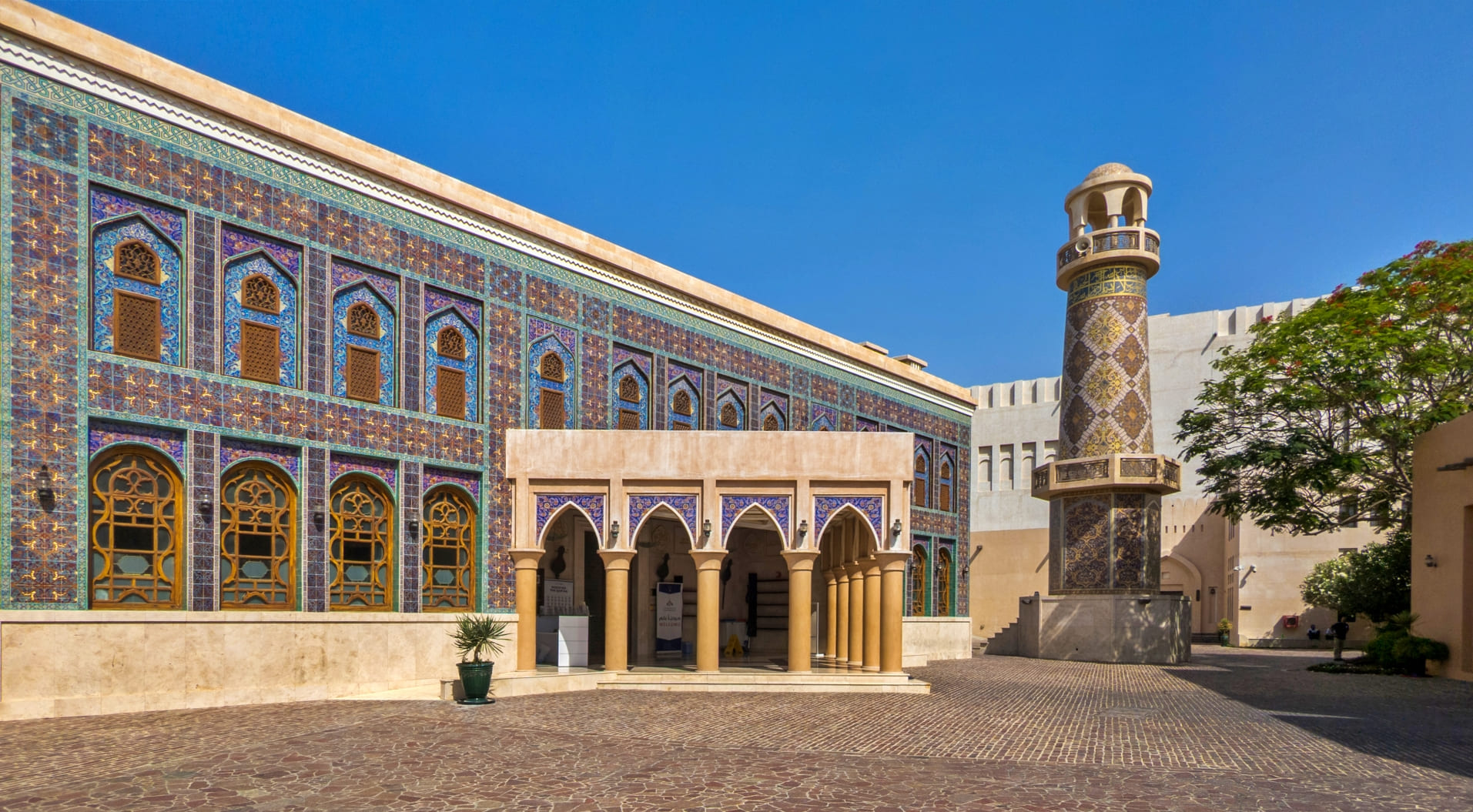 Inspired by some of the great mosques in Egypt, Syria, and Iran, every detail was carefully plotted, including the inscriptions that adorn the walls and ceilings. You don't want to miss the picturesque minaret, a popular photography subject for Muslim and non-Muslim tourists alike!
The mosque is not just a place for prayer but also for learning. The library contains a wide range of books and resources on Islamic history, culture, and architecture.
Katara Amphitheatre
Looking for a cultural experience that's truly unique to Doha? The Katara Amphitheatre shouldn't be missed by travelers interested in exploring the city's cultural offerings. Not far from the Katara Mosque, this open-air venue is an exquisite marriage of Islamic architecture and classical Greek theater design.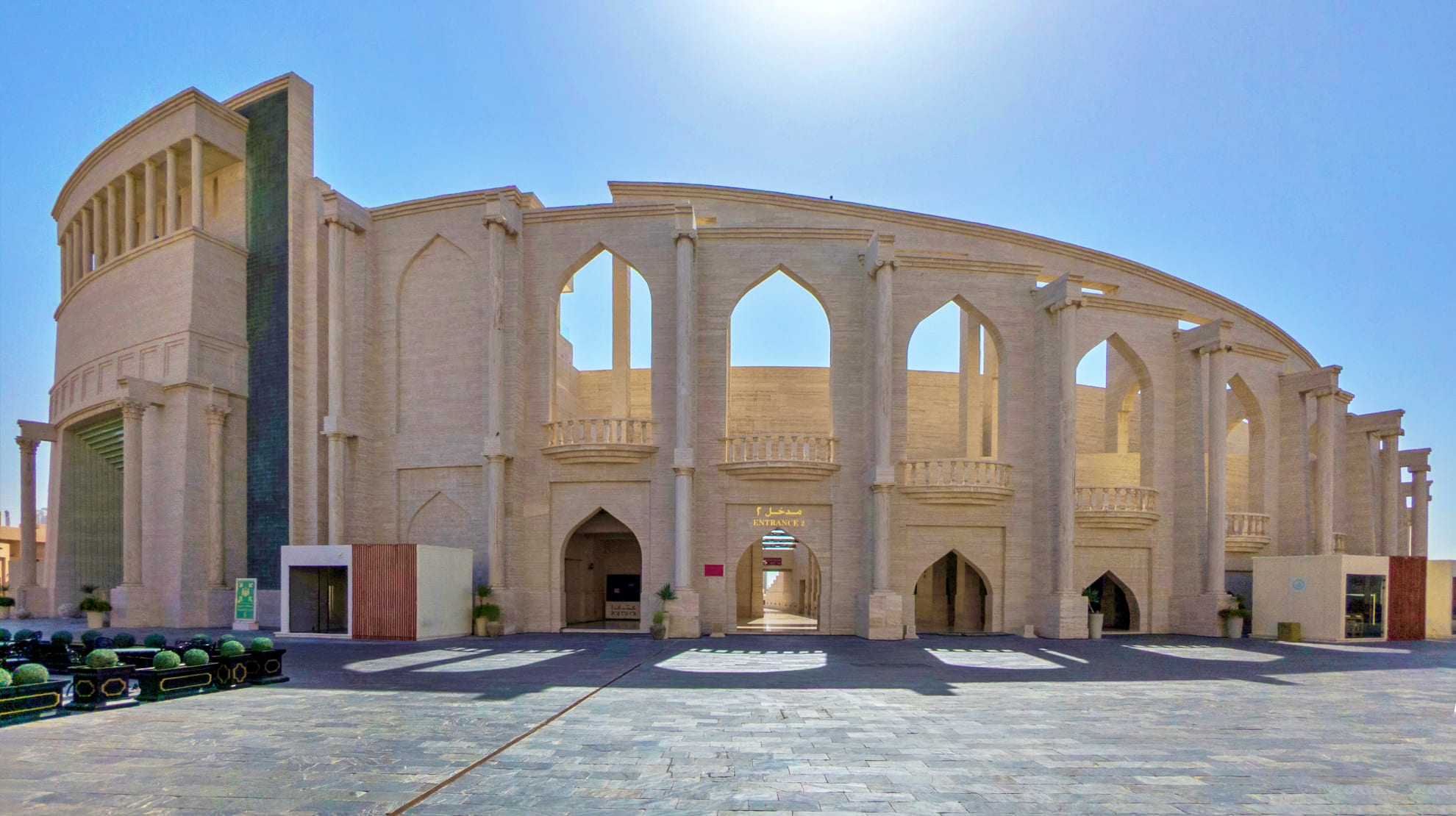 The amphitheater covers more than 35,000 square feet (3,250 square meters) and is capable of accommodating up to 5,000 people in one sitting. Over the years, it's hosted a variety of shows, from outdoor film screenings to dance performances and concerts.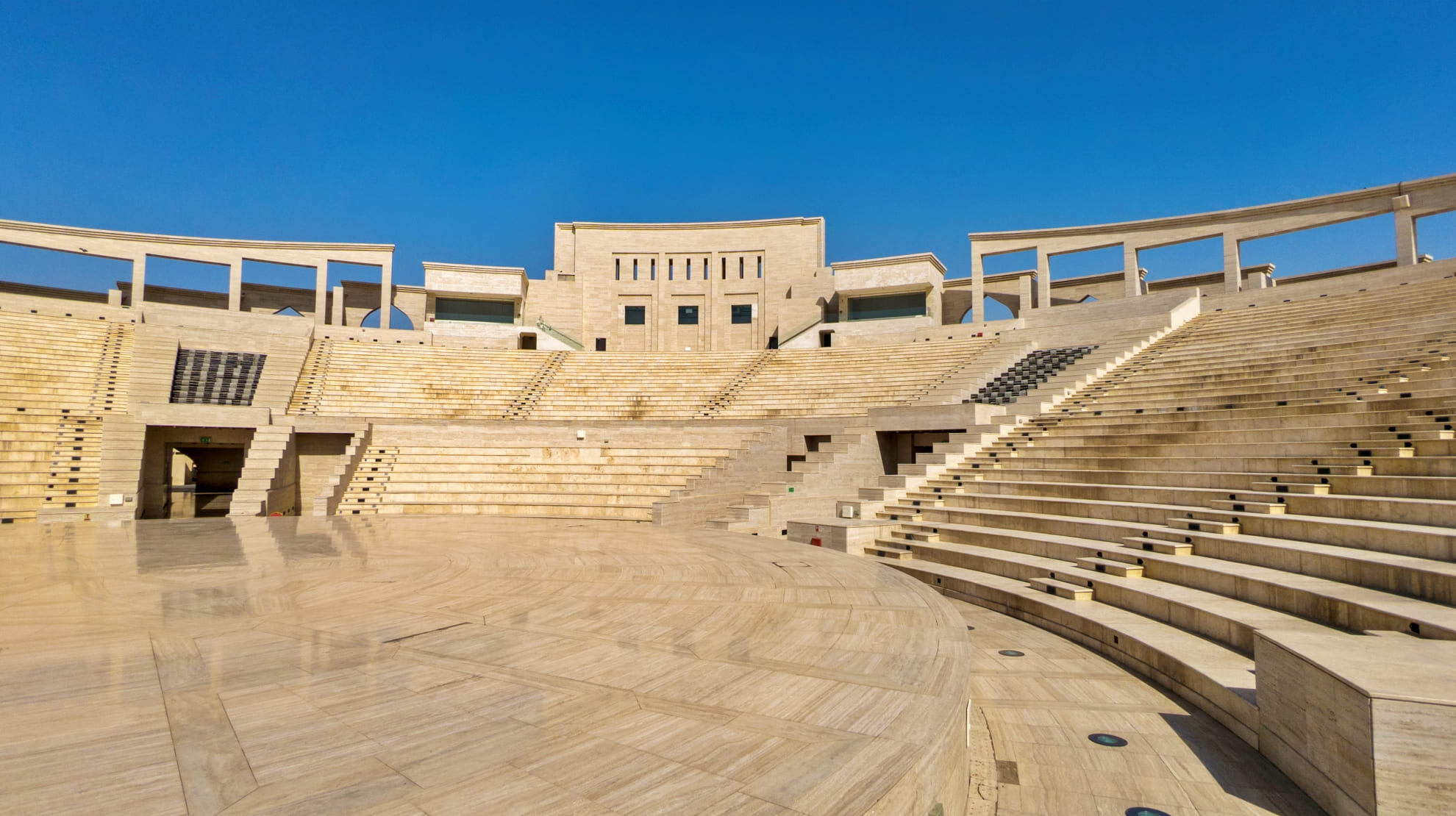 The Katara Amphitheatre is open to the public, meaning you can appreciate the outstanding architecture and surrounding gardens, fountains, and sculptures any time they wish. And if you're lucky enough to attend a performance, you're in for an unforgettable experience. Recent events include Disney Princess – The Concert and John Legend's live concert.
Plus, the amphitheatre offers breathtaking views of both the sea and the cultural village, adding to the overall experience.
Education City Mosque
Yet another noteworthy structure to visit in Qatar is the Education City Mosque, where traditional Islamic motifs meet modern architecture in a magnificent display of design. The mosque was built to accommodate the students and staff at Education City and features a unique blend of old and new elements.
As you explore the mosque, you'll be struck by the intricate designs and patterns that adorn the walls, ceiling, and floor. The natural light that filters through the windows creates a peaceful ambiance, making it the perfect place for prayer and reflection.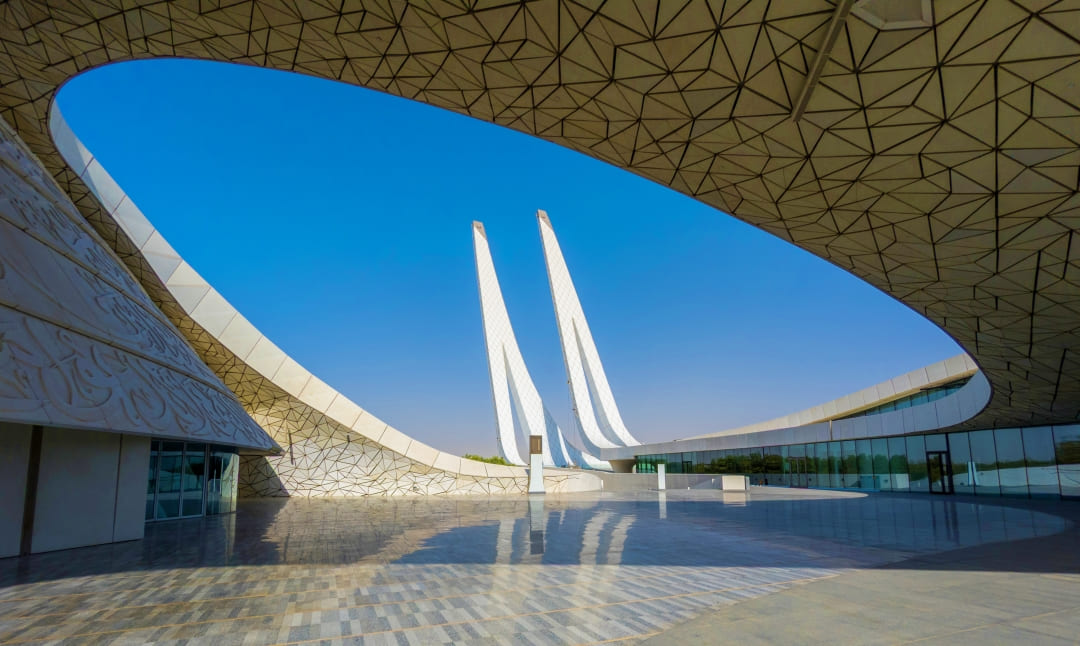 Designed by Iraqi architect Taha Al-Hiti, the mosque features several highlights, including 90-meter-tall minarets adorned with Arabic calligraphy, five pillars that symbolize the five pillars of Islam, and water flowing under the building from four streams in the surrounding garden.
As you plan to visit this religious site, be prepared to respect the customs of the Islamic faith by dressing modestly.
Maps of Qatar's Most Iconic Buildings and Landmarks