Souq Waqif is a world all of its own. The sights, smells and sounds of this magnificent traditional market effortlessly draw you in, and before you know it, you've been shopping and exploring it for hours! It's a great place to hang out after an afternoon spent at the National Museum of Qatar or at one of Doha's beautiful beaches.
But now, you're hungry… And there are so many restaurants in sight that it's hard to know where to even start!
Luckily for you, I've pulled together this list of my top 10 favourite eateries in Souq Waqif. Each brings its own unique culinary spin to the rich tapestry that is Souq Waqif! With dishes spanning from Thailand to Morocco, as well as unforgettable Qatari cuisine, the souq truly offers a world of flavours.
You can't go wrong dining at any of the restaurants covered in this blog post. Here are 10 of the best restaurants in Souq Waqif!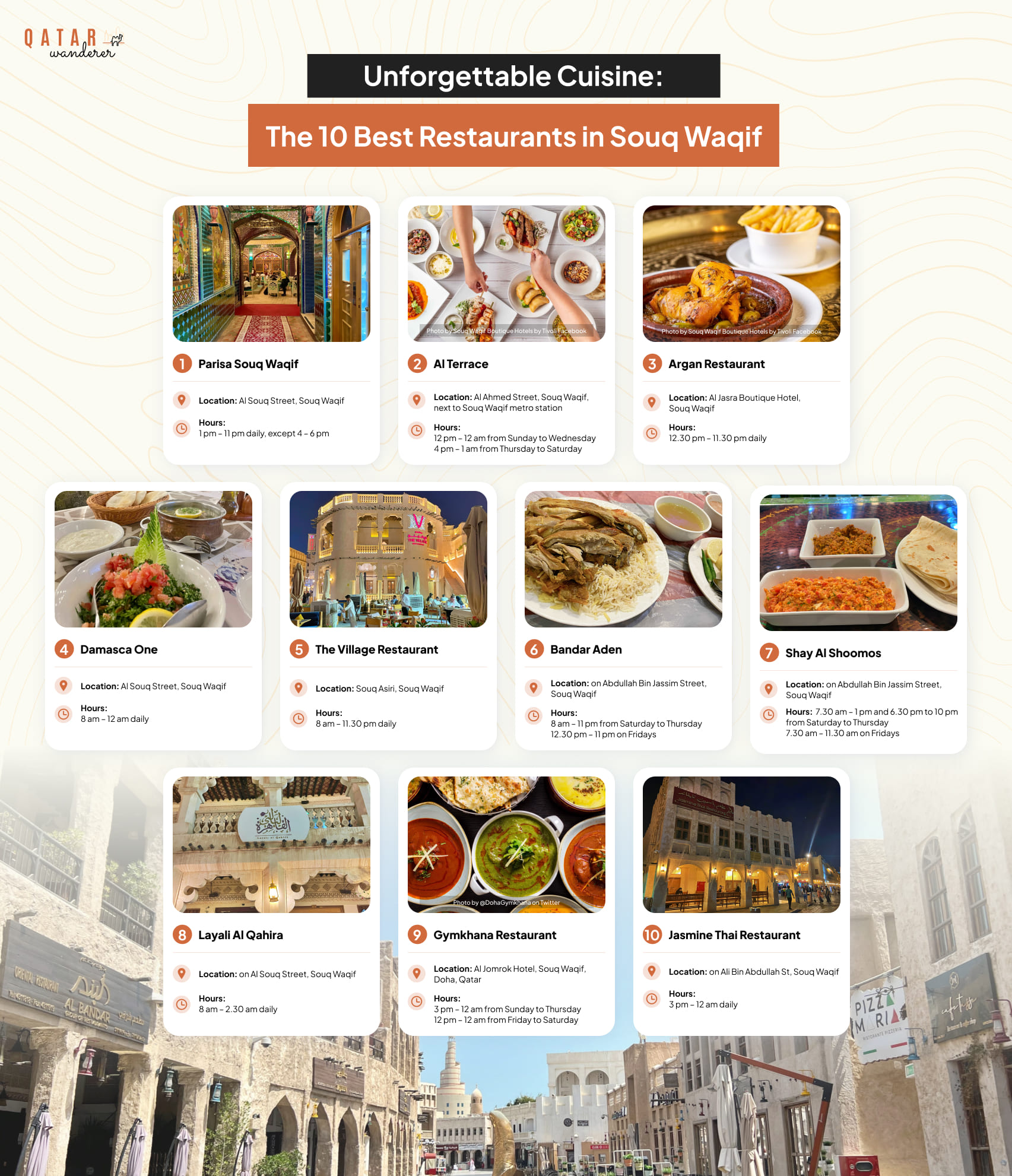 Parisa Souq Waqif
Food: Hop on board a Persian culinary journey at Parisa, the Souq Waqif restaurant that'll enchant your tastebuds with traditional offerings like Akbar Joojeh – perfectly grilled, succulent chicken that melts in your mouth. Fancy something else? No worries – I highly recommend their Fesenjan. It's a dish of tender chicken smothered in a pomegranate-walnut sauce.
For groups, the kebab sharing platter is the perfect solution, allowing you to sample the very best kebabs in Souq Waqif without having to choose just one.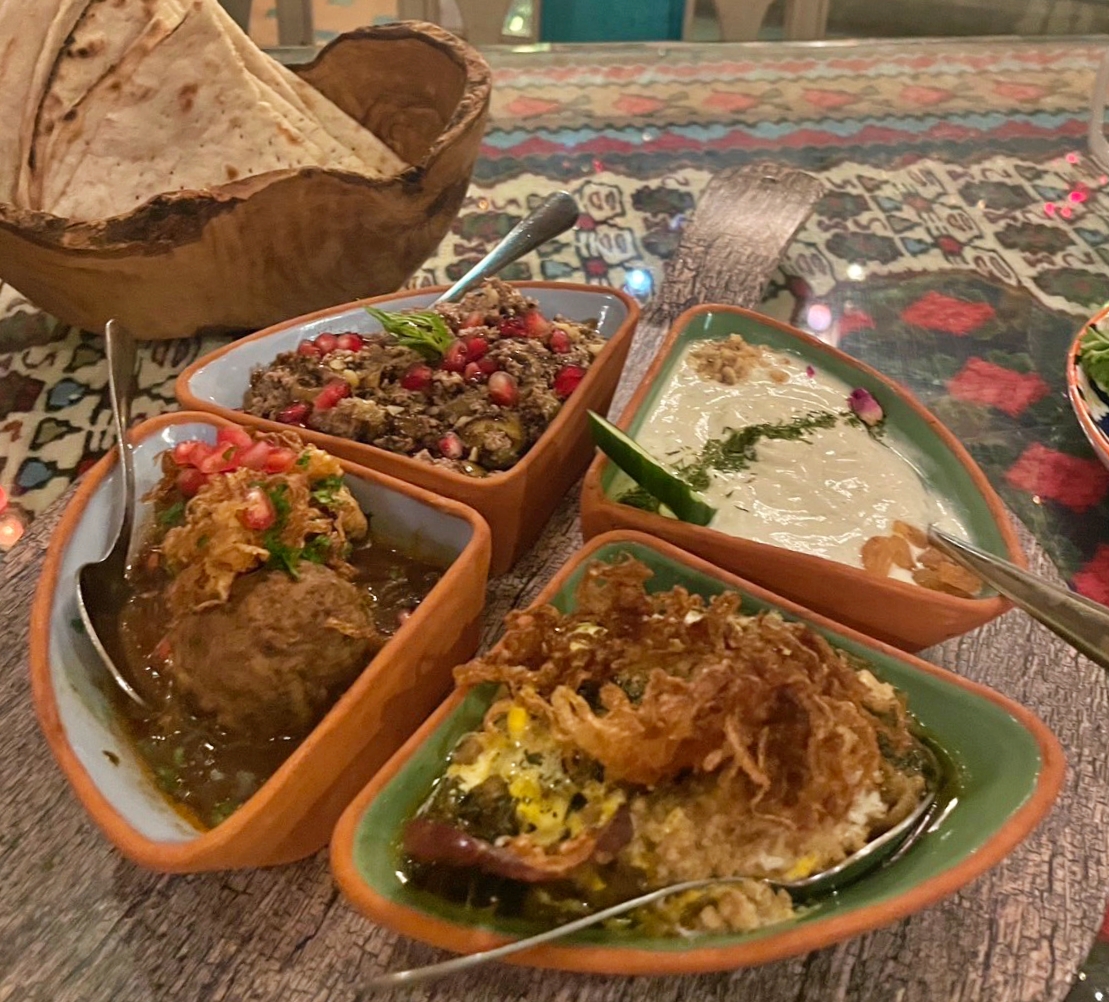 Vegetarians won't miss out at Parisa. Mirza Ghassemi, a smoked eggplant delight, is simply irresistible! If you have room, end your meal on a sweet note with their one-of-a-kind pistachio ice cream paired with saffron biscuits. It's out of this world!
Atmosphere: The only way to describe Parisa's décor is opulent. With its mirrored corridor, ceiling, and mural walls, along with the graceful fountain at its heart, you'll feel special as you dine here. If you're anything like me, you won't be able to resist taking photos of, well… everything!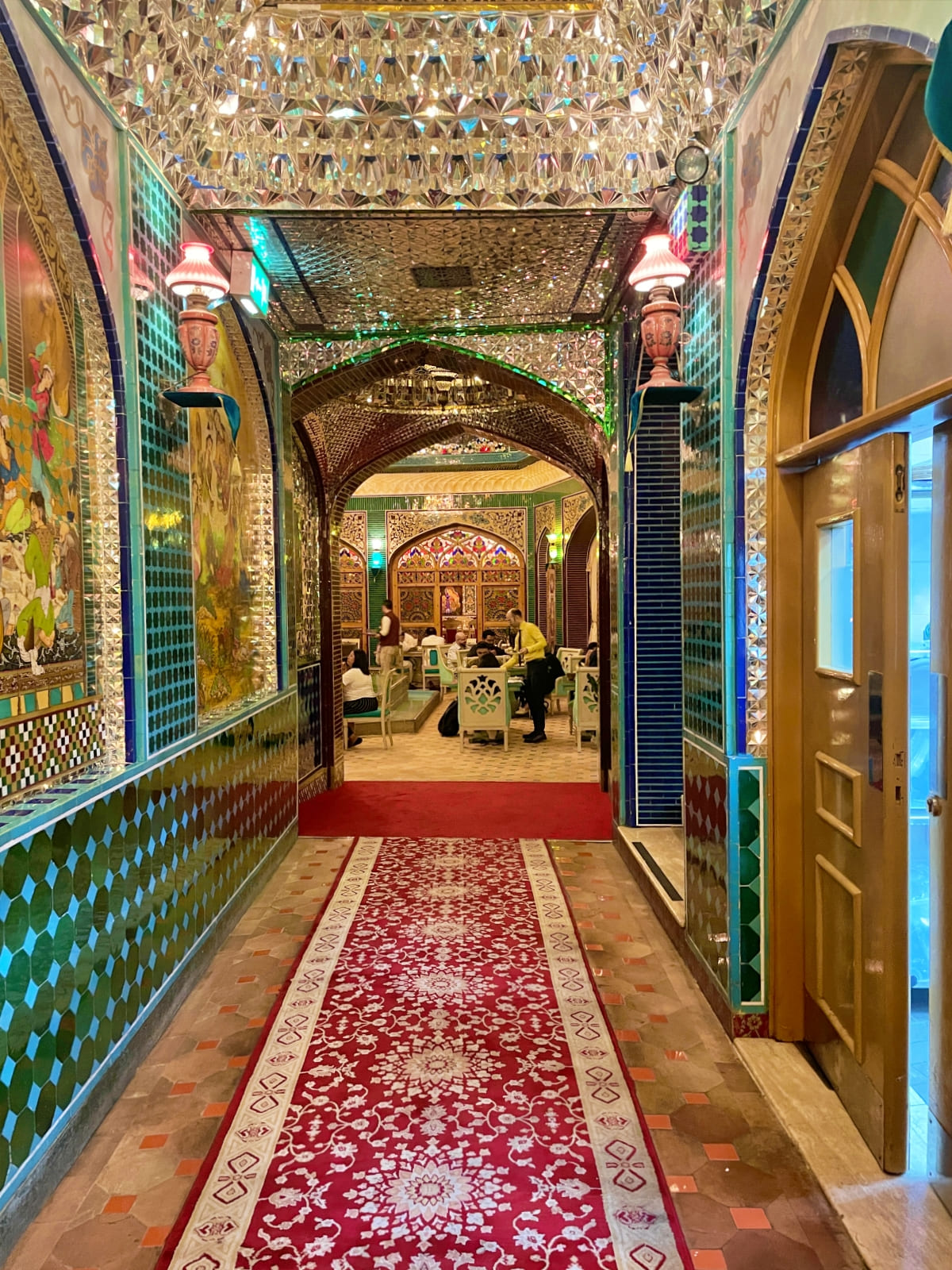 Traditional music in the evenings transforms Parisa into the perfect Souq Waqif date spot. Oh, and it's worth mentioning that the interiors are always cool here.

Location: Al Souq Street, Souq Waqif.

Hours: 1 pm – 11 pm daily, except 4 – 6 pm
Al Terrace
Food: Al Terrace is a treasure trove of Georgian culinary delights. If you've never tried Georgian food before, fear not – it's divine! As somebody totally obsessed with Georgian food, let me tell you – Al Terrace is the real deal.
Expect to savour the mouth-watering dish that is iconic inside and outside Georgia – Khachapuri. This warm, freshly baked bread oozes with gooey cheese and is topped with a perfectly cooked egg. Once you've tried it, you'll wonder where it's been your entire life.
Other knockout dishes include Khinkali (Georgian dumplings), Mtsvadi (succulent and juicy grilled meat), and the oh-so-comforting Lobio bean stew. No matter what you choose on the menu, you won't be disappointed!
Atmosphere: Stepping into Al Terrace, you'll quickly feel the warm embrace of Georgian heritage wrap around you. With its woody hues and vibrant red furnishings, this restaurant will make you feel right at home in its cosy indoor dining room.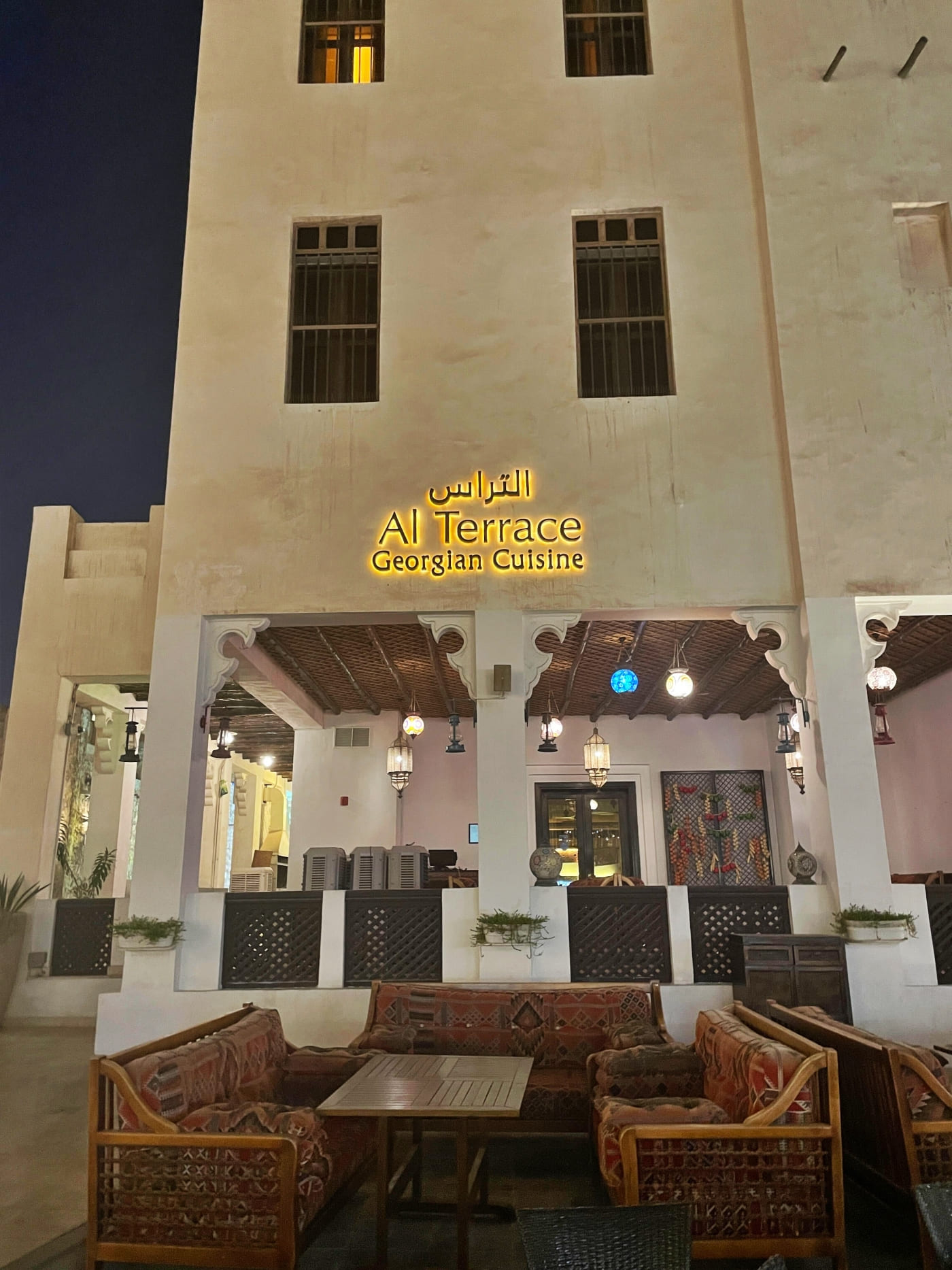 Sit back and let the soothing strains of Georgian music waltz around you as you dine, and take advantage of the breezy terrace with sweeping views of Souq Waqif. The team of warm and friendly staff is at the heart of this restaurant's warm and relaxed atmosphere, perfect for people-watching.

Location:
Al Ahmed Street, Souq Waqif, next to Souq Waqif metro station.


Hours:
12 pm – 12 am from Sunday to Wednesday
4 pm – 1 am from Thursday to Saturday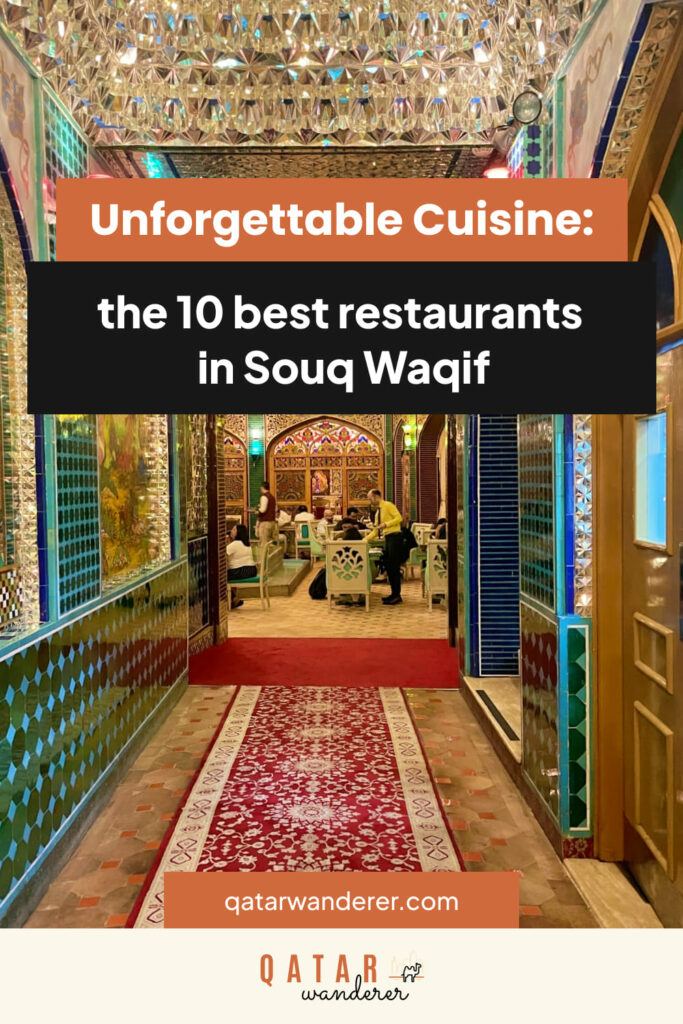 No time to read?
Pin it on Pinterest and revisit it later.
Argan Restaurant
Food: Experience the irresistible flavours of a Moroccan feast at Argan, where every dish is a tantalising adventure. From fragrant spiced mezze and tagine kofta to traditional chicken stew with vegetable couscous, the generous portions here are guaranteed to leave you feeling more than satisfied.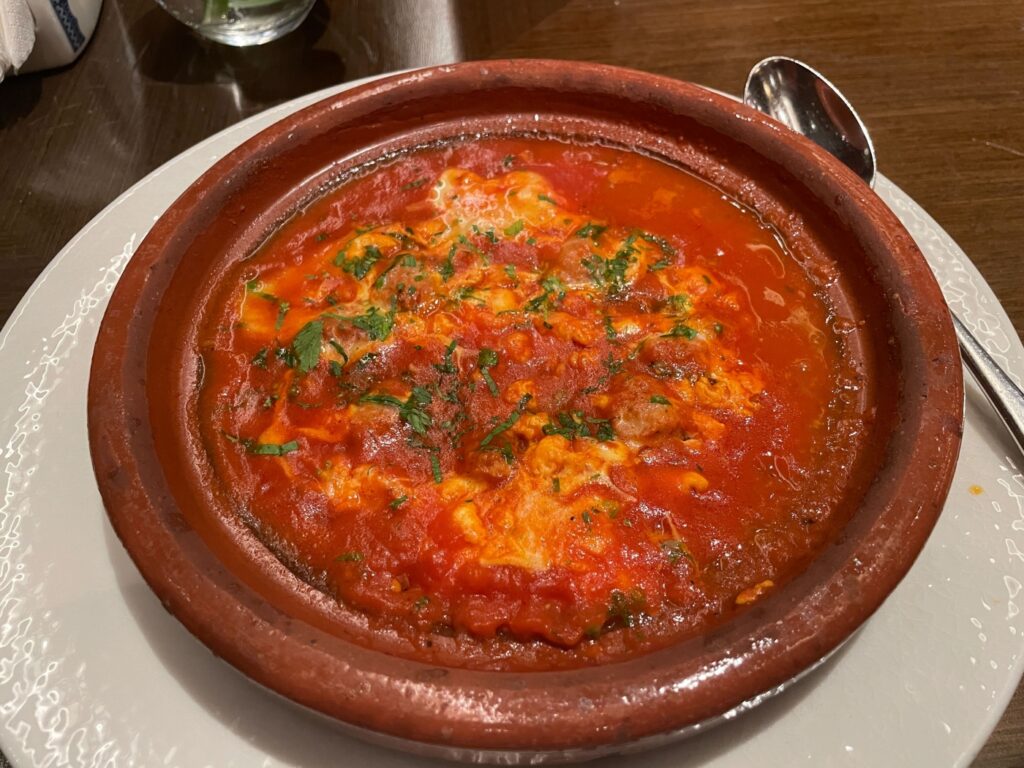 End your meal on a sweet note with the creamy Moroccan dessert known as Mahalabia. You won't be able to get enough!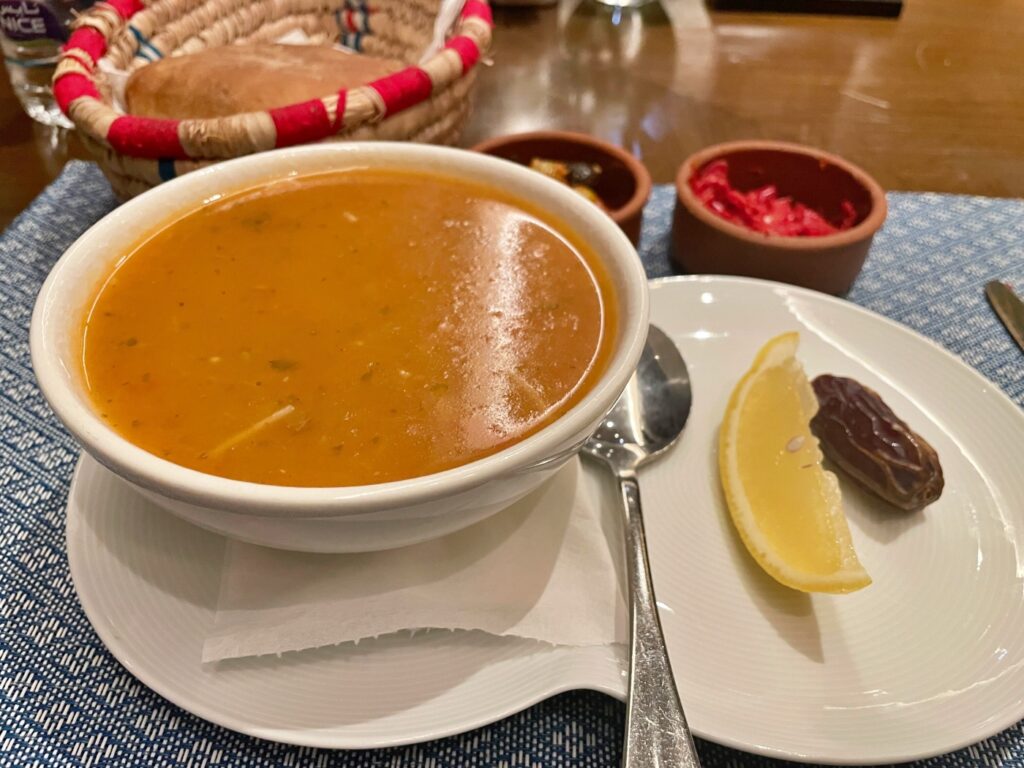 Atmosphere: Argan takes pride in creating a traditional and intimate Moroccan ambience. With seating for just 44 guests, getting a table here feels like a real treat!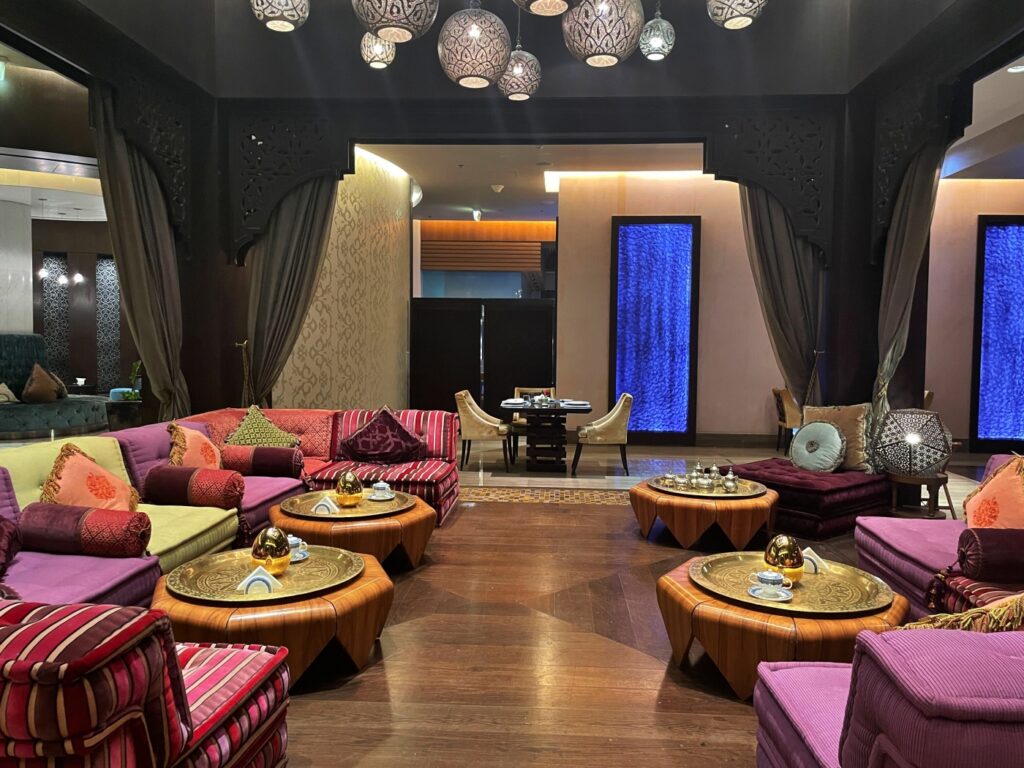 Combining traditional Moroccan design, including eye-catching colour and ornate lamps, with a modern twist, the décor and vibe at this restaurant truly capture the essence of Moroccan hospitality. And you don't even need to leave Doha to experience it!

Location: Al Jasra Boutique Hotel, Souq Waqif.

Hours: 12.30 pm – 11.30 pm daily.
Damasca One
Food: At the heart of Souq Waqif, you'll find one of the most delicious restaurants in Doha – Damasca One. Serving up luscious Syrian cuisine to hungry locals and tourists, you can't miss embarking on this culinary adventure.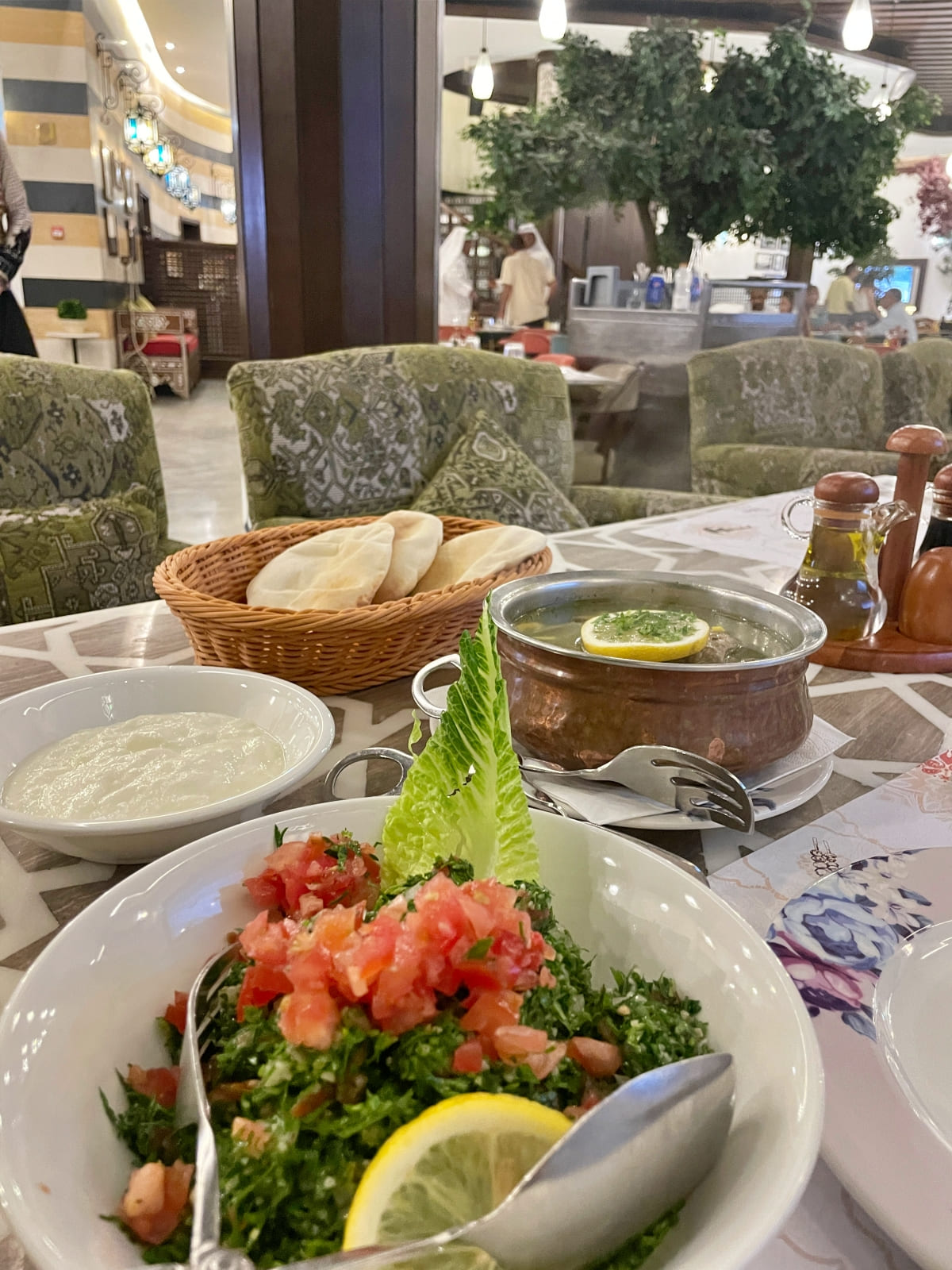 The most popular dishes here are their tender and juicy kebabs. I'm a sucker for their flavourful fried eggplant adorned with pomegranate, though! Another top pick is the Mixed Grill, which features a huge assortment of meat and spicy naan. Delicious! This place has some of the creamiest hummus you'll ever eat, and it's also often praised for serving one of the best muhammara, a delectably hot pepper dip, you'll ever eat. Do you need any more convincing?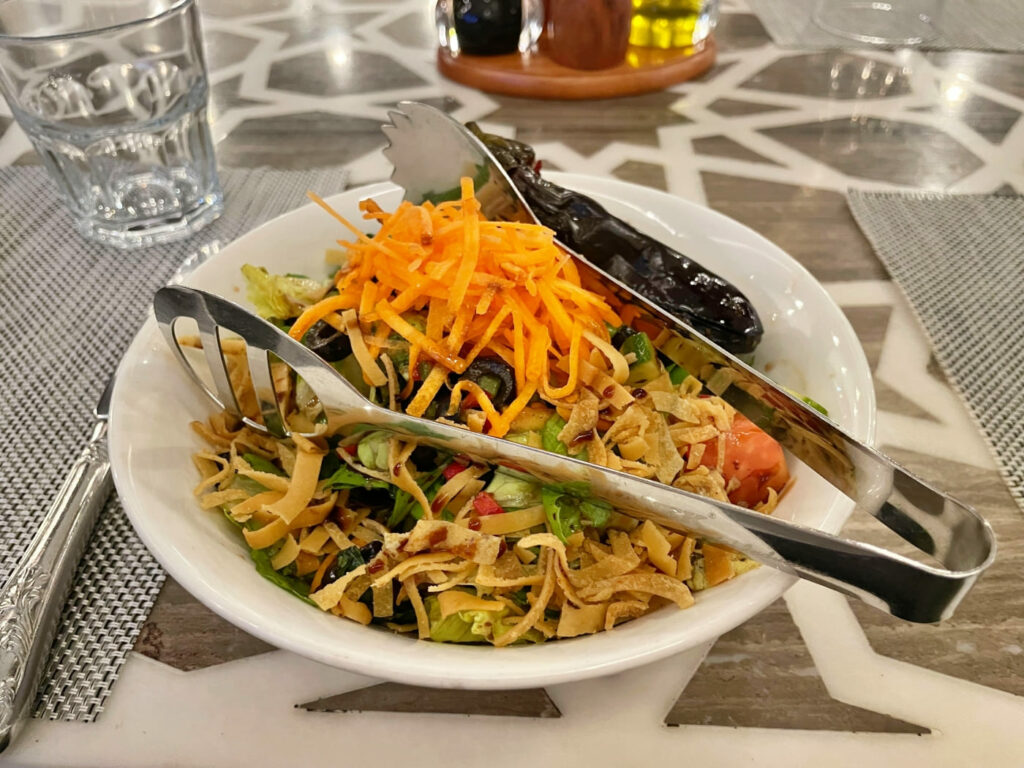 Atmosphere: Stepping into Damasca One feels like a cosy journey into old Damascus, with plush cushions, stained glass, and intricate woodwork setting a captivating scene. Whether you nestle in their sheltered upstairs terrace or do some people-watching from their semi-outdoor rooftop, the friendly waitstaff in traditional attire will look after your every need.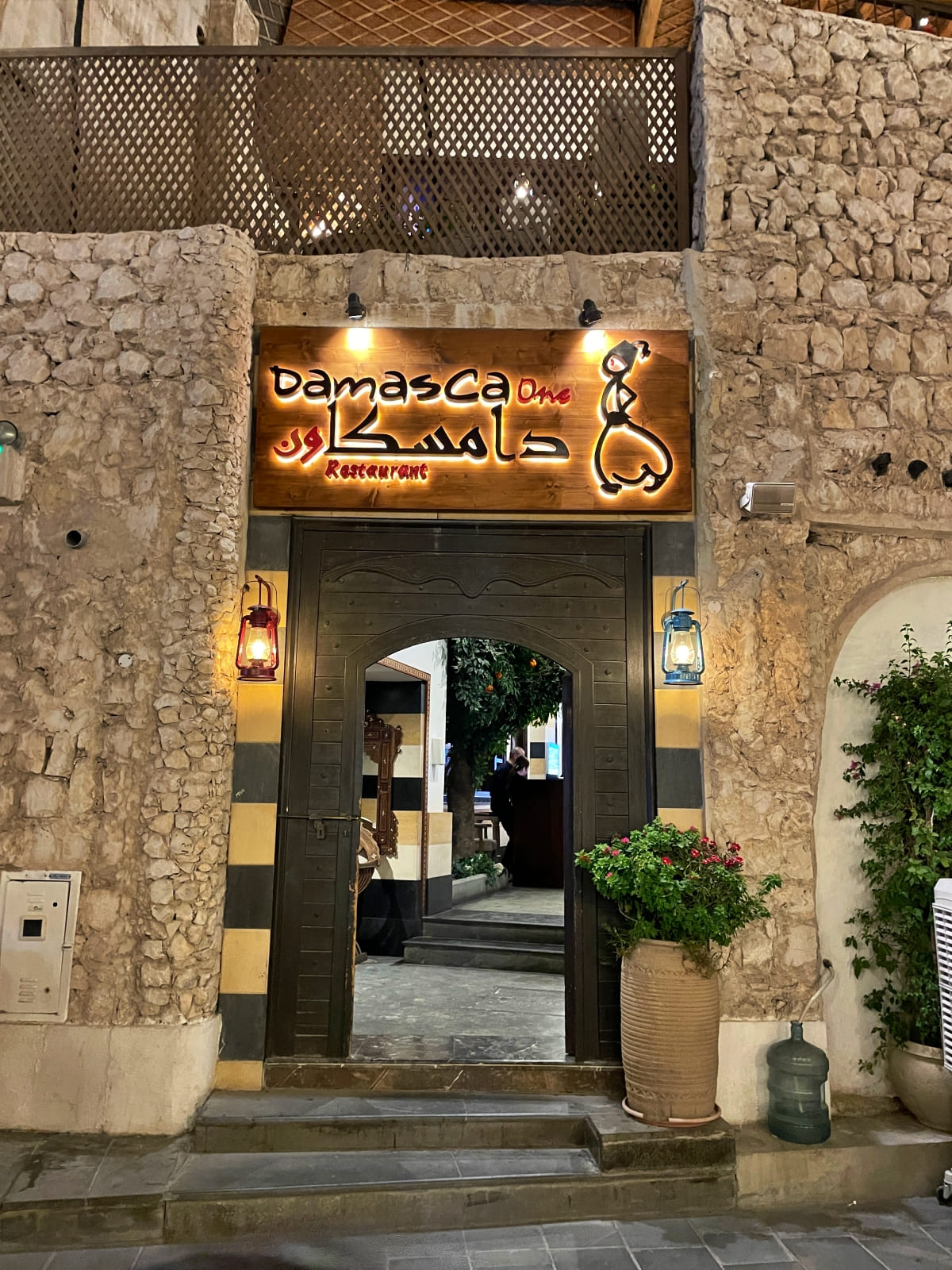 Evenings here come alive with the enchanting twirls of Syrian whirling dervishes and the rhythm of live music. Dining at Damasca One is an experience, not just a meal.

Location: Al Souq Street, Souq Waqif.

Hours: 8 am – 12 am daily.
The Village Restaurant
Food: The Village restaurant in Souq Waqif prides itself on being a gourmet paradise, boasting a diverse menu of Middle Eastern and International delights. When you hear what its signature dishes are, you'll know why!
We're talking Ottoman-era hunkar begendi, a lamb stew served with a heavenly puree of roasted aubergine, and the delightful imam bayildi, a vegetarian dish featuring caramelized onions stuffed in a perfectly roasted aubergine.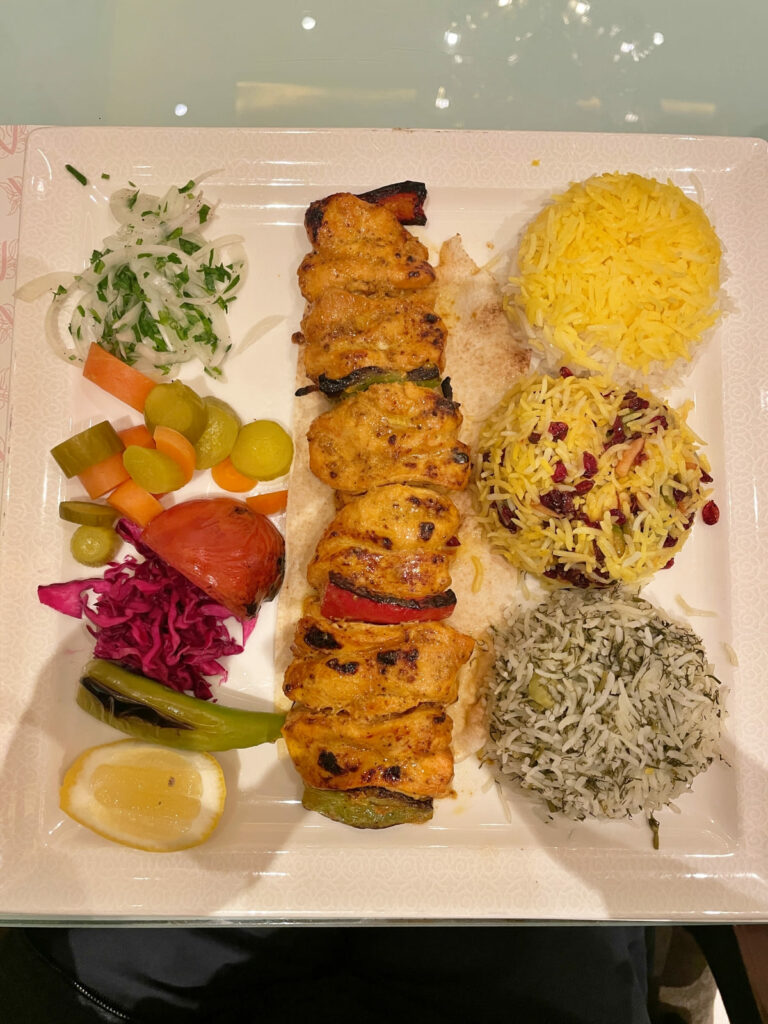 Atmosphere: The Village emanates warmth and traditional charm, transporting you to a quaint Arab village where the same recipes have been followed for generations. With indoor and outdoor seating, you'll get to watch over the bustling marketplace from outside or opt for the spacious, climate-controlled indoor area.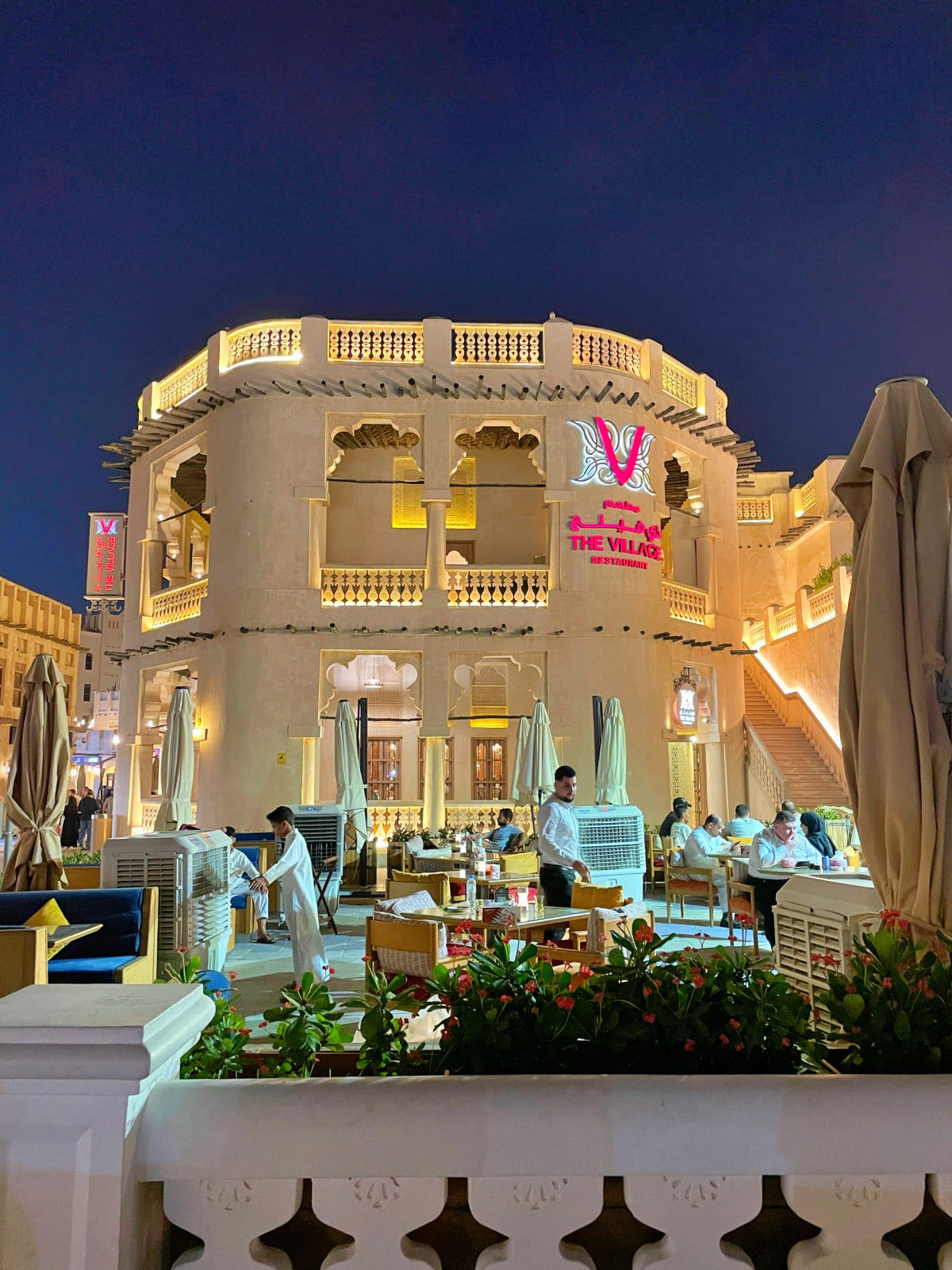 Wish you could take The Village home with you? Well, you can! Kind of… the restaurant also features a gourmet emporium selling an array of speciality food items and ingredients used in their menus.

Location: Souq Asiri, Souq Waqif.

Hours: 8 am – 11.30 pm daily.
Bandar Aden
Food: Bandar Aden Restaurant showcases authentic Yemeni cuisine in a new light – one that you won't be able to look away from! A must-try Yemeni dish on Bandar Aden's menu is the Mandi, a succulent slow-cooked meat and rice dish that'll transport your taste buds straight to Yemen. This dish is a showstopper, that's for sure, but don't miss out on the traditional stews like Saltah and Fahsa, served with chewy Yemeni bread and zesty salsa. So good!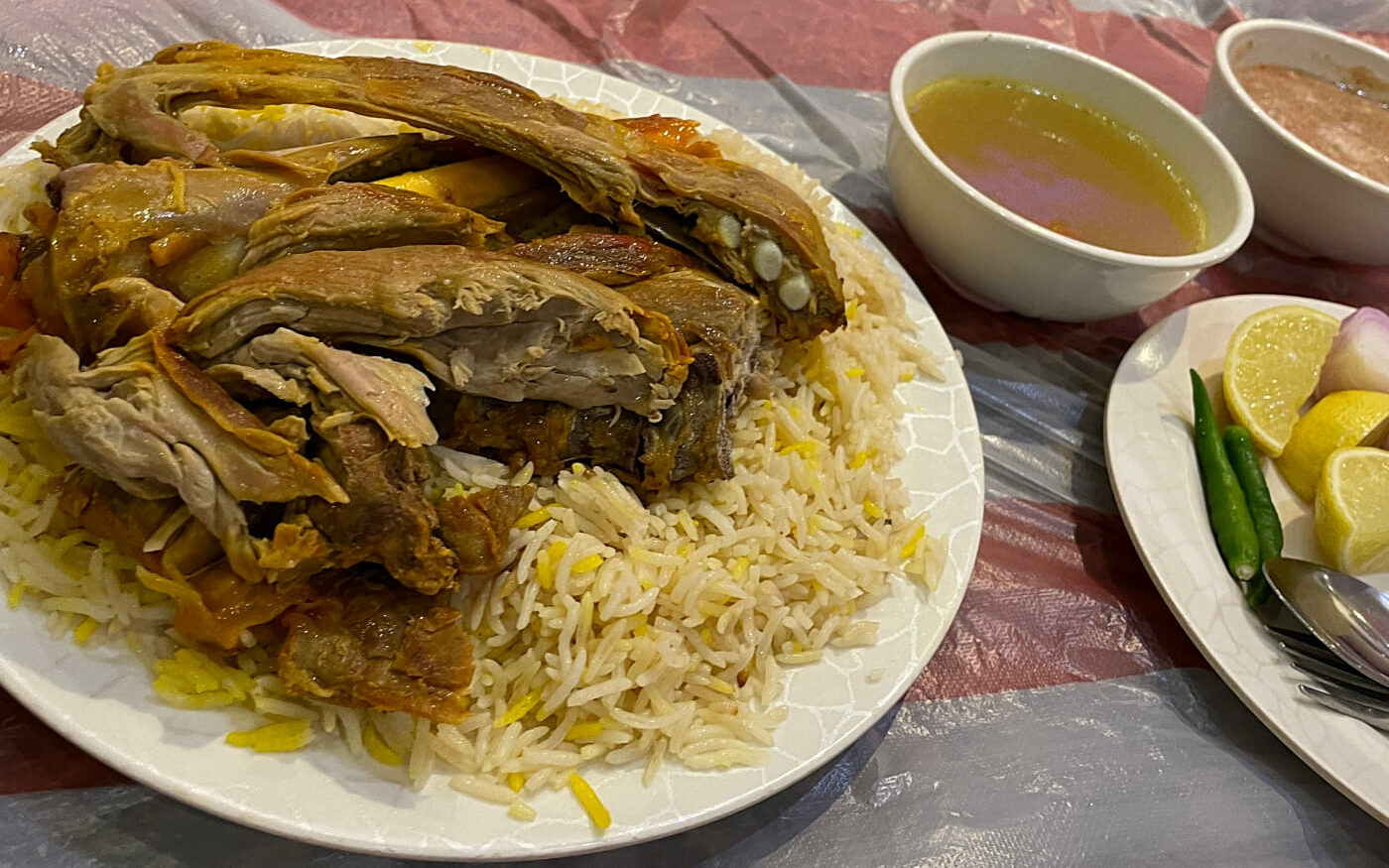 If you have a sweet tooth, get excited. Maasob, a dessert made from bananas, bread, and sweetened cream, will have you wondering if you can return here the next day to eat it again. It's that good!
Atmosphere: Bandar Aden's unpretentious decor delivers an authentic street-food style experience, letting the distinctive food take centre stage. It's my favourite place to dine in Souq Waqif if I'm looking for a casual dining experience that doesn't compromise when it comes to world-class flavours.
Bandar Aden's reputation as one of the best and most affordable Yemeni spots in Doha means it's very popular here, and seating is on a first-come, first-served basis. Get here early!

Location:
on Abdullah Bin Jassim Street, Souq Waqif.


Hours:
8 am – 11 pm from Saturday to Thursday
12.30 pm – 11 pm on Fridays
Shay Al Shoomos
Food: We've been all over the culinary world, from Georgia to Yemen, but it's about time we talked about Qatari food! At Shay Al Shoomoos, you'll find the authentic Qatari culinary gem you've been looking for in Souq Waqif. This restaurant is my go-to in Souq Waqif when it comes to traditional Qatari breakfast delights such as minced meat, egg and tomato aseeda, and the much-loved thyme egg rogag.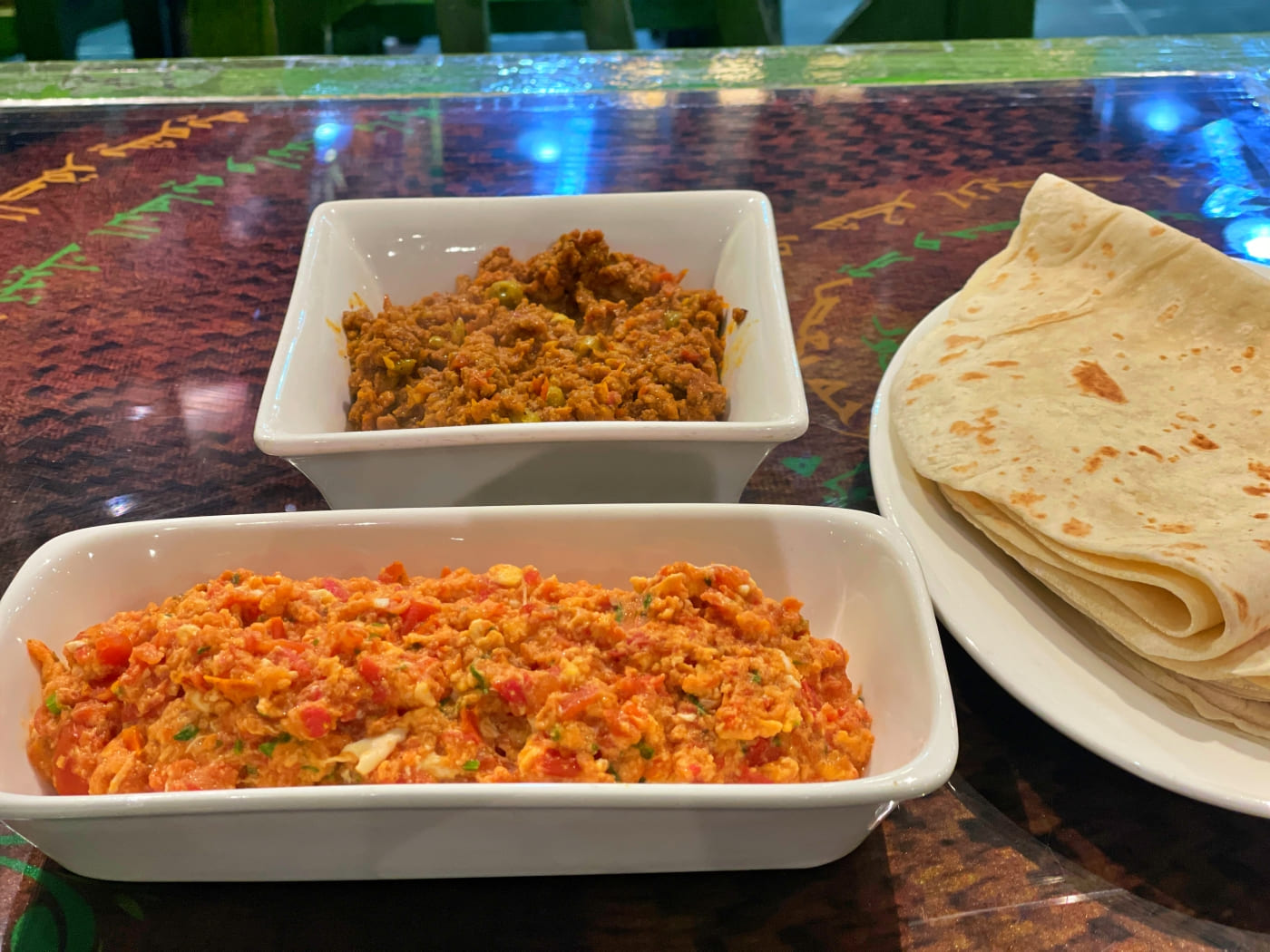 Owner and chef, Shams Al Qassabi, is an iconic symbol of women's financial independence in Qatar. She was the first female entrepreneur in Souq Waqif, and crafts most of these dishes herself, ensuring each bite is up to scratch.
Atmosphere: Shay Al Shoomoos has rustic décor, with bright green seating and walls lined with plants – the perfect setting for a hearty Qatari breakfast with your friends or family. Where plant pots aren't covering the walls, you'll find photographs of notable visitors from local Royals to football legend David Beckham. If it's good enough for them, it's certainly good enough for us!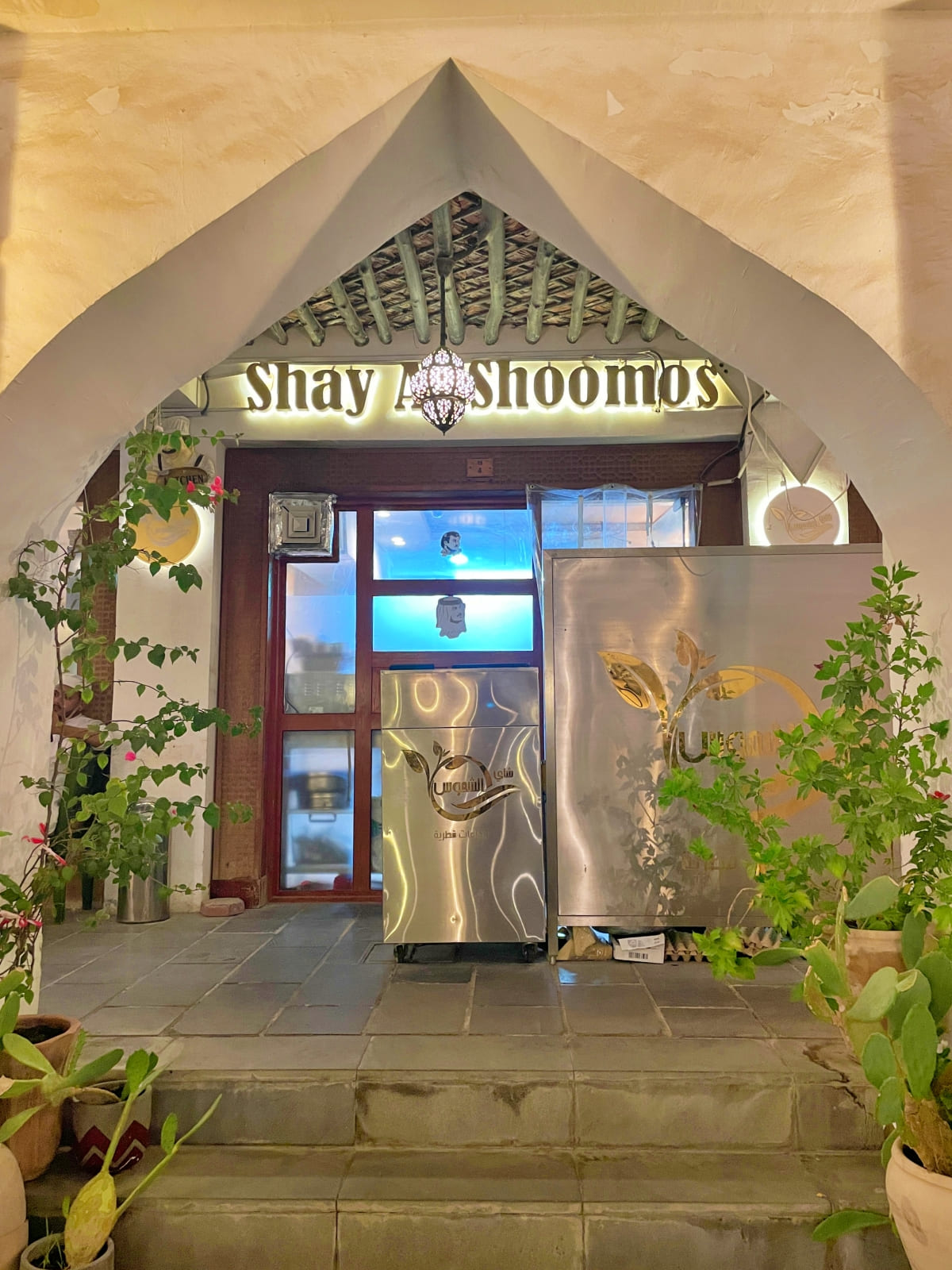 This modest yet lively restaurant, which once started with only six tables, now offers both indoor and outdoor seating, where you can indulge in some people-watching while devouring traditional Qatari fare.

Location:
on Abdullah Bin Jassim Street, Souq Waqif.


Hours:
7.30 am – 1 pm and 6.30 pm to 10 pm from Saturday to Thursday
7.30 am – 11.30 am on Fridays
Layali Al Qahira
Food: Explore the enticing culinary wonders of Egypt at the bustling Layali Al Qahira in Souq Waqif. The menu here is packed with mouth-watering dishes that'll take your palate to new heights.
Sink your teeth into juicy lamb chops or heavenly oven-baked chicken, or why not devour their vegetarian mezze? Every bite is a revelation! Don't forget to wash it all down with a glass of their expertly crafted fresh guava juice that complements the flavours of the dishes.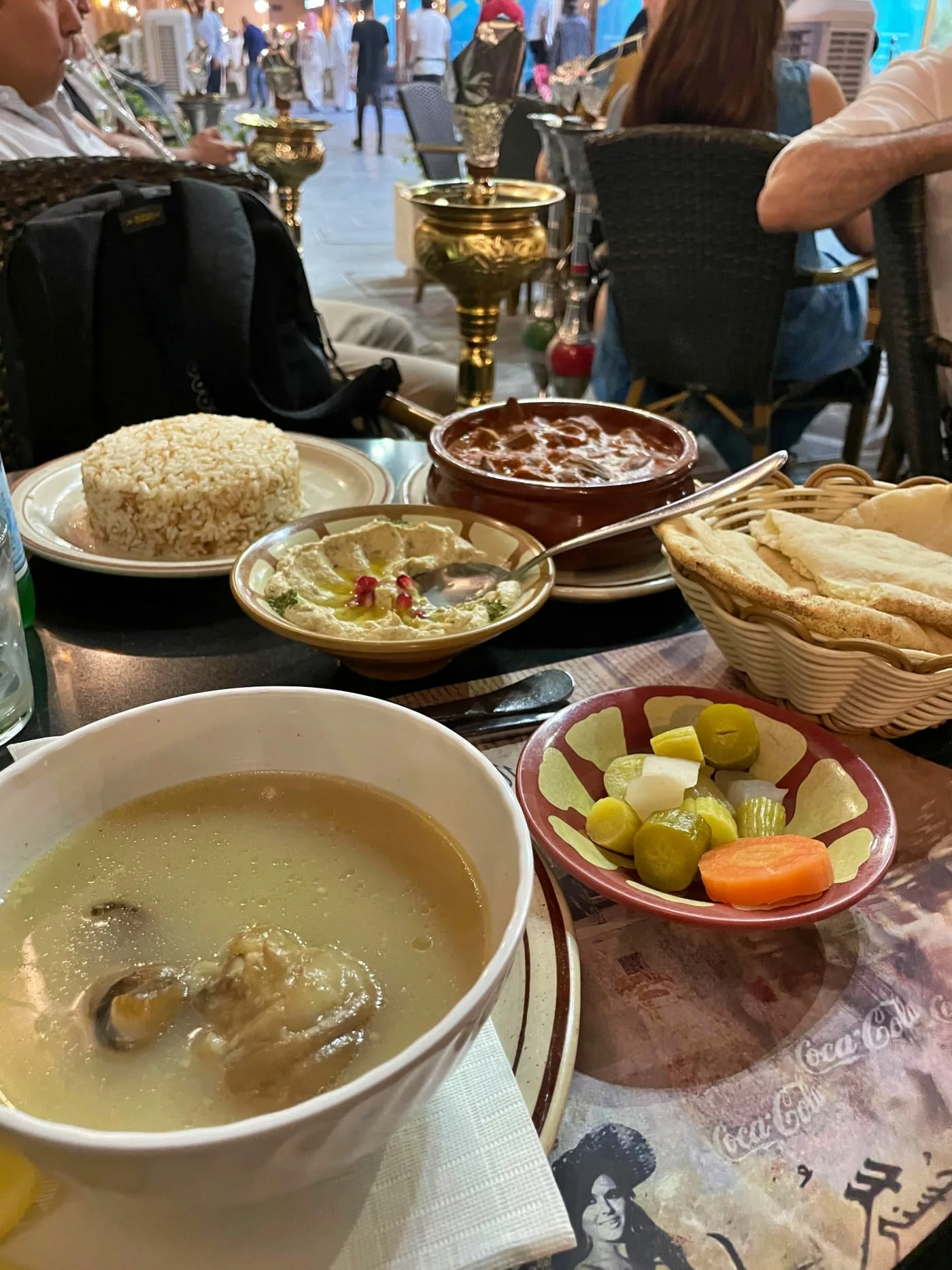 Atmosphere: Layali Al Qahira is the perfect place to take a break from the hustle and bustle of Souq Waqif, and that's all thanks to its relaxed and inviting ambience. Locals and tourists alike flock to Layali Al Qahira for an atmospheric alfresco dining experience that's hard to beat.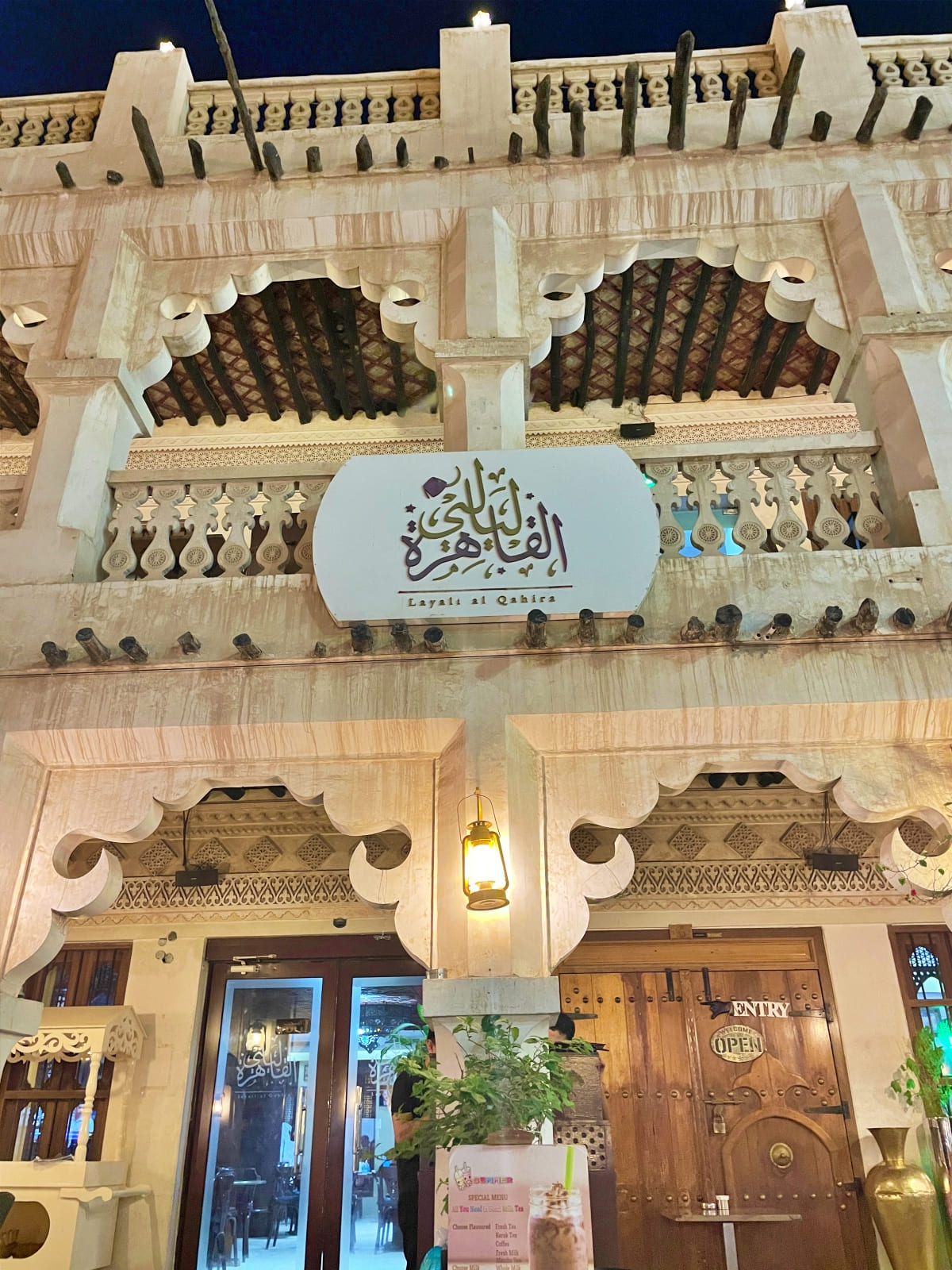 It's worth noting that this is a popular place for shisha, so if that's not your vibe, or if you're visiting with kids, just request a non-smoking area. The staff will be more than happy to oblige.

Location: on Al Souq Street, Souq Waqif.

Hours: 8 am – 2.30 am daily.
Gymkhana Restaurant
Food: Another restaurant, another culinary journey! This time, we're heading over to Gymkhana, where the smells and drool-worthy flavours of classic Indian dishes will hold you captive.
Menu highlights include the mouth-watering Butter Chicken, tangy Fish Tikka, creamy Dal Makhani, and the unique Gymkhana Chaat with its delightful blend of paneer, chickpeas, and pomegranate. And don't forget to save room for dessert – Gulab Jamun Cheesecake and Chai Creme Brûlée are the perfect ways to end your meal.
Atmosphere: As you step through the doors of Gymkhana, get ready to be transported back in time to the era of the British Raj. The space expertly blends sleek elegance with a casual Indian-style veranda setting, accentuated by sepia photographs and vintage furniture. It's so charming!
This hidden gem restaurant, tucked within Al Jomrok Boutique Hotel in Souq Waqif, offers stunning views across the bustling square and the iconic Fanar Tower. And when the weather is just right, the restaurant's outdoor seating is the perfect place to enjoy cooler evenings.

Location:
Al Jomrok Hotel, Souq Waqif, Doha, Qatar.

Hours:
3 pm – 12 am from Sunday to Thursday
12 pm – 12 am from Friday to Saturday
Jasmine Thai Restaurant
Food: Jasmine Thai in Souq Waqif is known as one of Doha's finest Thai dining spots, and I can't argue with that! The menu features an impressive array of authentic Thai dishes that'll make you wonder if you were accidentally transported to Thailand. But nope – you're still in the Souq Waqif!
Not only can you savour Thai classics like Pad Thai, Massaman Curry, and Tom Yum soup here, but you can also be slightly more daring, exploring the more exotic flavours such as their spiciest Thai curry. Jasmine's offering extends beyond Thailand, dishing up crowd-pleasers like Peking Duck and Hong Kong-style dishes. It may be a bit pricier than in Thailand, I admit, but the generous portion sizes and top-notch quality make it well worth the expense.
Atmosphere: Jasmine Thai Restaurant offers a calming, Thai-inspired atmosphere. The delicate balance of soft lighting and exquisite decor creates a tranquil dining space that offers a calm oasis in the middle of the busy Souq.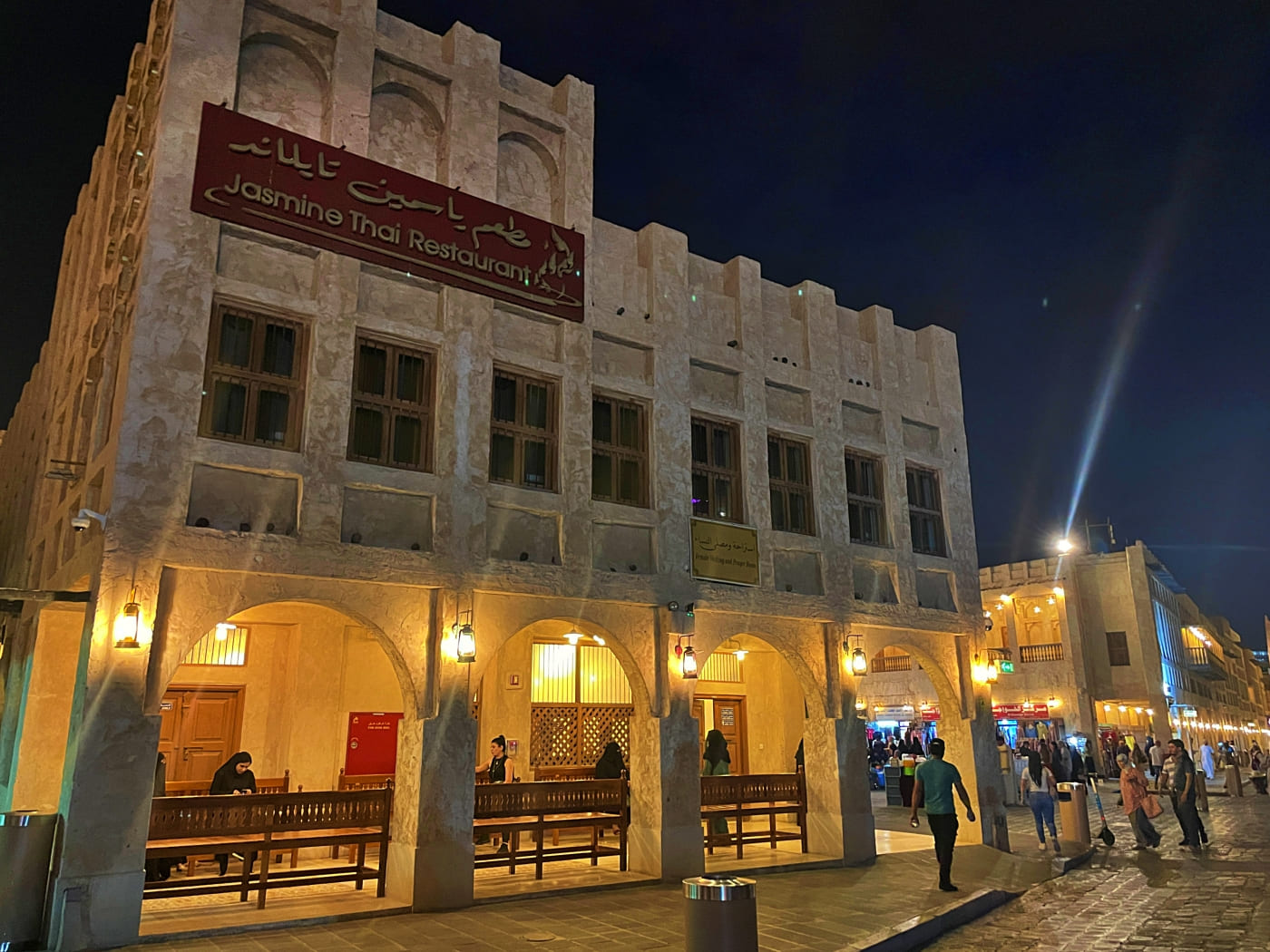 There's no doubt about it – dining at Jasmine Thai is a luxury experience. This soothing sanctuary is the perfect spot to enjoy the rich, piquant flavours of Thai cuisine in peace.
Conviently, Jasmine Thai is located right next to the main taxi and Uber drop-off point in Souq Waqif.

Location: on Ali Bin Abdullah St, Souq Waqif.

Hours: 3 pm – 12 am daily.
Post-dinner Spots
Now that you've enjoyed some of the best food in Souq Waqif, how about winding down with some tea or coffee? For a local touch, savor some karak tea at the popular Tea Time, in the heart of Souq Waqif. For an elevated experience paired with a stunning view of the Souq, make your way to Al Shurfa Arabic Lounge located within the Al Jomrok Boutique Hotel near the Corniche.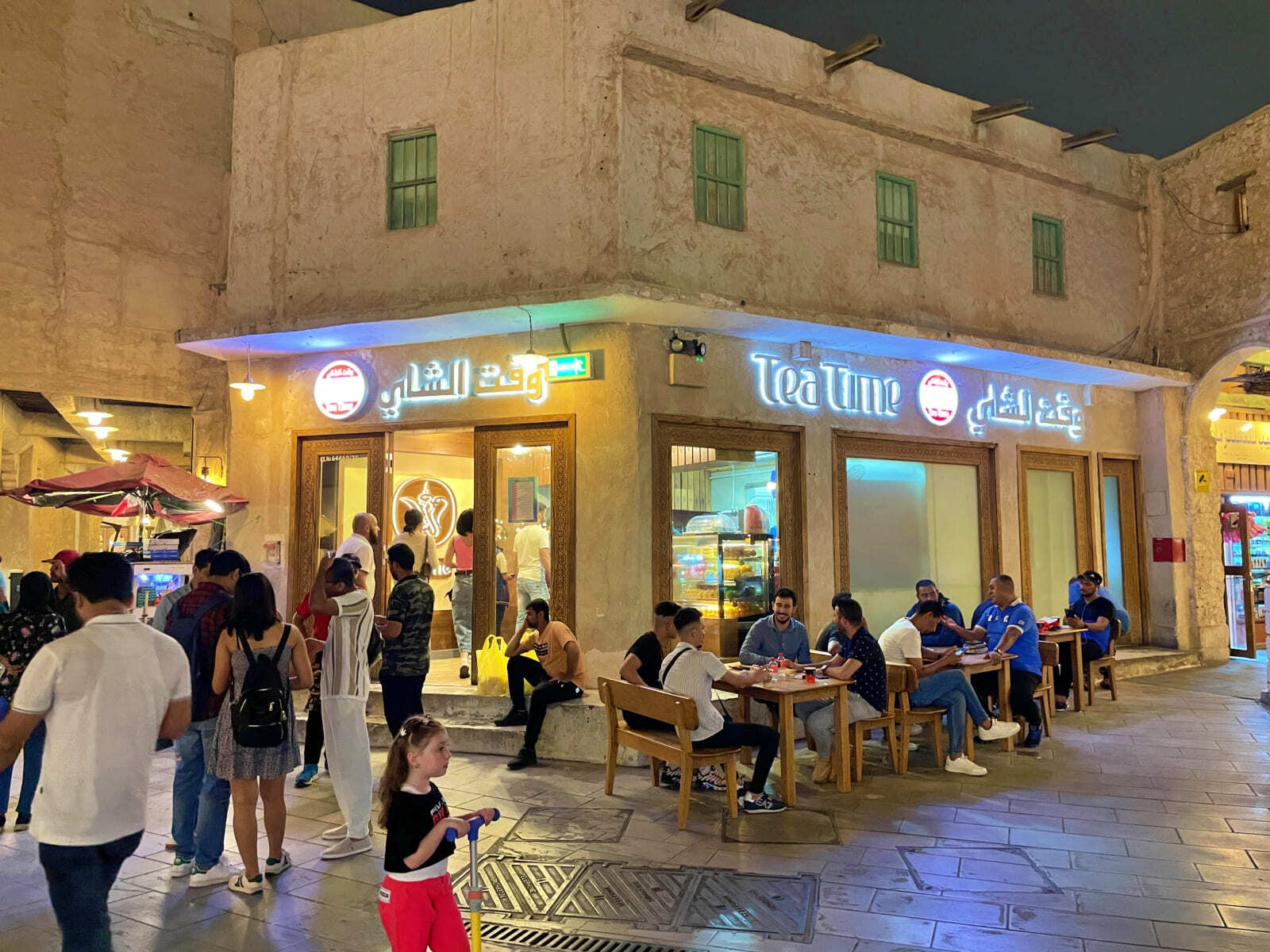 And if you're up for a little stroll, venture over to the neighbouring Msheireb district. There, you can discover gems like % Arabica with its minimalistic design, or the French-inspired Société, known for its delightful cafe and bakery offerings.