Finding the right hotel for a family vacation is no easy feat! It's a delicate balance of keeping everyone happy and entertained, while also carving out quality family time and some much-needed alone time for adults. These family-friendly resorts in Qatar have all the right ingredients for a memorable family holiday, as they're packed with activities and amenities that the whole gang can enjoy, from water parks to gorgeous beaches and spas. Read on for our recommendations of the top family resorts in Qatar.
1. Marsa Malaz Kempinski, The Pearl-Doha
The Marsa Malaz Kempinski, The Pearl-Doha is perfectly equipped to keep the whole family entertained, with a myriad of activities for both children and adults. This five-star resort is stunningly situated on a private man-made island, with magnificent views of the Arabian Gulf. The architecture is inspired by a Venetian palazzo, featuring grand domes, columned archways, and captivating murals which all add up to a regal but relaxed setting.
Bask in the sun, take a dip in the crystal-clear waters and indulge in your ulitimate Palatial getaway! Book now and experience a luxurious relaxation: https://t.co/LhWsQdEWIB#MarsaMalazKempinski #Kempinski #GHADISCOVERY #KEMPINSKIDISCOVERY #Doha #DohaQatar #Qatar #VisitQatar pic.twitter.com/e6e33BcqI7

— Marsa Malaz Kempinski Doha (@MarsaMalaz) April 16, 2023
The resort offers plenty of outdoor activities for the entire family. The pool area is a true oasis, with a huge main pool as well as a whirlpool and a pool just for kids. You can also take your pick from tennis courts, watersports, or relaxing at the beach. The Pearl Qatar is also a popular spot from which to rent a jet ski.
Pint-sized visitors will love the colorful Titan Tikes Kids Playroom, for ages 4-12. The staff will engage kids in organized arts and crafts activities as well as games, while as parents you can enjoy some much needed me-time at the award-winning Spa by Clarins, featuring a traditional hammam as well as a wide range of pampering treatments such as facials and massages.
Let the little ones fill their Eid holidays with delightful new experiences. From a wide array of kids-approved activities, children's movie and gaming rooms, to a fun day at the beach, celebrate the stories we live by at Marsa Malaz Kempinski. pic.twitter.com/M8OAWQTIFK

— Marsa Malaz Kempinski Doha (@MarsaMalaz) July 3, 2022
You'll love the wide variety of food here! The resort's restaurants make the most of the seafront location with plenty of terraces and specialize in seafood as well as international cuisine. There's a total of seven restaurants, two bars, a cigar lounge and a jazz house. Don't miss Al Sufra, specializing in Middle Eastern cuisine, as well as Nozomi, an award-winning contemporary Japanese restaurant. Kids and the young at heart will love Public House, the retro American diner which serves all-day breakfast as well as classic diner fares such as wings and burgers.
2. Banana Island Resort Doha by Anantara
This luxury resort is tucked on a crescent-shaped Banana Island, just a 20-minute boat ride from Doha's coast, although you'll definitely feel that you've stepped into another world! With its overwater villas and spectacular lagoon, you'll think you're in the Maldives.
Think of the island as a giant playground as fun is the priority here, with plenty of activities both on land and in the water, making it one of the top destinations for family-friendly luxury vacations.
Plan an enchanting stay in one of our luxurious Sea View Pool Villas, each tastefully furnished with family-friendly amenities. Cherish quality time together and come home with priceless memories.

Book your Anantara Villa Exclusive 👉 https://t.co/It0cvKCXKX pic.twitter.com/CJeN0D41Be

— Banana Island Resort (@BananaIslandDOH) March 25, 2022
Indoors, kids will get a kick out of the bowling alley as well as the deluxe cinema. Cooking classes and beauty parties are also available. Outdoors, indulge in some friendly family competition by playing golf, or racing each other down slides at the water park. Get everyone's energy pumping with water sports like jet-skiing, and banana boat rides or learn how to surf together at the surf pool. Quieter options include yoga or tea on a pontoon. The resort also features an exclusive kids' and teens' club, guaranteeing a good time for all age groups.
A perfect summer hideaway for families, offering unique and exciting experiences not only for adults, but also for the little travellers. pic.twitter.com/X4ZCByPYwM

— Banana Island Resort (@BananaIslandDOH) July 14, 2019
Parents will appreciate the luxurious accommodation here, ranging from rooms to suites and villas. The most indulgent option is the overwater villas featuring infinity pools, but all rooms have a sleek, contemporary design and views of the beach, pool or sea.
In case you'd like to break a sweat, head to the fitness center or unwind with a pampering spa treatment. The spa is home to a hammam as well as a steam room, sauna and jacuzzi.
After an action-packed day, you and your family can dine at one of the resort's restaurants, where the cuisine includes Middle Eastern, Mediterranean and Indian flavors as well as a retro American dinner.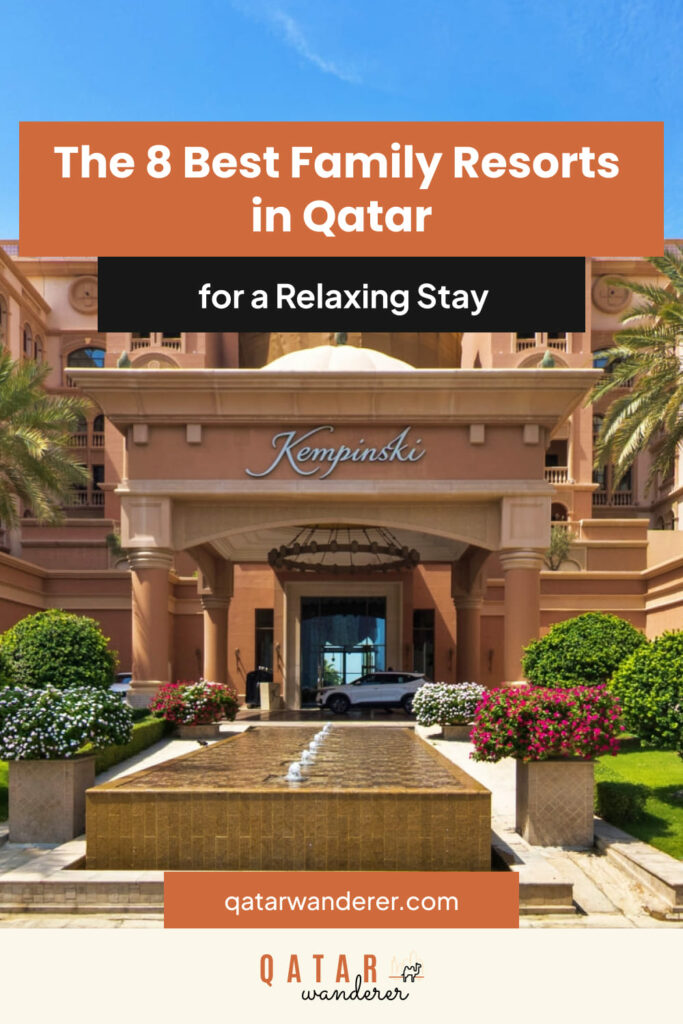 No time to read?
Pin it on Pinterest and revisit it later.
3. Hilton Salwa Beach Resort
The Hilton Salwa Beach Resort offers the perfect combination of relaxing beach time with theme park thrills, in a striking setting that combines Arabic charm with contemporary design. This vast retreat is located on the sunny southwest coast of Qatar, about an hour and 15 minutes drive from central Doha.
Everyday is Pool and Beach day at Hilton Salwa Beach Resort! ☀️ ⛱

We are excited to announce that Pool and Beach access tickets are now available online so you can easily plan your perfect escape!

Book your tickets today via the link https://t.co/ADtNShGHRY#beachdestination pic.twitter.com/MngHcNZmkF

— Hilton Salwa Beach Resort & Villas (@HiltonSalwa) June 13, 2021
Your family's adventure begins on the resort's sprawling 3.5km (about 2 miles) beachfront, where the sun-kissed sand and azure waters beckon you to unwind but kids will be zeroing in on the Desert Falls Water and Adventure Park. It's one of the largest water parks in the Middle East with an eye-popping 56 rides and slides that cater to all thrill levels. Let your children meander down the lazy rivers. Lenny's Lagoon is just for younger kids with a fun, interactive water playground where the highlight is a dumping bucket, all under the watchful eyes of lifeguards. High-octane dry activities include go-karting, canyoning and laser tag. With all these fun activities, it's no wonder this is one of the top things to do with kids in Qatar.
The Kids Club orchestrates a variety of engaging activities for little ones ages 3-12, such as face painting, arts and crafts, beach games and movie nights.
We're excited to announce that new attraction is opening @desertfallsqatar soon 🤩🥳🤩
Can you guess what it is? Drop your Comments below if you have an idea what this is!#HiltonSalwaBeachResort #DesertFallsQatar #LikeNowereElse pic.twitter.com/AnmRQ8qtdo

— Hilton Salwa Beach Resort & Villas (@HiltonSalwa) September 29, 2021
The whole family will love spending time at the beach together or exploring the resort on e-scooters. The pool offers private cabanas for a serene escape or for the ultimate escape, book a couples massage at the eforea Spa. The resort also hosts immersive cultural and environmental workshops, enriching your family vacation in Qatar, with elements of fun-filled education.
Accommodation here ranges from rooms to suites and private luxury villas with direct beach access. The design is contemporary with Arabesque touches, such as patterned tiled floors. The wide range of restaurants will satisfy even the pickiest of eaters, with a choice of Italian and Middle Eastern fare.
4. Sharq Village and Spa, a Ritz-Carlton Resort
The location of Sharq Village and Spa, a Ritz-Carlton Resort, cannot be beaten for convenience: it is just 10 minutes from the airport and minutes from Souq Waqif, one of Qatar's must-visit attractions. The design of this resort will make you feel like royalty as it looks like a sheik's palace, with decor that combines Arabesque, touches with contemporary design.
Your stay at Sharq Village will feel like a real retreat thanks to luxurious rooms and suites featuring private balconies, ornate woodwork and jewel-toned accessories. The opulent marble bathrooms feature separate soaking bathtubs. One and two-bedroom suites boast generous sitting areas and offer sweeping sea views or serene views of the resort, delivering an authentic taste of Middle Eastern opulence.
Sharq Village & Spa in Doha, #Qatar was built as a recreation of an old Qatari village. What do you think of the spa? pic.twitter.com/YcUU0zUc

— The Ritz-Carlton (@RitzCarlton) February 19, 2013
It's easy to see why this resort appeals to families. The heart of the hotel is its 350-meter private beach and three outdoor pools, so there's a place for everyone to dip their toes. Children can enjoy a shaded pool, a splash pad, and a nearby playground.
Meanwhile, adults can indulge in rejuvenating spa treatments such as the Date Decadence ritual which incorporates the iconic Middle Eastern fruit in a body wrap. If you want to break, you'll find a state-of-the-art gym where yoga, meditation and group fitness classes are offered in addition to free weights and cardio equipment.
Beyond relaxation, the resort provides ample opportunities for family entertainment. Indulge in a variety of water sports such as kayaking or pedal boats, explore the interactive cultural center, or simply unwind by the tranquil infinity pool.
The Ritz-KidsTM Club consists of a kid's pool with a shower and outdoor play area, helmed by professionally trained staff to keep kids happy and busy with crafts and games.
Restaurant options here include Parisa Persian Restaurant and Iris Doha, a modern restaurant and lounge with a DJ, as well as Al Seef Poolside Bar & Cafe.
5. Sealine Beach, a Murwab Resort
Situated south of Doha in the Mesaieed area, Sealine Beach Resort is a peaceful haven located where the desert sand meets the azure Arabian Sea. It's only an hour's drive south of Doha, making it a popular choice for local holiday seekers and family getaways.
The resort's unique location between rolling sand dunes and the coast means that it offers much more than beach and pool activities. You can enjoy a desert safari or sealine camping here, as well as camel and horse rides. If you are a thrill-seeking family, you will love dune bashing and speed boat rides. You can also get into some friendly competition with a game of tennis, basketball or beach volleyball, or try jet-skiing. Speaking of water sports, the beautiful clear waters also make this location one of the great spots for scuba diving in Qatar.
Your perfect weekend escape awaits at Sealine Beach Resort where the sunshine resides and relaxation never ends.#SealineBeachResort #SummerVibes #Qatar #Sealine #beach #weekend pic.twitter.com/jBYD0hpW1i

— Sealine Beach, a Murwab Resort (@SealineBeachQat) July 23, 2020
When it's time for you to relax, the spa and fitness centers are perfect for unwinding or enjoying some quiet time on the resort's private beach.
The resort offers a wide variety of accommodations from rooms and suites to lavish villas and sea-view chalets, and some feature their own private pools. What the rooms have in common is a streamlined design with a blue-and-white color palette that compliments the ocean.
Start your weekend with a ravishing Friday Brunch for QR250 per person including beach access & resort facilities.
Join us every Friday from 12:00 PM to 3:30 PM at Al Odaid Restaurant.

Call 4021 4000 Email: [email protected] pic.twitter.com/yq1UcEHa5t

— Sealine Beach, a Murwab Resort (@SealineBeachQat) August 11, 2022
For those who fancy an all-day dining experience, Al Odaid is your go-to, offering a fusion of local Qatari delights and vibrant Latino flavors. For lovers of Italian food, La Merenda will transport you straight to Italy with its delectable pizzas and pasta while the Edge is the place to go for shisha, cocktails, and drinks. Rounding out the resort's dining options is the Reef & Burger. Here, not only can you indulge in mouth-watering burgers, but also relish the mesmerizing seaside views, making dining a truly picturesque experience.
6. Waldorf Astoria Lusail Doha
Waldorf Astoria Lusail Doha is a luxurious gem situated on the only private beach in Lusail. It debuted in late 2022 and its design is an artful combination of Qatari tradition blended with modern aesthetics. The resort has everything you need for a sunny escape, including a private beach and waterpark, as well as thrilling adventures and culinary experiences – all just 20 minutes from the airport and one minute from Place Vendôme Mall.
The resort's 429 rooms range from spacious rooms to suites, studios and multiple-bedroom residences for long-stay guests. Every room has a balcony, sleek blue and white decor, and spacious marble bathrooms. If you feel like splashing out, book a spectacular Sky Villa on the rooftop, overlooking the radiant Arabian Gulf.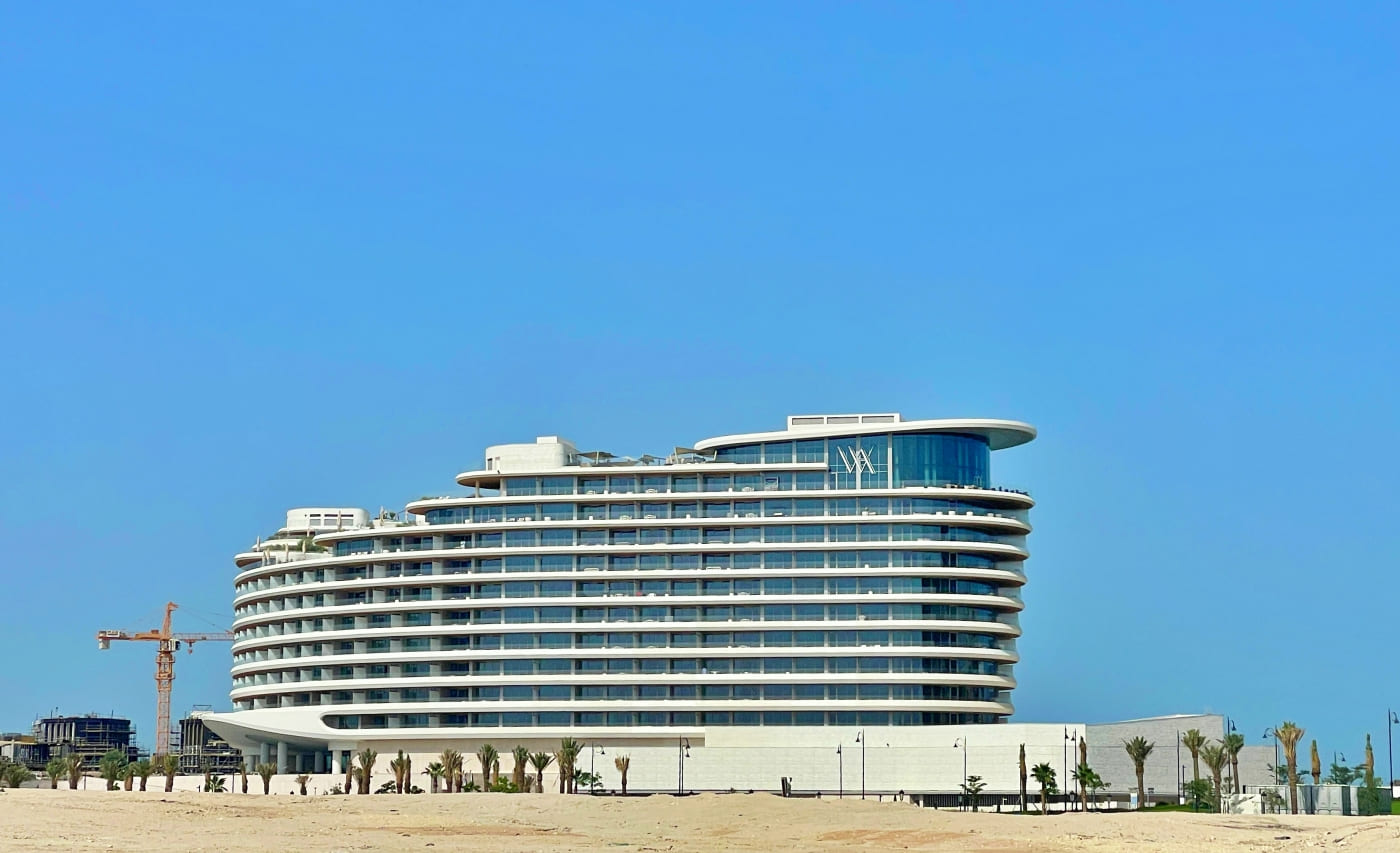 Your family will be pampered here in addition to being kept busy, as the hotel is filled with child-friendly activities. Make a beeline to the Wadi Lusail Waterpark, fitted with waterslides, play areas and an adventure trail or grab a board and ride the waves at the Aloha Surf Club. There's also the Kunuz Kids and Teens Club, an outdoor playground, and three distinct swimming pools – a family pool, a children's pool and an adults-only pool.
While the kids are having fun, you can luxuriate in the ESPA Life Spa, an oasis featuring 19 treatment rooms, a couple's suite, a gym and a fitness studio with sweeping sea views.
Dining here is equally dreamy, with seven options including outposts of the iconic restaurants SUSHISAMBA and Scarpetta. Don't miss ByWater, a contemporary brasserie inspired by New Orleans, as well as the clubby Highmore lounge. From afternoon tea in Peacock Alley to indulging at Chocolatier Jean-Marie Auboine, there's something for everyone here.
7. InterContinental Doha Beach & Spa Hotel
Nestled along the longest private beach in Doha, the five-star InterContinental Doha Beach & Hotel is a top choice for families looking for a relaxing stay in Qatar. Its location cannot be beaten, as it's just a few minutes from Katara Cultural Village, Pearl-Qatar, West Bay Beach and the Doha Corniche, making it perfect for families wanting to explore Doha's main attractions while enjoying everything the resort has to offer.
The recently renovated guest rooms are modern and luxurious, with a design that pays homage to the hotel's Arabic heritage. The color palette is a mix of soft grays and blues, for a soothing effect.
Make a splash at the pool or enjoy the serene views at the beach, nothing beats the refreshing escape of water on a sunny day at The Bay Club. Daily passes available. #TheBayClub #InterContinentalDoha pic.twitter.com/pPvCWKQzst

— InterContinentalDoha (@InterConDoha) April 13, 2023
But you won't want to spend too much time in your room with all the activities on offer at the hotel! The InterContinental truly has something for everyone. The kids can enjoy a fun-filled day in the indoor playroom bursting with games, or take a dip in the 1.1-meter-deep shallow pool, designed for the smallest visitors. A shaded kids' pool is also available, providing a cooler alternative during the hot midday hours and there's also a supervised covered play area. Teenagers can lounge in their dedicated space.
Enjoy a relaxing day together at the beach, or kick it up a notch with water sports. Parents can get some much-needed relaxation at the Spa InterContinental, or join a fitness class in the gym.
Twelve diverse restaurants and bars are scattered across the resort, including the renowned La Mar By Gastón Acurio which highlights Peruvian cuisine, and the kid-friendly Mykonos which has a special menu just for little ones. La Mar Beach, one of the city's finest spots to watch the sun go down, complements your dining experience with breathtaking views of the West Bay skyline.
8. Grand Hyatt Doha Hotel
The Grand Hyatt Doha is a luxurious five-star resort located on the shore of West Bay Lagoon. The property combines Arabian architecture with modern design and every luxury. Spread across 150,000 square meters, the resort is home to everything you need for a fun and relaxing family vacation, including a beautiful beach with a lagoon-style bay, lush landscaping, and plenty of activities. The whole family will love the resort's four outdoor pools, an indoor pool, as well as one of the largest private beaches in Doha, promising endless fun under the Qatari sun.
For culinary delights to satisfy both children and adults, the resort doesn't disappoint. The restaurants here include everything from traditional Middle Eastern fare at Majlis to Italian cuisine at Rocca, as well as authentic Thai food at Isaan. For casual dining, the Santa Monica Breakfast Club serves up salads, poke bowls and tacos while the Dunes bar invites you to unwind with a fine selection of wines and spirits. Don't forget to stop by Biscotti for beautifully crafted chocolates, cookies and craft coffees – because what parent doesn't need a caffeine fix?
Accommodation here ranges from rooms and suites to spacious villas. The design is sleek and modern, and every room comes with a balcony as well as oversized soaking tubs. Villas offer sea views as well as direct beach access.
But back to the kids! They'll have a blast in the resort's indoor and outdoor areas, and once they're thoroughly worn out from running around, you can retreat to the tranquil spa, complete with two private couples' suites and unique water features. Add to this the resort's well-equipped gym and outdoor jogging track, and your stay at Grand Hyatt Doha will be complete!
Other Notable Family-Friendly Hotels in Qatar
Al Messila, a Luxury Collection Resort & Spa, Doha
This luxurious oasis stands out for its variety of family accommodations and its Little Explorers Club, which focuses on learning while having fun and is the largest kids club in Doha. The setting is opulent and the resort is also notable for its high-end culinary experiences led by Michelin-starred executive Chef Pino Lavarra. The resort also embraces health and well-being, with a 14,000 square meter female-only wellness retreat.
Hilton Doha the Pearl
The Hilton Doha at The Pearl Qatar is just minutes to the Porto Arabia and Medina Centrale districts, and features a vibrant Kids Club filled with toys, games and exciting activities like pearl decorating and PlayStation games. While the little ones are kept busy, parents can take advantage of the hotel's amenities such as the eforea Spa & Health Club and the outdoor pool.
Four Seasons Hotel Doha
Located in West Bay by the coast, the Four Seasons Hotel Doha provides a luxurious and child-friendly getaway. The resort is home to three grotto-style pools, as well as two family-friendly pools. Race each other down the water slides or hang out with the whole family in a private cabana on the beach. While the kiddos are having fun at the Kids Club for ages 4-12, parents can head to the spa to get pampered.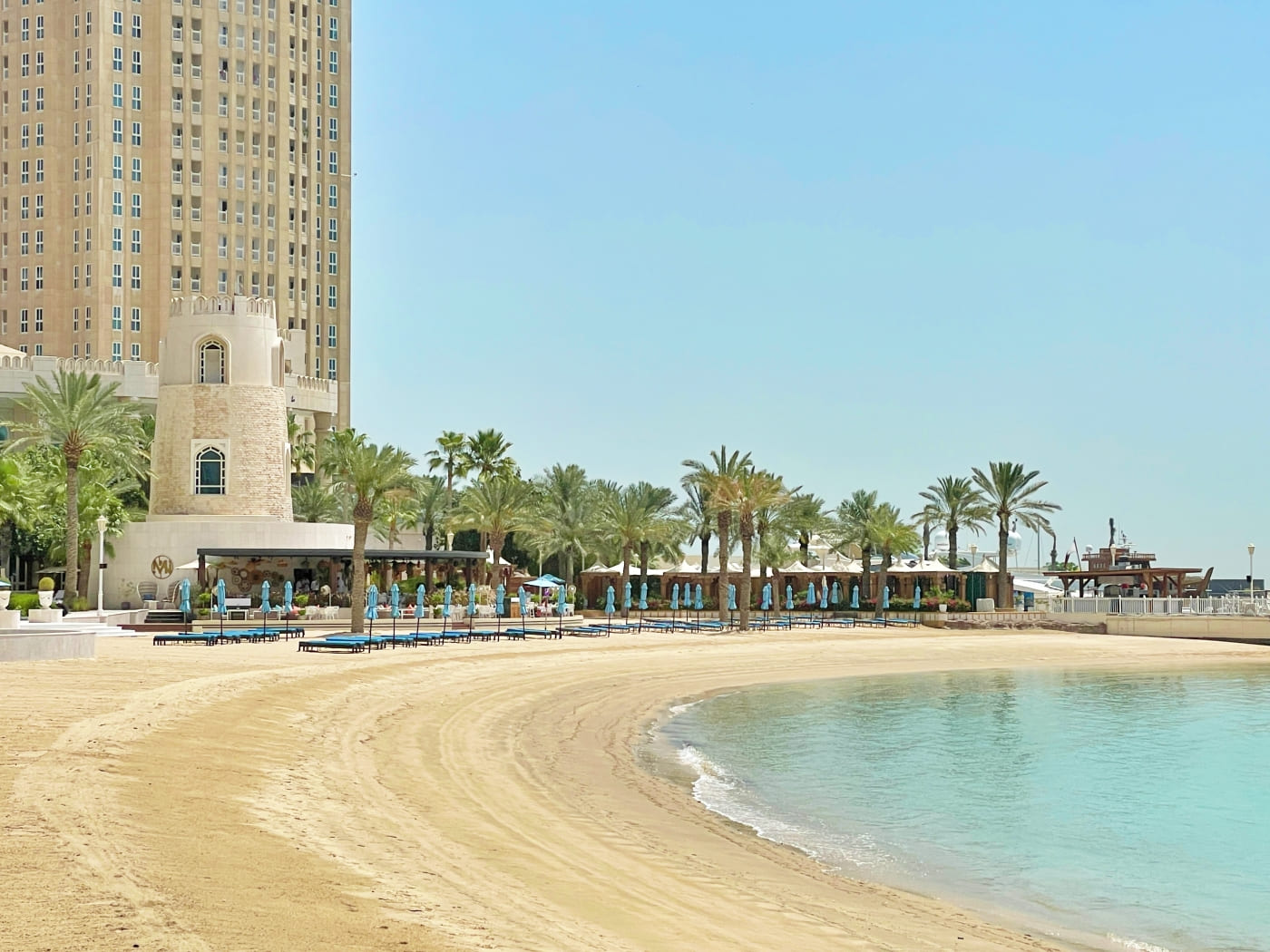 Retaj Salwa Resort & Spa
This tranquil oasis located in the outskirts of Doha is a fun, budget-friendly alternative to the above hotels. The whole family can enjoy the pools, football field and water volleyball, while kids activities include face painting and movies under the stars. The on-site spa is perfect for some relaxation. The dining options are vast and varied here, offering international flavors.