Find yourself with an overnight layover in Doha? Lucky you. We'll help you make the most of it with insider tips and recommendations, whether you plan to spend your time inside Hamad International Airport or exploring this rich history and modern marvels of Doha. An overnight layover within the airport gives you plenty of time to relax, sleep, and eat, and indulge in some retail therapy.
The airport is home to a hotel and restaurants to suit every taste. If you plan to leave the airport, Doha won't disappoint. Doha has a constantly evolving skyline and offers plenty to explore, from souqs to museums and stunning architecture. Doha is also an ideal option for squeezing in some beach time or golf sessions if you just want to unwind.
How to Make the Most of an Overnight Layover at Doha Airport
Spending the night at the airport is an easy and convenient option for a layover, as it eliminates transit time. If you choose to remain at Hamad International Airport, there are plenty of options to keep you engaged, entertained, and well fed. Whether you want to work or catch up on social media, free Wi-Fi is available at the airport. Beyond Wi-Fi, here are other ways to make most of your overnight stay: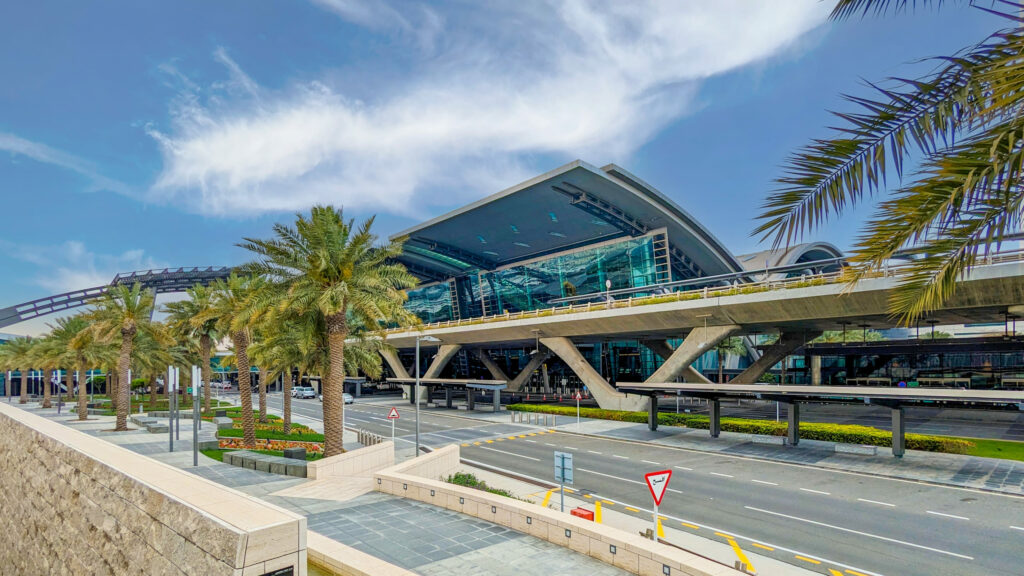 1. Go shopping
Get ready to flex your credit card at the Orchard, a new, upscale shopping center which opened right before the 2022 World Cup. This lush haven debuted as part of a grand plan to increase the airport's capacity to 58 million passengers per year.
This 65,000 square foot space pulls double duty as both a tropical garden as well as a luxurious retail center. The glass-dome garden is full of trees and plants and feels like a forest, complete with towering trees.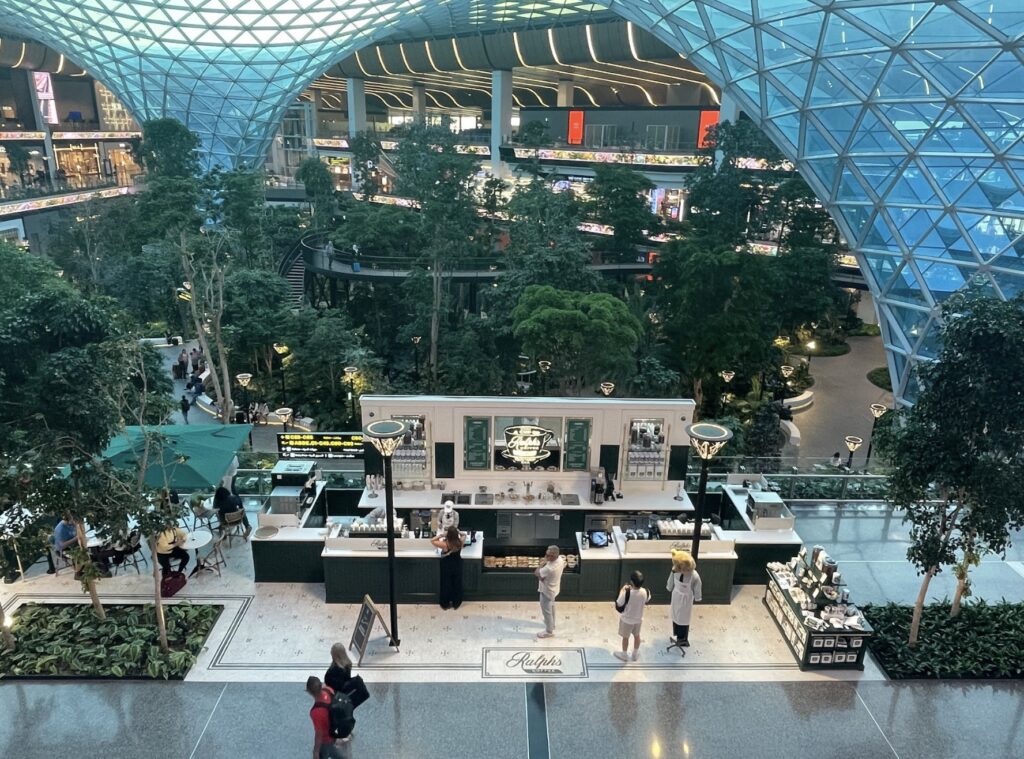 The upper floor of the garden is home to a collection of high-end boutiques, including Bulgari, Gucci, Louis Vuitton, Thom Browne and Hermes. Other shops include Apple and TAG Heuer, or pop by the one-of-a-kind FIFA shop.
2. Grab a bite
Hamad International Airport's dining options cater to every kind of taste and budget, whether you are looking for a simple burger, a latte and a pastry, or want to sit and enjoy a leisurely, gourmet meal. There are more than 30 restaurants here showcasing flavors from around the world.
Savor Indian cuisine at Chapati & Karak or fresh, vibrant Lebanese fare at Comptoir Libanais. The airport is also home to an outpost of the popular British noodle chain Wagamama, Eat Greek Cuzina serves fresh, healthy Greek cuisine.
If you're vegan or vegetarian, you won't be left behind at Hamad International Airport, thanks to Evergreen Organics, Qatar's first vegan café. Open around the clock, this highly-rated café serves a delightful array of plant-based meals, cold-pressed juices, and hearty breakfast bowls, in a jungle-themed ambiance.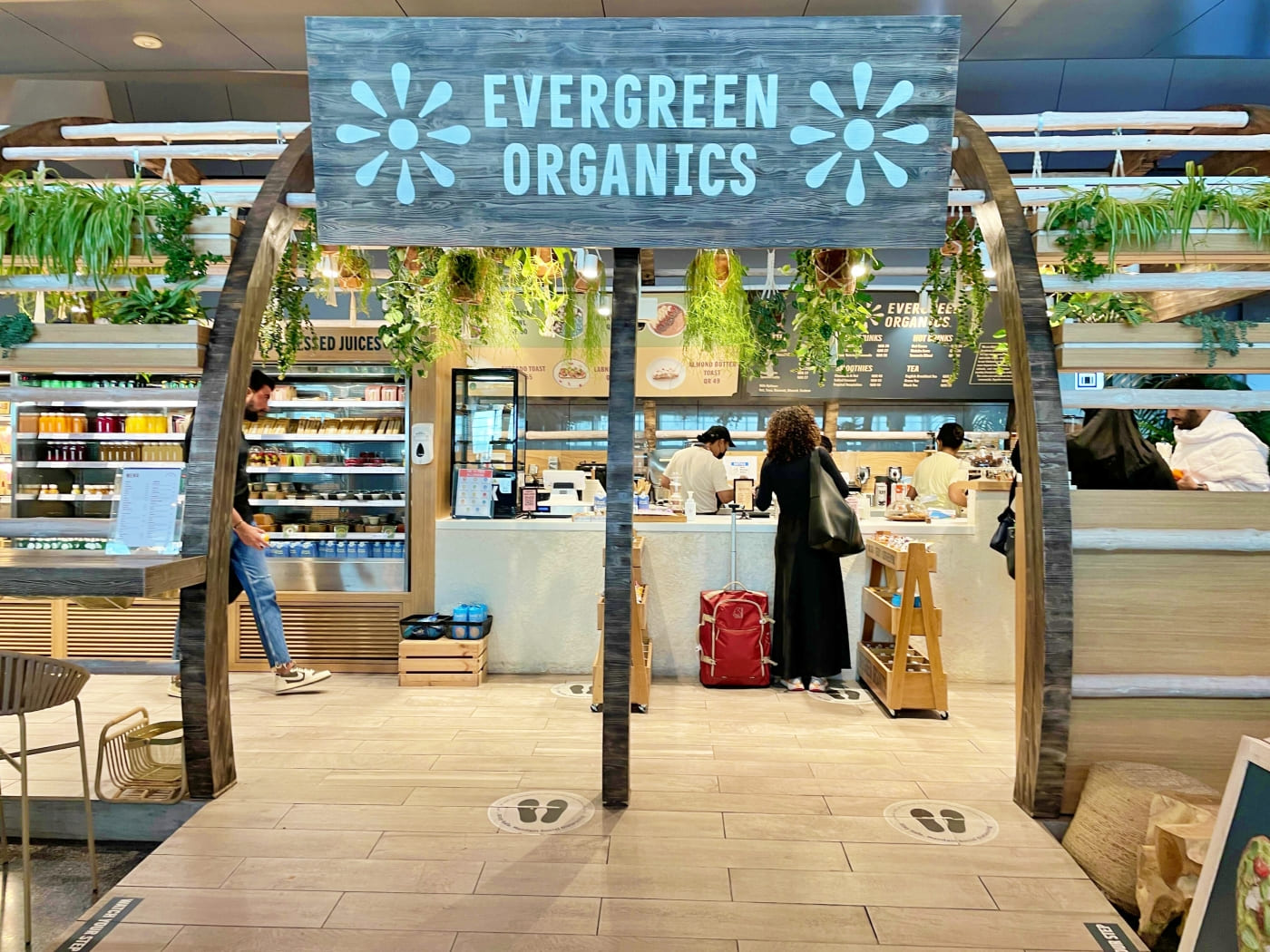 If you're looking for the finest tea cup, look no further than Harrods Tea Room! The London-based institution, which selected Hamad International Airport for its first airport location, also boasts an ice cream parlour. And if you feel you deserve additional sweet treats, you'll surely enjoy hand-crafted chocolates and pastries at Maia Chocolates or Jamocha Cafe.
3. Airport lounges
Hamad International Airport is home to several airport lounges, including Oryx, Al Mourjan, Al Maha, and Al Safwa. Each lounge caters to travelers based on travel class, airline, and specific credit cards or frequent flier programs. First or business class passengers, as well as those with specific frequent flier programs, can enjoy Oryx Lounge and Al Mourjan Lounge. You can also purchase a pass for access to these lounges.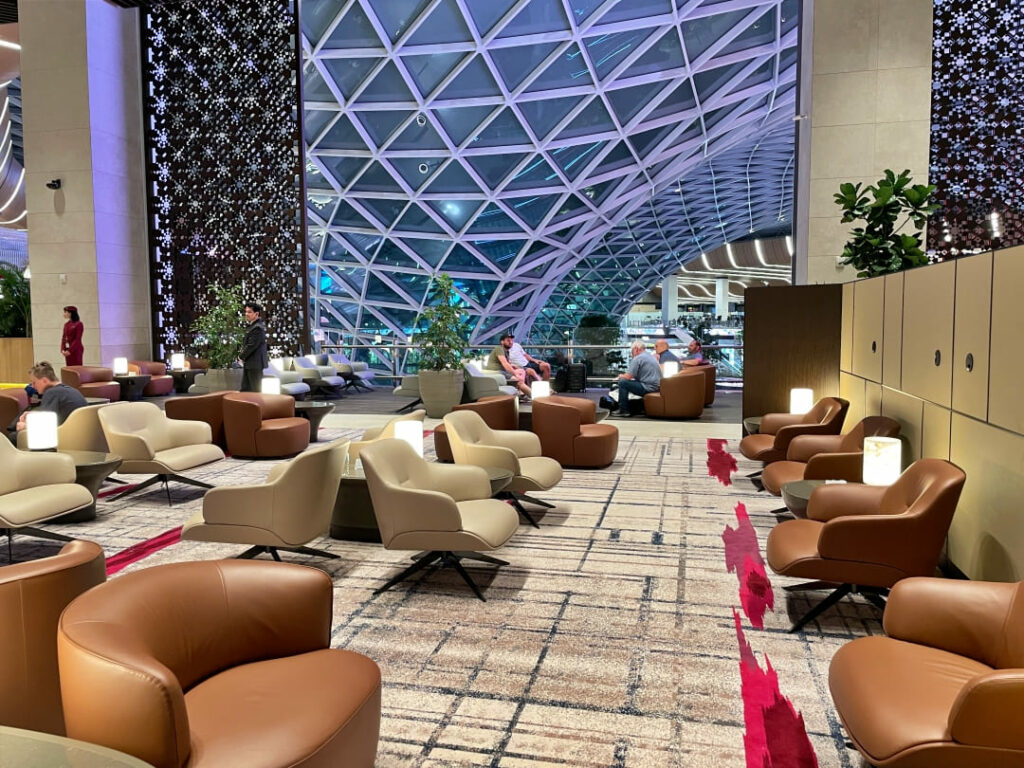 Qatar Airways recently unveiled the Garden, an extension to the Al Mourjan business lounge. This tranquil, 80,000 square-foot (7400 square-meter) haven accommodates over 700 travelers, and pampers them with premium dining, recreational, and relaxation facilities along with working areas and showers. The lounge encompasses a fitness studio and spa services, in addition to 24 quiet rooms for taking some rest.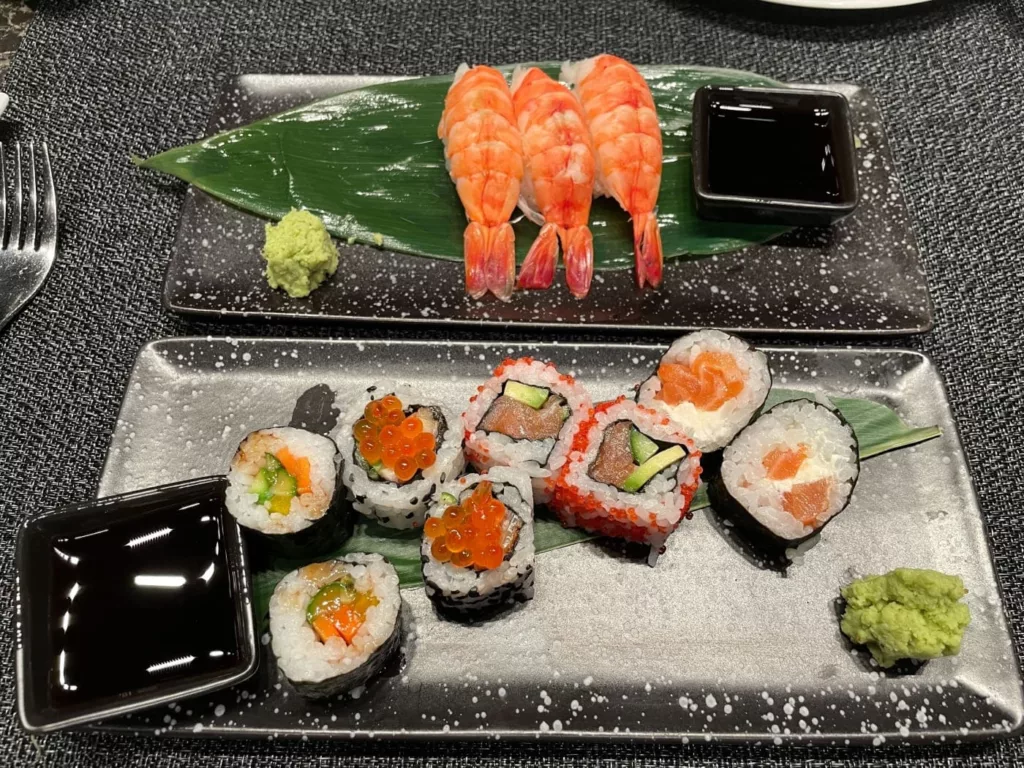 Three new lounges opened in 2022, which you can access if you hold Qatar Airways' Platinum, Gold, and Silver Lounges status. It is also available to oneworld Emerald and Sapphire card holders.
4. Stay fit at the Vitality Center
Whether you want to break a sweat or swim a few leisurely laps, the Vitality Wellbeing & Fitness Center is an excellent option. Located within the Oryx hotel, it is available to hotel guests or you can pay QAR 175, about $48, for access. The center features a heated swimming pool, golf simulator, squash courts, and gym.
First and business class passengers can access the fitness room in the Al Mourjan Business Lounge – The Garden. The space has treadmills, exercise bikes and elliptical trainers.
5. Relax at the spa
Pamper yourself with a massage, manicure or pedicure during your overnight layover. There are three spa facilities to choose from at Hamad International Airport:
Be Relax Spa: Be Relax spa has three locations inside Hamad International Airport, at Concourse A, C and D/E. The spa offers massages, manicures, and pedicures. Some locations offer showers.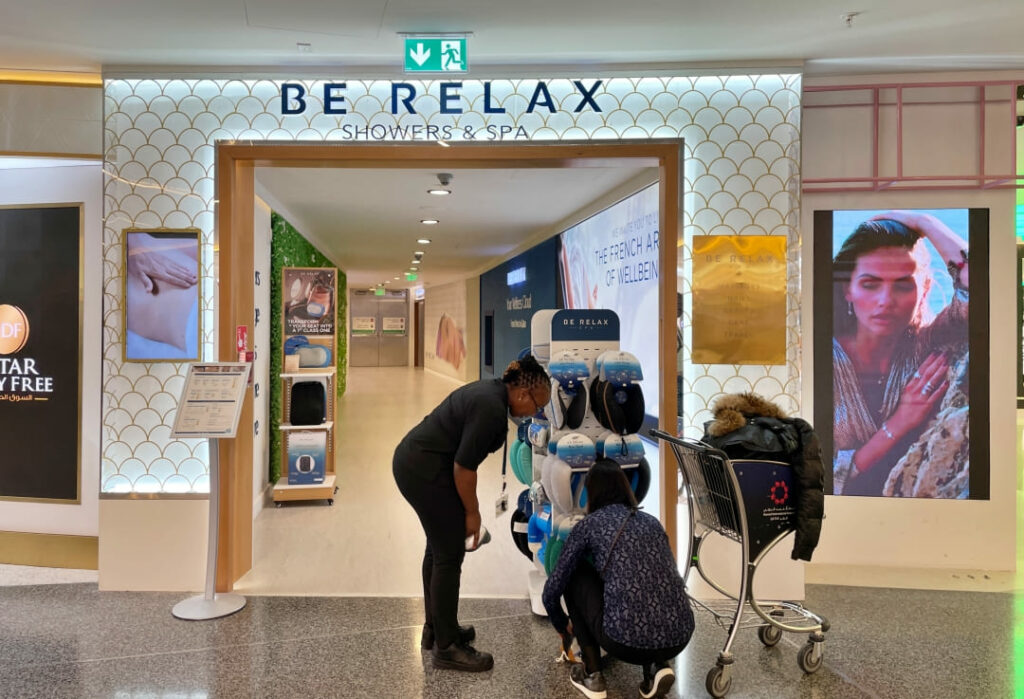 Vitality Wellbeing & Fitness Center: Located within the Oryx Airport Hotel, the Vitality Center is an upscale wellness haven offering a range of services. Massage and beauty treatments are available or you can enjoy a 25-meter pool, a well-equipped gym, and rejuvenating hydrotherapy tubs.
Al Mourjan Business Lounge – The Garden: The recently unveiled The Garden extension boasts its own luxurious Dior spa, offering massages, manicures, and pedicures. The space features massage chairs as well as treatment rooms..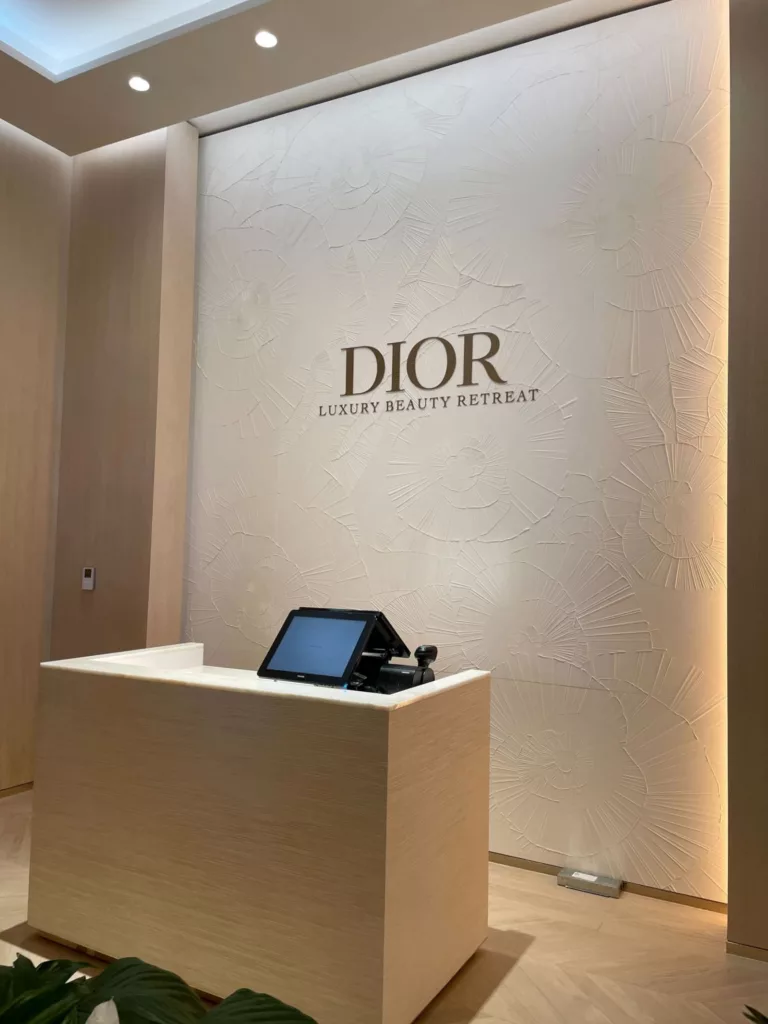 6. Sleep! Here's where to take a nap at Doha airport
Getting a solid eight hours or more of sleep is essential to feeling refreshed and rejuvenated before the next leg of your journey. There are several options for catching some sleep at the airport:
Qatar Airways premium passengers can rest in the serene environment of "The Garden" at the Al Mourjan Business Lounge, where you can enjoy single or double quiet rooms.
Book a stay at one of the two Oryx Hotels, which are located within the airport and offer a wide range of room categories, from deluxe and family rooms to a presidential suite.
If you're looking for a quick power nap without any cost, head to the airport's quiet rooms, where you can doze off in a calm and peaceful setting. The airport offers separate quiet rooms for men, women, and families.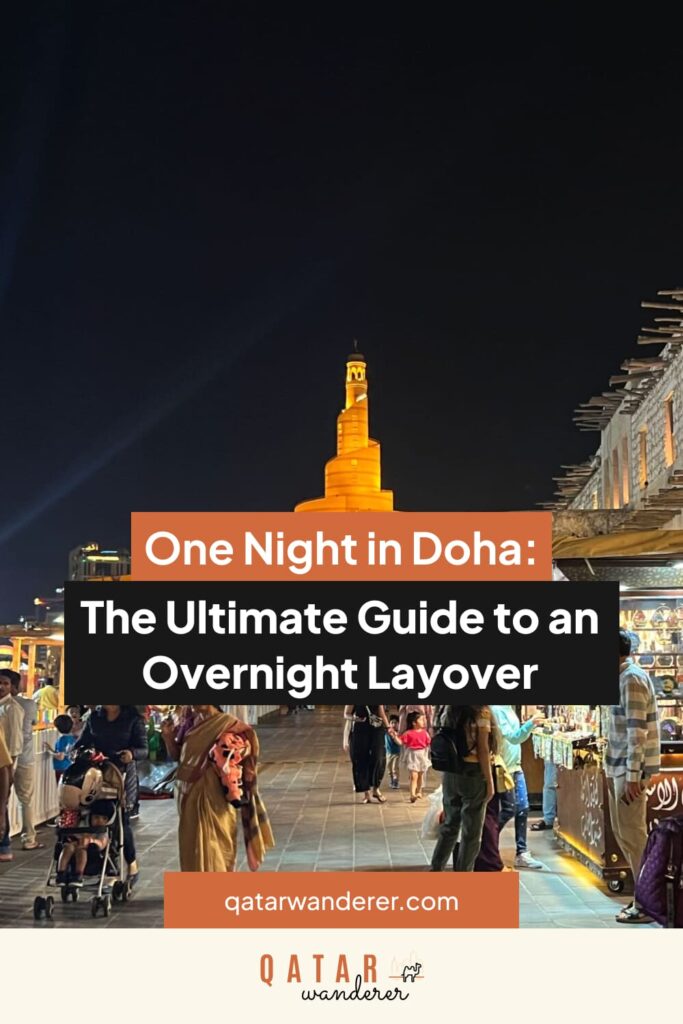 No time to read?
Pin it on Pinterest and revisit it later.
How to Spend an Overnight Layover in Doha
IIf you have a 12 to 15-hour overnight layover in Doha, and you land in Qatar before 8pm, it's definitely worth considering exploring this unique city where authentic heritage and cutting-edge innovations intertwine seamlessly.. Here's a look at some of Doha's top sights.
Head to Souq Waqif
Souq Waqif dates back to the 19th century and this marketplace is still the heart of Doha. Its name means "the standing market," originating from the exchanges between Bedouins in the past, who would come to trade goats, sheep, and wool. The market underwent a thoughtful renovation in 2006 to preserve its traditional look. Best buys here include spices, perfume, oud, and traditional Qatari clothing. Most shops and stalls in the souq are open from 10 -2 pm, and then 3 pm-11 pm.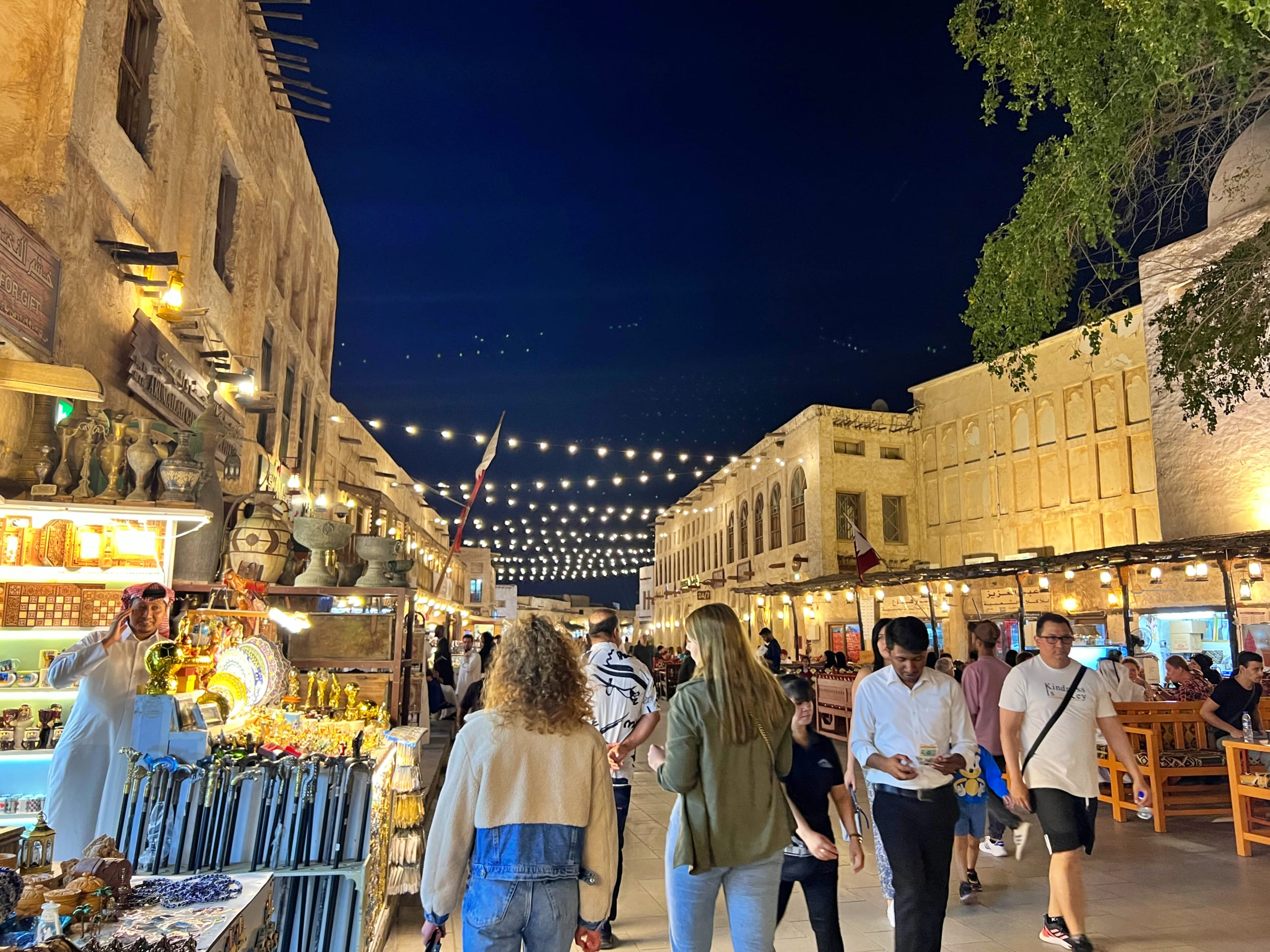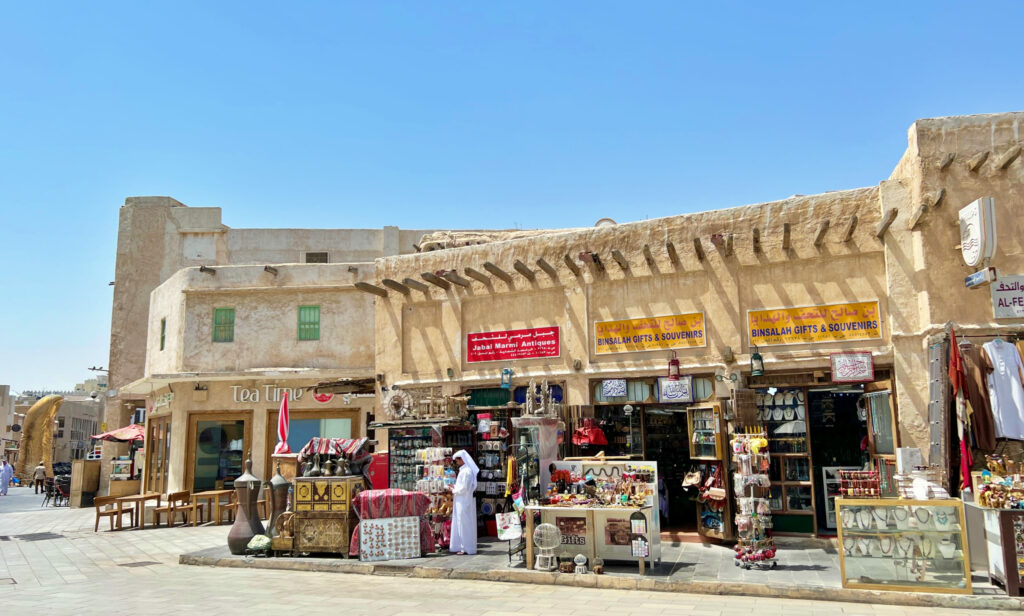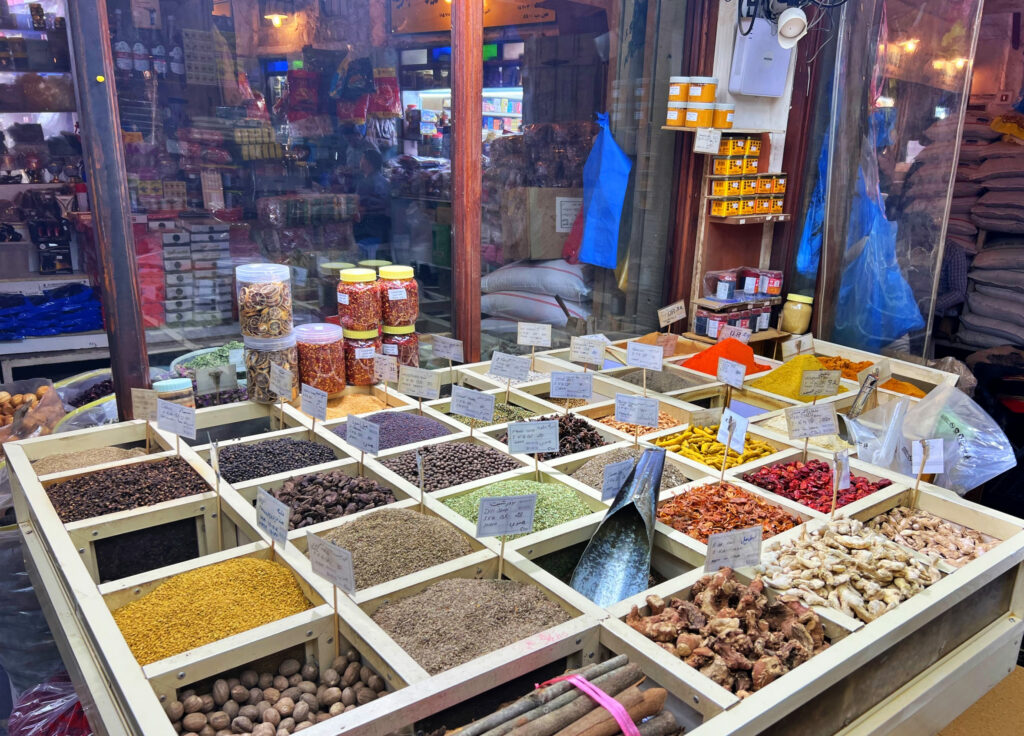 Experience local and international cuisine
Savor authentic Middle Eastern flavors during your overnight layover in Doha at one of Souq Waqif's best restaurants. Begin your culinary journey with freshly grilled or fried seafood at Danat Al Bahar (closes at 12 am), located inside Souq Waqif. Enjoy Persian delicacies such as watermelon and pomegranate salad or saffron rice at Parisa (closes at 11pm), or try Syrian cuisine like deep fried chickpeas at Damasca One (closes at midnight).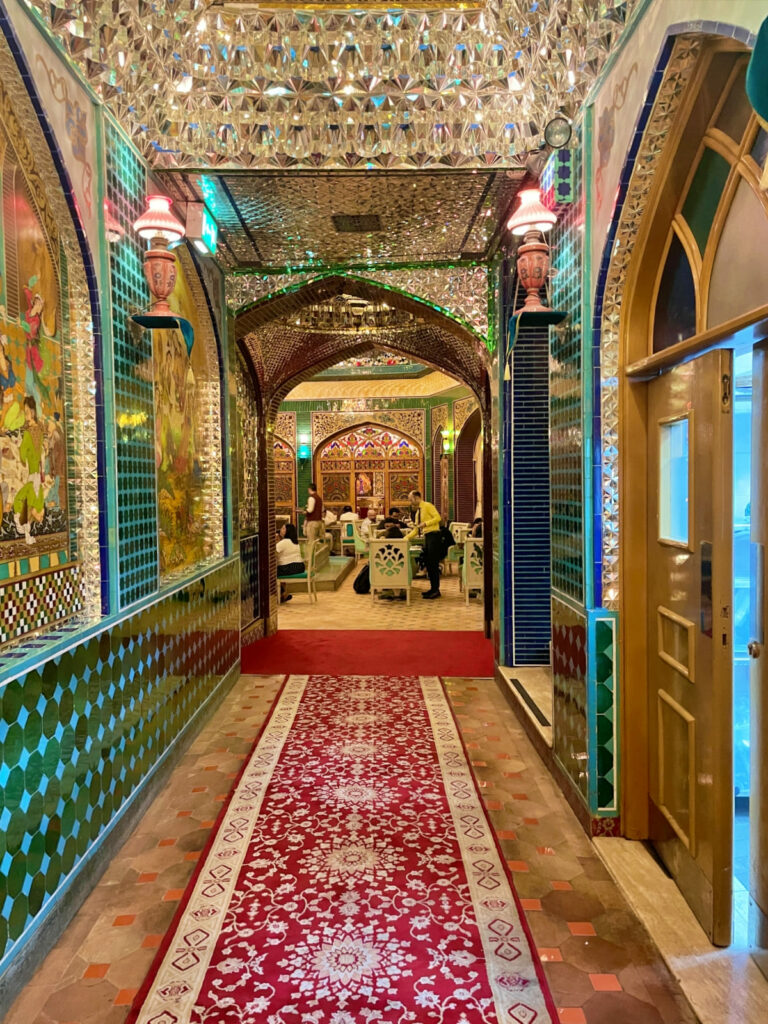 For a late-night dining experience, visit Zengo, situated atop the Kempinski Residences & Suites in the West Bay district. Open until midnight, this restaurant on the 61st floor boasts unparalleled views of Doha's skyline and the eclectic menu is inspired by the flavors of the Spice Route.
Go to a late-night bar
Enjoy Doha's lively nightlife at a variety of late-night bars. Notable establishments include:
Wahm, located inside the W Hotel in West Bay, is a stylish lounge offering comfort food and craft cocktails, with both indoor and outdoor seating. Hours are 12pm-3am.
Sky View at La Cigale Hotel is a high-end bar featuring a stunning terrace. Enjoy the DJ, snacks, cocktails, and sushi. Reservations may be required, and Sky View is open daily from 6pm until 1am and is closed on Sundays.
The Den is a European-style piano bar inside the JW Marriott Doha that is ideal for cocktails or a nightcap. Hours are 6pm-2am and it is closed on Mondays.
Remember to respect Qatar's customs and regulations, and refrain from excessive alcohol consumption.
Stay in a hotel in Doha
Consider booking a hotel in Doha to maximize your overnight experience. Alwadi Hotel, Sharq Village & Spa Ritz-Carlton and Park Hyatt are all ideally located near the Souq Waqif.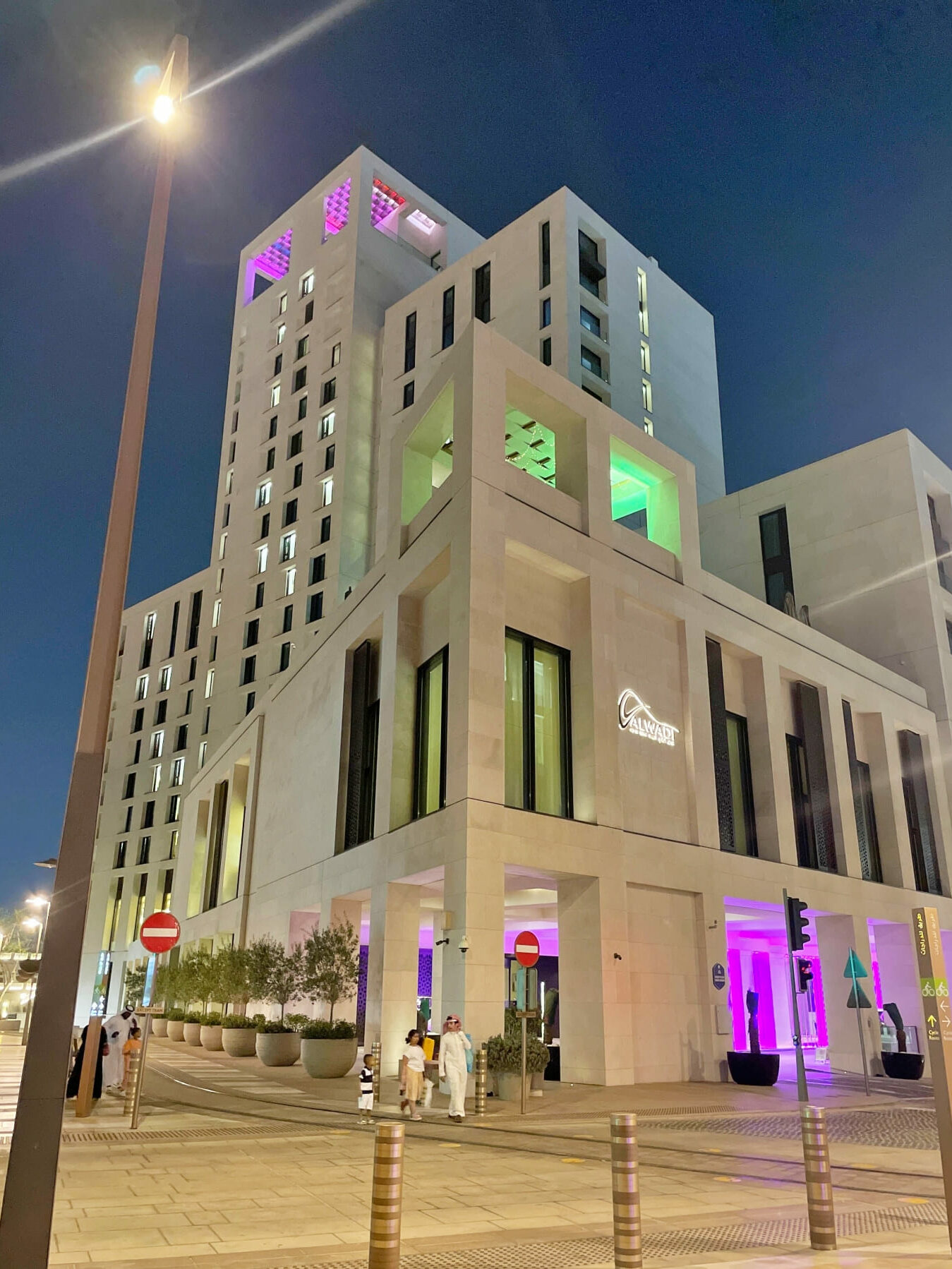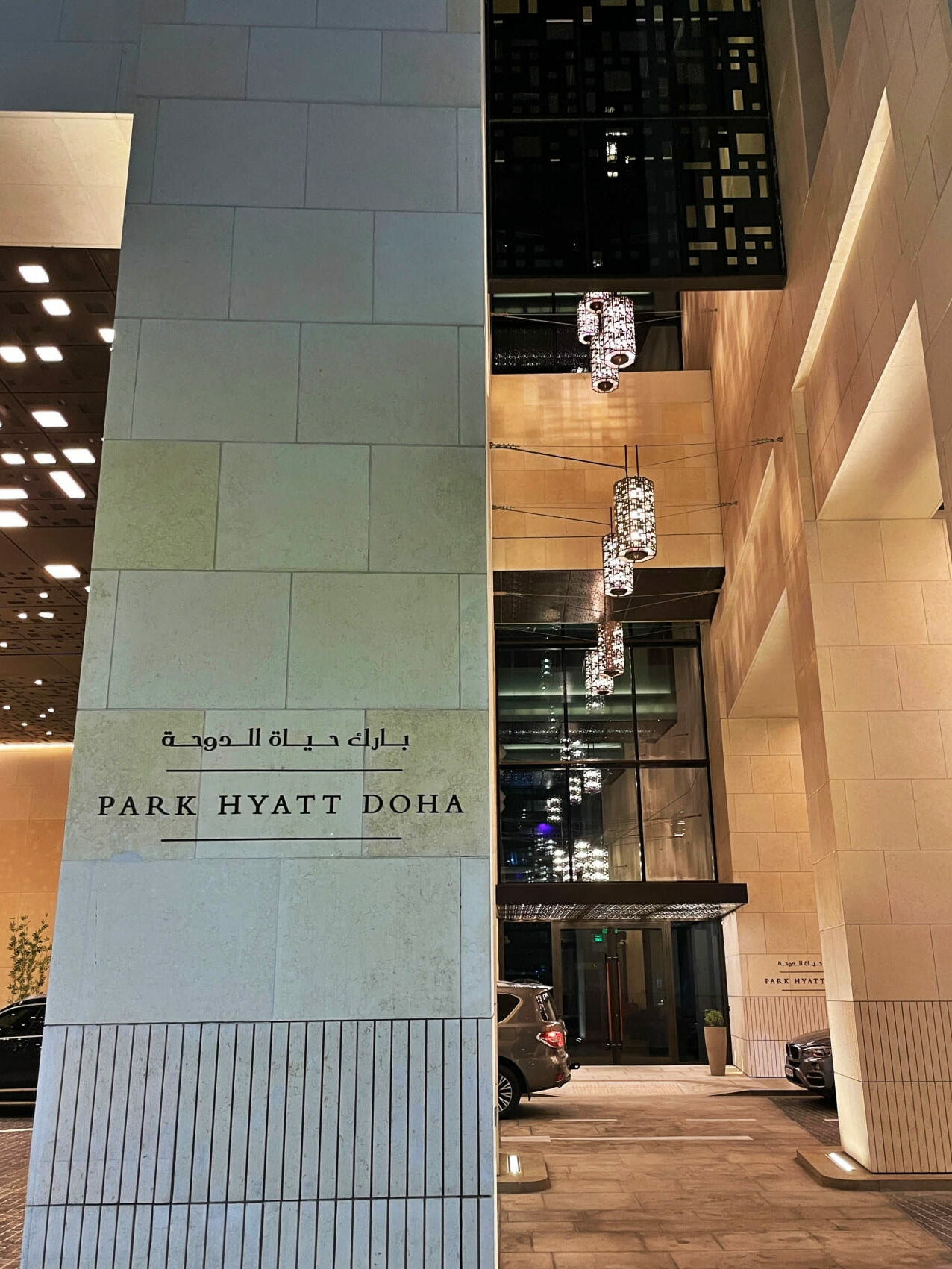 Another option is the business district of West Bay which offers a diverse selection of hotels to suit various budgets and preferences, ranging from budget-friendly choices to luxurious retreats.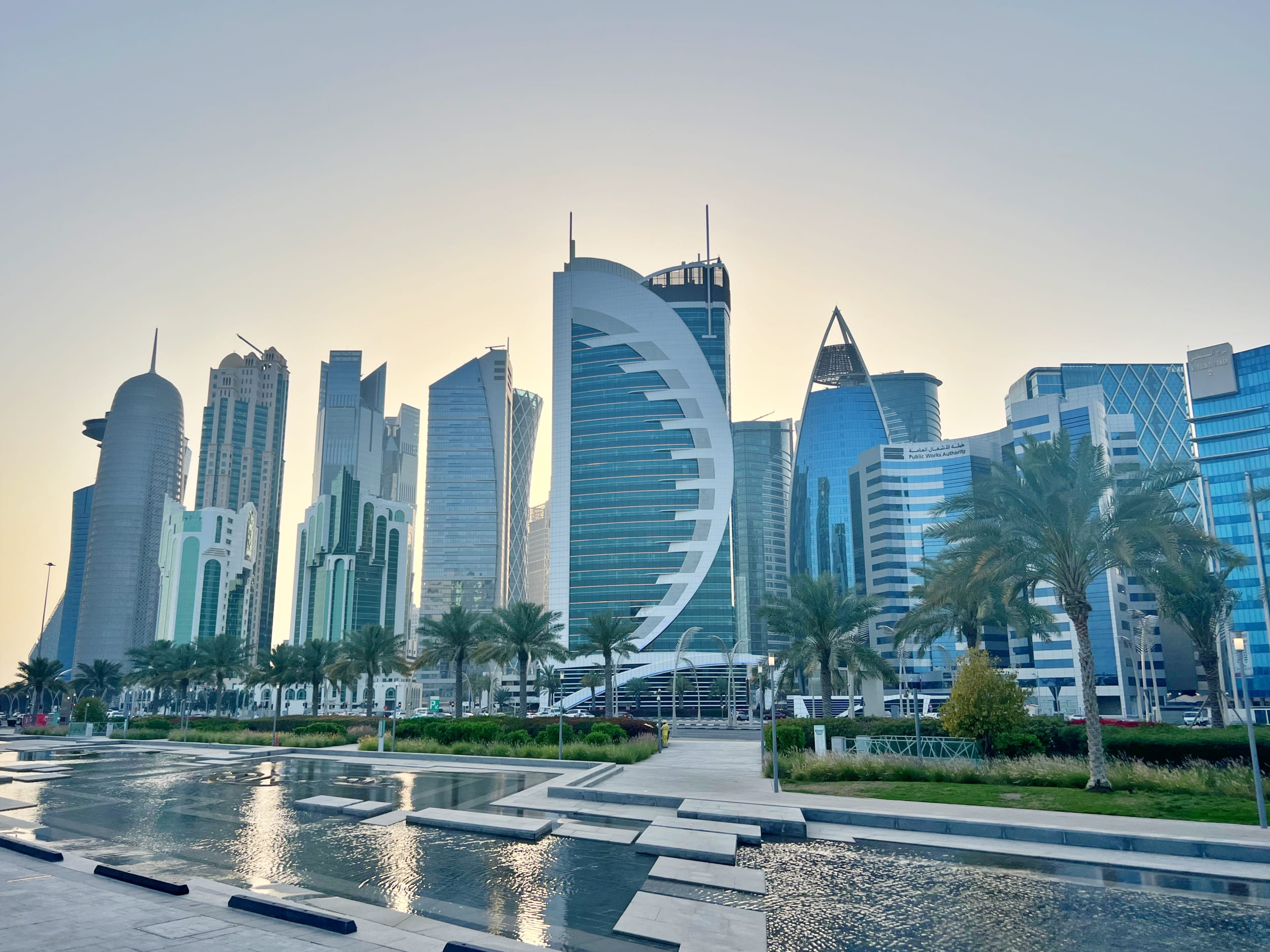 If you're traveling via Qatar Airways, you may be eligible for great deals on hotel accommodations through their stopover packages. You could enjoy a four-star hotel stay for as little as $14 per night or indulge in a five-star hotel experience for just $20 per night. This option allows you to venture further into the city and visit attractions such as the National Museum of Qatar and Katara Cultural Village, while ensuring a comfortable night's sleep before your onward journey.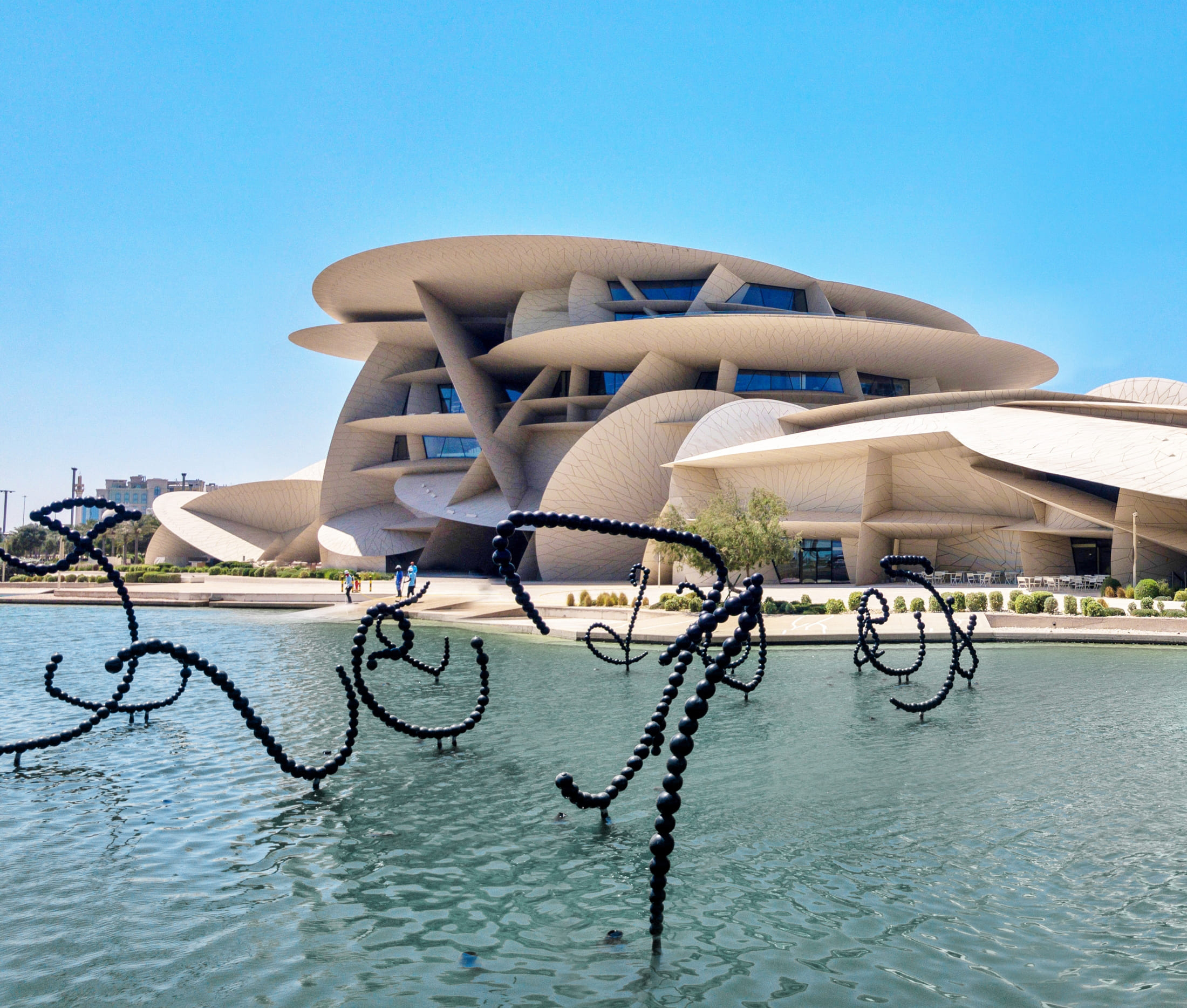 The stopover package covers up to four nights, so you could turn your overnight into a mini-vacation. Go deeper by experiencing a Bedouin camp in the desert, or embark on a thrilling kayaking adventure through Al Thakira's mangroves.
Tip for a seamless return to Doha airport
After a restful layover in Doha, you want to keep the peaceful feeling going with a smooth, stress-free transition to the airport. Check-in for your next flight as soon as you can to avoid any last-minute delays. Make sure you're back at the airport at least two hours before your international flight.
What You Need to Know Before Leaving the Airport
Do I need a visa to leave Doha International Airport?
More than 95 nationalities can get a free transit visa for up to 96 hours upon arrival in Doha. Check with your country's embassy or consulate for specific requirements and eligibility.
What's the currency in Qatar?
The currency in Doha is the Qatari Riyal (QAR) and at the time of writing, 10 riyals are equivalent to US $2.75. It's a good idea to have some local currency on hand for small purchases or in rare cases card payments are not accepted. Credit cards are widely accepted and ATMs are easy to find.
Which languages do people speak?
The official language of Qatar is Arabic, but many people also speak English. Due to Qatar's expatriate population, you may also hear Hindi, Urdu, and Tagalog. However, English is widely understood and spoken, so communication should not be a problem.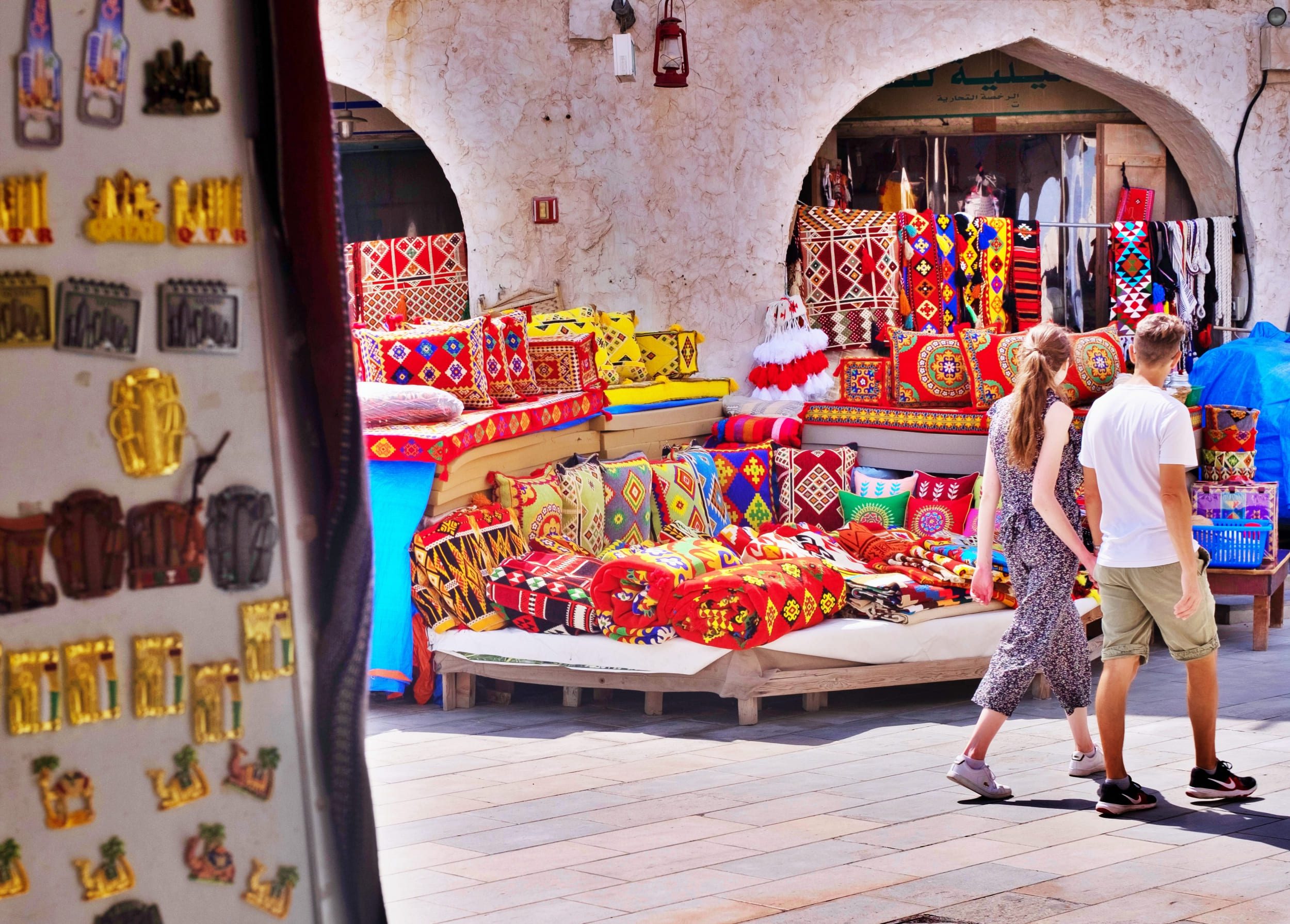 Weather in Qatar and the best time to explore
Qatar has a desert climate with hot summers and mild winters. The best time to visit Qatar is between November and early April, when the weather is more comfortable and pleasant. During the winter, which runs from November to February, the average temperature ranges from 64°F to 79°F (18°C and 26°C).
How to get around in Qatar
For an overnight layover, the most convenient mode of transportation is a taxi or Uber. Alternatively, you can take the Doha Metro to the city center within 15 minutes for approximately 55 cents (QAR 2). As of April 2023, the Doha Metro operates from Sundays to Wednesdays, running from around 6am to midnight on most days. On Thursdays, which mark the last day of the week in Qatar, the metro operates until 1 am, providing additional flexibility for your travel plans.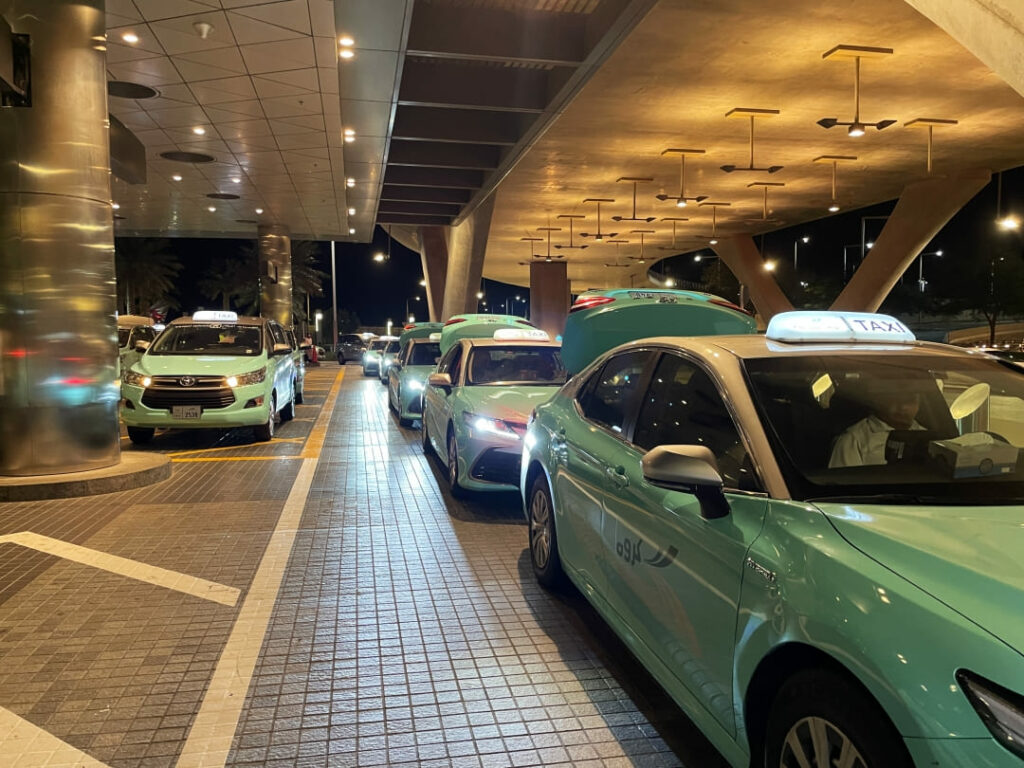 Is Doha safe at night?
Qatar is one of the safest countries in the world, and Doha has been rated the second safest city globally, right behind Abu Dhabi. It is generally safe to explore the city at night, but it's always a good idea to remain vigilant and follow common safety practices. Avoid poorly lit or isolated areas, keep your belongings secure, and be aware of your surroundings.